It is a nice thought to have a bar in the home, but it can be a daunting one too. Where do I start? But the top concern for most is, how much will it cost? Getting started could just be a case of looking around you, think old furniture. This may lead to asking yourself, can I make a bar out of old furniture?
Whilst it can be an expensive project, especially buying a premade bar unit. It doesn't have to be, in fact you may already be halfway to owning a home bar. There are many pieces of furniture that are in our homes already that can easily be turned into a bar.
Can I Make A Bar Out Of Old Furniture?
The simple and straightforward answer is yes you can make a bar out of old furniture. In fact some pieces of furniture lend themselves well to a home bar. A dresser or chest of drawers can easily be turned into a home bar. It is a very economical way of building a bar in the home, and it makes use of old furniture too.
Suddenly that old writing bureau or bookcase becomes an exciting new project and takes on a new lease of life.
What Furniture Can I Make Into A Bar?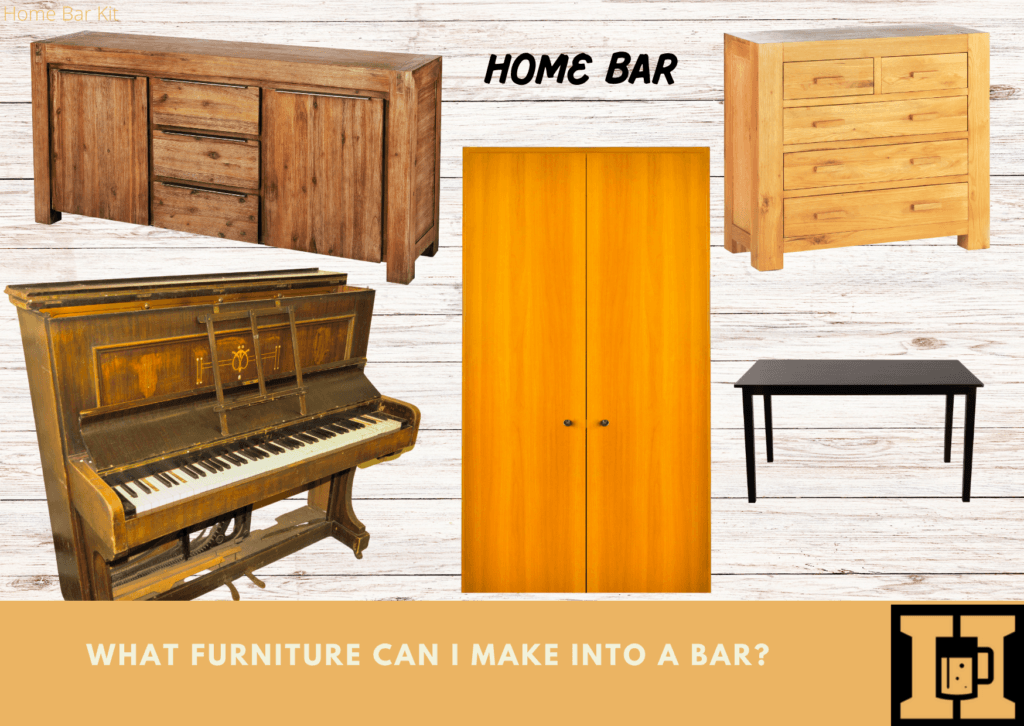 There are numerous pieces of furniture found in a home that can be upcycled into a home bar. The simplest may just be an old table or bookcase that can easily be converted. However other furniture like a wardrobe or even a piano can become great bars too.
Some will take little work, while others such as the piano may take a little more effort and skill to convert. Instead of throwing out an old piece of unwanted furniture, why not give it a little love and turn it into your own bar. Maybe that old chest of drawers or writing bureau you put in the garage last year could be rescued.
Not only is it good to recycle old furniture, but it is satisfying too. Here is a list of furniture that I have thought of that can be converted into a home bar.
Table Bar
A table can be turned into a bar, but it will need taking apart and cut up in many cases. A dining table will normally be too deep for a bar top and not high enough. So removing the legs and cutting the table in half lengthways will give a better size bar top.
Use one half of the table top to make into two simple boxes, this will elevate the bar in height. The two boxes are are fixed to the underside of the bar top and the legs fixed to the underside of the boxes. A simple bar top with a shelf underneath at each end.
Bookcase
A bookcase can be one of the simplest pieces of furniture to turn into a bar. It does depend on the size of the book case as to how much you will have to adapt it. They can be easily converted to bar cabinets or if adapted to the right height become a bar you can stand behind.
The use of stemware hangers can be used under shelves to hang your stemmed glasses. Some shelves can be removed to create more space. Mirrors can be put to good use to create the illusion of more space.
A small bookcase can be incorporated with a table to make a bar too, the possibilities go on.
Chest Of Drawers
Again a chest of drawers can be easy to convert into a bar. Remove the drawers and it becomes like a bookcase, so it is a similar conversion. Leaving the top drawer in place can make great storage for bar accessories and tools.
Chest of drawers can come in all shapes and sizes, so this will determine the size and type of bar you can create. A long unit that stands the right height or close to it can make a great stand behind bar with little work.
Dresser Bar
An old dresser or hutch can become quite a luxurious bar cabinet depending on its design. Most will have a combination of shelves and cupboards which makes them ideal for jazzing up into a home bar.
A good feature of some of these pieces of furniture is the top detaches from the base. The base can make a good stand behind bar. While the top can be fixed to the wall behind and become a display for glass and bottles.
These are probably one of the best pieces of furniture to convert into a home bar either as a bar cabinet or a stand behind bar. They come in many shapes and sizes but provide many options too.
Wardrobe Bar Cabinet
Another simple conversion is the wardrobe, they can make a great bar cabinet with or without the doors. Take the doors off and you can make a great bar with everything on display. On the other hand leave the doors on and have a bar you can shut away.
By adding shelves and stemware hangers they make for plenty of storage for glasses and bottles. Because of their size it is easy to fit a small fridge too. Mirrors work well on the back wall to create a bigger looking bar. Or use funky wallpaper on the back wall to really jazz up the bar look.
Glass shelves along with lighting will add another level of chic, especially some modern LED lights.
Writing Bureau
The modern age had given us email and not many people sit down to write a letter anymore. So what becomes of all those old writing bureaus?
A bar cabinet of course, these are ideal with their pull down table tops. Kit out the inside with all your bottles and mixers. Use the drawer for storage of bar accessories and tools. Easily fit a couple of shelves underneath for hanging and storing your glassware.
A writing bureau is an easy convert to a simple bar cabinet.
Kitchen Cabinet Bar
Kitchen cabinets are ideal to convert into a home bar or bar cabinets. A tall kitchen cabinet is an easy convert just like the wardrobe. It is easy to move shelving to the desired position, or add glass shelves. Lighting is easily added too and doors can be left on or removed for display.
Floor units with a worktop are the ideal height for a bar top. Two, three or four units side by side with a top make the ideal stand behind bar. Just add a facial panel to finish the front and you have an easy bar with plenty of storage.
Old kitchen units are easy to come by, but if you happen to be remodelling your kitchen then keep a few units to build a home bar.
Piano Bar
We don't all have an old piano hanging around, but if you do and it has seen better days, then think piano bar. A more complex project, but one that can turn out a really cool looking bar.
Take out the keys and replace with a top, or leave the keys in place and cover with glass to keep a cool feature. Remove the internal workings to create room for shelves or cupboards for storage.
As I said it is a more complex project and requires a fair amount of work stripping down to remove parts. But once stripped can provide plenty of room and ideas to build a great fun home bar.
Make A Bar Out Of Old Furniture
Many types of furniture can become great home bars, whether it be a cabinet or stand behind bar. Some may take a fair bit of work, while others are really simple to convert. All it takes is a little imagination and some basic DIY skills.
All the furniture I have included make for great conversions. However there are plenty of others like a dressing table, TV cabinet, record player unit, chest, workbench, filing cabinet or barrel. Plus more I haven't thought of, the list goes on and on.
Maybe it is time to jazz up and old piece of furniture and give it a new lease of life as a home bar. It is surprising what can be achieved.
Final Thoughts
It is nice to buy a manufactured bar for the home, but they can be expensive. It is also nice to work off bar plans and build your own bar. However it can be great fun to upcycle an old piece of furniture into a home bar.
Most furniture conversions can be really simple and some require a little more work, but they all make great features and serve a purpose. So before you throw out an old piece of furniture or store them, think home bar.
If you have already done a furniture bar conversion, then share your experience below. Or maybe you have thought of other pieces that would make a good bar, share your thoughts.