Of all the Greek Islands Santorini is probably the jewel in the crown. Known for its beautiful scenery and white washed buildings with blue roofs. Some of that is true, however its real beauty is a little brewery that brews donkey beer. One beer in particular is Yellow Donkey Pale Ale.
The brewery is Santorini Brewing Company, as small brewery making a small range of great beers. Their Crazy Donkey IPA could just be the best Greek beer ever. So how does Yellow Donkey stack up?
Is Yellow Donkey Pale Ale Any Good?
Yellow Donkey Pale Ale is a cracker, a lively fruity beer with a sweet ass kick. A real go to pale ale. It pours a light hazy gold with a one finger white head. The nose is lively, bursting with tropical fruity notes, zesty citrus and hints of herbal in the background. The taste is zesty and refreshing with sharp citrus grapefruit, mellow tropical's and a hint of spice calms the sharpness. It has a sweetness to it that is somewhat satisfying. It gets a rate my beer score of 4.6 – 5.0.
A great go to pale ale that hits the spot in the Greek heat.
Santorini Brewery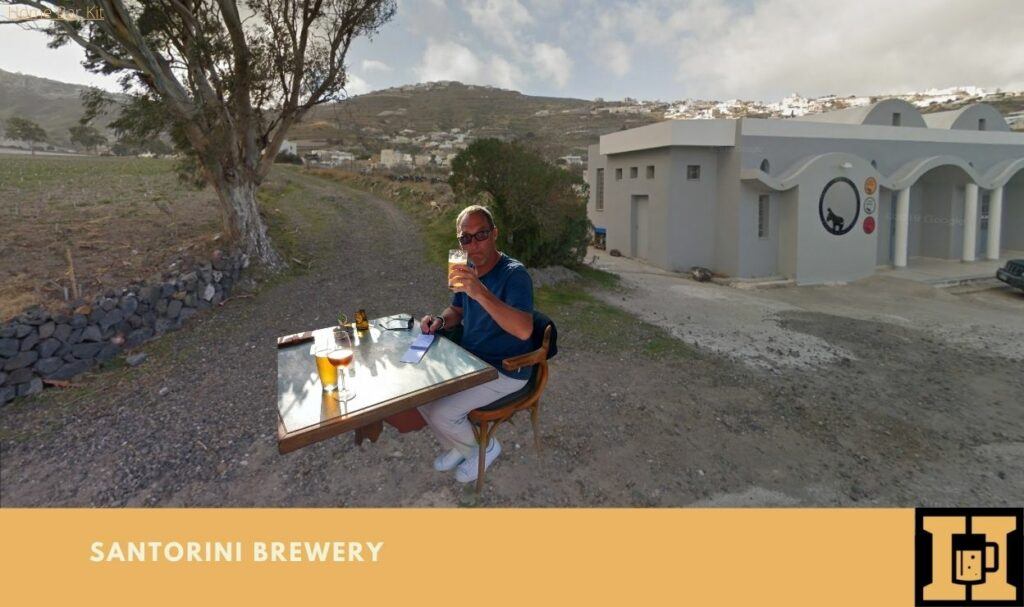 Santorini Brewing Company is no big outfit, but it is knocking out some great beers that leave the likes of Mythos dazed in its wake.
Started in 2011 by four friends with the passion to shake up the beer scene in Santorini. A Serbian man, American Lady, Greek man and Englishman have created something special.
Their donkey beer range shines like a diamond among the somewhat bland beers usually on offer. Santorini well known for its great wine now has something else to shout about, its donkey beer.
Yellow Donkey Pale Ale
Yellow Donkey just like its siblings Crazy Donkey and Red Donkey are available in many bars and restaurants around Santorini.
Although I love the Crazy Donkey IPA, and the Red Donkey Amber Ale, Yellow Donkey is the beer I sampled mostly on Santorini. It is a real cracker of a pale ale, refreshing and morish.
The bottle may be a little stout 330ml with its yellow and black label sporting the donkey logo. But the contents are something to behold.
Drinking Yellow Donkey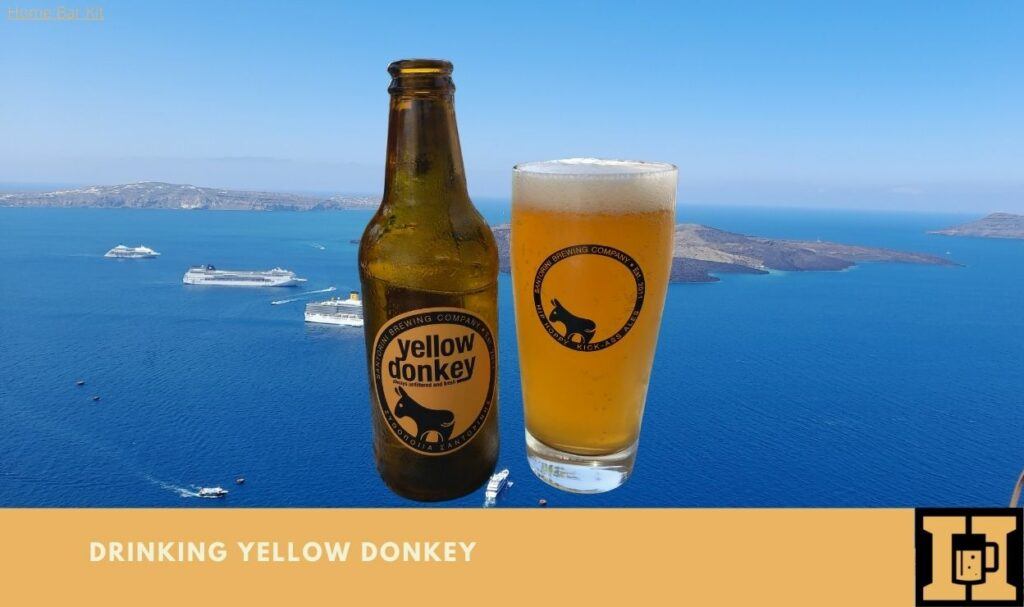 Once you pop the crown and pour the contents of the dumpy little bottle, it doesn't look like anything special. A light hazy golden liquid with a fluffy one finger head.
But you know it is when you move in for a sniff.
It makes the nose tingle with tropical fruity notes and zesty citrus grapefruit. It smells fresh with a little herbal backdrop.
The taste follows suit with a hoppy front that has a citrus sharpness of grapefruit. A blend of softer tropical fruits take the reigns and a little spice lends a hand to a sweet finish.
There is only the faint hint of bitterness and the sweet finish is actually a satisfying end.
I like it, a go to pale ale which is more sweet than bitter, but just works. At 5.0% Vol it sits right at the top end of session. Which is just as well because it goes down so easy and it is hard not to crack open a second.
It is a high scorer for me because its just a great beer, it gets a well deserved 4.6 – 5.0. This is M'Lady's favourite beer of the Donkey range. Lou says "A nice sunshine pale ale, sweet but not sickly." Lou scores it a solid 4.4 -5.0.
Santorini Brewing Co Beer Range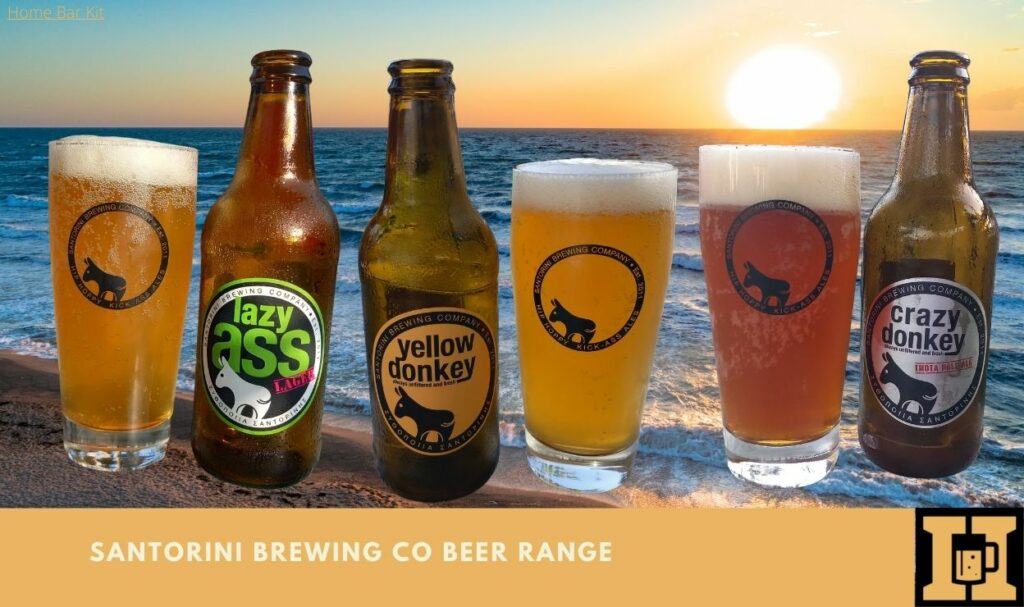 The range of beers is not a vast one, but I have a feeling that there will be more to come from this small brewery. In fact since my return from Santorini there seems to be a new addition that they didn't mention at the brewery.
Blue Donkey, which I hope I can get hold of somehow. So apart from their now loved small core range, there is definitely more to come.
Here are a few more Donkey's.
Blue Monkey
Blue Monkey is a Blonde Saison and the newest Donkey on the block. Apparently inspired by the endless blue that surrounds Santorini. I guess that must be the blue skies because believe me there aren't many blue roofs.
It's a fruity little number that is said to be the perfect summer beer, cold and refreshing. It weighs in at a cool 5.0% Vol and like all the Donkey beers is unfiltered for a little haze.
It might take me a while to get hold of because it is only available in Santorini at the moment. And as much as I like the island and the Beer. I am not going back yet just for a Donkey.
White Donkey
White Donkey is a refreshing Weiss Beer described as a crisp acidity and strong citrus flavours with a bitter finish.
It is brewed with equal measures of malts and wheat, as well as an array of hops. At 5.4% Vol it falls out of the session bracket and in its 750ml bottle just the one will be enough.
One I haven't tried but is on my beer hit list.
Slow Donkey
Slow Donkey is described as a wine beer, I know weird right. It is only produced in limited amounts once or twice per year. Matured for 5 – 6 months in barrels that were used for wines containing the Santorini Assyrtiko grapes.
With a secondary fermentation in the bottle it is said to be a dense beer that is likened to wine. It packs a punch too, with a strength range of 8.8% – 9.2% Vol.
I am not sure I like wine with my beer, but i'd give it a go.
Final Thoughts
Santorini Brewing Company and their Donkey beers have helped to change the beer scene in Greece. However they are not alone, there have been many microbreweries popping up all over Greece in recent years.
Santorini Secrets explores many of them.
While I knew about the Donkey beers before my recent visit to Santorini. I was expected just the regular Mythos, Fix and Alpha beers to be the ones that were widely available.
However I was pleasantly surprised at the amount of alternative Greek beers that were available. It made for a great beercation.
If you have tried any of the Donkey beers, or any other Greek beer, then do share your thoughts below. Let me know what you think of Greek beer.
Ya Mas.