Somebody decided that blueberry pancakes with maple syrup would go well in a stout beer. And it was Saugatuck Brewing Co from Michigan, but are they right? Is Blueberry Maple Stout any good?
Surely it's a joke, well it is a bit of a mind bend. I really wasn't sure whether to even try it or not. But I did, and I was pleasantly surprised, I think.
Is Blueberry Maple Stout Any Good?
It is, in fact it is a clever beer. It retains its stoutness while delivering a dose of blueberries and maple. The pour is jet black with a moderate foamy tan head. On the nose it hits first with the fruity blueberry over a smoky malt, followed by sweet sticky maple. The taste is exactly the same with a short burst of blueberry up front over a rich smoky malt. Then someone pours on the maple, its sweet, sticky and smoky. The maple is a little too much and it gets a rate my beer of 4.0 – 5.0.
That's enough maple thank you.
Saugatuck Brewing Co
Saugatuck brewery was founded in 2005 by Barry and Kathy Johnson in Douglas the neigboring town to Saugatuck, Michigan, US.
The operation was small with a 3.5 barrel brewing system. In 2008 the brewery moved into a larger unit across the road from the original. The new system was a larger 10 barrel brew system.
In 2013 this changed again to a 45 barrel brew system which saw beer production grow considerably.
Apart from the brewing space the unit also houses a tap room and a restaurant. In 2019 they opened another tap room in Kalamazoo Michigan. And 2021 saw them acquire the Creston Brewery in Grand Rapids Michigan.
The original 3.5 barrel brew system is now used for a brew on premise program. Customers can brew their own beers and then return to bottle them, what a great idea.
Is Blueberry Maple Stout Any Good?
I actually wasn't expecting to like this beer. Even though I like pancakes, blueberries and maple syrup, I am not to keen on them in my beer.
The surprise to me was how well the stout kept its composure among the blueberries and strong maple flavors.
The blueberry was subtle on the front and faded amongst the smoky malt. But when the maple hits it is a little overpowering, it is just a little too much.
The description is spot on " A fat stack of blueberry pancakes stuffed in a glass and smothered in maple syrup."
I do love the can artwork with the hearty Lumberjack about to tuck into a pile of blueberry pancakes loaded with maple syrup. Of course he has a pint of this stout ready to go too. He must love these tastes.
Time to drink it.
Drinking Blueberry Maple Stout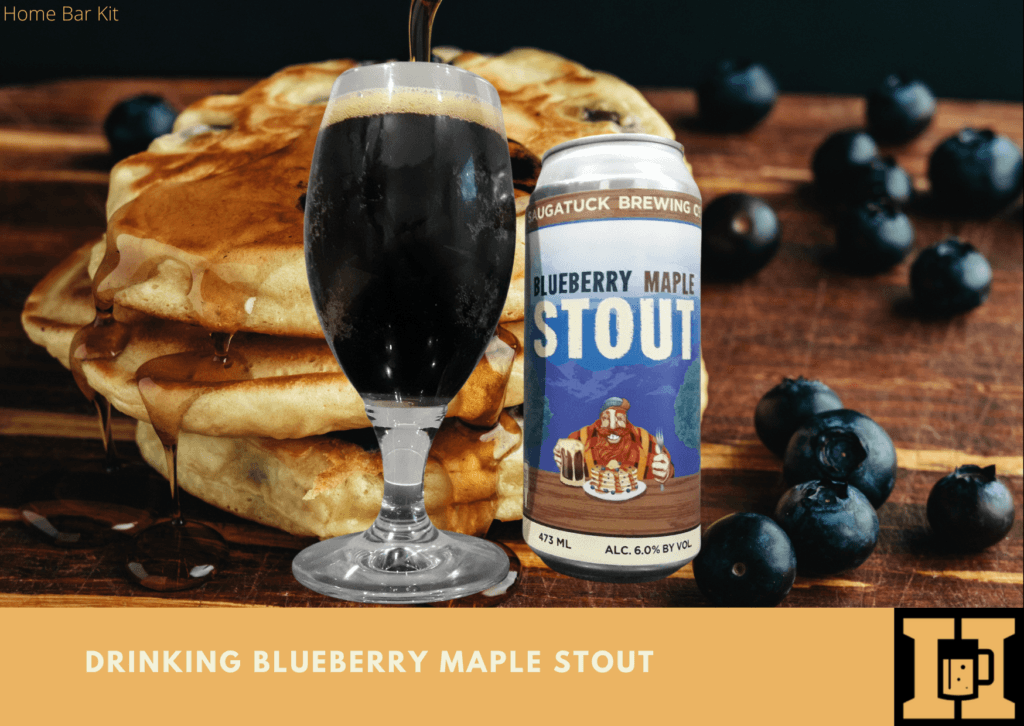 The pour is impressive with a jet black liquid laced with tan colored swirls. It settles with a moderate foamy tan top that does fade to nothing.
The nose is sweet with the aroma of fruity blueberry over a malty caramel base. This soon fades as the sticky maple forces its way through and steals the show.
The taste is the same as the nose, a quite soft blueberry tang over a satisfying malt which has a rich smokiness to it. Then in burst a copious amount of maple syrup, like a fast flowing river it destroys everything around it.
Initially this is off putting and way too sweet. However as you drink on it kind of settles a bit and the presence of the smoky malt walks back in. Every now and then the blueberry just pops its head in to say hello. However Maple will not back down and holds on strong.
The whole experience is a rich sweet tango of flavors that interchange, its a clever beer. At 6.0% Vol it is not for a session, which is a good thing, I couldn't drink more than one.
Forget those blueberry pancakes with maple syrup, just replace with a pint of this stout.
For me it is too sweet and it was close to scoring really low. However because the stout managed to keep its composure underneath that river of maple it faired okay.
The rate my beer score is a straight 4.0 – 5.0.
M'Lady on the other hand was not so forgiving and found the whole thing way to sweet, and she has a sweet tooth. Lou scored it a measly 2.5 – 5.0, it is fair to say she won't be having another one.
Saugatuck Beer Range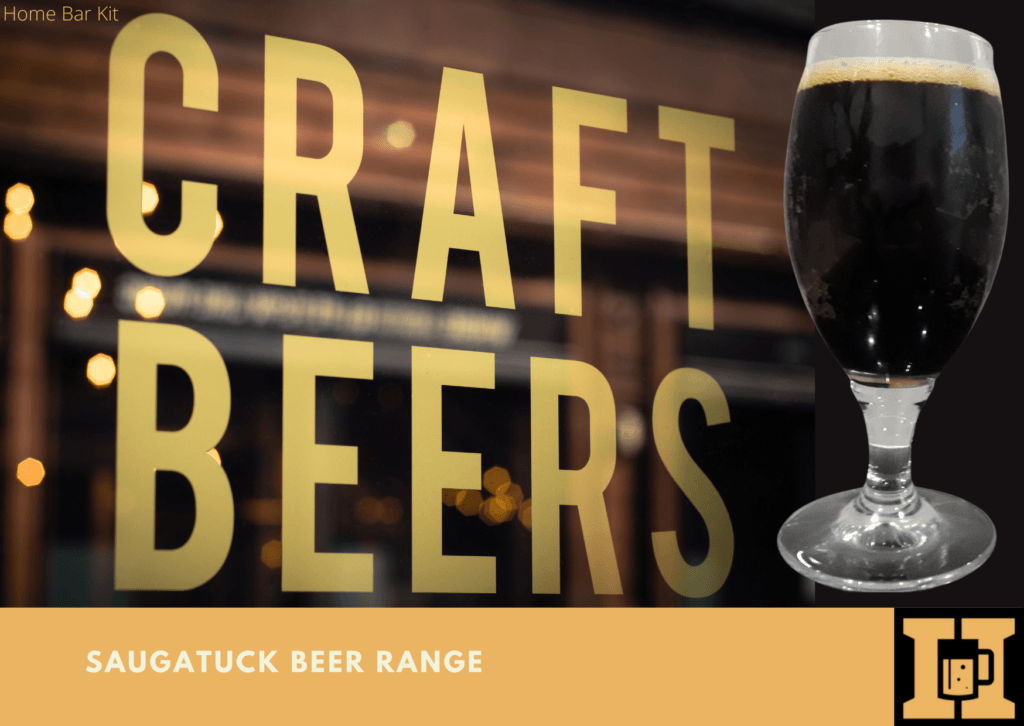 There are plenty of beers to choose from in Saugatuck's range. Some are seasonal, some limited release, but there is a good mainstay range. Also there are a few barrel aged beers too.
I will feature a few from the main stay range, starting with a lager and finishing with milk stout.
Interplanetary Lager
This is an India Pale Lager, so it is an IPL, not an IPA. It just means it is a hoppy beer brewed using lager yeast instead of ale yeast.
The hops used are Galaxy and Comet which will give it a fruity citrus flavor. It is an out there hoppy lager that weighs in at 6.3% Vol. Not a lager to session on then, but one I need to try I think.
Cottonmouth Crusher
This one obviously gets its name from the Cottonmouth snake, but is its bite as big?
It is a sour beer with a raspberry explosion, which is the bite part of this beer. Described as a tart funky sour ale and weighing in at 6.0% Vol it could be a one off beer.
Like the Blueberry Maple Stout it could be a little too sickly for more than one, so maybe an occasional beer.
Bonfire Brown
A classic American Brown Ale with a rich malty body laced with a smoky finish. Others describe nut flavors with coffee and chocolate notes. It has a mild bitterness and a smoky undertone.
Slightly lighter on strength this one comes in at 5.5% Vol, so still not a session beer. However who doesn't like a classic brown ale? Its one to try.
Neapolitan Milk Stout
Okay if you like Neapolitan ice cream and a milk stout then this could be the beer to try. They do like to add other flavors to their stouts.
A rich malty milk stout that has chocolate, vanilla and strawberry teasing the taste buds. Another beer that probably won't entice a second go, so the 6.0% Vol is probably a good thing.
Final Thoughts
Well Saugatuck Brewery do like to experiment with some weird flavor combinations in their brews. And why not, after all they are a craft brewery and that is what it is all about.
For me I think the Blueberry Maple Stout although nice, is slightly spoilt by too much maple. If the maple was toned down a little it would be a better beer.
As for the other beers in their range, I will find out in time because they have to be tried. If you have had any of the Saugatuck range, then share your thoughts and tell us how they faired in your opinion.