This is a craft lager in a funky can branded as an inclusive beer from Craft Nation. The lager is called A Golden Opportunity and it's the can design that sells the product. When you spot this on a shelf, it is going to come home with you. But is it really a golden opportunity from Craft Nation.
However more importantly is it any good?
Is It Really A Golden Opportunity From Craft Nation?
It won't blow your socks off, and it doesn't live up to the can. In spite of that it's a typical German style pilsner. The pour is is a light golden straw that settles with a brilliant white generous head. On the nose it is not strong, with slight malty and floral aromas. The taste is also slight, again the malt comes through with a little hop background. I did like the smooth almost creamy mouthfeel that leaves a slight bitter end. 3.7 – 5.0 rating.
It just lacks oomph, I think the can design sets it up for a fall. Having said that, it is an easy drink, light and crisp.
Craft Nation Beers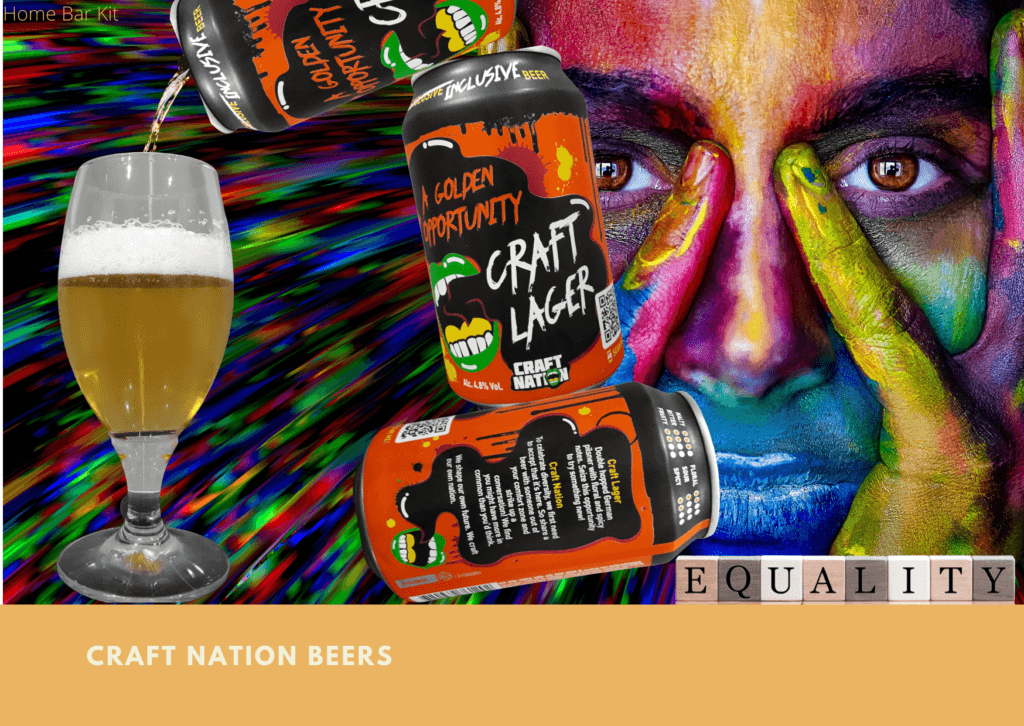 What can I say about Craft Nation? Well not a lot really, there isn't much history. They produce a fairly new range of beers with an emphasis on inclusivity and equality. The range consists of 4 beers including A Golden Opportunity.
Based in Germany, Craft Nations message is diversity and equality which is a great. Everyone is equal no matter what race, age, gender or sexuality they are. A great message to promote behind an exciting range of beers.
They say they are passionate about brewing mind blowing beers, unfortunately this one isn't. Nevertheless that doesn't mean to say their other beers won't blow my mind. Which gives me a good excuse to try the rest of their range.
The brewery comes under the umbrella of United Dutch Breweries with the likes of Weidmann, Royal Dutch and Orangeboom. They have been around a while, starting in 1538 with their first brewery Breda Bier. UDB are based in Breda, Netherlands.
Now, lets get deeper into the beer in hand.
A Golden Opportunity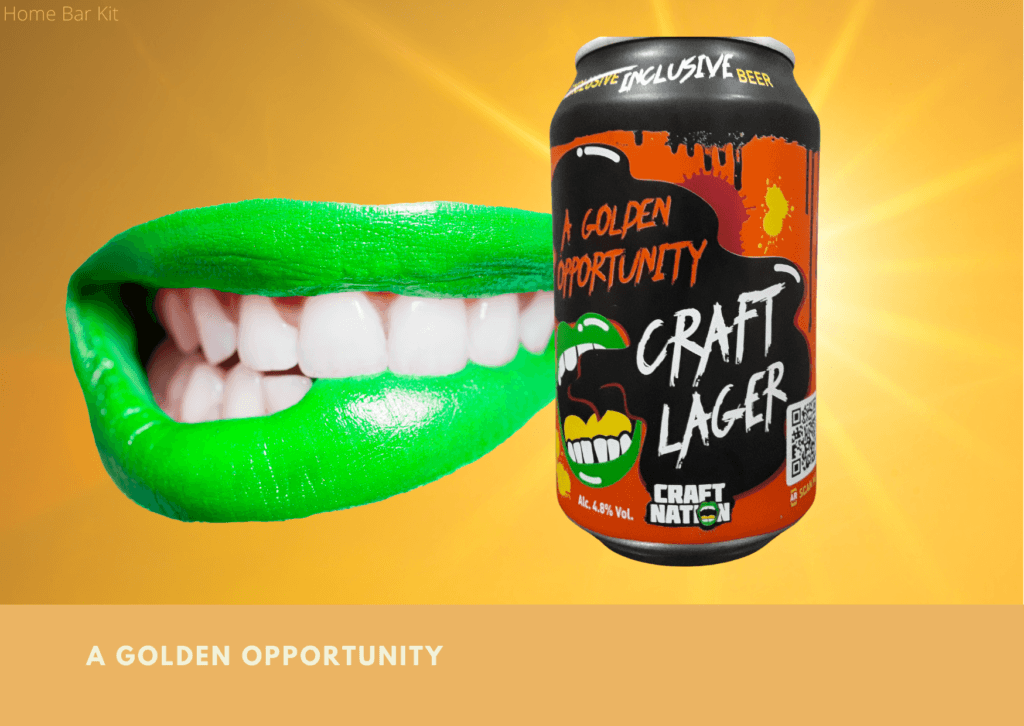 It is a double hopped German pilsner made with Aurora hops. These hops lend a spicy floral aroma and taste with a smooth bitterness. Some of which do come through, especially the smooth bitterness.
Like many craft beers the label design is bright, busy and funky. With an orange base and a set of green Mick Jagger style lips, paint splats and runs, its like Graffiti on a can. This does set you up with a certain expectation, that being 'Wow, this could be good'.
However, it didn't quite live up to the expectation the can portrayed. The pour is a straw like golden color, it has the look of a light beer. A very generous head forms as the beer settles, which does reduce to a thin top. This barely holds on and just manages to contain the beer below, leaving a moderate lacing around the glass.
On the nose it is slight, there is no aroma popping from the glass. You have to go deep and focus to get any kind of scent. A little bit of patience and focus brings with it faint malt and floral bouquet. I use that word because it is very delicate on the nose.
Moving on to the taste and its a similar story. A malty biscuit is the strongest flavor coming through and that is modest at best. You have to search for any floral or spice notes, and when you think you have found them they do a runner. There is a mild carbonation that descends into an impressive smooth creamy feel, with a nice bitter end.
The Verdict
See I was impressed at one point. Craft Nation describe it as an easy going beer with a little oomph. I can agree with the easy going part, but as for oomph, I think that is what it lacks. The can speaks an explosion of taste, but in reality it delivers a more conservative experience.
At 4.8% Vol it is at the higher end of a session beer and it would be easy to drink a few of these beers. It is reminiscent of a macro style lager and suits as a thirst quencher. A hot sunny day would see this beer in full flow, be it on the beach or at a BBQ.
Its not an exclusive beer, but it is inclusive, which has to be congratulated. Craft Nation are promoting a good message through their range of beers. However this particular beer does not set the world on fire for me and rates at a sombre 3.7 – 5.0.
In spite of this, it hasn't put me off trying their other offerings. Also if I was offered A Golden Opportunity at a gathering, I wouldn't turn it down. I mean its not awful, its just a bit uninspiring.
More Beers Enjoyed By Me.
Craft Nation Range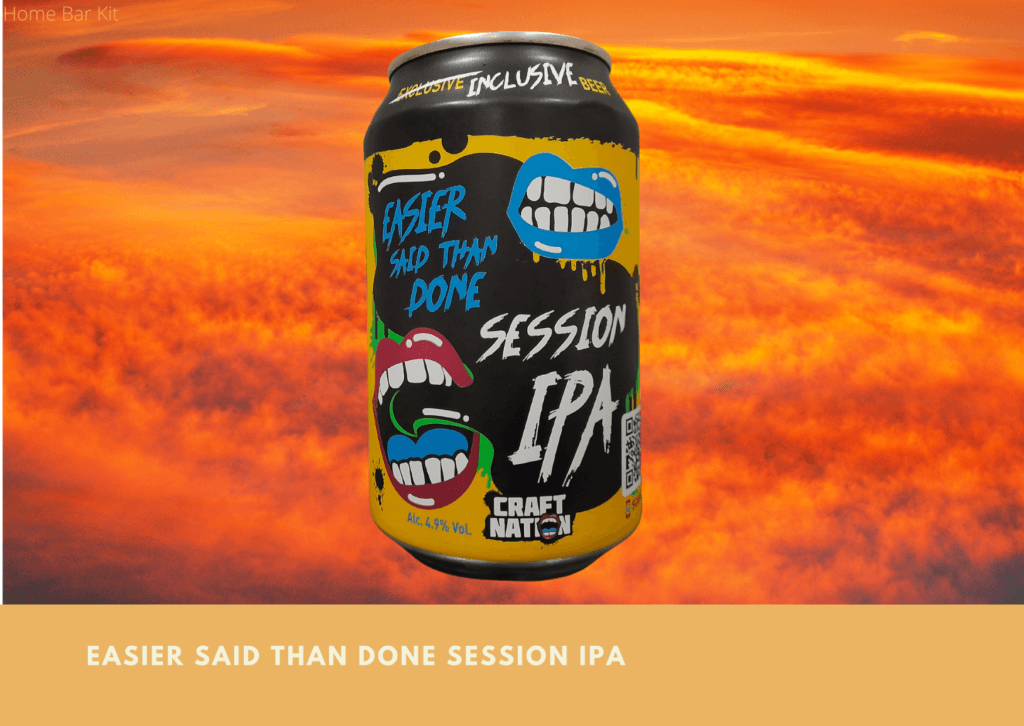 As I said earlier there is four beers in the Craft Nation range. The other three are a session IPA, an imperial IPA and an alcohol free IPA. I suspect the range may grow in the future, but only time will tell. So what about nothing comes from nothing. What am I talking about?
Nothing Comes From Nothing
I am not going mad, this is actually the name of Craft Nations non alcoholic IPA. Or should I say low alcohol IPA because it has 0.5% Vol. They left a little in just to get the best flavor. The can has the same wacky design, but with blue Mick Jagger lips and a pink backgroud.
Made with Aurora and Comet hops, it promises to have floral and spicy notes with the bitter and citrus feel of a typical IPA. Craft Nation describe it as fresh and fruity with grassy notes and a malt background. When you fancy a beer but don't want the alcohol, this could be the one pop.
Easier Said Than Done
So this one is the session IPA and again has the same can design but with Pink Jaggers and a yellow background. Made with Vic Secret hops which suggests a profile of pineapple hit with a pine and herbal body. It is triple hopped and has a toasted malt flavor.
Craft Nation describe it as a light and smooth beer with a malty base and hints of spice and herbs. Sounds good, and at 4.9% Vol its a sessionable beer too. Here's hoping for a decent go to IPA.
Hop On The Band Wagon
Now we are talking, an imperial IPA with some substance. This time the can has Orange Jaggers and a blue background, there's a theme going on here. Made with Mosaic and Yellow Sub hops it promises to be a lively number. Tropical fruit should shine through this beer with hints of apricot and orange. With a malty caramel base this should set for a smooth creamy beer.
Craft Nation describe it as floral and zesty with a creamy malt base with hints of caramel coming through. Sounds good to me, and with a powerful 7.8% Vol it should have some bite to it too. Hop On The Band Wagon could be the beer in the Craft Range that I might just love. This one could score high.
Final Thoughts
Craft Nation may not have blown my mind so far, but they have promise with their imperial IPA. That is the one I am looking forward to trying. However I already have a can of Easier Said Than Done their session IPA in waiting. This will be my next experience with this brewery, then its onto the 7.8% blockbuster.
Time will tell whether I fall in love with Craft Nation, but I like their message, and I like their crazy cans. Have you experienced any of their beers, if so then share your thoughts. What was your verdict?