We all know a garden bar is a great feature in any home. When the weather is fine then the garden is the best place to entertain guests. One thing that can spoil a garden party is warm drinks, especially on a hot day. So how do I keep my drinks cold in my garden bar?
The obvious answer is with a fridge, but not all garden bars will have electricity and is it a good idea to run a fridge outside? Okay so we could just use the trusty old ice bucket, but on a hot day it won't last long.
How Do I Keep My Drinks Cold In My Garden Bar?
There are a number of ways to keep your drinks cold in your garden bar. Some are a little bizarre like digging a hole in your garden. What about a wheel barrow or old bathtub filled with ice, that would work. Or a good quality cooler box may do the trick for a number of hours. On the other hand, it might just be a good idea to get the ultimate cooler cart to do the job properly.
There is a method to suit everyone's needs.
How Do I keep My Drinks Cold Without A Fridge?
When an outdoor bar is housed in its own building that has an electric supply, then a fridge is the best option to keep drinks cold. However a lot of garden bars are simple ones that are open to the weather. Hence not all outdoor bars have electricity, but drinks need to be kept cold.
Even if you haven't got a garden bar, no one wants a warm beer at a BBQ or garden party. There are many tips to keep a drink cold for your guests, nevertheless they are not all ideal. So you could keep your drinks in the house fridge until you serve them. It will work, but who wants to keep going indoors to get a drink. As the host you will be doing a lot of leg work.
Wrapping a damp cloth around a bottle or can will keep it cooler longer. While this might help keep a drink cool, I am sure you guests will love that. Digging a hole to keep all your bottles and cans cold can work too. The ground temperature will be cooler than the atmosphere. What a good idea, not.
Filling a large container with cold water or ice will do the trick too. In fact this is probably one of the best ways to keep drinks cool on a hot day. Unless of course you have an outside fridge, but that will still need an electricity supply.
Luckily there are purpose made products to keep drinks cool outside. Some are cool, some not so.
**As an Amazon Associate, I earn from qualifying purchases with no extra cost to you.
Underground Beer Cooler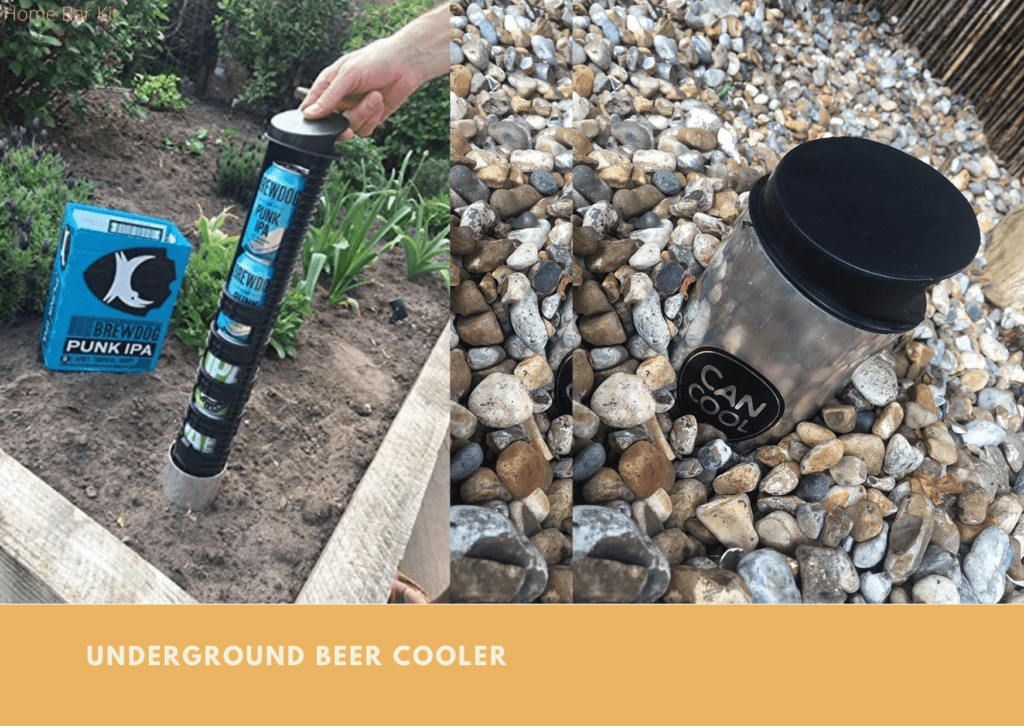 Check Latest Price
I wasn't joking about digging a hole and storing your drinks to keep them cold. One company has taken this onboard and made a purpose built product for the job. It will hold up to 8 cans and keep them cool or if left for a good amount of time cool them down.
All you have to do is dig a hole around 1m (3.2 ft) deep and insert a tube. It's easy and a natural way to keep your drinks cool. See For yourself.
Although it may well keep your cans cold, that is all it will keep cold. It is not designed for bottles, so another method would be needed for these. Personally it is not something I would go for, but its a novel idea and some people will love it.
As the marketing says, it will certainly be a talking point at your garden gathering.
Party Bucket Cooler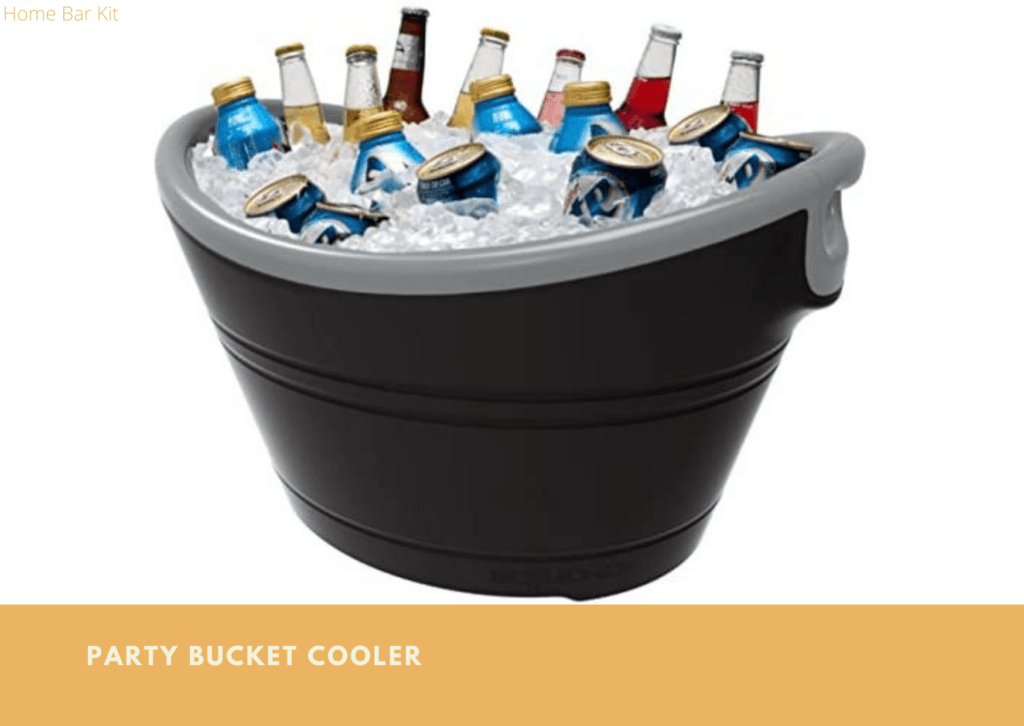 Check Latest Price
Forget the old tin bucket or bin filled with ice. How about this insulated party bucket to keep all your drinks cold. It is ideal for a garden party and looks good too.
It is double skinned with a foam insulation in between, this makes it ideal for keeping the contents cold for longer. The insulation also stops sweating too, which unlined tubs suffer from. An elevated base keeps the bottom cool as it will not be affected by warm surfaces. It holds around 20 quarts which is equivalent to about 19L.
A leak resistant drain plug allows melted ice to be drained easily. Made from tough polypropylene it's a cool and traditional way to keep all your drinks cold.
Standard Cooler Box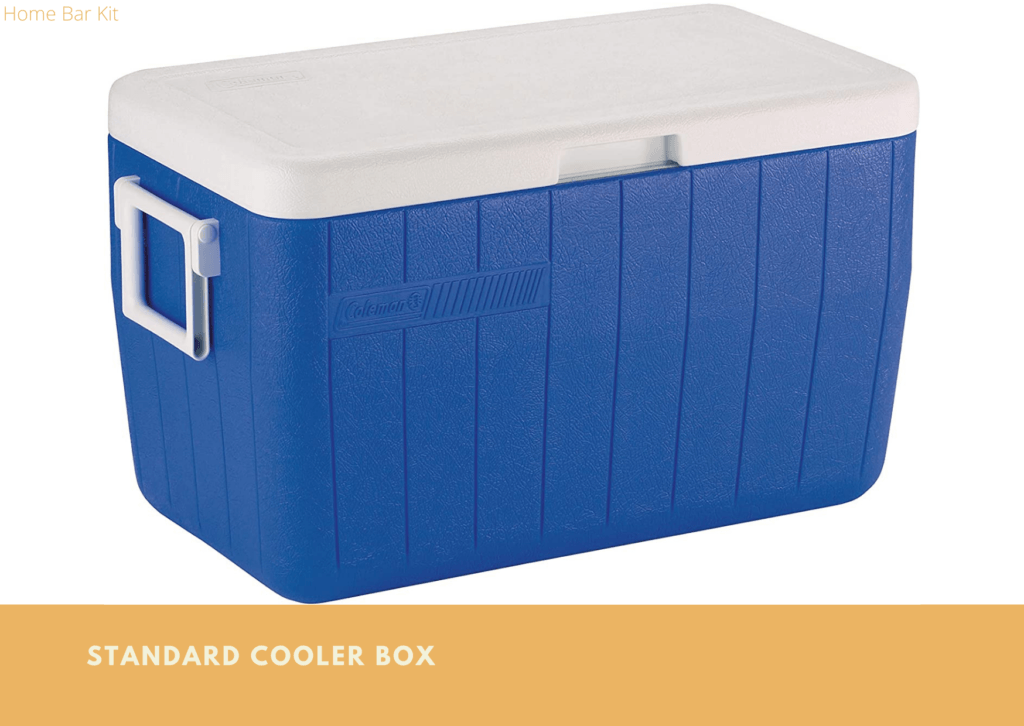 Check Latest Price
Your standard cooler box is always a go to way to keep your drinks cold. They are reliable and can keep drinks cool for a long time, which makes them ideal for your garden guests. The Coleman performance cooler is a tough bit of kit.
At 48 quarts (45L) it can hold up to 63 cans. Being nearly 14 inches (35.5cm) high it can store 2L bottles upright. Constructed with Thermozone insulation it boasts to keep your drinks cool for up to 3 days. Ideal for a garden party then. A drain plug lets you drain off melted ice easily.
A decent size for your garden or to take on a trip, a versatile cooler indeed.
Heavy Duty Cooler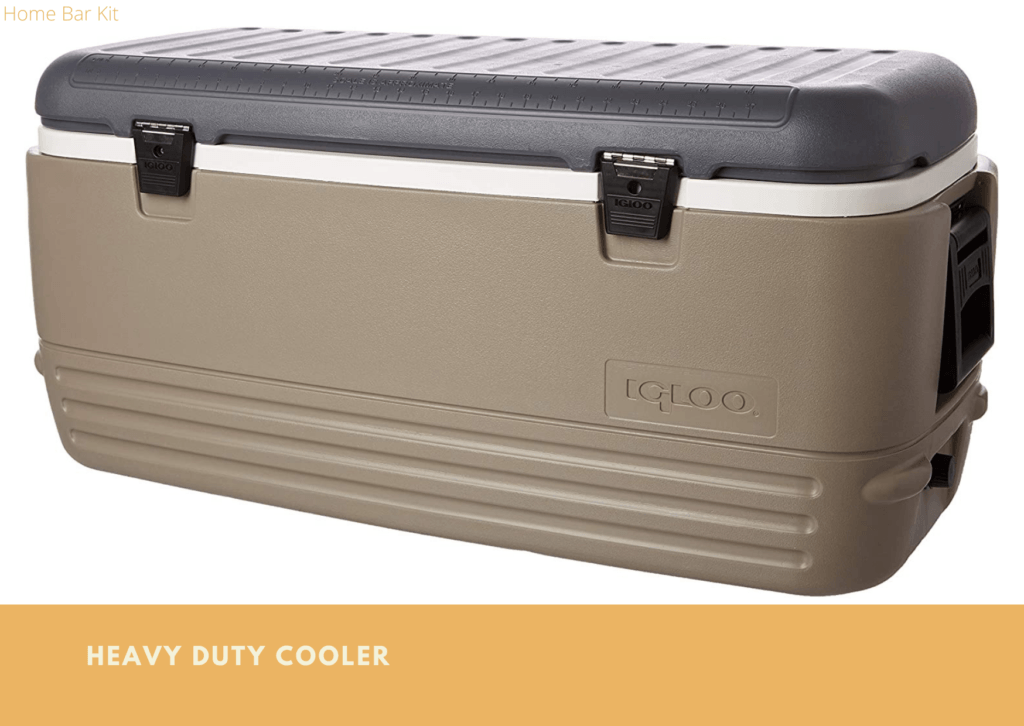 Check Latest Price
To scale up the Igloo Sportsman is the ultimate cooler box for a garden bar. At 150 quarts (142L) it can house a huge amount of bottles and cans. Said to keep things cold for up to 5 days with it s Thermocool foam insulation.
Dual swing up handles, hinged lid with secure latches and a drain plug are just some of the features on this cooler. It measures a whopping 38 inches (96cm) in length, 17 inches (43cm) in width and just under 18 inches (45cm) in height. On top of all that it makes a handy seat for two.
A monster cooler that will keep the drinks flowing for the duration.
Wheeled Cooler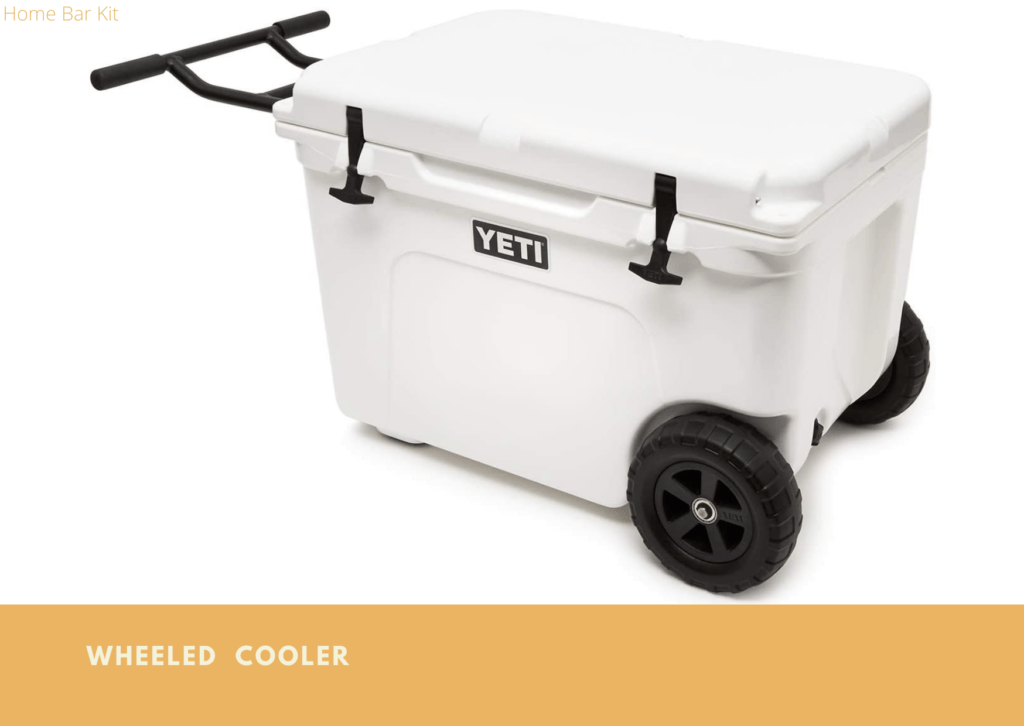 Check Latest Price
It's not the biggest, but it is a solid bit of kit that has a set of wheels too. This makes it super easy to move around as coolers can be heavy when they are full. The Yeti Tundra Haul is a serious cooler, however it will cost you serious bucks.
It is solid and tough and will withstand many years of use. A fatwall design hold up to 2 inches of insulation that will keep the contents cold for a long time. It features tough wheels and a fold away T bar handle that makes it easy to steer and manoeuvre.
At around 55 quarts (52L) it will hold 45 cans with room for ice. Being of sturdy construction it makes a good seat too. Ideal for trips out or a regular at the garden bar.
The Cooler Cart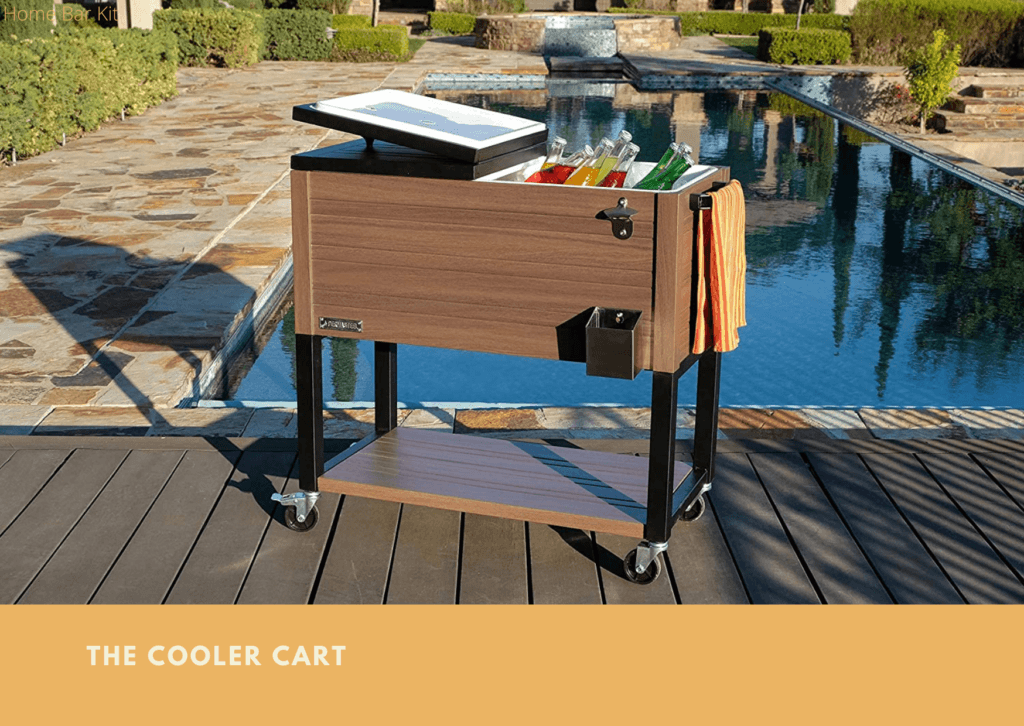 Check Latest Price
This just maybe the ultimate in coolers for the garden, a large 80 quart (75L) cart on wheels. Holding up to 110 cans with room for ice it's a winner. Twin hinged lids make it easy to access. A lower shelf adds room for extra storage.
Being on wheels it is easy to move around, and two of the wheels lock for anchorage. There is a nifty bottle opener on the side along with a cap catcher. The twin lids can be removed and with a drain plug too makes it easy to keep clean.
The cooler cart can stand right along side a garden bar and look part of the bar itself. At around 35 inches (89cm) long, 20 inches (50cm) wide and 32 inches (81cm) high it is ideal for entertaining in the garden.
Final Thoughts
As it turns out there are many ways to keep your drinks cold in your garden bar, however they are not all desirable. For Instance I am not sure about the Cancool device. Digging a hole to keep 8 cans cool seems a little pointless. However the other options allow a lot more cans and bottles to be kept cool.
I prefer the two coolers on wheels, for obvious reasons. Therefore the last one featured the cooler cart is by far the best. Holding 110 cans, or a combination of bottles and cans it really is the best option by far. Not one you would want to take on a trip, so they all have their advantages over each other.