Take the awesome natural beauty of Gower and add the power of a real Welsh ale and you have Gower Power. Capturing the essence of Three Cliffs Bay blended with a malty brew laced with a fruity edge. Now that sounds like a brew you want to drink. But is Gower Power beer any good?
It states on the bottle that it is best enjoyed with a good view. Whilst I get their point, not everyone lives at Gower. So can this beer stand up and be counted without the wonder of the Welsh scenery? Let's find out
Is Gower Power Beer Any Good?
If you like real ale that has a warming malty body with a fruity cloud floating upon it, then the answer is yes. Once poured it stands a proud mid golden brown with a generous fluffy top. The nose is a balance of hops and malts with notes of citrus fruits squeezed on top. The taste is real ale with a malty biscuit base that has a caramel twist. A hint of peppery spice eases for the fruit to show its face, which stays to the end with a slight bitter finale. It builds in the mouth to a satisfying end and scores well with a Rate My Beer of 4.3 – 5.0.
So it can stand alone with or without the view, a decent real ale from the Gower Brewery.
The Gower Brewery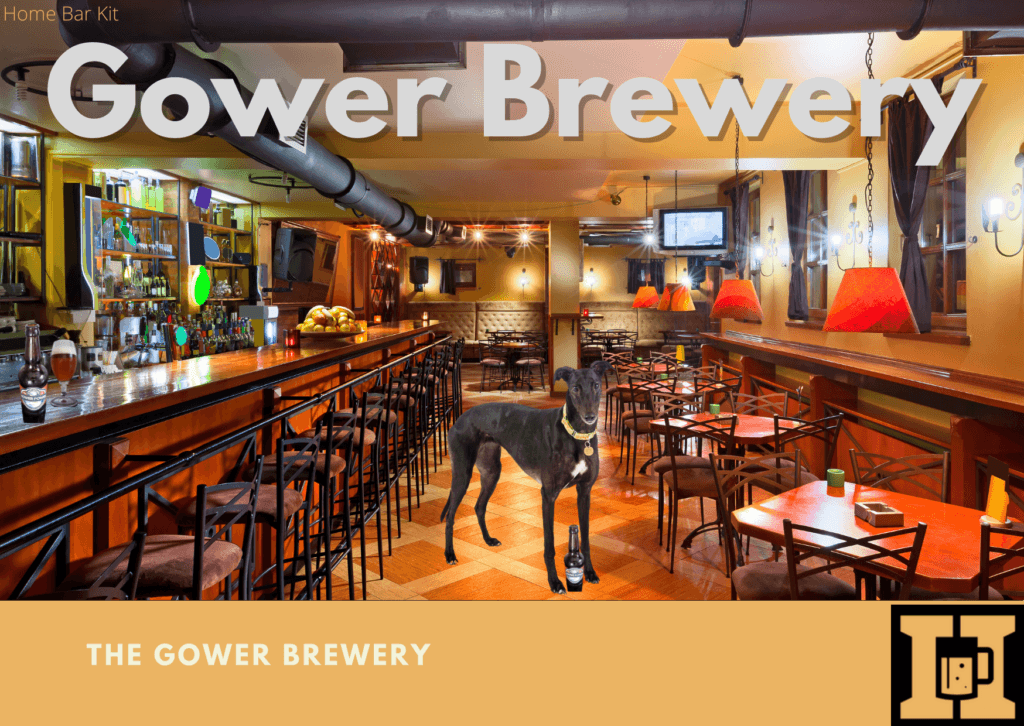 A brewery born in the shadows of beauty on the beautiful Gower Peninsula of Wales. A place of outstanding natural beauty since 1956. Set up in 2011 by friends Matt Joslin, Paul Chiverton, Chris Stevens and Chris Mabbett. It started life as a micro brewery based at one of the partners pubs the Greyhound Inn, Llanrhidian and grew from there.
It seems the Greyhound Inn is no longer and earmarked for a small housing development. Sacrilege, can everyone stop closing pubs.
Back to the brewery, and with steady growth and an array of awards under their belts, they needed to expand. 2014 saw the brewery move to its new premises, an industrial unit in Penclawdd. With more space and a hefty investment for more brewing equipment saw the capacity rise considerably.
Demand for their beers kept growing and investment continued. 2016 saw the arrival of a 12 head bottling line enabling in house bottling. Things continued to grow and 2018 saw new fermenting vessels that increased capacity again.
2019 saw the opening of the Malthouse bar and restaurant in Swansea and 2020 obviously saw the pandemic hit. However the brewery continues to grow and is a power house of Gower.
What Is Gower Power Beer Like?
To begin with it is brewed using the old traditional method of floor malting barley. The grain is kept on a tiled or stone floor and regularly turned with a shovel and a rake before going to the kiln. This creates malts with a deep rich flavor characteristic. To find out more about floor malting read the interesting article at Beer and Brewing.
That rich malty flavor does come through in buckets from this beer of the original brewery line up. While the power element of 5.5% Vol which is inspired by the powerful waves of Gower Peninsula does give you that nice kick. It is a good all round premium ale which has many fans, including Brian May of Queen.
Drinking Gower Power Beer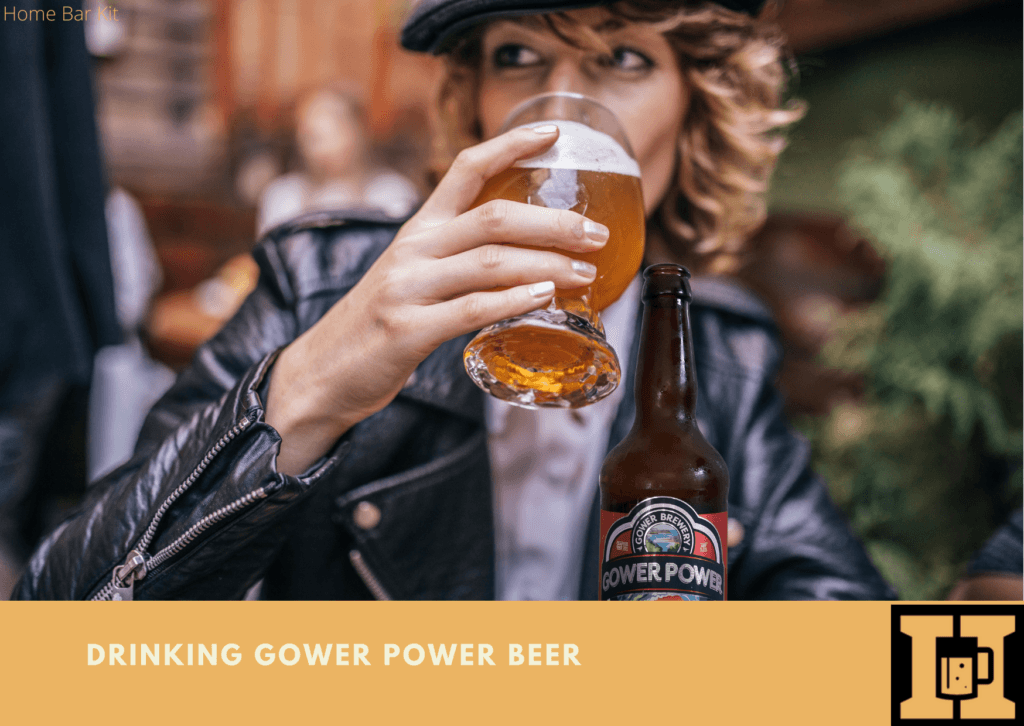 The generous 500ml bottle with its metallic red label incorporating the picturesque three cliffs bay and the image of surf looks impressive. Especially with the large letters of Gower Power separating the two. It looks good and needs opening.
As it cascades into the glass it resembles the surf on the label. Once settled it beams a mid golden brown with a lavish frothy white head. This does fade somewhat, but maintains a thin lid for the duration.
The nose is elegant and fills the sniffer with a hoppy front supported by a rich malty base laced with a pop of citrus fruit.
It's a real ale experience when you go in for the taste and that malty base comes alive with a sweet richness of fruity biscuit. Caramel notes play their part and a hint of earthiness lives in the background with a spicy pepper sprinkle. It all finishes with a fruity but slightly bitter climax that leaves the drinker satisfied.
A good solid beer that supports a real ale experience. It delivers a smooth strength with a suitable kick but without being to harsh. At 5.5% Vol it will not be wise as a session beer, but won't hit you to hard either.
It gets a respectable Rate My Beer score of 4.3 – 5.0, so one to go and get stuck into. However remember it is best enjoyed with a good view.
Gower Brewery Range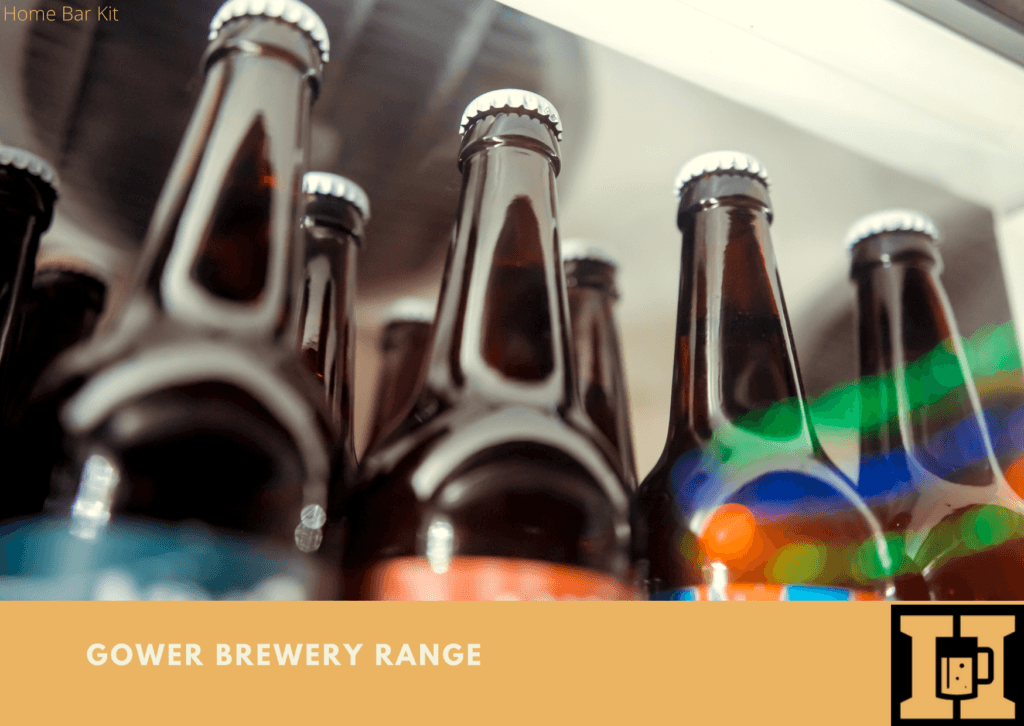 So Gower Brewery have produced a good solid beer with their real ale Gower Power. However what else have they got to offer? It is a well established brewery, so you would expect a comprehensive line up of delicious beers.
Well they don't disappoint with a good range of beers. From their continental style lager Lighthouse, to the accident that is a light ale called Shipwreck. Other beers include Black Diamond a full bodied Welsh porter, Rumour a rich ruby ale and Smugglers a medium dry cider.
There are more of course, plenty to try out. However I will take a quick look at three of their beers that have caught my eye and will make my hit list for the future.
Sunrise Blonde Beer
Gower Brewery go blonde with this lively light gold beer harbouring promises of citrus fruits. As you would expect from a blonde beer it is light in appearance. It's an easy drinking beer designed to be refreshing with hints of lemon.
It also boasts sun ripened aromas and flavors to compliment those beautiful Gower sunsets. Hang on, its called sunrise. Well sunrise, sunset who cares, lets just say its got a sunny disposition. At a sensible 4.0% Vol it can be enjoyed as a session beer.
A lively little beer with citrus hints that don't overpower. Its a perfect summer companion delivering a refreshing experience.
Gower Gold
You may have guessed from the name that this is a golden ale. This is the flagship beer of the brewery and a popular one too. With Cascade hops the star of the show expect those citrus grapefruit aromas and flavors to shine through. Possible spicy notes might tease in the background too.
It is described as a thirst quenching golden ale that delivers a refreshing experience. At 4.5% Vol it fits nicely as a session beer. A good choice to quench those hot day thirsts and enjoy drinks with friends, don't forget the view though.
Shipwreck
That links us nicely to Shipwreck another light golden ale that happened by accident. A run of Gower Gold did not turn out as it should have. However the result although not what it was meant to be, was still a nice beer, and Shipwreck was born.
The name came from the Helvetica, a ship wrecked on the Rhossili beach back in 1887. Parts of the wrecked still poke out the sand unwilling to be forgotten. At 4.4% Vol it is an easy drinking light ale that is laced with citrus notes of grapefruit with a little bitterness.
Final Thoughts
Gower Brewery then are the real deal, started among friends already in the pub business, it is no wonder a brewery is the result. Going from strength to strength the brewery has developed into a serious player.
If you get the chance to visit Gower, then it is a must, the scenery is really world class. And on top of that you know you can get great local beer too. A visit to the brewery should be on the cards too. Don't forget to also visit Mumbles while you are in the area, a bustling place with a great selection of bars and restaurants.
A beautiful part of the world with a brewery producing great beer. Keep your eye out for a Gower brew and share your thoughts below when you do. Enjoy the beer.
Rob is a passionate home bar and pub shed enthusiast with a passion for craft beer. With hands-on experience in designing and building his own home bar, Rob shares his knowledge, tips, and inspiration to help fellow enthusiasts create their own perfect space. Alongside the world of home bars and pub sheds, Rob also explores the diverse and exciting realm of craft beer, providing honest reviews to help you discover your next favorite brew. Join Rob on a journey of flavor, design, and craftsmanship right here on Home Bar Kit.