I would love to have a bar in my house, but I just haven't got the room. If that sounds like you and space is a little tight, then fear not because you don't have to miss out on all the fun. You have options, a small home bar could be the right fit for you, so Let's take a look at what we can come up with.
** This post contains affiliate links for your ease. This means that if you choose to make a purchase. I will earn a commission. This is at no additional cost to you.
I will look at the really small, like a mini bar say, to just plain small. A little bar is not insignificant, any bar is better than not having one at all, so embrace and enjoy.
Tiny House Bar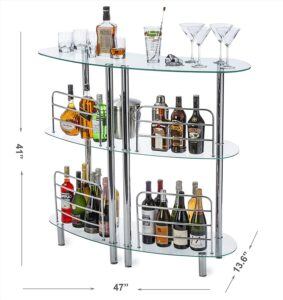 You have to admit, this is a beautiful little thing that will not take up much room, yet will enhance any room. If you are tight for space then these type of compact contemporary style bars will surely fit the bill. It does not have to be a grand affair, small is beautiful and can be stylish too, as long as it serves the purpose, then it is worth the investment.
**As an Amazon Associate, I earn from qualifying purchases with no extra cost to you.
A mini bar like this will only demand a small investment compared to a big full on working bar, so if space is tight, then a little gem like this will not take up much space and will not drain your pocket of cash either. The smallest of spaces can fit the smallest of bars, so if you thought you could not enjoy your very own home bar, then think again.
Small But Stylish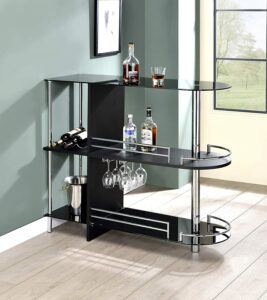 The next step up if you can afford a little more space for your own home bar. Again this type of bar which will sit directly off of a wall, will not take up a huge amount of room, but will look awesome in any room. These type of bars really do look stylish, but also are very comprehensive in the way they are constructed, giving space for a variety of set-ups depending on personal choice.
They can include wine racks, obviously only for a limited amount of wine, they may have glass holders, or hangers, again only for a limited amount, space for an ice bucket, they are versatile and can be set up in many ways.
This type of bar is a great bar to have in any home, but especially if space is a little tight, they can be moved around easily, so if you change your mind as to the location of the bar in your home, then that is easily fixed. You can decide how much room you need behind this type, if it is only a matter of a person standing behind, then not a lot of room is needed, but you may want a fridge behind, in which case a little more room would be needed, the possibilities are numerous.
They do differ in size, so make sure you measure your space well and always double check the bars measurements before you actually buy one.
Home Style Bar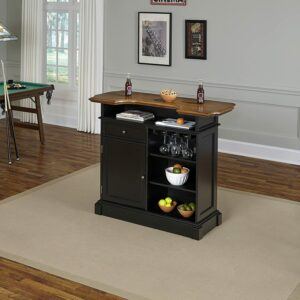 This falls in the same bracket as the last one, but is obviously a different style being wood instead of a glass and metal combination. This can be the same and sit directly off of a wall, or be freestanding anywhere you have the space. This is a closed front bar, so from the front you will not see any of the stock or anything that is in the bar at all, except what is on top of the bar.
There is plenty of storage again with combinations of glass hangers, shelves, storage cupboard and drawer, these will differ with every bar. An open bar as opposed to a closed front bar is all down to personal choice and whether you want all your stock on display or not, plus they have a very different kind of look and would fit in with different types of decor.
This type does have an added bonus, because the front is closed it gives way to being able to sit at the bar, with some appropriate stools of course. This kind of design often comes with a foot rest too so sitting at the bar gives that feel of a real bar, which of course it is, but you know what I mean. Just bear in mind that this will also need more space to accommodate the stools and the people sitting at the bar.
Great Home Bars
Although mini, and small, these are all great home bars and will fit most spaces. In the smallest of areas you can entertain your friends and serve them their favorite drinks from your very own home bar, with a little imagination anything is possible.
A little tip to help you plan your space is to first put your space down on paper, in other words draw a plan of the room you want to put your bar in. Try to draw it to scale and include all your other furniture, then draw in where you would like your bar, and measure the space to see what size bar you would be able to fit.
You can even make a floor template of the size of bar you want using cardboard or paper, this will give you an idea of the area the bar is going to take up and how much room you need around the bar to make it work for you. Then it is a matter of finding a bar that fits your criteria, they come in all shapes and sizes so there is one out there for you do not worry.
The Fun Bar
However much space you have of have not got, there will be a bar that will fit your situation, this also goes for your budget too. The main thing is to have fun, the whole process should be fun, from planning to choosing and purchasing and from setting up your bar to actually using your bar, fun is the name of the game.
You now know that you can have a home bar, there are no excuses, no matter your situation it can be done. So go forth and plan your own home bar and enjoy every minute of it, but always drink responsibly.