These are the big guns, the no holds barred kind of bars, the ones we would all love to have in our own home. The one thing these type of bars need is space because we are talking fully kitted out professional bar standard all within your own home.
If you have the space and the budget to go with it, then why not indeed install your own luxurious home bar, what could be better? Nothing, but as I have mentioned, space and a large budget will be needed.
Let's take a look at these monster bars…
A Luxury Bar – The Entry Point
At a starting point and where room is available, but you have not got the grand canyon to play with, then you may want to consider a small home bar which I covered with a more modest price range in a previous post. Although on the smaller side there are some very good quality small bars available, but these do command a premium price.
You can expect a good specification on these size bars when you hit the high end in price range, with features such as better storage options, cutting surfaces for your fruits and lighting included. Some have ice trays, spaces for coolers and even small sink units.
Obviously when you have lighting and cooler options you will need connectivity to an electric supply. The same goes for a sink unit, there will need to be connectivity to plumbing.
There really are some great luxurious small bars available, but you can also add the fun factor.
The Theme Bar
For a real fun bar experience, then you can always opt for a theme bar, these will brighten up any room and will be a massive talking point at any get together.
If you love cars and you want a car theme, then there are many car bars, from a 58 Chevy front end to a corvette front end, they look cool and sometimes have working lights too.
You may love a certain brand of drink, this could be your theme bar. You will not find every drink brand available in a bar, but some do exist and they do look very cool.
Another popular theme is the illuminated bar, these come in all shapes and sizes and as suggested illuminate, the whole thing lights up which makes for a spectacular bar visually.
There are many theme ideas for your home bar, but now let's look at the big daddy…
The Grand Bar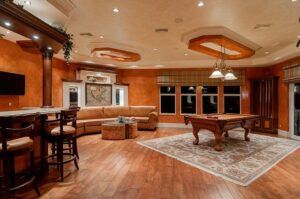 These are the big guns, the real professional bar experience that we would all love to have when we are throwing that special party. These serve best when you have a whole room dedicated to your home bar, whether that be a room within your house, or a purpose built extension or out building.
These are the top of the range bars that have everything from a built in fridge, fully functioning sink, ice trays and built in lighting. They may even have room for an ice maker.
This is the point, these bars have room to fully customize them for your own personal use, with bar taps serving your favorite beers, to optics holding your favorite spirits.
They will need furniture just because of their size. A nice row of bar stools in front of the bar will always go down well and makes sure the bar tender (probably you) will not be left out. Being a dedicated space just for your bar, there may also be room for several tables and chairs, or a pool table or other games table.
They are big, spacious and fully functioning and lend themselves to a full on bar experience.
Furnish Your Home Bar
All of these type of bars scream luxury, but they all come with a price tag as well, which ever type you go for, they would all benefit from furniture.
The smaller and themed versions would probably only need several bar stools in front of the bar. These differ as much as the bars do themselves, from simple sit on stools, to swivel stools with back rests.
As I have said above, the larger grand bars dedicated to a whole room, can have an array of furniture from stools to tables and chairs. You could go really grand and create a few booths or install a few vending machines with snacks for your guests.
Dream bar
If you have the space and the budget to match, then go luxury and create a great area or a complete room into your dream bar. There are no limits to what you could achieve here, and it will be unique because no two people will create the exact same bar.
There is a lot to think about when taking on a home bar project of this size. You will need to decide on the actual bar to purchase, the type of decor you want to compliment the bar, as well as accessories for your bar, and there can be a lot of accessories.
There are a few essentials that you will not want to forget, they are obvious, but can be overlooked.
Glasses
Beer and Spirits
Bar Tools
Glasses
I know, who would forget to buy glasses, I bet you it has happened. A good selection of glasses, from pop, wine, whiskey, cocktail to beer glasses. Just get the basics at first, then grow your collection over time.
Beers And Spirits
Again, not something you are going to forget, right? I am saying nothing. You know what you like, so this will make up your shopping list, but if you are going to be entertaining, then don't forget your guests choices. Again you could buy the basics, and grow your selection over time.
Bar Tools
A good bar needs a good set of bar tools, from a simple bottle opener to a cocktail shaker, these are the tools of the bar. At the beginning you can buy a tool set, which will include all the basic tools you will need, then in time build out your tools.
There is so much scope when it comes to your bar project, so fish for ideas, but add your own personality and you will love what you build.