The good old garden shed is an iconic outbuilding that serves us all in different ways. A garden shed is as unique as the individual who owns it. Whether it be a tranquil hideaway, hobby space, workshop, gym room or the ultimate bar, a shed is a versatile extra room. Talking of the last one, should I insulate my pub shed?
A shed is meant for storage, garden tools and equipment like lawnmowers and hedge trimmers. Cycles and outdoor furniture are items that get stored in sheds too. So why is there any need to insulate a shed?
Should I Insulate My Pub Shed?
If your garden shed is to become a pub shed, then yes it is a good idea to insulate it. Garden sheds are not designed to keep heat in and the cold out. So unless you want to sweat out the summer and freeze during winter, then insulation is a must for a pub shed. It will make your bar a far more comfortable place to be.
The humble shed has come a long way and its purpose has seen a lot of change.
Will My Shed Make A Good Home Bar?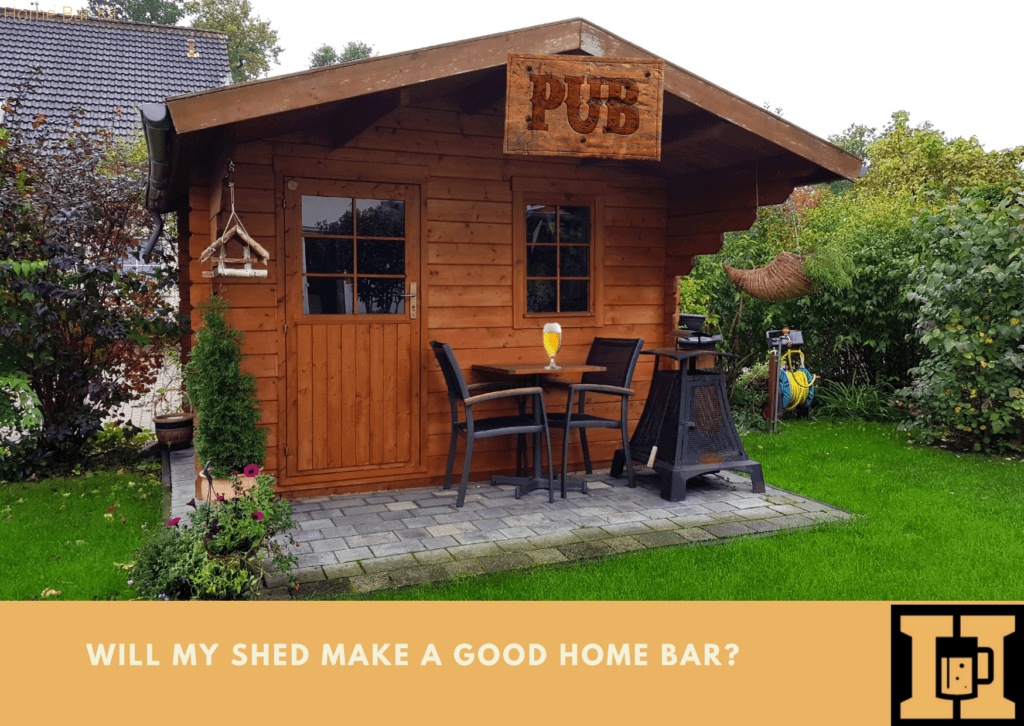 A shed is an adaptable little building and can be transformed into a spectacular outdoor space. The trend of shed conversion is a huge one, there is even a shed of the year competition.
A shed can become and office or work space, with some people running their businesses from the good old garden shed. A therapy room, dance studio or gym, a kids room or TV room, or how about a sauna. These have all been done, just as a bar has been done.
A shed makes a great home bar and keeps it separate from the house. When you visit your own shed bar, it feels more like going out to the pub. It doesn't matter about size either, a small shed will be just as good as a large shed.
A small bar that has a hatch to serve from may not need insulation. You only go in it to serve the drinks to those sitting on the outside. However if you have a large shed and are planning on seating inside, then it will be better to insulate it.
Insulate the walls, floor and ceiling for the best results.
As an Amazon Associate, I earn from qualifying purchases.
What Is The Cheapest Way To Insulate A Shed?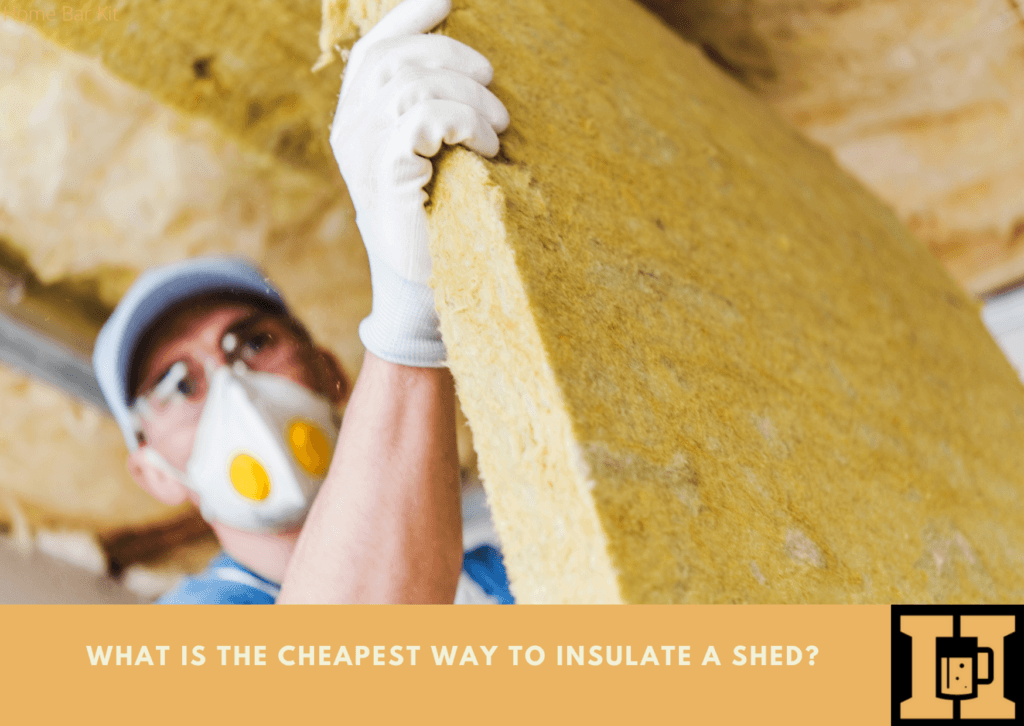 My motto is 'If you are going to do a job, do it properly' and that includes not doing it on the cheap. I understand budget can be an issue, but I would rather wait and save up to do it right the first time. This can end up being cheaper in the long run, just saying.
I will still include various optional materials that can be used to insulate a shed, then finish with the best one.
Bubble Wrap
Save up all that bubble wrap packaging and stuff your shed walls with it, NO STOP, don't be a fool. That is not the way to insulate a shed. There is purpose made rolls of foil backed bubble wrap insulation for this job. It is manufactured to insulate and is used a lot for insulating pipework.
But it can be used to insulate your shed too, It just wouldn't be my choice.
Fibreglass Wool
This is an ideal insulation material and is used a lot in attic and loft spaces to stop heat escaping from the roof. It is also good for sound proofing, which is ideal for a shed with its thin cladding walls.
However it is not the best material to work with, it irritates the skin and is not eh best thing to breathe in. If you decide to go down this route, then always wear eye protection, a mask and gloves. I would also make sure you wear long sleeves too, and put your clothes straight in the wash after.
Mineral wool is similar to fibreglass wool and it won't irritate the skin. Plus there are new versions on the market that are itch free.
It is a worthy for insulating a shed, but again not the one I would choose to use.
Compressed Foil Backed Insulation
A solid lightweight insulation that has a high U Value, which makes it an effective insulator. It comes in handy solid sheets that are easy to use and cut. If cut tight to shed frame measurement will fit snug in place and not need fixing.
The best known brands are Kingspan and Celotex, but there is a downside to this insulation. It is expensive, so will cost you a pretty penny, especially is your shed is a large one.
It is seen as the best insulation material by many contractors, and it is my insulation of choice.
Things To Do Before You Insulate A Shed
There are a few things to consider and take care of before you insulate your shed.
Check the condition of your shed
Treat the shed walls
Measure the shed framework
Gather the materials
Gather the tools
Check The Condition Of Your Shed
Survey your shed inside and out, check for any damage or rot on any of the wooden panels. Check the walls, roof and floor. Repair anything that could compromise the insulation you are going to fit.
Fill in any gaps, except the ones that are in the eaves, these are good ventilation.
Treat The Shed Walls
You may have already treated the outside of your shed, but it is a good idea to treat the inside too. And of course it is best to do it before you insulate it and cover the walls.
A good quality wood treatment that includes a fungicide would be ideal, like Lignum Pro D 156, but most wood treatments would suffice.
Measure The Shed Framework
This is an important step that is best to do before you buy your insulation, because it could have a bearing on what type you go for. We are measuring the depth of the frame, from the inside cladding to the edge of the frame.
It is best to leave a gap between the insulation and the shed wall, so allow for this when getting insulation. A 45mm (1.7 inch) frame depth would allow a 25mm (1 inch) insulation with a 20mm (0.7 inch) gap.
If your insulation fills the depth of the frame leaving no gap, then you can extend the depth with battens.
Gather The Materials
It is always best to have all the materials to hand before you start any project. This makes the task easy and flowing.
Wood filler (for repairs)
Battens (if needed)
Insulation
Lining Material (to cover insulation)
Paint (for finishing)
The wood filler is obviously only needed if you have to make any repairs to your shed. Likewise the battens are only if the shed framework is to thin. Insulation, that's why we are here. Lining material is for finishing, this can be wood cladding, MDF sheets or plywood sheets. Then if you want to paint the lining, get a color of your choice.
Gather The Tools
Again it makes any project run smoothly when all the tools to complete a job are at hand.
Palate Knife (for filler)
Sand Paper (sanding filler)
Saw (for cutting solid insulation)
Blade ( for cutting soft insulation)
Screws (for fixing lining)
Combi Drill (for fixing screws)
Paint brush/roller (for finishing)
The right tools make the job easier, so always best to have them ready to go. Make sure your combi drill battery is fully charge, nothing worse than a drill dying on you.
How To Insulate My Pub Shed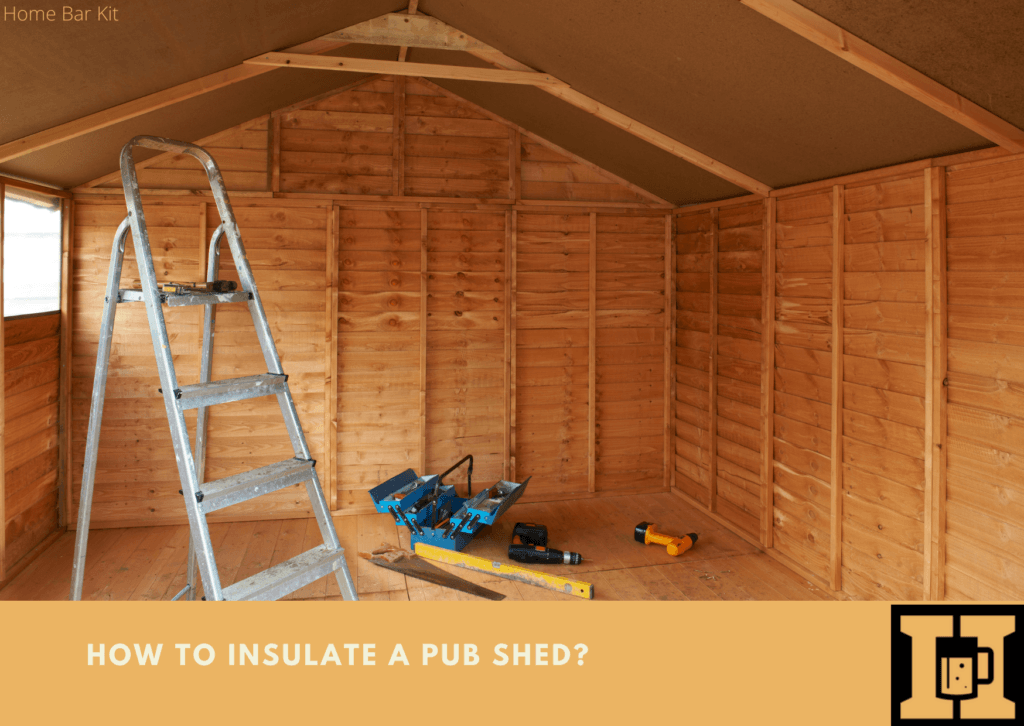 To insulate a shed is not a hard job, but is obviously easier to do when the shed is being constructed. However it is still a fairly easy job even with an old shed. There are only a few steps once any repairs are done.
Batten the shed framework if needed by fixing the battens directly onto the frame using appropriate size screws.
The first step is to paint the inside of the shed with a good wood treatment product like mentioned earlier. Give this a little time to dry, a coffee break could be in order at this point.
Measure each space between the shed framework in turn and cut the insulation to fit. It is best to measure top, middle and bottom to get an accurate fit.
Fit the insulation into each space in turn throughout the walls and ceiling.
Once all insulation is fitted, measure and cut the lining material and fix in place. This needs to bridge the space the insulation occupies and cover half the framework. The next piece of lining will then butt up to the first one, both sharing and equal width of the frame.
Clear the shed of all waste material and tools, then brush and clean up.
Paint the lining with your chosen paint.
Job Done
Whether you insulate the ceiling or walls first is up to you, or up to how the two meet. The floor is a different story. Obviously the floor can be insulated in the same way as the walls and floor when constructing a shed. The insulation is fixed underneath the floor between the joists.
However this can't be done once the shed is in situ, so insulation has to be put directly onto the floor. For this reason it is not suitable to use the same insulation as the walls and floor. Instead the best option is to get a good quality underlay and then fit a laminate flooring.
This completes the shed insulation project and it is now ready to fit out as your very own pub shed. Or whatever else you have in mind.
Final Thoughts
Bear in mind that this guide only covers the actual insulation part of your whole shed project. If you are fitting electrics, apart from making sure they are fitted by a qualified electrician, this should be done before you fit you insulation. The cables will run behind the insulation and a hole cut in the insulation and lining to let the cables pass through.
The decision to insulate a shed will depend on what it is going to be used for, as well as being a personal choice. It is an advantage to insulate a shed and will make it a more comfortable space to be in. It will also help protect the contents of the shed.
If you use a shed year round and use a heater during the winter months, then insulation will help stop the heat escaping. This will cut down on heating costs while keeping you snug and warm.
As a bit of fun I have included below a few links of shed of the year winners over the past three years. Last years winner which is a bar, didn't insulate their shed, so like I said it is a personal choice. Whatever you decide, just have fun with your pub shed or whatever else you are going to use for.