It's a busy life being a bartender, it is not all about pouring and serving drinks. There is food involved too, albeit mainly fruit, but that fruit has to be prepped. While there are many tools a bartender will use like a corkscrew or bottle opener. A knife may well be the most used tool of all. So what is a bar prep knife?
Or to put it another way, what is a bartenders knife? Any old knife will do for slicing, peeling or deseeding a fruit. This might be true to some extent, however if a chef can have a line up of knives, why can't a bartender. The range may not need to be so extensive, but the importance is just the same.
What Is A Bar Prep Knife?
A bar prep knife is a small knife with a short handle and a short blade. It is used for cutting, peeling, slicing, trimming and shaping. Basically it is a paring knife, well used by chefs, but also utilized by bartenders. The small precision knife is a must have utensil in a bartenders toolkit.
When is a paring knife not a paring knife? When it becomes a bartenders knife.
What Is A Bartenders Knife Like?
Any old paring knife will do for a bartender. While there may be some truth to this, using a knife behind the bar to prep ingredients for drinks is as important to a bartender as food prep is to a chef. First a good quality knife is a priority and second the type of knife is key to perfect prep.
A chef will spend a small fortune on a set of knives. After all they are the main tools needed for a chef to perform at the top of their game. Although a bartender may not have the same amount of food to prepare as a chef, there is still food prep to be done.
Those garnishes won't cut, slice or peel themselves. A good knife will make all the difference in terms of ease as well as presentation.
The Bartenders Toolkit
A good bartender who takes pride in their work also takes pride in their tools. While a bar will provide all the tools needed to perform all the bar tasks, it has become a personal thing. Just like a chef, a bartender will invest in a set of personal tools.
These tools can be acquired individually or as a set containing all the essential bar tools. While a good set of bar tools may include a knife, it will probably be a basic knife. And things have moved on, the bar knife is now a thing of beauty, a prized tool.
It may be based on the versatile paring knife. However the bar knife has been developed and tweaked to surpass its simple predecessor. There are different styles with different types of blades and it has become a personal choice.
The blade choice is important when considering which knife to choose. A carbon steel blade can react with the acidic citrus fruit and blacken or even corrode and rust. This can taint the food, which is not a good thing. Stainless steel blades are a better option, less likely to stain or corrode and not affect the food.
A ceramic blade is a non reactive blade so may be the best option. However they do have their problems, chipping and breaking are common with ceramic blades.
A bar knife is a personal tool, here are some top picks to help choose the prefect one for you.
As an Amazon Associate, I earn from qualifying purchases.
Prince Of Scots Bartenders Knife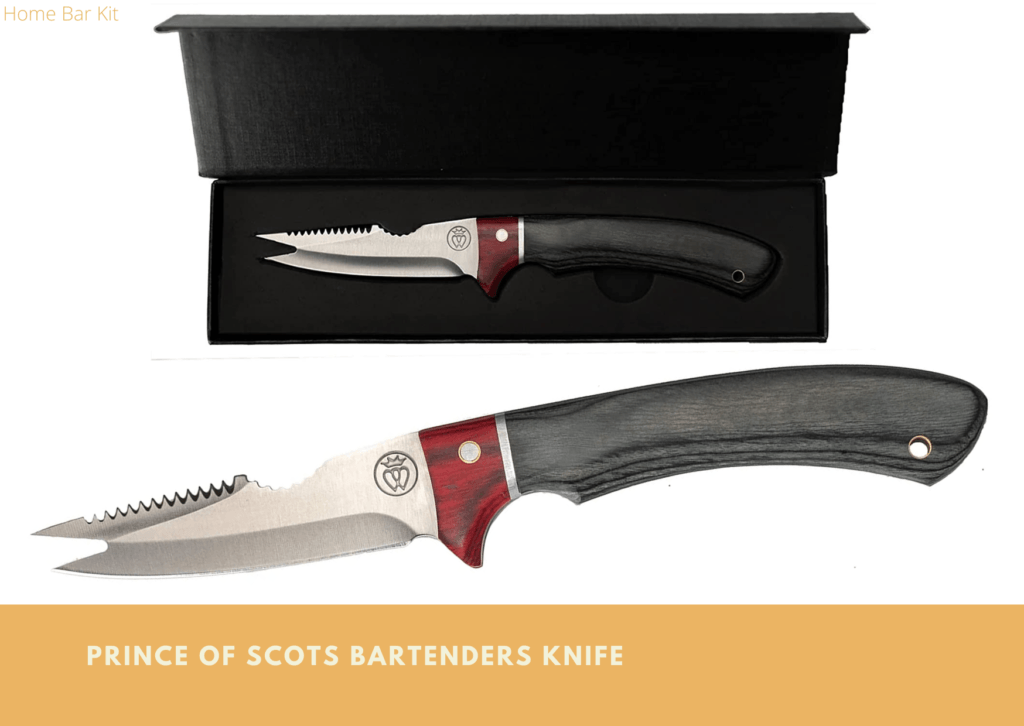 This small knife not only looks good with its rugged yet sleek design, but has a bunch of features too. Being an overall length of 8.74 inches (22cm) long it is the ideal size. The handle is 5 inches (12.7) long and made from Pakkawood often used in the production of knives. A ergonomic design curved and notched makes it comfortable to use.
The 420 steel blade, again commonly used for knife making is hardened with high strength and high corrosion resistance. At 3.7 inches (9.5cm) long the blade packs in some nice features as well as being precise and versatile.
It includes a razor sharp blade for cutting, slicing and peeling. While a spear tip makes picking small ingredients like olives and cherries a breeze. Also a curved toothed tool is ideal for cutting foil on a bottle neck. A small neat beautifully designed bartenders knife makes it a popular choice.
W & P Bartenders Knife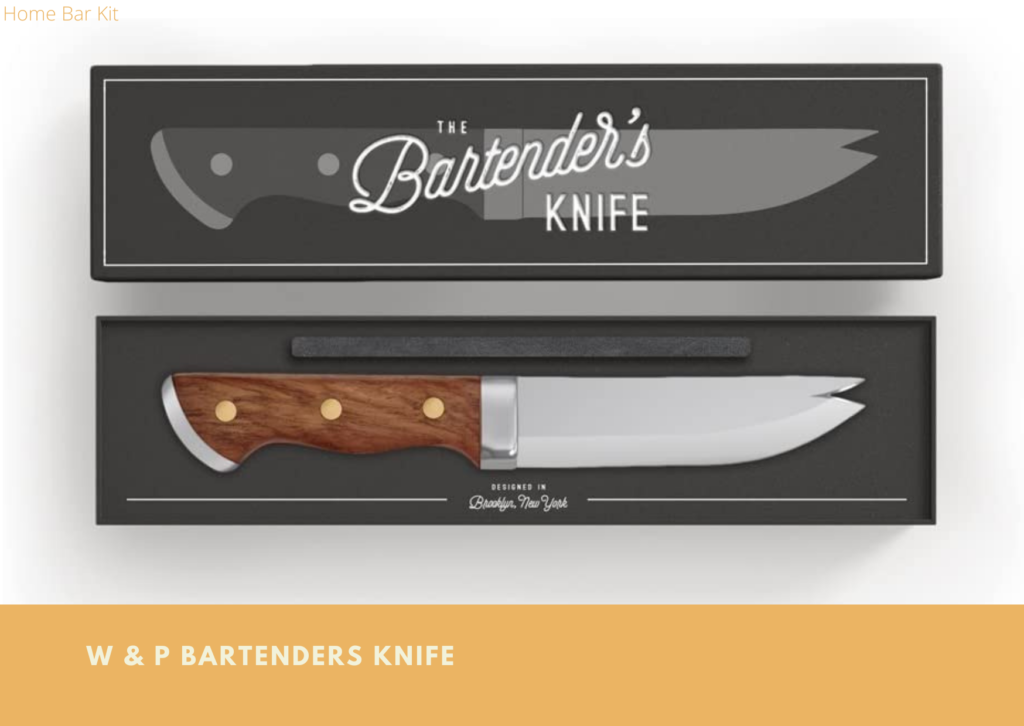 A similar design with the spear head for picking, this knife is simple but versatile. The knife complete is 7.75 inches (19.6cm) long, lending around half of that to the handle and half to the blade. The handle which is nicely shaped for comfort is polished hardwood and water resistant. It has a premium steel core with the wood laid on both sides held together with brass rivets.
The blade is high quality premium steel shaped as a typical paring knife style. In addition it has a spear head for picking ingredients such as olives and cocktail cherries. A simple but all round knife ideal for any bartending prep work. Keep it sharp and it will serve you well.
Kuhn Rikon Straight Paring Knife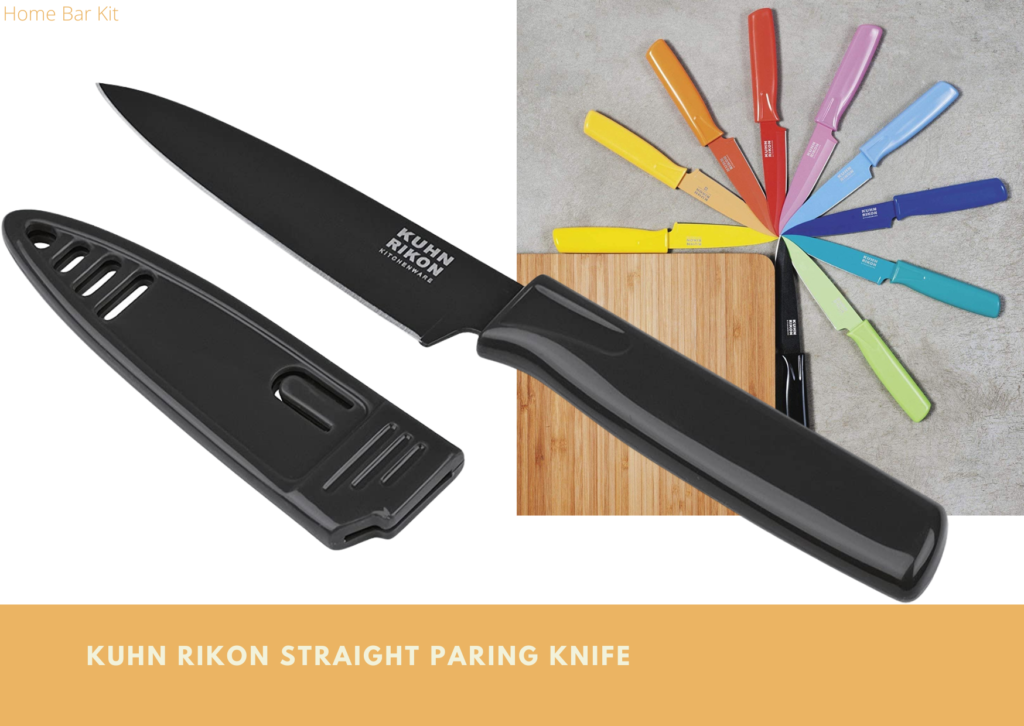 An all purpose paring knife that is at home in a bar as well as a kitchen. With a Japanese non slip blade found in many colors it will fit with any bar decor. The non slip coating stops the fruit you are cutting sticking to the blade while working.
The length of the knife is just under 8 inches (20cm), again the handle and blade almost equally shared. A handy sheath protects the user as well as the knife blade. An easy grip handle fits the hand with ease a rpoving a comfortable cutting experience. Pick a color and enjoy your super sharp paring knife for all your garnish preparations.
Kai Inspire Citrus Knife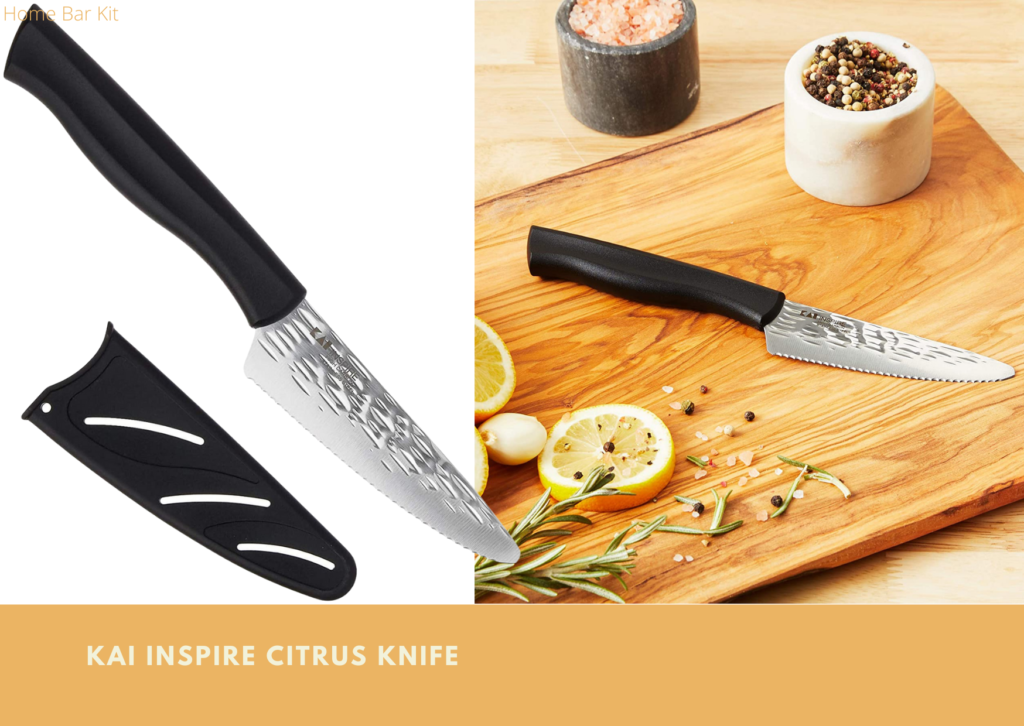 A beautifully crafted citrus knife for slicing and peeling all your bar garnishes. The 4 inch (10.16cm) blade is made from high carbon, high chromium German stainless steel. The blade also has a hammered finish making it easy for the food to fall away from the blade when cut. It is a doble bevelled blade hand sharpened to a razor sharp finish.
A beautiful moulded resin handle is made for comfort and durability. The handy sheath finishes this knife off and protects the blade to keep it in tip top condition. This knife is designed to be lightweight, strong and rigid with a exceptional edge retention. A great choice for design comfort and beauty and a definite contender for any bartender.
Murphy Cannon Bar Knife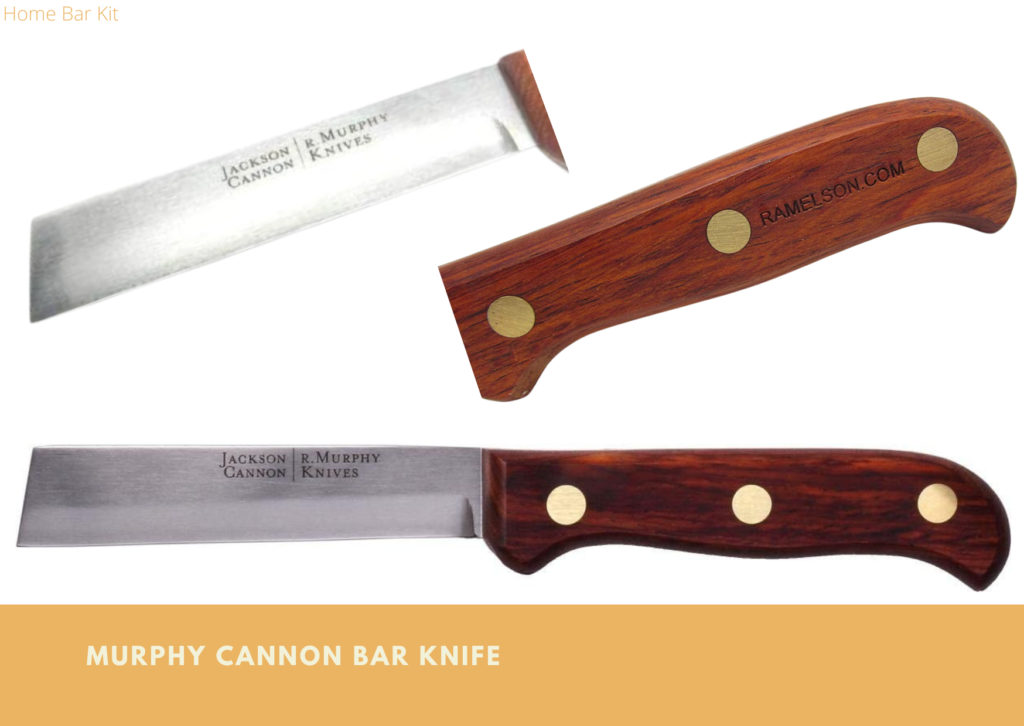 Not your typical bar knife, but one born from an award winning mixologist Jackson Cannon. Teaming up with R. Murphy the knife makers, Jackson designed a knife to his own specification. It looks odd, but if it works for Jackson Cannon, then it should work for any bartender professional or home.
The blade is 420 high carbon stainless steel and hand edged and honed for a super sharp cutting edge. The odd cut off square tip is there for a reason, its ideal for notching citrus and deseeding fruits. The wooden handle is shaped for comfort and held with brass rivets.
It is not your typical bartenders knife, but one that was designed especially for the bartender. For this reason alone it has to be up their with a first choice bar knife.
Final Thoughts
As far as bar knives go, this selection showcases a good range of designs perfect for garnish preparation. Whether you prefer the simple paring knife, the beautifully designed Kai Inspire citrus knife or the odd looking Jackson Cannon bar knife. All will serve as a worthy prep knife for any professional, as well as home bar owner.
The key to any knife is to treat it with respect, remember they are sharp and need to be sharp to perform the tasks needed. Look after your knives by keeping them clean as well as sharp. A simple knife sharpener will keep your blade in good condition, don't let it get too blunt and past the point of no return.
Rob is a passionate home bar and pub shed enthusiast with a passion for craft beer. With hands-on experience in designing and building his own home bar, Rob shares his knowledge, tips, and inspiration to help fellow enthusiasts create their own perfect space. Alongside the world of home bars and pub sheds, Rob also explores the diverse and exciting realm of craft beer, providing honest reviews to help you discover your next favorite brew. Join Rob on a journey of flavor, design, and craftsmanship right here on Home Bar Kit.