Surely there is not a machine solely for making margarita cocktails? Such a machine can dispense the famous cocktail for any gathering or party. This will be a hit at any home bar set up, instant margaritas served to order. A great way to impress your guests and a great way to save time. However what is a margarita machine? And are they worth it?
For a cocktail lover with a home bar this type of kit could be a game changer. Instead of mixing individual margaritas for all your guests. Which could take a while if there are a lot of them, just pour the drink straight from a pitcher. It sounds good so far.
What Is A Margarita Machine?
A margarita machine is a real thing, based on a Slurpee or Slushie machine it goes back further that we might think. The first machine was actually invented in 1971 by Mariano Martinez to make it easy and consistent for serving the cocktail at his restaurant. They are now available in a smaller format for home use, so would be ideal for a home bar.
In fact it will be a perfect addition to your home bar.
What Does A Margarita Machine Do?
The simple answer is that it makes Margaritas, but there is more to it. Things have moved on since Mariano Martinez came up with the first machine back in 1971. They have also moved on for the frozen drinks machines, with many designs now available.
The basic design of the machine is a refrigerated container that has a spinning auger or paddles. Some commercial machines make their own slush from water, then flavoring is added. However most home machines need to be loaded with ice, which is either shaved or crushed to get the frozen style texture.
The drinks mixture is added to a different chamber and the ice is crushed into the chamber. The auger or paddles continually circulate the contents to keep the right texture and temperature. Again the home machine does differ from the commercial machine. The latter being more efficient at keeping the right temperature.
The beauty of a margarita machine is that you can make enough mixture to dispense a good amount of drinks for your guests. No need to mix individual drinks, just dispense from the machine.
Can I Make More Than Just Margaritas?
Again the simple answer is yes. Mix up any cocktail you like, and your frozen drinks machine will do its stuff and deliver. Whether it is a margarita, a pina colada or a daiquiri, a frozen drinks machine will serve up your drinks.
It is not only for cocktails, you can mix frozen kids drinks, frozen fruity treats as well as smoothies. Controls differ from machine to machine, but include settings like half or full chamber mixing. Shaving or blending to get the right consistency for you. And different size ice reservoirs and drinks chambers.
Is A Margarita Machine Worth It?
If you like cocktails that are best served with crushed ice, and you like to entertain, then a frozen drinks machine is worth it. Again if your kids like Slushies or Slurpee's then it would be worth the investment. Additionally if you like smoothies too, then yes it is worth it.
However if you only want a machine solely for smoothies, then a smoothie maker or a good blender may be a more economical choice. Margarita or frozen drinks machines are not cheap to buy. But they are worth it if you are going to use them regularly.
The thought of getting a frozen drinks machine is exciting, they are a cool gadget that will fit well into any home bar, and are great for parties too.
**As an Amazon Associate, I earn from qualifying purchases with no extra cost to you.
Bali Frozen Drinks Machine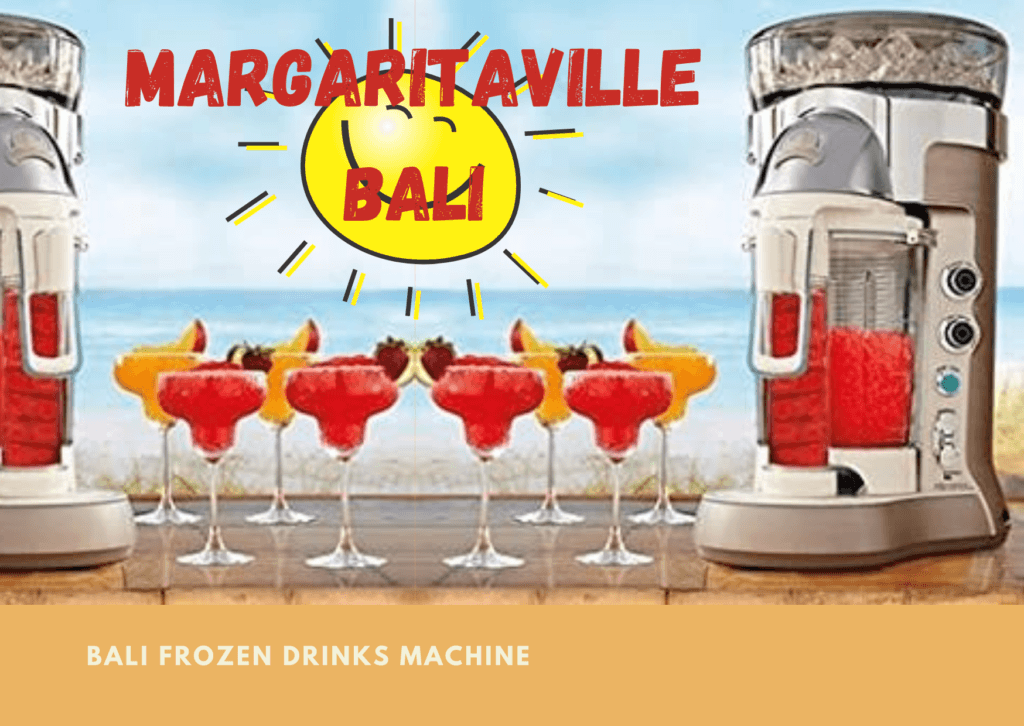 Check Latest Price
What could be more simple than loading your frozen drinks machine with your chosen drink mixture. And what could be more exciting than simply pushing your glass against the lever and getting the perfect cocktail. The Bali frozen drinks machine from Margaritaville will make that simplicity and excitement a reality.
The machine includes a large ice reservoir, a 60oz (1.8L) drinks chamber. Also an auger style remix channel with an on demand dispensing lever.
It's easy to use, just add your ice to the ice reservoir and then add your drinks mixture to the drinks chamber. There is the option of a half chamber which is 33oz (1L) of liquid. Alternatively a full chamber would be 60oz (1.8L). Then push the start/stop button and watch the magic happen.
The perfect cocktail is served when you press your glass against the dispenser lever. The drink will flow through the remix channel to get the perfect consistency. And your drink is served.
You will be the talk of the town as you serve your guests with an exquisite cocktail every time.
Margarita And Slush Machine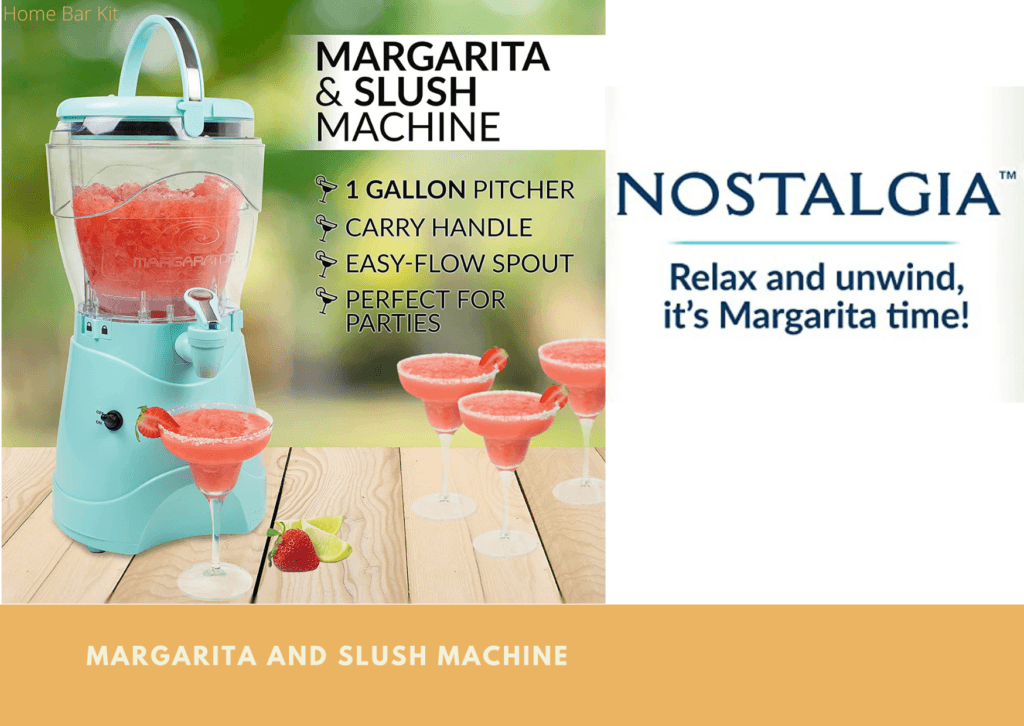 Check Latest Price
Just when you thought things had got as simple as they could get. Along comes an even more simplistic frozen drinks machine. The margarita and slush machine from Nostalgia will not only grace your home bar with those frozen beauties. But will also be ready to go with you. With its fold away cord and carry handle, take it with you when you visit family or friends.
A large 1 gallon (4.5L) capacity pitcher that is double wall insulated will keep your cocktails cold. The pitcher locks into place with ease. While a stainless steel blending cage shaves and blends your drinks to a slurry perfection. Just operate the lever and your drinks will flow from the spout. A neat carry handle locks into place for easy transportation.
This machine is as simple as it gets with some neat features and a large capacity. Load it up, switch it on and the perfect frozen cocktails mix for you and your guests.
Tahiti Frozen Drinks Maker
Check Latest Price
This one might just flip your lid, it could be the ultimate frozen drinks machine for the best parties. Why? Because not only does it have a large capacity, but you can mix three different drinks in the same cycle. Three cocktails on the go at one time, that is impressive.
First we have three 24oz (709ml) blending jars, load each one with a different cocktail mixture. The machine will then blend each one in turn with the shaven ice creating three perfect frozen cocktails. A shave or blend only function allows you to add extra ice or blend some more.
The most impressive thing is watching the motorized ice chute rotate from one pitcher to the next. Mixing each one with the right amount of crushed ice to make perfect cocktails. When your guests want different cocktails, this machine is ideal for the job.
Professional Frozen Drinks Machine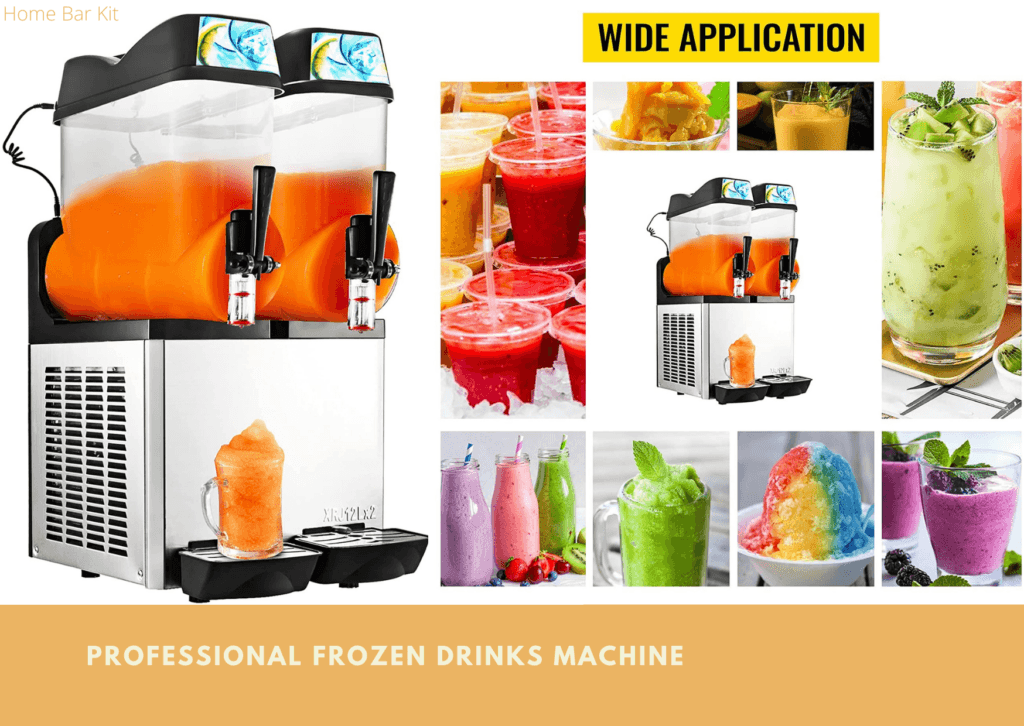 Check Latest Price
If you like to do things on a big scale, then this frozen drinks machine from Vbenlem is the ultimate slushy maker. A commercial grade machine that is seen in many outlets, but could be just as comfortable at home. However you will need some space because it has a 38.6 inch (98cm) X 22.8 inch (58cm) footprint. And a height of 19.7 inches (50cm), so it's not slight.
A twin tank monster with a 6.34 gallon (24L) capacity, split equally between each tank. It is everything a frozen drinks machine should be. Because it is commercial grade it will keep your drinks cool with its efficient fast cooling system. A large tap on each tank dispenses drinks fast, and the drip trays keep things clean.
Just like most frozen drinks machines you can make slushies for the kids, frozen cocktails for the adults, or smoothies and ice coffee for a change. Big powerful and with a large capacity, but beware it has a big price tag too.
Final Thoughts
A frozen drinks machine is an ideal bit of home bar kit, great for all the family. During the day serve the kids their favorite slushies. Come the evening serve your adult guests with their favorite frozen cocktails. Likewise they are good for Birthdays, anniversaries and weddings too. Whatever the occasion a frozen drinks machine will please the crowds.
Size and price will have a bearing and of course personal choice always plays a part. But, from a small machine like the Nostalgic to the commercial grade Vbenlem there is one to suit all. It is time to enjoy the fun of a frozen drinks machine.