A cocktail wouldn't be the same without a little garnish. Fresh fruit and herbs not only enhance the look of a drink, but also compliment the flavors. However preparing garnishes on the spot can be time consuming, keeping your guests waiting for their drink. A better option is to prepare them before your guests arrive. Having them to hand is quick and easy, but how do you store bar garnishes?
It's all very well preparing your garnishes in advance, but you don't want them sitting on your home bar spoiling. There must be a way to keep them clean and fresh, but still at hand ready to use.
How Do You Store Bar Garnishes?
It is simple really, once you have washed and cut your garnishes, store them in a caddy. As always use the right tool for the job. A good quality garnish caddy will keep your cocktail ingredients clean and fresh. They will always be on hand ready to use immediately. With the right caddy your garnishes will look great too, impressing your guests with a delightful display.
Make your garnishes part of your bar set up and let them shine.
How Many Cocktail Garnishes Are There?
There is a long list of garnishes that can be added similarly to a long list of drinks. The typical ingredients we think of when we dress a drink are a slice of lemon, lime or orange. Or perhaps an olive or cherry, the odd mint leaf and of course the little umbrella.
Yet the ingredients used today are far more adventurous and far more extensive than ever before. Herbs, spices, fruit, vegetables and even flowers (only edible flowers) make up the consumable garnishes. Where as plastic animals, flags, sparklers and fancy straws to name but a few, make up the non edible garnishes.
Edible Garnishes
Lemon, Lime and orange can be served as wheels, wedges or twists.
Apple
Pear
Pineapple
Peach
Mango
Strawberries
Maraschino cherries
Cucumber
Cocktail onions
Olives
Salt or sugar applied to the rim
Coconut
Celery
Pepper
Basil
Mint
Thyme
Rosemary
Cinnamon
Ginger
Borage
Cornflower
Dahlia
Hibiscus
Lavender
Note: Be careful when using flowers as some are not edible and can be toxic. Make sure you can identify that a flower is edible. To Illustrate, a good resource to help with this is from the Moody Mixologist, a guide to edible flowers.
The list gives an idea of the type of garnishes that can be used for your drinks. However it is by no means a full list, but will get you started.
How Do You Keep Your Garnishes Fresh?
First it is always best to use fresh ingredients for your drinks. No one wants wilted leaves or decaying fruit in their drink. Second use a sharp knife to cut your garnish to the desired shape. A simple sharpener will keep your knives in tip top condition.
Finally only cut enough garnish for the the amount of drinks you think you will be serving. Don't prepare a load of different types of garnish that you will not use, it will just be a waste. You can always prepare more if you need more.
You have the right tools, you have the fresh ingredients, so how do you store your garnishes? Putting them on a plate on your home bar is not the best way to keep them fresh. Also it won't look great either. A simple storage container over ice is the best way to keep your garnishes clean and fresh. The right container will look good too.
**As an Amazon Associate, I earn from qualifying purchases with no extra cost to you.
The Garnish Caddy
The garnish caddy is a great addition to your home bar, it is a must have bar accessory. They are simple neat and don't take up much room. Many are dishwasher safe so you can be sure to keep them clean and hygienic.
Also they will not only display your garnishes well, but keep them nice and fresh. Your prepared garnishes will be on hand ready to use when you need them.
Tray Bar Caddy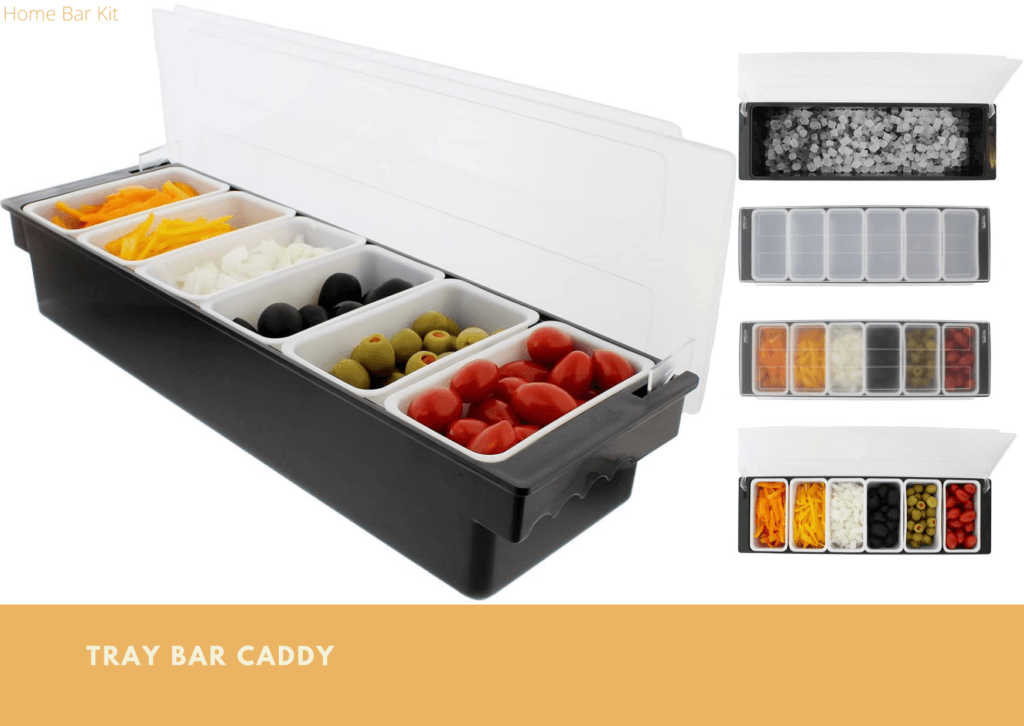 Check Latest Price
A simple tray caddy that has six separate compartments that each have a 1 pint (473 ml) capacity. Each tray can be lifted out of the base unit filled with garnish and replaced. A bed of crushed ice can be placed under the six compartments keeping the contents cool. Each compartment is 5.5 inches (14cm) long, 2.75 inches (7cm) in width and height.
The black base unit is 19 inches (48cm) in length and 6 inches (15cm) in width, with a height of 3.5 inches (8.9cm). There are convenient handles at each end and a opaque slide back lid that can easily be detached. Each compartment is of a good size and will hold a decent amount of garnish.
It is a great streamlined caddy, however the space under the compartments is not that deep. This means it would have to be crushed ice used rather than whole ice cubes.
Serving Bar Caddy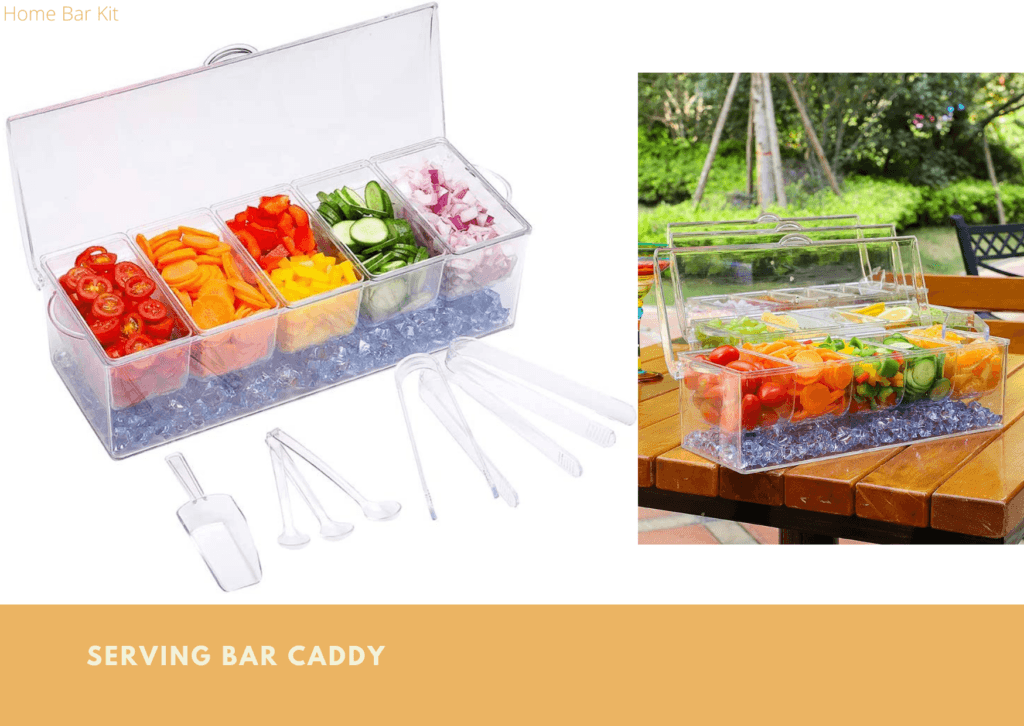 Check Latest Price
A completely clear bar caddy which is slightly deeper giving more room under the trays for bigger ice. There are five compartments which again are clear, so all your garnishes are freely visible. Each tray is 5.7 inches (14.5cm) long, 2.96 inches (7.5cm) wide and 2.88 inches (7.3cm) deep. They have a capacity of 16 oz (4.73ml), so can hold a good amount of garnish each.
The clear caddy is 16.15 inches (41cm) Long, 5.91 inches (15cm) wide and 5.12 inches (13cm) deep. It has a clear lid that is hinged and two small tab handles at each end, plus one on the lid. The unit is shatterproof as well as dishwasher safe. Furthermore there are a few tools to go with it, a set of 3 spoons, 3 tongs and 1 scoop, a nice touch.
If you want your garnishes to be on display for aesthetics or just for convenience, then this caddy is perfect.
Dome Garnish Center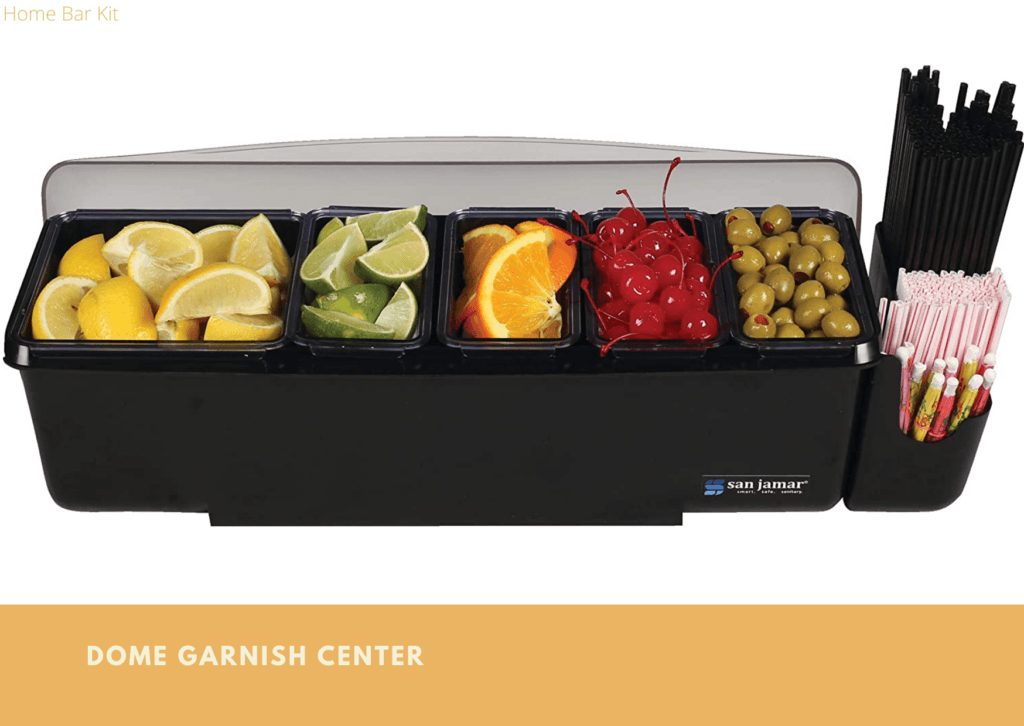 Check Latest Price
A little different in design this garnish caddy has a black base with a clear dome lid. The lid rotates back and allows for bigger garnish quantity. There are five compartments, four standard and one large giving more capacity for your most popular garnish. All the trays are easily removed and the unit is dishwasher safe.
The caddy is 22 inches (55cm) long, 7.5 inches (19cm) wide and 8.5 inches (21cm) high. There is room for ice or EZ chill ice packs to keep the contents cool. An external compartment is housed at one end to accommodate straws, stirrers and umbrellas.
A good size caddy that looks neat and professional with the added external compartment.
Round Garnish Caddy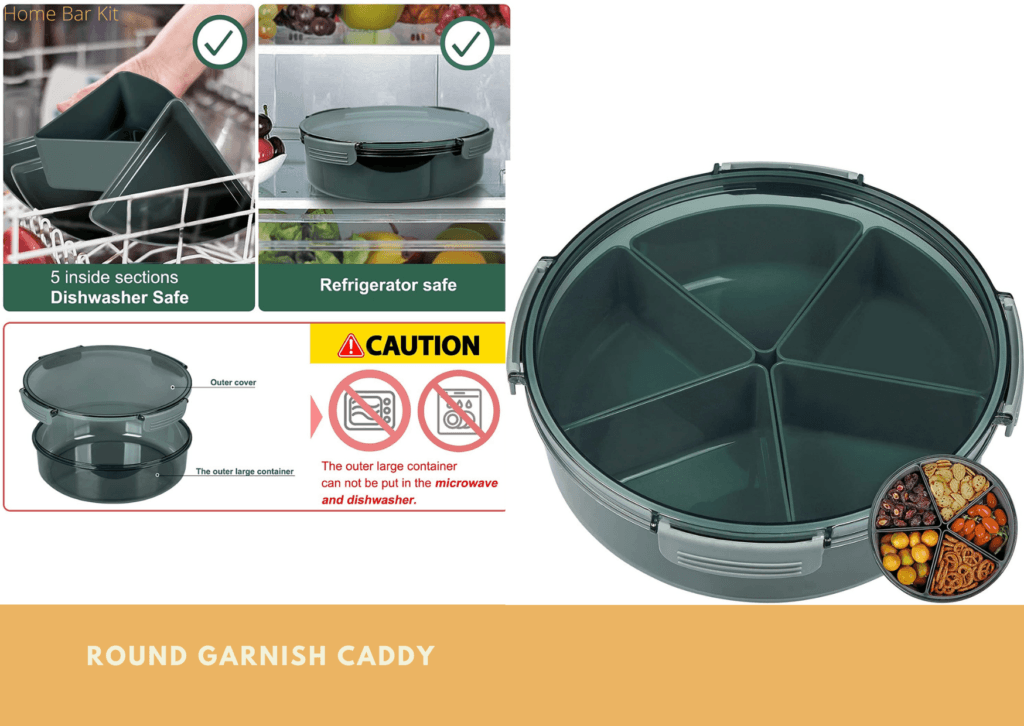 Check Latest Price
If you prefer curves rather than straight lines, then this round caddy may be a better option. A green plastic body with a clear airtight lid that has four snap shut seals. There are five curved triangle compartments that can easily be removed. Each compartment is dishwasher safe, however the main unit and lid are not dishwasher safe.
The unit as a whole is 10.2 inches (26cm) in diameter and 3 inches (7.6cm) high. Each compartment is 4.7 inches (12cm) long, 5.5 inches (14cm) wide at one end leading to a point at the other. The height of each tray is 2.4 inches (6cm). There doesn't seem to be much room for ice, if any at all.
If round is your thing, then this will make a nice addition to your home bar.
Bartenders Seasoning Tool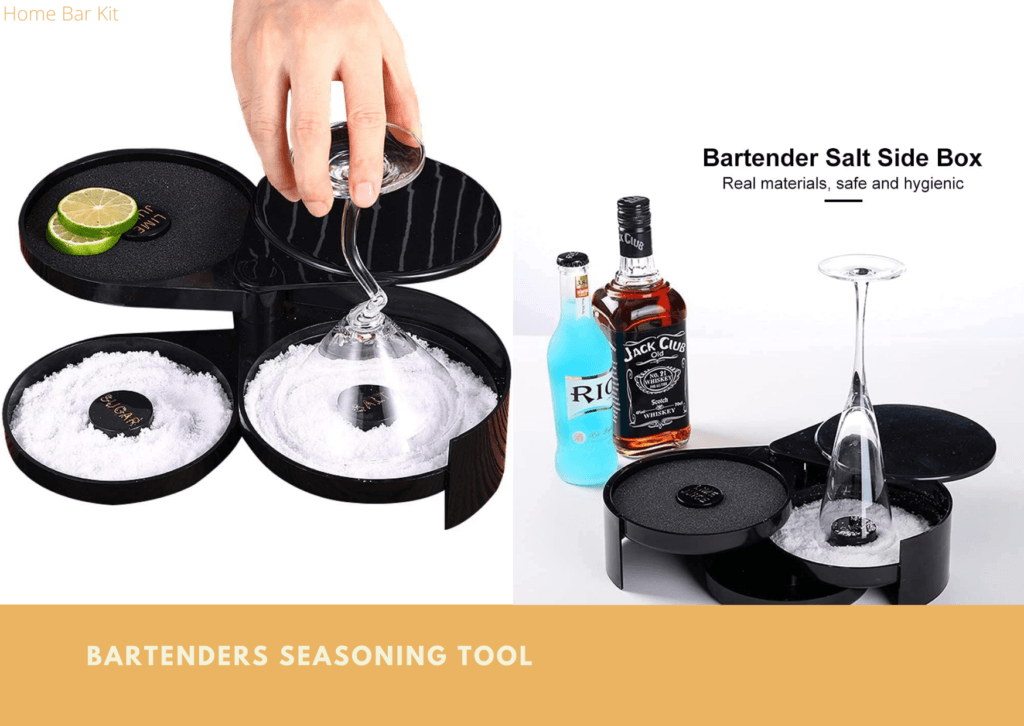 Check Latest Price
This may not strictly be a garnish caddy, but it is cool all the same and will go with your other cocktail kit. A neat compact little unit that will season the rim of your glasses, creating enhanced flavors for your drinks. The unit is black and three tiers fold out to expose two seasoning platforms and one garnish platform.
It is just 7.8 inches (20cm) long, 6.1 inches (15.5cm) wide and 2.9 inches (7.3cm) high when closed. Easy to store and easy to unfold. Use salt and sugar for the rim of your cocktail glasses, or any other seasoning.
A perfect bar accessory and one that won't take up too much room. Impress your guests every time with this great bartenders seasoning tool.
Final Thoughts
The garnish caddy is a definite must have bar accessory, especially if you like to make cocktails at your home bar. They come in different shapes and sizes and have a variety of capacities. It is preferable to have one that can accommodate ice to keep the contents cool. However if you have a fridge built into your home bar, then it is not so important.
The bonus bartenders seasoning tool is also a great bar gadget to have if you like to season your drinks. It is so compact too, which makes it easy to store. Similarly don't forget a good quality knife and sharpener for your home bar. These bar tools are sure to impress, as well as making your life easier when you are preparing and storing your garnishes.
Also the garnish caddy's can be used for other things too, like candy, vegetables and salad. A pretty versatile bit of kit.