We all love a nice cold one, an ice-cold beer fresh from the fridge is heaven on earth, especially on a hot day. A refreshing cold glass of your favorite vino is hard to beat too. So when it comes to home bar fridges, we cannot debate, they are a must have, we got to keep those drinks cool.
Joking aside, a decent bar fridge is part of any bar set up, but going back to space and budget, not everyone can include this important appliance to their home bar.
Is there an option available for every scenario?
I reckon there probably is, so will we take a look and see if we can find a fridge fit for everyone.
Mini Bar Fridge
As the name suggests, we are not talking a small fridge here, no this is mini, as in I have not got a lot of room to fit a fridge so make it a tiny one please.
Taking a look around I found an ideal size and capacity, what I would class as a mini fridge that can take more than one can. In fact, it can hold 60 12oz cans and measures in at – Width 45cm (17.5″) Depth 47cm (18.5″) and Height 50cm (19.5″) a pretty decent little fridge that would accommodate a few bottles of wine if some of those 60 cans were sacrificed.
But hold on, these little machines get even smaller, I know it is hard to believe, but they do. The smallest one I could find measured in at Width 18cm (7″) Depth 22 cm (9″) and Height 25 cm (10″) with a 6 12oz can capacity.
Okay, this little fella is not going to eat up space, it will fit in the tightest of spots, but only 6 cans is pretty measly. I would say this is more for a one man shed or bedroom option where a six-pack can be kept cool, not for a functioning bar.
Having said that, when space is tight it's tight, so if needs must then it is better than no fridge at all, although I can't see it accommodating a standard bottle of wine, you will just have to buy the mini bottles of wine from no on.
Wine And Beer Fridge
The goal for a bar is to be able to keep wine and beer cold and of course some soft drinks and may be mixers, but primarily it is all about the wine and the beer.
The ideal fridge would be one that accommodates both of these beverages and the good news is that this is possible for a standard size under the counter fridge.
Most of this type of appliance usually have a single door with removable and adjustable shelves so that you can arrange your drinks how you would like them. Normally with these units the top two or three shelves will be for wine bottles or other bottled beverages and the rest will be for cans, whether that be beer or pop.
Other formats are available though, How about two doors, the left side of the fridge being dedicated to wine bottles (18 bottles) and the right side of the fridge being all about those cans of beer (55 cans). It's a cool design and a little different to the norm.
These units will obviously fit under your bar or counter and differ in price as much as they differ in design and layout, so budget wise it is down to personal circumstances.
The Monster Fridge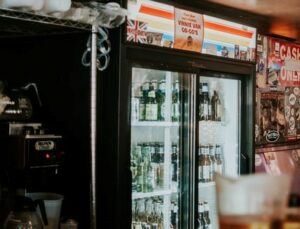 The bigger the fridge the more stock you can keep cool, and the less you have to replenish in one evening gathering.
Got the space and budget to go large?
I mean we are going large here at a height of 183 cm (72″) we are talking monster fridge. These big units can hold a lot, with the wine bottle count being a whopping 166 and the beer can count maxing out at 625 we could throw a huge party and not have to replenish once.
These are double door units with each side of the fridge being independently cooled, meaning you can have your cans at a cooler temperature to your bottles on the other side, great stuff.
Before we get carried away though, these do not come cheap, they are going to hit your pocket with a not so cool price tag of several thousand dollars.
But hey, you got to keep the beer cool.
Dedicated Fridges
The monster fridges are going to hit us where it hurts most, which is fine if money is abundant, but those among us that would rather be a little more frugal, but have plenty of space, then there is an alternative option.
A more economical way of better fridge space would be to purchase two standard under the counter units.
Okay, tell me more.
One fridge could be just for the beer (or other cans of beverage) and the other would be all about the wine. This means like the monster fridge you can keep the wine at a different temperature to the beer, if you so please.
Your Dream Fridge
There is no doubt about it a fridge or cooler is an important part of a home bar set up, you would not go into your local bar and not find a cooler or two, so it kind of is a must have.
As we have seen above there are many options available which suit many pockets and spaces. The main thing is to find one that suits your needs and that fits your bar. If it is going under the bar and only you are going to see it, then the look of it does not really matter, if it is going to be seen then you may want something that looks pleasing to the eye.
It's all about choice, your choice, so think about want you want from your home bar fridge and seek accordingly, and as always have fun with it.