Creating your own bar and stocking it with beers. Wines, spirits, glasses and tools is one thing, but unless you have the smallest of spaces and do not have room for stools or tables and chairs, then you will want to be looking at some home bar furniture.
The type and amount of furniture you choose will obviously depend on the type of bar you have and the area available around your own bar.
Thankfully we can rest assure that there will be some kind of furniture that will fit in with our own bar set up, and if not then there is always the option to get something made to measure, or perhaps build it ourselves.
Basic Bar Stools
Probably the most well-known and popular piece of bar furniture on the planet is the basic bar stool, these have been around since the pub was known as a saloon. They are a must have for any bar and do not take up too much room, so even the most modest of bars could accommodate a couple of these beauties.
The basic sit up and beg bar stool is a simple piece of furniture that does not have any moving parts, but nowadays does come in many designs, from the original basic wooden stool to metal, wood/metal mix and of course many have padded seats with different types of fabric.
A solid well-loved favorite worthy of any home bar.
Luxury Bar Stools
Building on the basic model, we can start to look at the more luxury types of stool, which may be more comfortable and more supportive too.
The basic model, can as I have already mentioned have a padded seat, which is going to be more comfortable for the backside. This can be a conservative thin padding, or a thick luxurious padding and can be covered with a variety of materials, from a simple cloth to a soft leather.
That is not the only upgrade that can be made to the humble wooden bar stool. They come with moving parts too, the swivel top. Still, the basic bar stool design but now you can swivel a complete 360 degrees, just be careful when you have had a few drinks and no spinning games.
The top of the range model comes not only with padded seat, not only with swivel top, but with a back rest too. Now that is true comfort when you are enjoying your own favorite tipple at your very own home bar.
It can't get any better, or can it?
Yes, it can, add some arm rests too and you are really spoiling yourself, and of course your guests.
Padded back and arm rests.
Now that is going too far.
The basic bar stool is and always will be a favorite, but you can indulge yourself with the ultimate luxury bar stool, with thick padded seat, swivel top, padded back rest and padded arms, pure indulgence.
Home Bar Tables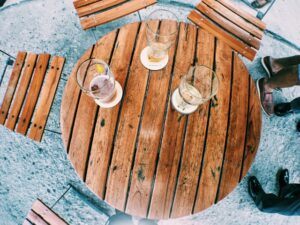 There are many types of bar tables available on the market and they of course come in all different shapes and sizes. The price range is vast as well, you can get many reasonably priced tables, but you could pay more for a table than your whole bar set up, not that you would, right?
The simple small round bar table is the most popular and will comfortably seat four people around it. These come in many styles as well as many material combinations too. You do not have to spend a lot on this type of basic table, unless you want to of course.
The small square or rectangular table again will seat four comfortably, but will probably take up more room than its round counter part, so if space is tight, opt for round.
Now from here tables will just get bigger, so the more room you have or the more people you need to accommodate will depend on the size of table or tables you decide upon.
Bar tables not only get bigger, but they can go upwards too.
If you go high table though, you will need high chairs or stools (does a chair over a certain height become a stool anyway?) to go with it.
Real Bar Chairs
I say real bar chairs because they are different to normal chairs, they are, I'm sure they are. If you see a chair from a bar in a different environment, you know it comes from a bar, or is that just me?
Anyway, a bit like tables, there are many types and styles of bar chairs as well as many sizes. As with stools, there are different padding and material option too.
As with your whole bar project, measure before you buy, make sure you have room for the table you want, and then make sure your own table is the right size for the chairs you want. There is's nothing worse than buying chairs to big for a table.
Home Bar Furniture Sets
I just want to briefly cover furniture sets because you can save money by purchasing your own bar furniture in a set, meaning you buy the chairs and table together as a set, this may also include some bar stools too.
You may not find a set that you like, you may like the table, but not the chairs, or vice versa, which is why you decide to purchase separately.
I just wanted to bring it to your attention that buying these separately does normally cost more, so bear that in mind before you take the plunge, check out both options.
Bringing It All Together
When you get to choosing your own bar furniture you are at the stage where your very own home bar comes together. It's an exciting part of the process, not as exciting as sitting in your own bar having a nice cool beer admiring your handy work, but exciting all the same.
The furniture just kind of puts the finishing stamp on your own bar, there may be other things to do and add, but furniture makes it real.
When you get to this stage, sit back (you can because you have furniture now) and enjoy your own beautiful home bar, and of course invite family and friends round to show it off.
Enjoy.