Aldi are certainly taking the craft beer scene by storm, NOT. So this is another Aldi beer which they describe as 'A Hoppy Fruity Ale'. And it is specially selected, from what I am not sure. So what is Dorset IPA like?
You may detect a little sarcasm and that is because I have tried a few of the Aldi craft beers and I am not that impressed. But maybe this one is a decent beer.
What Is Dorset IPA Like?
It is not like an IPA, but more like an average bitter. Furthermore it is definitely not a hoppy fruity ale. The nose gives the slightest of sweet malt which is overshadowed by a synthetic powdery smell. I did get a light toffee malt in the taste. This is quickly replaced by bitterness, which I like. The fruity citrus hoppy promise does not come through. It's more like a standard bitter and gets a rate my beer score of 3.4 – 5.0.
I scored it up slightly because to be fair you don't have to shell out much coin for it.
Aldi Craft Beer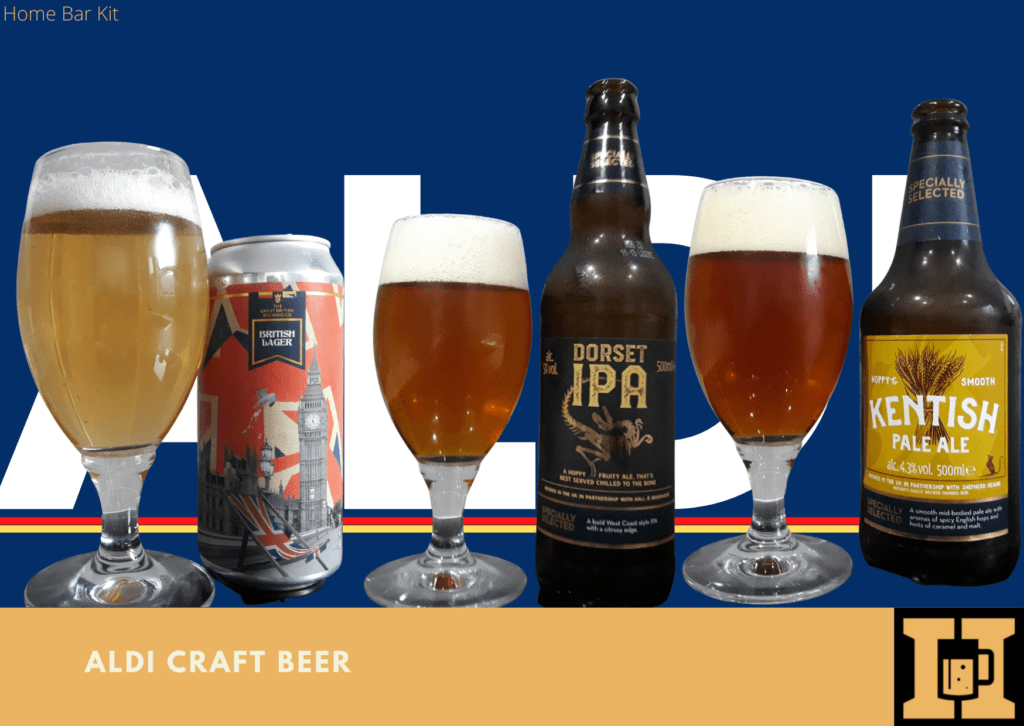 Aldi have released several craft beers in recent years and this particular one is brewed by Hall & Woodhouse (Badger Beers). A brewery set in the heart of Dorset England.
They are not the only brewery that have produced beers for the Aldi range. Shepherd Neame, William Bros Brewing Co and even Brewdog are among the partnerships.
So the breweries that make the Aldi beers are quality outfits, so surely the beers are quality too. Not quite, they just lack in flavour and are a little thin on the ground.
To be fair I did quite like their Kentish Pale Ale brewed by Shepherd Neame. But their Jubilee Range which included British Lager was not the best.
So what is this Dorset IPA a decent beer.
What Is Dorset IPA Like?
The bottle looks pretty good, a black label with gold writing, nice. It simply says 'Dorset IPA' and has the skeleton of a dinosaur, which I imagine is because Dorset is a Jurassic coast line.
Apart from saying it is a 'Hoppy Fruity Ale' it also says it is 'A Bold West Coast Style IPA With A Citrusy Edge'.
Hmmm.
Drinking Dorset IPA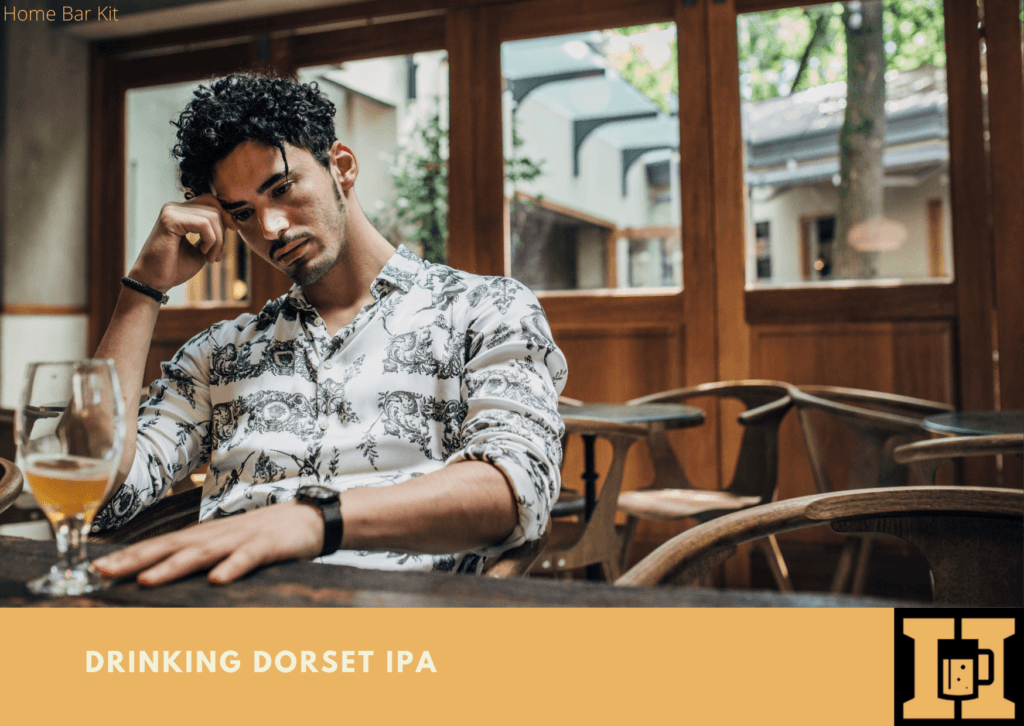 It pours a mid gold with a generous two finger head. This fades to a light covering and does leave a nice decorative lacing around the glass. It actually looks like a nice beer, its worth admiring before diving in.
The nose is where is starts to go downhill. A light sweet malt is set aside pretty quickly with an odd dry powdery smell. Its hard to explain, but its almost like a talcum powder, a dry synthetic scent.
Maybe this is the citrusy edge, I don't know.
The taste is little to write home about either. A light toffee biscuit malt starts the show, but a wave of bitterness soon covers it. I like a bitter beer, but there just wasn't anything else to speak of in terms of flavour.
None of the promised hoppy fruity ale with a citrusy edge turned up in my glass.
On the bottle is says 'Best Served Chilled To The Bones', I get it with the skeleton, but its an IPA. But I followed the advice, however as it was going down rather slowly, the beer did rise temperature.
This didn't make a lot of difference, however there was a hint of the fruity ale they promise. Just not enough to make a difference.
The Verdict
It looks good, it smells weird and it lacks in taste. At 5.0% Vol it has a decent strength, but that is all its got. Its an average bitter, not a hoppy IPA and gets a 3.4 – 5.0.
Lou was a little more generous saying "It's a mild malty bitter with a mild citrus in the background" and scores it 3.8 – 5.0.
In my opinion there is no heart and soul gone into making this beer.
Aldi Craft Beer Range
Aldi are continuing to get breweries to produce craft beers for them, so I imagine the range will grow. I have tried a few, but fail to be impressed.
I am sure a lot of thought and hard work has gone into producing those I have tried so far. However it just doesn't feel like it. Instead it feels like they have just been banged out to jump on the craft beer wagon.
That may sound harsh, but its just my opinion.
Will I bother to try any more Aldi craft beers? Probably because I am a sucker.
Final Thoughts
Hall & Woodhouse are a brewery that go back centuries, they know how to brew beer. So this Dorset IPA is a little disappointing to say the least.
It is a cheap beer, that is what Aldi is all about, but that does reflect in its quality. Would I drink it again, NO.
Would You?
Share your thoughts below if you have tried any of the Aldi range of craft beers. Especially this Dorset IPA, it will be interesting to know what you think.