This beer is from a Welsh brewery that are committed to making great beers without having too much impact on the environment. Lucky for me, I found myself drinking Conwy APA, which is their decent American Pale Ale.
The brewery is in one of Britain's best preserved medieval towns Conwy, situated close to Snowdonia. Among other things it is also home to Conwy Castle as well as the smallest house in Britain. Anyway, what about the beer, is it any good?
Drinking Conwy APA By Bragdy Conwy
Conwy APA is a straight honest beer that delivers a great experience. It pours a deep copper with a moderate white top. On the nose it is hoppy with a citrus hit and the promise of some tropical fruits. The taste is hoppy with a citrus fruit front that turns into a satisfying bitter end. There is nothing fancy about this beer, but it tastes good. A rate my beer score of 4.6 – 5.0 is well deserved.
This beer has put Conwy Brewery on my radar, therefore I will definitely be trying their other brews.
Bragdy Conwy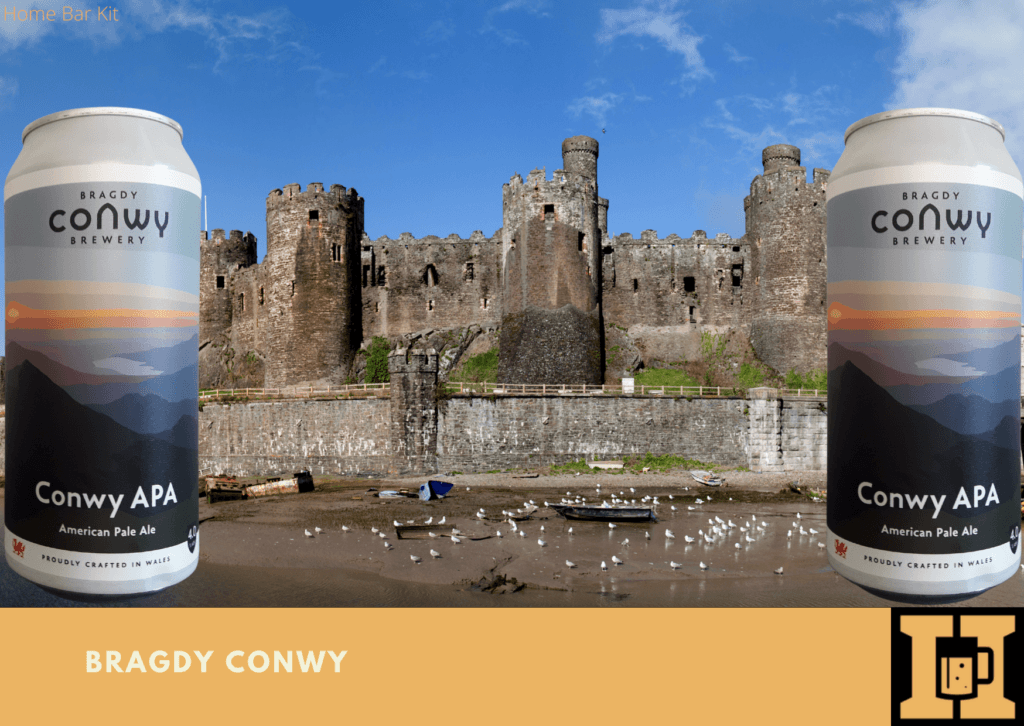 Just in case you are wondering, Bragdy is Welsh for brewery. This is my first experience of Conwy's brewery, I hadn't heard of them, even though I have been to Conwy.
The brewery was started in 2003 by husband and wife Gwynne and Adele Thomas. At that time it was the first brewery in Conwy for 100 years.
Starting in a small industrial unit, the brewery primarily produce beer for the local area. Two moves later and in bigger premises they produce beer for the whole of wales and beyond. Many of the beers are now in supermarkets making them accessible to a wider audience.
The character of the brewery is about the environment with minimum impact being their goal. A solar system cuts down on the use of electricity. Grain that is used goes off for cattle feed.
Less water is used compared to the industry standard and no filtration means less beer waste.
Apart from the town of Conwy being a beautiful place to visit it also has a great brewery producing great beers.
I can't believe I have visited Conwy and missed out on visiting this brewery.
Find out more about the great Conwy Castle, which I have been to and it's a great castle.
Or how about the smallest house in Britain which is also in Conwy. The video below shows a few of Conwy's charms including the tiny house.
Is Conwy APA Any Good?
Yes it is a great beer, not like many modern craft beers, but a good honest beer. There are no bells and whistles and no high ABV's here. However it is just a decent session beer that looks good, smells good and tastes good.
It is not an in your face beer, instead it is calm and serene quietly doing its job. The beautiful Welsh landscape on the can sets the scene. No funky designs just the brewery and the beer stand out from the Welsh hills.
It was a joy to drink.
Drinking Conwy APA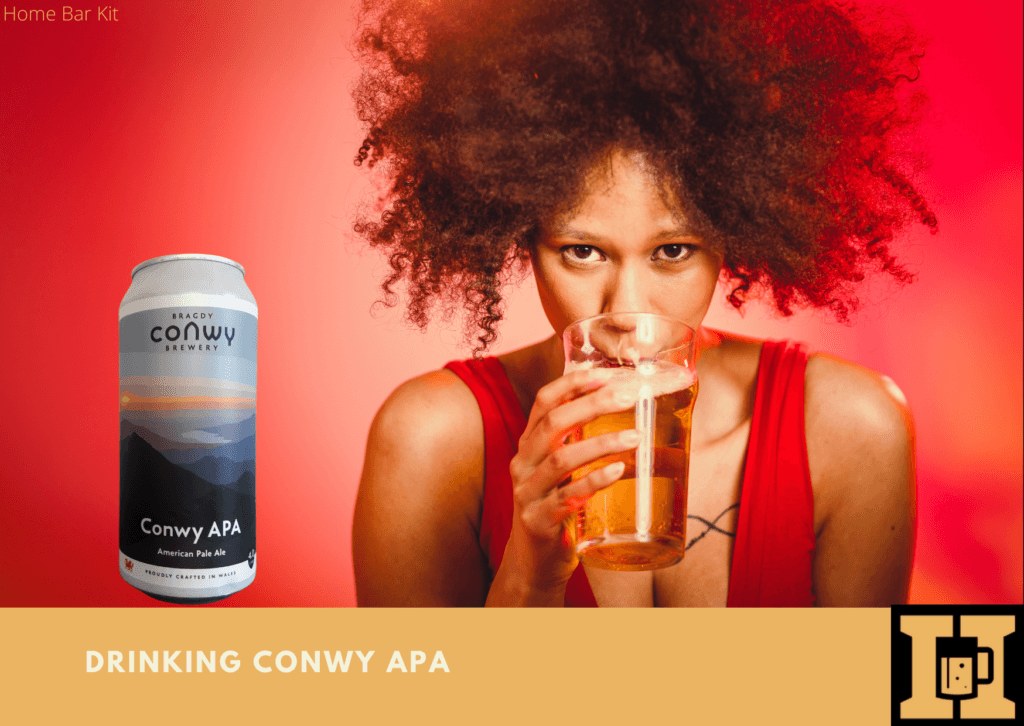 Pouring into the glass a deep copper liquid settles with a modest white frothy head. This does fade quickly to the slightest of covers.
The nose is not big, but it is all there. A hoppy citrus escapes the glass with hints of possible orange, mango and pineapple.
The taste starts with a hoppy citrus front with the fruits teasing the palate. A slight sweetness turns to a malty undertone which comforts with a smooth mouthfeel. This builds into just the right amount of bitterness on the end.
M'Lady had a similar experience with a sweet beginning turning into a bitter finish.
There are no massive flavors, but just a good amount of everything you would expect from an American Pale Ale. It is not shouting at the top of its voice, but instead quietly operating under the radar.
At 4.0% Vol it is safe to have a few, and it is one I am quite happy to drink a few of. I like it and Lou liked it, in fact we scored it the same. A rate my beer score of 4.6 – 5.0 from both of us.
It is great to try all the weird and wonderful beers in the craft beer scene of today. However it is also great to just sit back with a standard well brewed craft beer too. And this is just that, a quite unassuming decent beer.
Conwy Brewery Range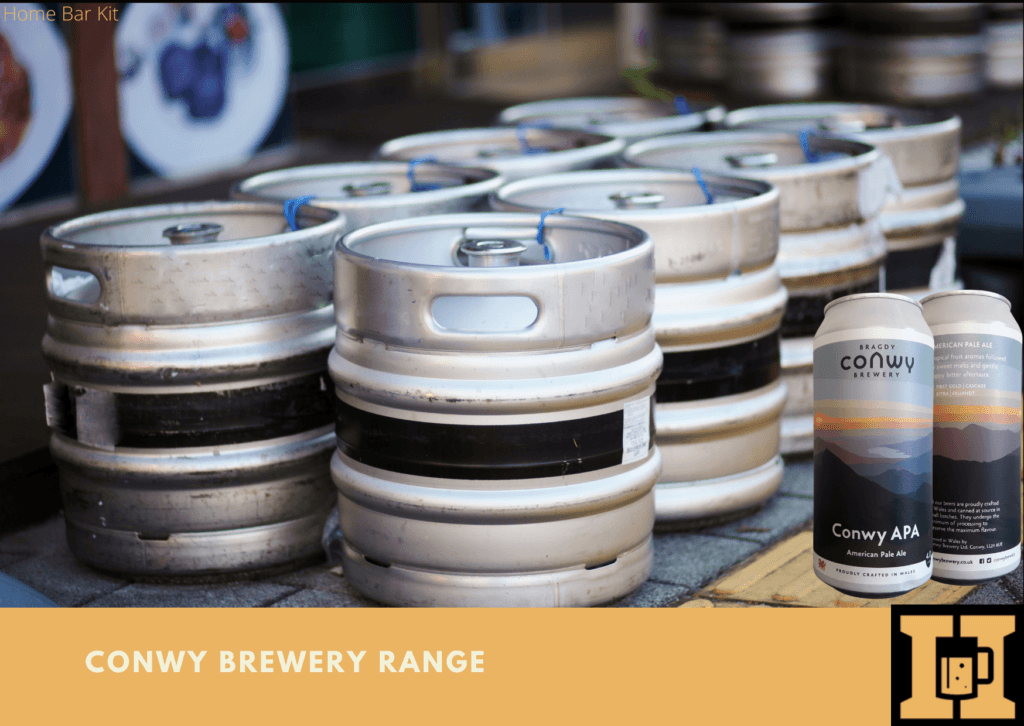 Now that I have experienced one of their beers, I will certainly be looking at what else Conwy brewery has to offer.
All their beers are unfiltered, unpasteurised and naturally conditioned. They have a core range as well as a west coast range. I will feature two from the core range and one from the wets coast range.
Rampart
Rampart is a dark malty ale, so you would expect lots of rich malt flavor to this beer. It is a dark chesnut brown and produces and thick off white head.
Floral aromas float in front of a strong malt base. It promises a sweet rich malty flavor with some spice thrown in and a burnt caramel to finish.
Sounds good and a 4.8% Vol is in the session beer range. However I think it may be a little rich for more then one, could be a sipper. Rampart is part of the Conwy Core range of beers.
Beachcomber
Another core beer, Beachcomber is a Blonde ale that shouts refreshing right from the label to the glass. It's brewed to be refreshing with a light grapefruit aroma and taste. The look is light too with a light golden color and pure white head.
First it has a a light fruity body, second a grapefruit citrus flavor that has a soft bitterness in the background. One for a hot day, light refreshing and satisfying. At 4.5% Vol there is no need to be shy either, if one doesn't quench the thirst, the have a second.
I like the sound of this blonde beer, therefore it definitely goes on my hit list.
Riptide
Riptide is a black IPA so promises the dark malts of a porter with the fruity hops of an IPA. That is exactly what the profile is, those dark rich roasted malt flavors are the background to a lighter hoppy citrus blend.
An interesting combination that some will love, however even though it is a modest 4.6% Vol. It could be a little too rich for more than one.
Riptide is part of the Conwy West Coast range. Will it come home with me one day? For sure it needs to be tried.
Final Thoughts
Conwy brewery is interesting, quietly going about its business. Producing a decent range of quality beers. I like the Conwy APA, likewise so did Lou, therefore I am looking forward to trying more of their beers.
So next time I am in north Wales I will definitely be visiting the brewery and sampling a few of their beers.
From lager to porter they have something that any craft beer lover will enjoy. Have you had a Conwy beer? If so share your thoughts and let us know, good or bad.