A home bar at Christmas comes into its own, it is the perfect space to prepare and serve a variety of festive drink's. It can be a busy time for a home bar, so it is worth getting stocked up with some favorite drink's.
There maybe call for some extra ingredients for the home bar during the holidays. A great way to know what is needed is to checkout the favorite Christmas drink recipes. There are classic, traditional or new recipes to fill up your festivities.
What's The Best Christmas Drink?
We will all differ on that one, but Eggnog has to be up there when it comes to a classic festive drink. Then we have Tom and Jerry, Mulled Wine or the favorite Hot Buttered Rum. Don't forget the wonderful Christmas punch, of which there are many variations.
A Festive Drink Collection
It is always nice to go traditional with Christmas drink's, after all the holidays are the only time we get to enjoy these drink's. The classics are all great drink's, but there are some new kids on the block, and its always good to try something new.
This is a festive drink's collection of the old and the loved, as well as some new and exciting ideas to try. We start with the classics, and finish with some fresh fun ideas for the holidays.
Eggnog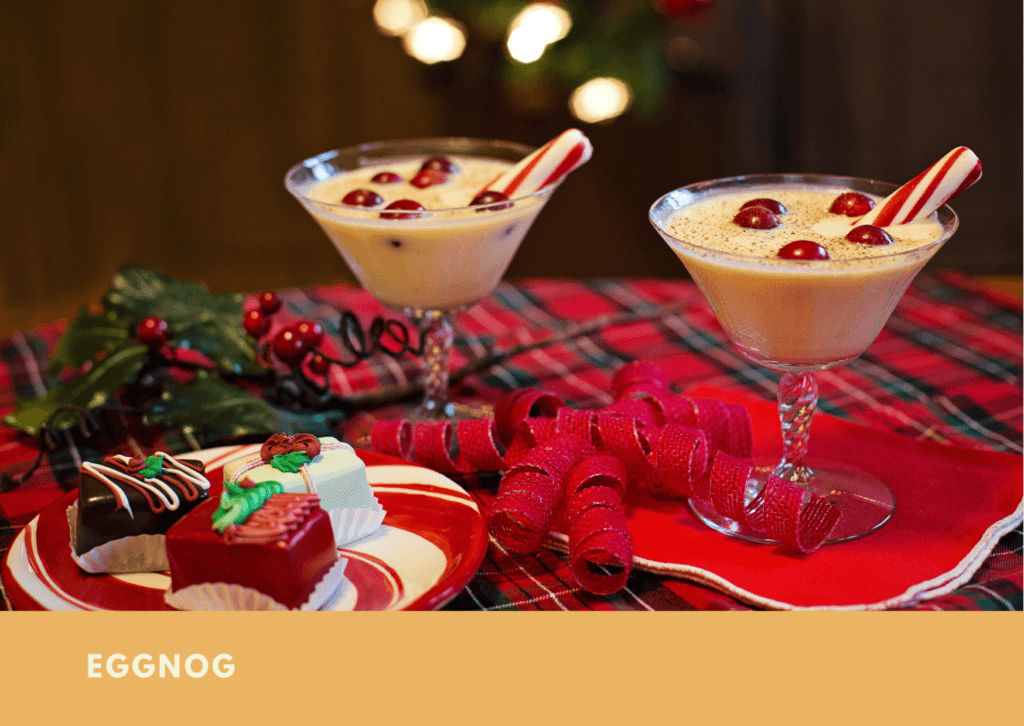 It is the most obvious, and yes, a predictable drink to start off this festive collection. The history of Eggnog, while a little hazy does date back as far as Medieval times in England. It is also known as egg milk punch, milk punch or an egg flip.
Traditionally it was made from milk, cream, sugar, egg yolks that are whipped and the egg whites. It was served hot at one time, and still can be if you so choose. Alcohol made its way into the drink in the form of an ale known as nog, now the name makes sense.
Today there are many versions of the drink and bourbon, rum, brandy or whisky are often added. Cinnamon and nutmeg are added to give the drink a spicy element. Eggnog is enjoyed throughout the world around the holiday period, albeit in different guises. It is a very similar drink to the famous Tom and Jerry cocktail.
Ingredients
Eggs
Milk
Cream
Sugar
Vanilla
Nutmeg/Cinnamon
Alcohol of your choice (optional)
These are the basic ingredients and if you want to add alcohol, then just use rum, brandy or any other liquor that you like. It is not difficult to make, but here is a simple recipe to follow.
Warning: Please note that Eggnog contains raw eggs which can cause food borne illness.
Hot Buttered Rum
Another winter favorite and one that always hits the festive season with a bang. Dating back to the 1600s the hot buttered rum became so popular, there is even a special day for it in January.
This drink is a combination of rum, butter, water, sugar and a garnish of nutmeg, cloves and cinnamon. The butter element is first made into a batter using butter, brown sugar and cinnamon. Cider is sometimes an alternative to water, and ice cream can be added to the batter.
Ingredients
Rum
Butter
Brown sugar
Hot water
Cinnamon
Nutmeg
Cloves
It is a fairly easy drink to prepare and a great one to enjoy. For a detailed recipe and clear instructions this one is a good version.
Mulled Wine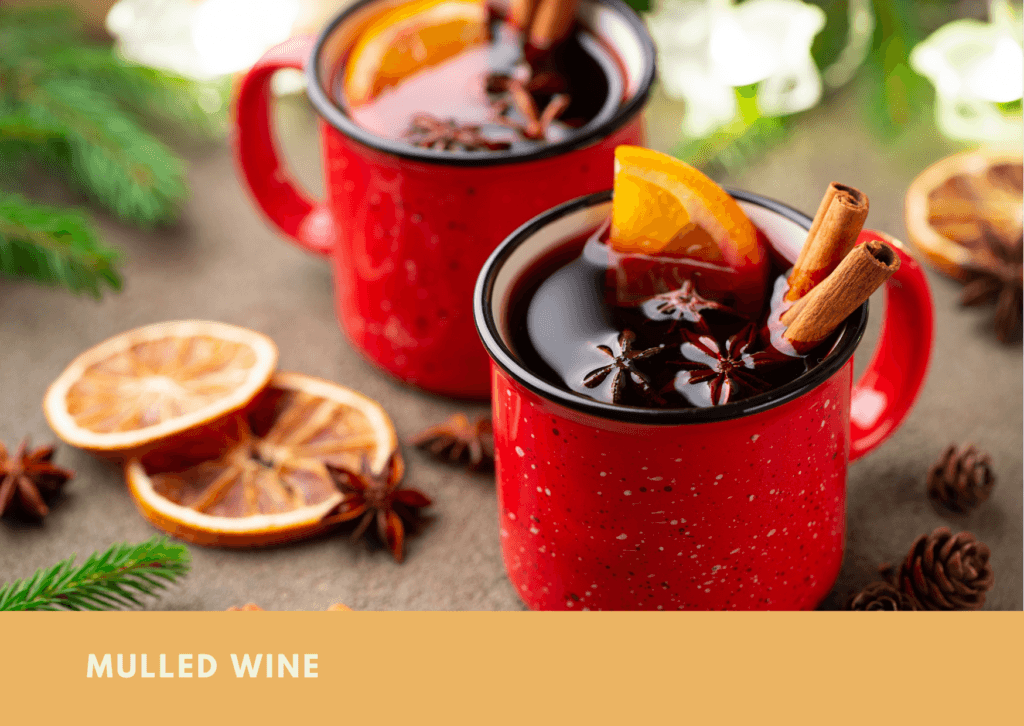 You can't think of Christmas and not think of mulled wine, it's an absolute classic. This is a very old drink and dates back to the Roman times, so it really is a timeless classic. Made from red wine and mulling spices, it is sometimes known as spiced wine, for obvious reasons.
The collection of spices for mulling are cinnamon, star anise, cardamom, cloves, allspice and peppercorns. There are others that are used, and anyone can experiment with the spice content. Mulled wine spice mixes are available from many stores, but its more fun to create your own mix.
Red wine is used for this and is gently heated with the spices. Brandy can be added, as can syrup or honey, then garnish with orange or other suitable fruit.
Ingredients
Red wine
Cinnamon
Star anise
Cardamom
Cloves
Allspice
Peppercorns
Orange
Brandy (optional)
Honey (optional)
It does add a certain sweet edge with a little honey or maple syrup, and a little brandy can take it to the next level. Mulled wine is very similar to Glogg which was originally made with liquor. Both mulled wine and glogg have been played around with over the years and seemed to have morphed into one.
This is a drink you can play around with and create your own version. For a quick, but delicious version try this one.
Wassail
Wassail is actually an old ritual that took place in a cider orchard with songs for the apple goddess Pomona to achieve a healthy harvest. A bowl of cider was passed from person to person and thanks given in the form of wassail.
Although these harvests are still celebrated in a similar way, wassail is also associated with door to door singing and giving. It is a very similar drink to mulled wine, but made with cider. Apart from the cider, there is cinnamon ginger and nutmeg, which are served in a communal bowl. Finally, this is topped with sops which are pieces of bread.
As with all these type of drink's over time they have evolved and include more ingredients than their original recipe.
Ingredients
Cider
Orange juice
Lemon juice
Cinnamon
Ginger
Cloves
Nutmeg
If you have never had a wassail, then this Christmas may be the right time. This version is a good mixture and will sure to be a festive winner.
Christmas Punch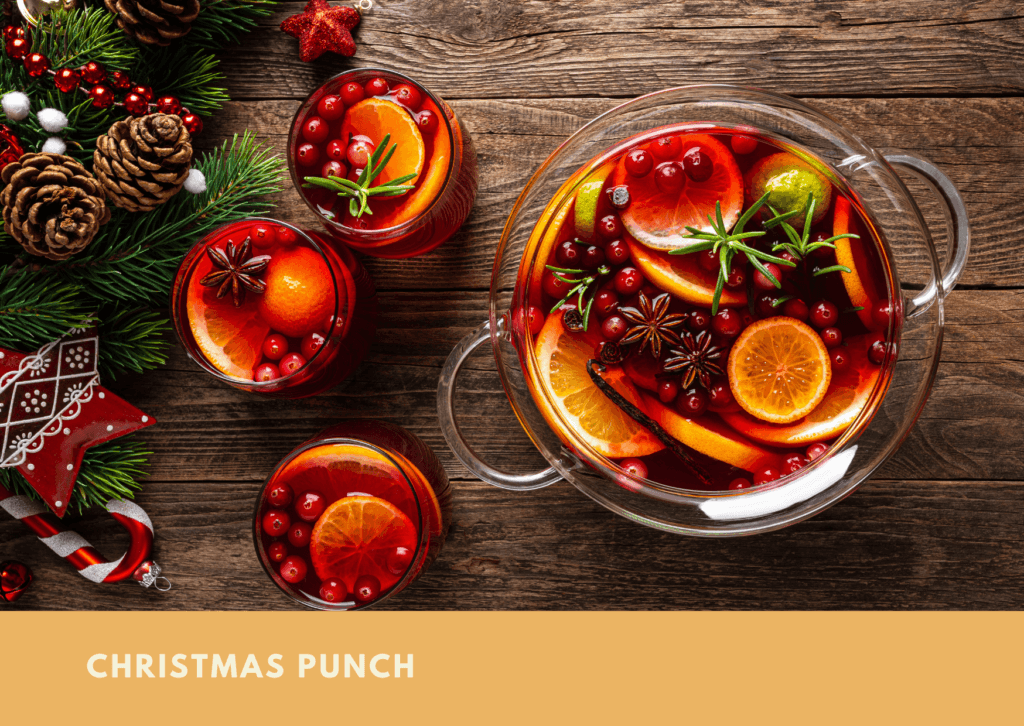 A punch can be for any occasion, they have become a part of the way we have celebrated over the years. It goes back hundreds of years and is a selection of ingredients mix in a bowl and served to guests.
This Christmas we can carry on the tradition with our own Christmas punch. How many ingredients are there? Some say there should be five ingredients, which comes about from the Hindi word Panch. Today we make a punch how we like, there are no rules, just add what you like.
As a guide, think about this mix.
Ingredients
Prosecco
Sloe gin
Herbal Liquor
Apple juice
Ginger
Rosemary
Syrup
Grapes
Clementine
These are the ingredients needed to make this special Christmas Punch.
Jack Frost
As the name suggests, this is about winter, those cold nights over Christmas period are perfect for this super cocktail. Jack Frost himself would enjoy this cocktail while coloring the trees in autumn.
This festive favorite uses blue Curacao which is a bitter orange liqueur and is mixed with vodka and prosecco with some limeade concentrate.
Ingredients
Vodka
Prosecco
Blue Curacao
Limeade concentrate
Ice
For quantities and instructions take a look at this perfect recipe. A twist to this is to decorate the rim of the glass. Dip the rim of the glass into a little corn syrup, then into some coconut flakes.
Dirty Santa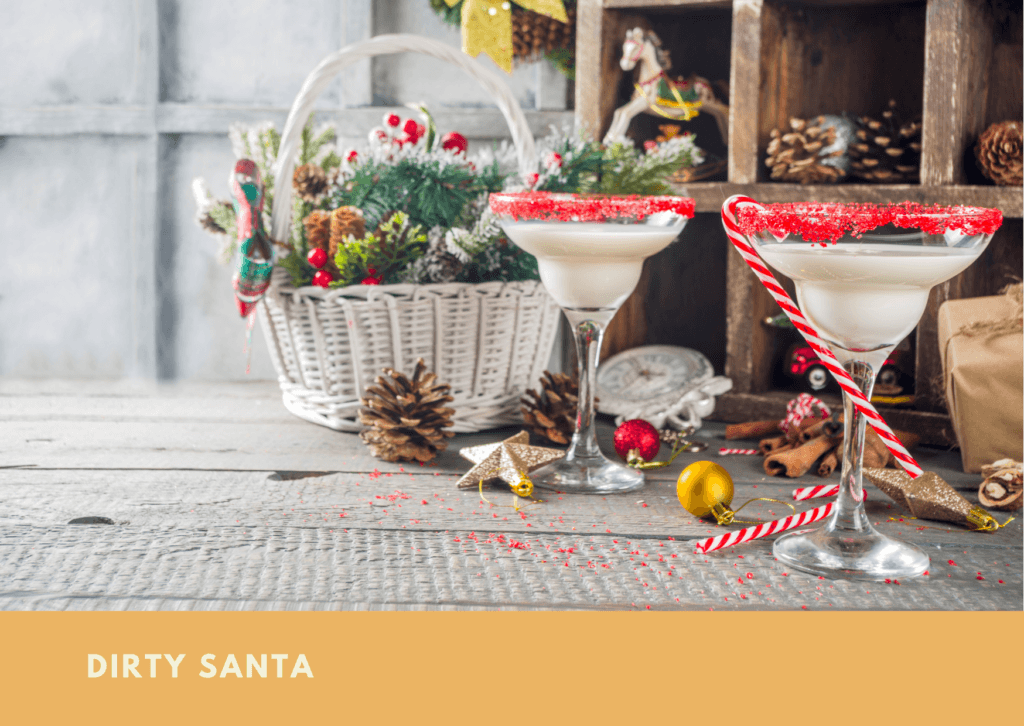 A really fun modern cocktail for Christmas is the dirty Santa, which has a lovely cookie flavor that warms the heart. Ideal to drink while playing games, or perfect for sipping around the fire.
You can decorate the rim for this one too using green and red sprinkles, how festive. Just put some icing around the rim of the glass and then roll it on a bowl with the sprinkles in.
It's a warm winner with the likes of amaretto and vanilla vodka, that give it that cookie flavor.
Ingredients
Amaretto
Vanilla Vodka
Bailey's
Milk
Simple ingredients, but what a combination and what a mouth thrill. This is the simple recipe that includes instructions, plus the dirty Santa game.
Snow Day Pina Colada
I miss the beach this time of the year, and I also miss sipping those pina colada's too. Now we can bring the classic drink into Christmas with an added frosty touch.
What better way to enjoy the holidays than with a few winter pina's. The rum, coconut and pineapple are all still present, but the peppermint schnapps gives the wintry edge.
Ingredients
Rum
Peppermint Schnapps
Coconut Cream
Pinapple Juice
Garnish
You just put the main ingredients into the blender until smooth and frothy, then pour and garnish, a true winner. Take a look at this recipe for all ingredients and instructions.
Final Thoughts
There are some real crackers here for the holidays, they will all add some sparkle and fun to your Christmas. Ideal for gathering around the home bar and enjoying these easy to make festive drink's. Share with friends and family or just enjoy a sneaky one by yourself.
Share your thoughts about your favorite festive drink's, and have a fun and safe Christmas time.