There are many lights that can enhance a home bar or pub shed. However lighting can be expensive, so getting the right lights for the best effect may seem difficult.
Also because of the sheer amount of choices in lighting it can be a long and frustrating process deciding on the right lights for you. In this post I share a simple lighting kit I have added to my pub shed which not only look great, but are so easy to fit too.
To enhance a home bar or pub shed simply add a set of LED strip lights. They look great, have many colour options and you can adjust the brightness. Plus they are so easy to fit, you are up and running in a matter of minutes.
A simple way to transform a home bar or pub shed.
What Are LED Strip Lights?
Led strip lights are a long strip of small LED lights on a flexible circuit board. They are also known as tape lights or ribbon lights too.
It is possible to get them in a variety of lengths and most can be cut to size for the perfect fit. Many give you the option of several colours, so you can change the colour according to your mood.
Features like flashing and strobe come with some models, as well as adjustable brightness too. They are normally fitted by way of adhesive backing tape, which makes it easy to install them.
Other features include smart app control, voice control and Alexa, Hey Google and Siri compatibility. However it does depend on the particular model you go for to the extent of its features.
Because they are LED they are an energy efficient light fitting, so don't cost a lot to run.
A Simple LED Strip Light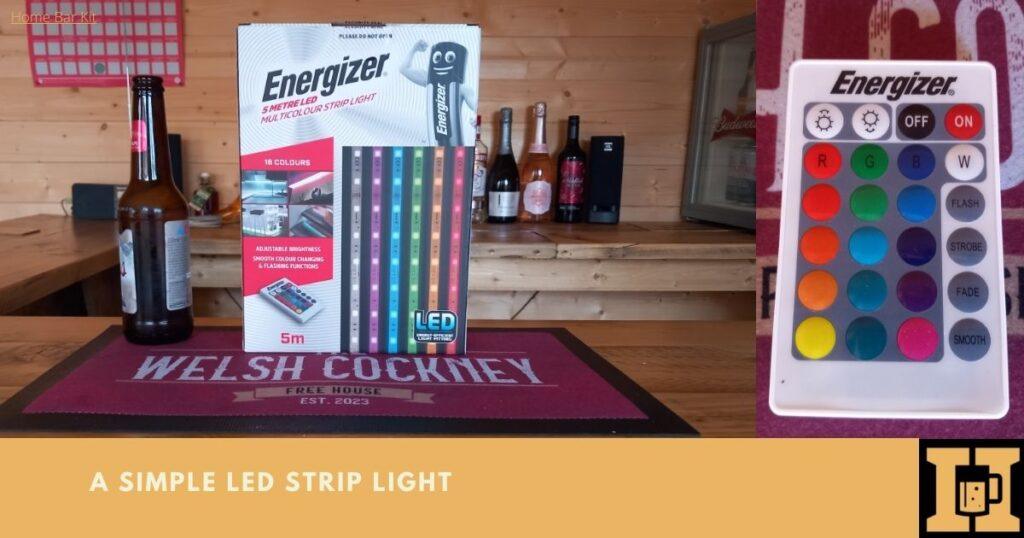 I am not one for phone apps or voice control and I don't use Alexa and the likes. So I didn't want LED strip lights with all those bells and whistles.
Just a simple strip light that is easy to fit and looks good. So I have gone for the Energizer lights, a brand I know and no smart tech.
Energizer LED Strip Light Kit
There are so many makes of these lights, most of which I have never heard of. So I have gone for a brand I know, Energizer.
I got this strip light to fit around my actual bar, just under the top edge. When I measure around the bar it is 3.7 metres. The light I have is a 5 metre length, so it also goes down one vertical edge too, which is a bonus.
I could have cut the strip as there are sections along it where it has cut lines. Once you cut it, the part you cut off cannot be used. I just ran mine down the bar too, so no need to cut it.
The features my light have are:
16 colour combinations
Adjustable brightness
Flash and strobe functions
Remote control
Adhesive backing tape
Fixing clips
Although it has adhesive backing, there are also ten small fixing clips and screws. So you can hard fix it at half a metre intervals.
What Is In The Box?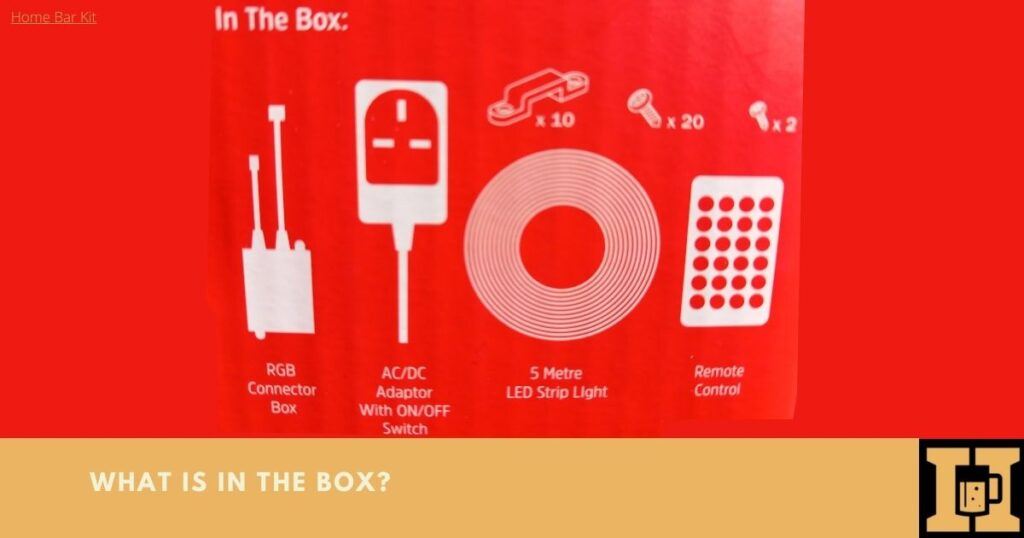 Included in the box are:
5 metre LED strip light
Remote control
AC/DC adaptor with on/off switch
RGB connector box with 2 fixings screws
10 fixing clips with screws
Everything you need is in the box ready to install the lights.
How To Install LED Strip Lights
Unpack the box and make sure everything is present
Cry run the strip to make sure it fits how you want it to
Fit the RGB connection box to a suitable location with the 2 fixings screws
Plug in the strip to the RGB connection box
Run the strip along your chosen surface peeling the backing tape as you go
Once the strip is fixed, connect the ac/dc adaptor to the RGD connector box
Plug in the ac/dc adaptor to electrical outlet and switch on
It really is simple to fit this strip light and it is up and running in a matter of minutes.
A few tips to make for a smooth installation:
Peel the backing paper off the strip as you go. If you take too much off at once it could stick to istelf or other surfaces.
If you need to cut the strip, only cut where it indicates to do so. Otherwise you may break the circuit.
As you press the strip to the surface, only press between the LED components. Do not directly press on the components or it may damage them.
I think it took me around ten minutes from unboxing to switching the lights on. The adhesive on the back of the strip is pretty strong and does stick well.
My light has 16 colour combinations, so I can get the lights exactly how I like them. One is white light, two blue with 5 variations of blue. Three is green with 5 variations and four is red with 5 variations.
To be honest the variations between the blue, greens and reds are minimal. So I would just say there are four colours, white, blue, green and red.
There is one button to dim the lights and another to make the brighter. Four remaining buttons deal with flashing, strobe, fade and smooth, which are of course self explanatory.
As an Amazon Associate, I earn from qualifying purchases.
Final Thoughts
To sum up, the Energizer lights I have for my pub shed are great. They look good and have easy functionality, especially with the remote control. In my opinion they will enhance a home bar and pub shed, they do mine.
I didn't expect them to be very bright, but surprisingly they are a decent light. Obviously you can dim them too for the level of brightness required.
Most people will prefer the smart version with app and voice control, which is fine. And funny enough the smart version is also a little cheaper than the standard version.
Overall the Energizer is a good strip light kit, and I think I will be getting more of these in the future to put around the top of my pub shed walls.
If you have strip light in your home bar or pub shed, then do share your thoughts on what they are like and what make they are.