As the name of the beer suggests, this IPA uses a 50/50 partnering of Citra and Olicana hops. The Citra hops coming from the US and the Olicana hops coming from the UK. So what is 50fifty Citra Olicana IPA Like?
The US hop Citra is known and loved for its tropical fruit flavours like peach, passion fruit, apricot and lemon. The UK's Olicana hop comes in with similar tropical fruits such as grapefruit, mango and also passion fruit. So this beer is bound to be somewhat tropical.
What Is 50Fifty Citra Olicana IPA Like?
To put is simply, it's a great beer. A sweet tropical extravaganza with a well balanced bitter end. On the nose it is a tropical carnival. The taste starts with a sweet malt smothered in an array of tropical flavours. Grapefruit and mango, passion fruit and a sharp lemon flood in. It's sweet and smooth, but then a welcome bitterness comes and finishes off. I love it and it gets a rate my beer score of 4.6 – 5.0.
A truly fruity IPA with a well balanced bitter end.
Buxton Brewery
Buxton Brewery started life back in 2009. The founder Geoff Quinn brewed his first 40 litre batch in the Quinn family garage.
After a year of this small scale brewing, Geoff took the decision to go commercial. He initially brewed his beer at another local micro brewery.
However steady growth over the years and Buxton brewery is now a fully functioning brewery situated in the Buxton area. A famous spa town, Buxton is nestled in the equally famous Peak District National Park in Derbyshire, England.
There is also a Tap House and Cellar Bar situated in the heart of Buxton town. The Tap House opened in 2013 and the Cellar bar opened in 2018 and is actually next door.
Buxton Brewery is now a well known brewery producing high quality craft beers.
What Is 50Fifty Citra Olicana IPA Like?
The reason I included the two hops used for this beer in the title is because there is more than one 50Fifty. There is also one produced with Mosaic and Jester hops too.
50Fifty is a series of beers from Buxton which partner US hops with UK hops. So I am sure there will be other 50Fifty beer hop combinations to come.
An interesting and exciting project, I look forward to trying other 50Fifty's that come out in the future.
The Citra/Olicana version sits in a 440ml can with a purple and blue label laden with hops. Apart from the brewery name and the name of the beer, the front of the can also includes the hops and their origin.
So what is this IPA like?
Drinking 50Fifty IPA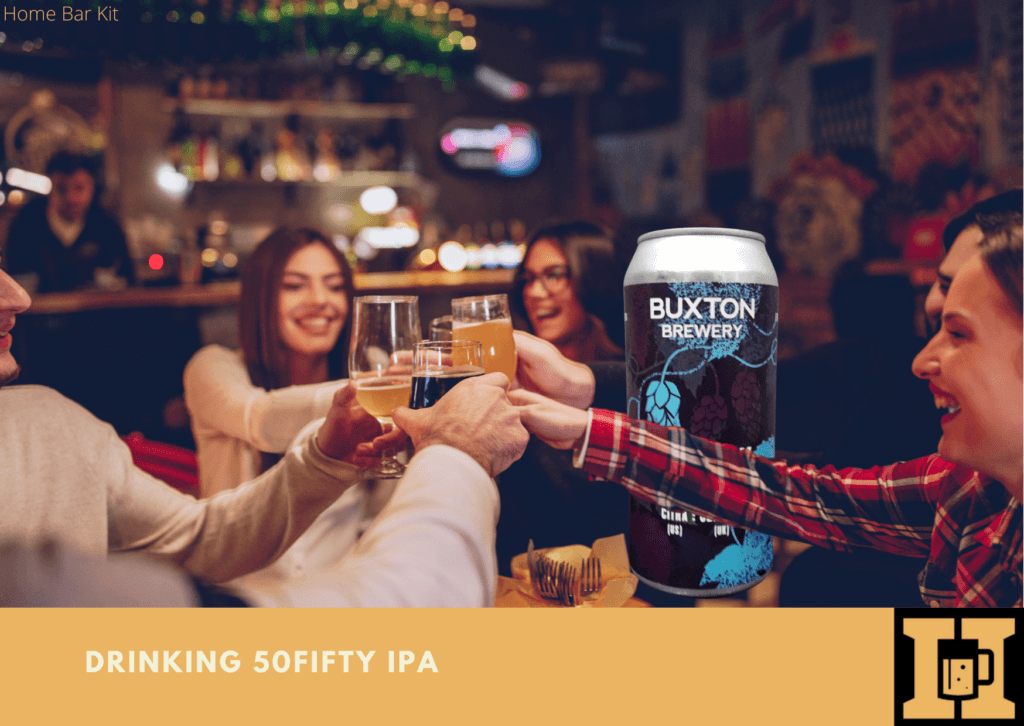 Pour it into the glass and it settles a light golden hazy beer with a generous white top. This does fade some, but leaves a nice decorative lacing around the glass.
The nose is lively with sweet aromas of tropical paradise. Strong citrus aromas of grapefruit burst from the rim, with a hint of lemon and softer fruits.
The taste follows suit with a slight sweet malt kicking things off. This is immediately followed by an array of fruitiness. Grapefruit, passion fruit, mango, lemon and even orange float around the mouth. Its a burst of fresh zingy flavours.
With all this tropical fruit buzzing around the mouth, its a worry it could overwhelm. However to save the day a decent hit of bitterness shows its face and it all ends on a nice note.
Its fresh, light and smooth, with a satisfying bitter edge. At 5.5% Vol it has a decent strength without being too heavy. I like it and it gets a decent rate my beer score of 4.6 – 5.0.
Lou likes it too describing it as totally tropical, a refreshing light and tasty beer. However Lou scores it a slightly lower 4.5 – 5.0.
It turns out the Citra and Olicana hop partnership work well. Buxton have married the together and again produced a great beer.
Buxton Brewery Range
Buxton Brewery have a core range of beers, as well as a selection of limited edition beers. They also produce collaboration beers with other breweries.
From best bitters, citrusy IPA's to rich dark porters, Buxton produce some great beers. The town Buxton is famous for its water, so I am sure the brewery use the best water to produce their beers.
Here are just a few of their beers that have caught my eye and will feature sometime soon.
Axe Edge
Axe Edge is an old favourite from Buxton brewery. It is a strong hoppy IPA with a 6.8% Vol strength tag. This popular beer has a blend of hops from America, New Zealand and Europe.
Again it has a lively nose with tropical fruits and the taste follows with mandarin, pineapple and schnapps apparently. Sounds good and one I will be trying when I find it.
Buxton Best
It is nice to have a good old pint of best bitter now and again. So I will have to try out Buxton's brew just to see how good it is.
Described as malty with a bitter sweet finish, it uses Fuggles and Goldings hops. At a middle of the road 4.2% Vol more than one pint will be okay.
Gatekeeper
Gatekeeper is a rich dark porter with notes of fresh coffee and sweet treacle. The dark can featuring an octopus evokes a little mystery.
Not sure what the octopus is about, but I expected it to be 6% plus. However it is only 4.1% Vol which surprised me, I don't know why.
However I will be giving it a go sometime soon.
Final Thoughts
Buxton Brewery are about quality and producing beers that please the taste buds. Although I am new to trying their beers, I will be back again and again to try more.
The 50Fifty IPA with Citra and Olicana was a joy to drink and I have another of their beers awaiting. A 6.0% Vol IPA from Buxton called Phoenix is the beer that is lined up next.
Looking forward to that one. What Buxton beers have you tried? Share your thoughts below.