The thought of brewing your own beer is an idyllic concept. Especially if it turns out well, you could be the envy of your friends. However that daydream can soon be crushed when it goes badly wrong. There is a lot to think about. First, where do I start? Second, what equipment do I need? Third, what is the easiest type of beer a person can brew at home?
It is best to start small in every aspect, the type of equipment, the process and the type of beer. Go for all the easy options at the beginning, until you get use to the brewing process. This is the best way to succeed, throw yourself in the deep and and you are likely to drown.
What Is The Easiest Type Of Beer A Person Can Brew At Home?
The best type of beer to brew as a beginner is the oldest type of beer. The one we have been brewing for centuries. That beer is ale, it is the most forgiving beer you can brew. However there are of course a lot of types of ales, but we can narrow it down to less than a handful. Wheat, Pale, Amber, Brown and Porter, these are the easiest ales to brew.
If you don't get the brewing process quite right or you make a mistake, these five ales will have your back. They are the least likely to expose your little blunders and you will still look like the master brewer.
There are many types of beer, but here will keep to five that are easy to home brew.
**As an Amazon Associate, I earn from qualifying purchases with no extra cost to you.
Brewing For Beginners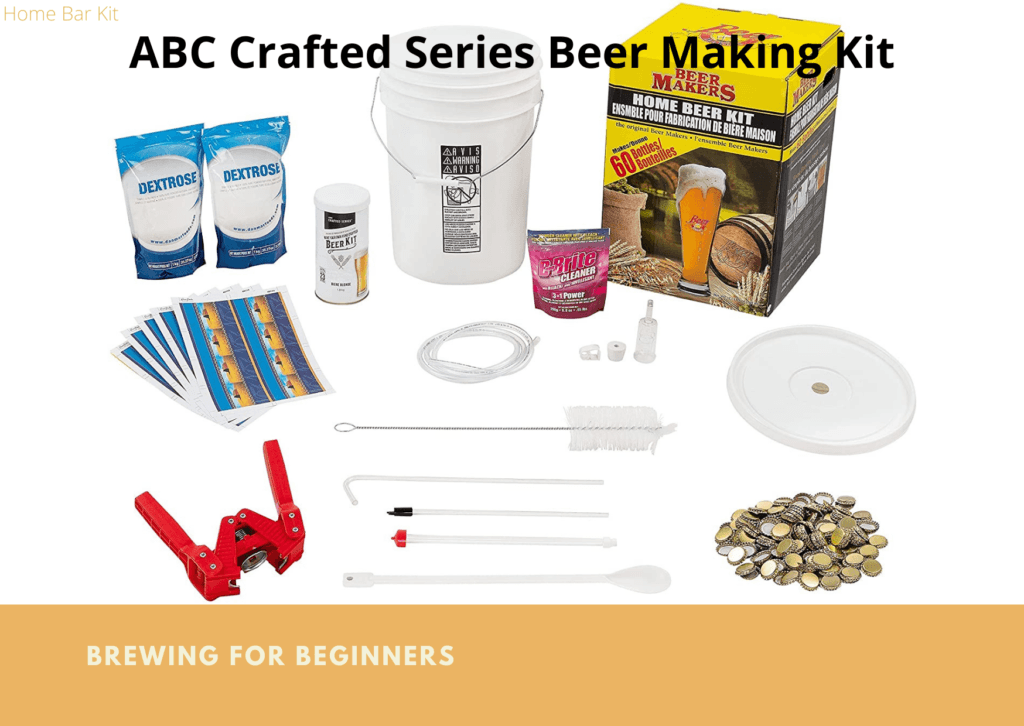 Check Latest Price
Brewing for the first time can be a bit daunting, so don't make it hard for yourself. Start off small and build from there. It is not a good idea to go and spend a fortune buying all the best brewing equipment. A simple starter kit will suffice for your first brews.
A starter kit will contain all you need to get up and running without being to expensive. The ABC Crafted Series Beer Making Kit is a perfect beginners kit with all the equipment you need to get you brewing. Besides the brewing equipment, included is a brown ale ingredients kit. One of the easiest beers to brew, so with this beginners kit you will have your own beer before you know it.
Talking of ingredients, just as the equipment, it is easier to buy beer ingredients kits. They contain all the right components for the brew in hand. Furthermore they contain the right quantities too. This is the best combination for your first brews.
Once you have a few home brews under your belt and you have got use to the brewing process. Then you can move onto trickier beers, and maybe invest in some better equipment. For now cut your teeth on these simple but desirable beers.
American Pale Wheat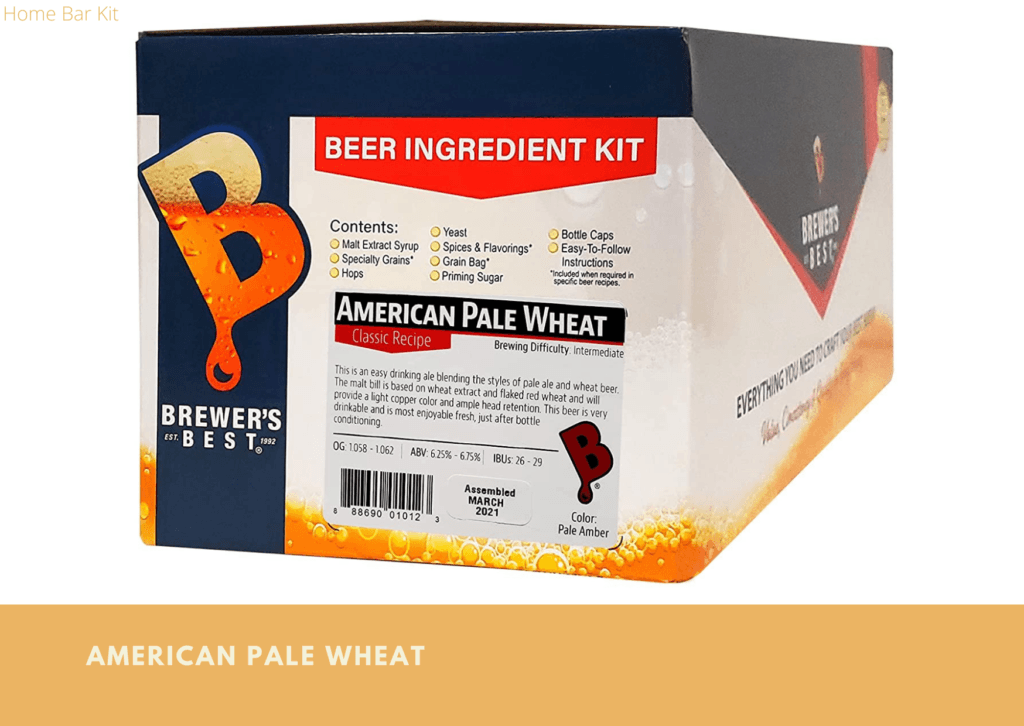 Check Latest Price
This is a version of the popular German hefeweizen, which is an easy drinking beer. It has a light slightly hazy body, with citrus and spicy clove being the in the forefront. The high percentage of wheat in the grain bill, makes for a light smooth hazy brew with a generous frothy head.
A kit contains all you need to brew this popular beer. The grains bill, including the high percentage of wheat along with the grain bag. In addition, the hops, yeast, malt extract and any spices or flavorings. It's all there ready to be brewed with your new kit.
It will produce a light straw color ale with a lively head, boasting around a 6% ABV, tasty.
Pale Ale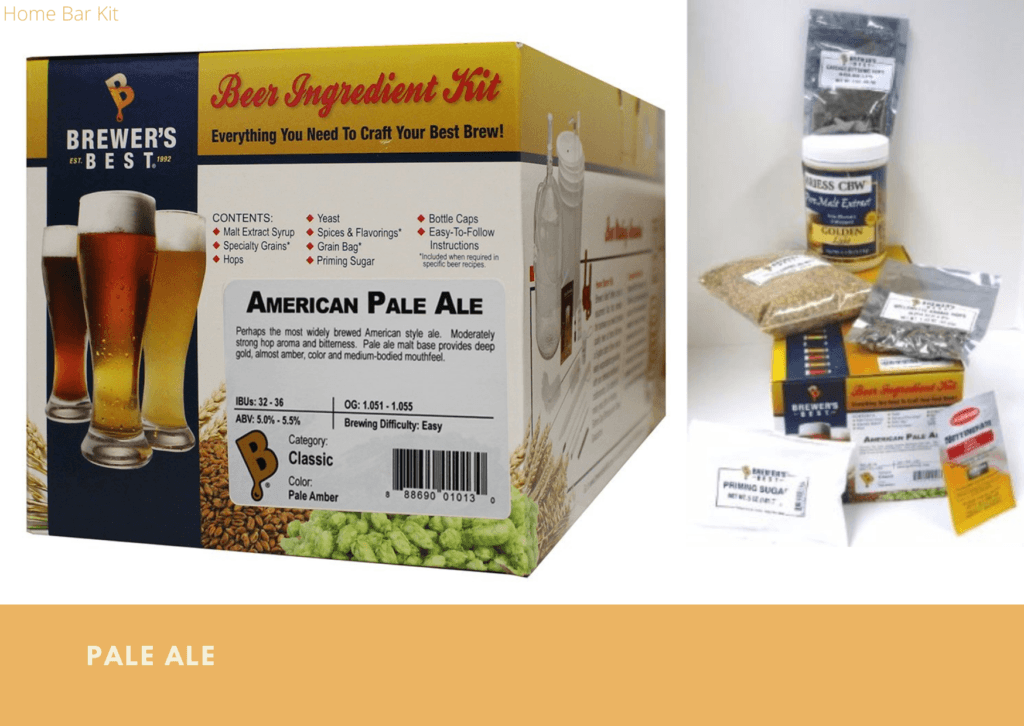 Check Latest Price
Known as an English ale, there are variations of this beer. The Indian Pale Ale (IPA) which contains a lot more hops and gives it a more bitter flavor. Also the American Pale Ale (APA) which is a cross between the two, being hoppier than pale ale, but not as much as IPA.
However in today's craft beer market there are different quantities of hops in all three of these ales. But they all use a generous amount of hops. Which makes this an easy beer to brew as it is more forgiving to the odd inaccuracy. Again in this kit you get the grains, hops, yeast, malt extract and any flavorings required.
With this kit you will produce a deep gold ale with a medium body that will hit around 5% ABV, sweet.
Amber Ale
Check Latest Price
The ever popular amber ale will be a definite star as one of the first brews. It is pretty close to the ingredients used in the pale ale, but goes easier on the hops. Furthermore it uses dark malts alongside the light ones, which gives it that darker amber color.
Amber ale because it uses less hops lends to a more malt/hop balance, producing a steadier profile. Flavors of caramel and toffee are typical of amber ales. An easy beer to brew and a little more compassionate to any brewing blunders. I've said it before, but I am going to say it again, just in a simpler way. Here goes, you get all the ingredients you need to make this amber ale, of course you do.
An amber ale is a bridge between light and dark beers, a well balanced beer with a 5.8% ABV, nice.
Brown Ale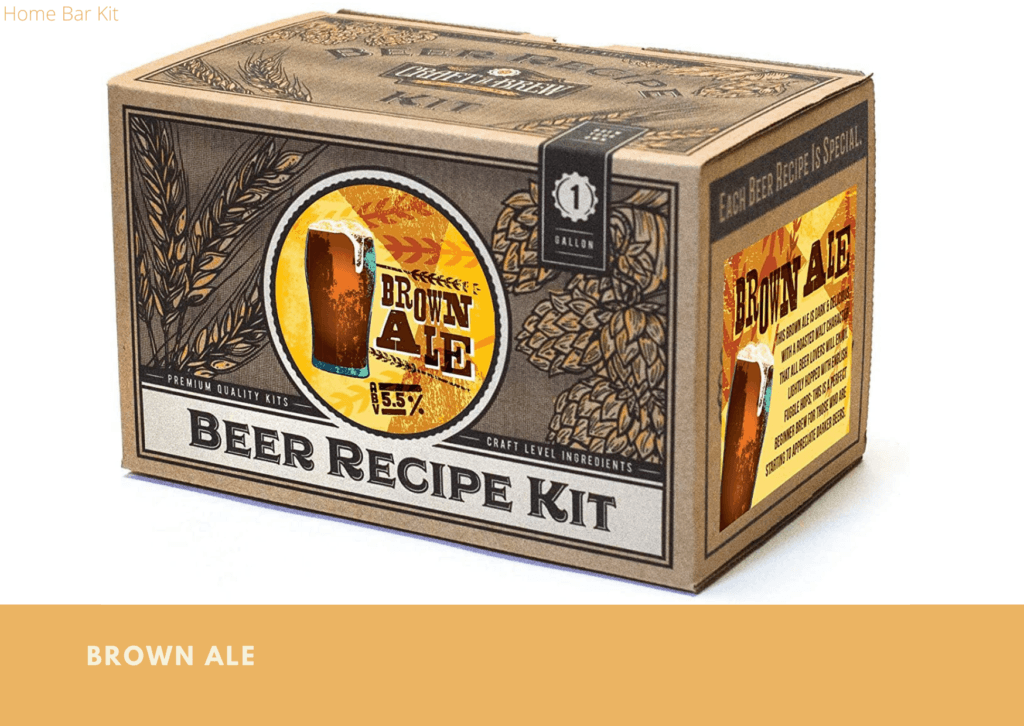 Check Latest Price
Fancy something a little darker with a fuller body, then a brown ale maybe the beer to brew. Brown ale is probably one of the easiest beers to brew and probably the most forgiving. In fact this is probably why it is supplied with the ABC Crafted Series beginners kit above.
There are a lot of varieties of brown ale today, and the colors can range from the amber to the dark. The more roasted dark malts used the darker the beer. Characteristics include citrus, caramel and chocolate notes. All the ingredients and instructions again are included with the kit.
A smooth darker beer with roasted malt characters, an easy brew producing mid 5% ABV, lovely.
A Rich Porter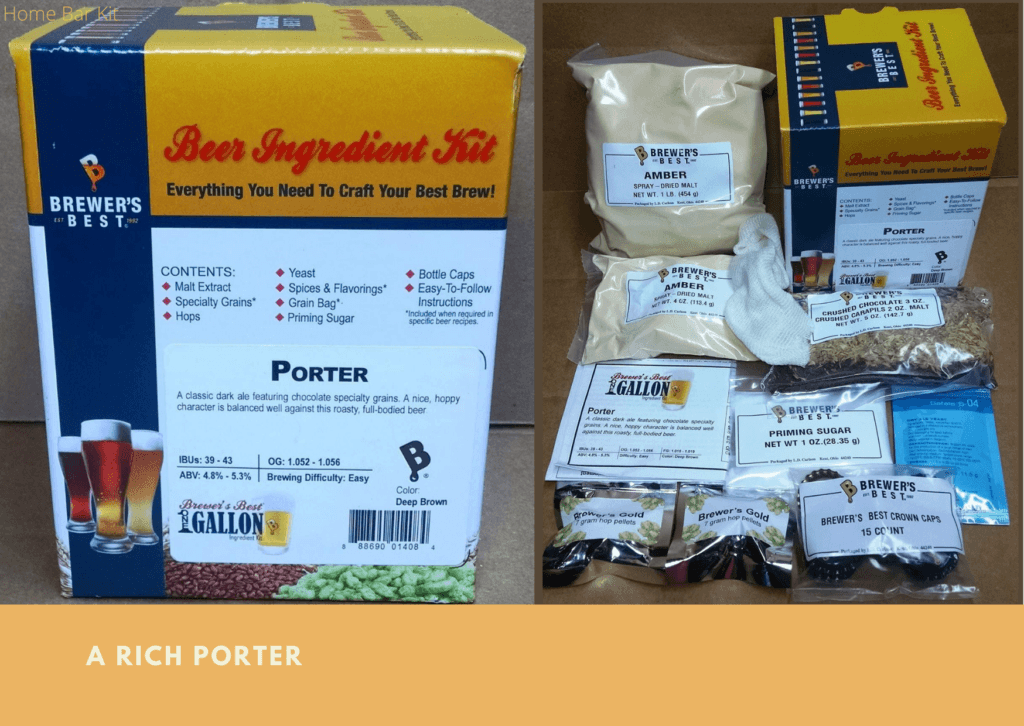 Check Latest Price
How about a rich dark porter as one of your first brews, it makes sense. Likewise an easy beer to brew with a full body and rich flavor. The black beer with the generous creamy head has depth with characters of chocolate along with a roasted malty background.
Porters of today can be hoppy as well as have a fruity flavor. But they always have that rich chocolate base with a deep roasted malt backdrop. You get chocolate malt included with this kit, of course along with the rest of the ingredients needed.
Go rich, go dark with this well rounded porter that will produce a session beer 4.8% ABV, moreish.
Final Thoughts
Now there is a decent range of beers to start your brewing hobby. From light wheat ale to the darkest porter they are all very desirable beers. And the best part is they are all easy on the brew process. They will take the stress out of your first bunch of brews.
Just follow the instructions and within a few weeks you will be sitting back enjoying your own beer. The hardest part is picking your first beer to brew. Why not go as they are listed, from light to dark, by the time you get to the porter you will be an expert. Get brewing and enjoy the process, but more important enjoy your beer.