The humble ice cube is an important part of any bar set up, whether it be your favorite bar in town or your very own home bar. It is used in many drinks and becomes even more important when that sun is streaming down on us and we need to cool down.
An ice making machine is obviously ideal, but not everyone has the space or even the budget for such a luxury. We know that an ice tray can take several hours to make ice and not produce a huge amount of ice, but they still have their use. Things have moved on from your standard trays from days gone by, things have got interesting.
Did you know how cool ice molds have become, if not then read on, I think you will be surprised.
Ice Sculptures
Gone are the days of standard ice cubes, and although we know there are advantages with the ice sphere over the ice cube, there are new kids in town. The ice sphere basically has less surface area and will melt slower than your standard ice cube, there is some science behind it and the blog 'doing science to stuff' has an experiment putting these two types of ice to the test.
We have all seen the fascinating ice sculptures created by artists, a beautiful piece of art that melts before your eyes. There are hotels made of ice, and would you believe it a fully functional truck too, which was made in 2014 by Canadian Tire.
It is no wonder the humble ice cube has seen some exciting changes over the years, and we now have a huge collection of weird and wonderful ice cube designs. That being said, not many are actually cubes, but they are a cool and fun way to keep our drinks cold.
Skull Ice Mold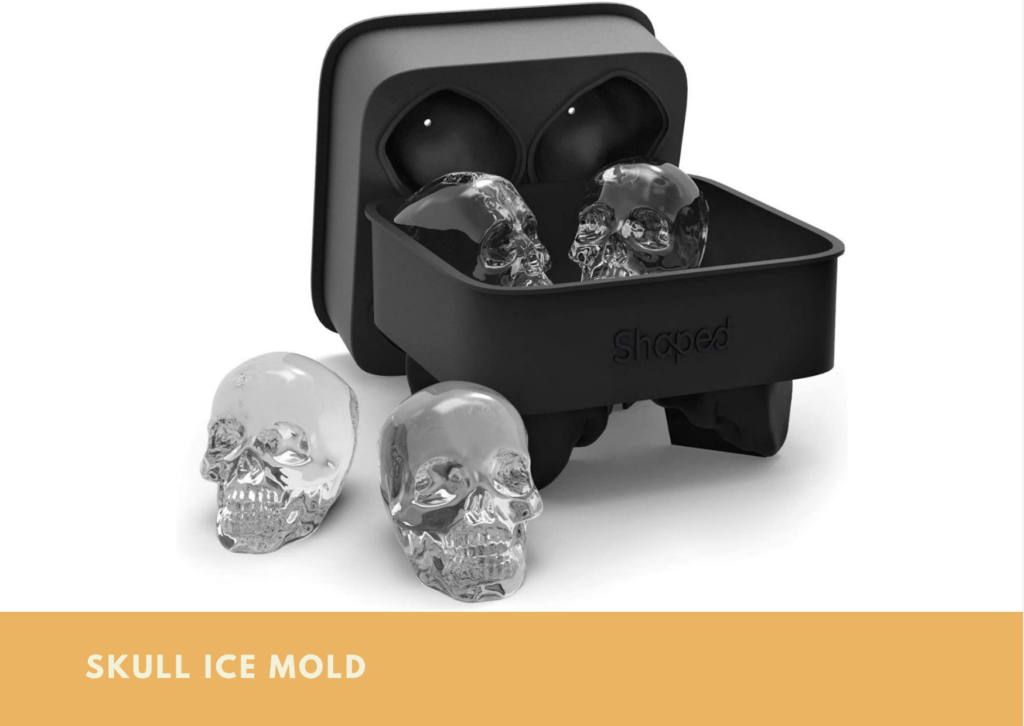 How about a little scary ice for your drinks, this mold will produce large ice skulls which melt slower than your standard cubes meaning less water in your drink.
A great fun mold that gives you ice skulls that will be a great talking point with family and friends and great for a Halloween party. The mold produces 4 skulls that are 2.3 inches from the front to the back of the skull and 2 inches in height. Made from a premium quality silicone, they are dishwasher and oven safe.
Why would you want an ice mold to be oven safe?
It means you can also make cakes, sweets and even soaps with these molds too.
An Ice Diamond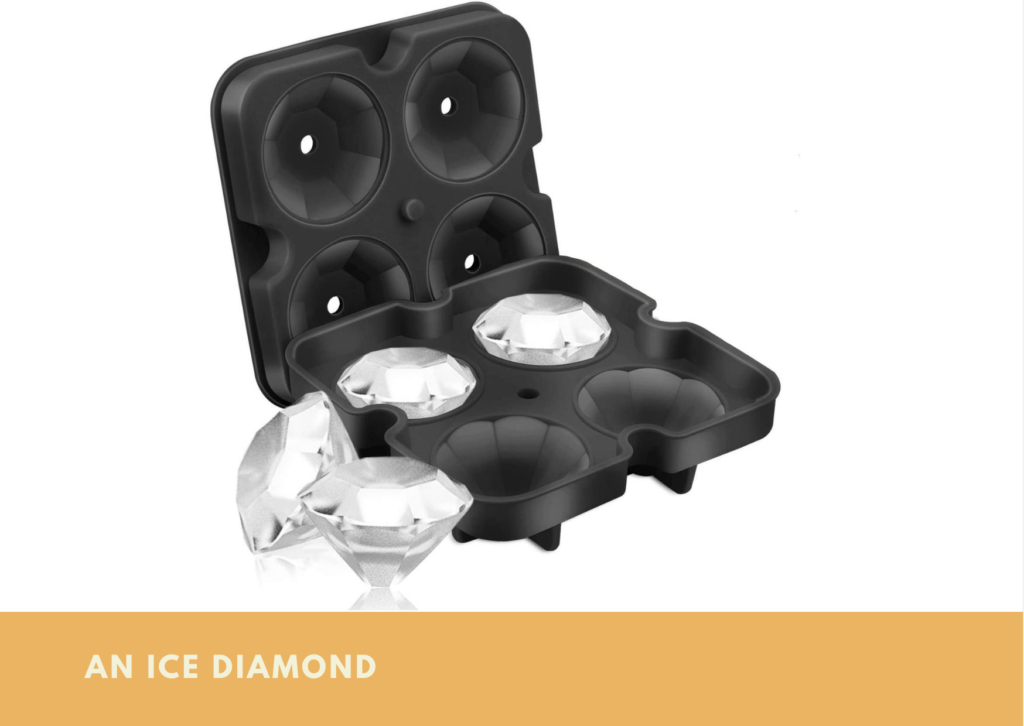 How about having an ice diamond for your drinks, these really do look great and will impress your guests too. The mold which you put the lid on and pour liquid into through a hole on top via a small funnel will produce perfect little diamonds every time.
The ice comes out at 1.3 inches high and 1.8 inches at their widest point. The mold is made of food grade silicone and is durable being dishwasher safe, oven safe and microwave safe. It has a temperature span of -104 to 420 Fahrenheit making them versatile for other uses.
A romantic way to serve ice for your partners drink.
Ice Rose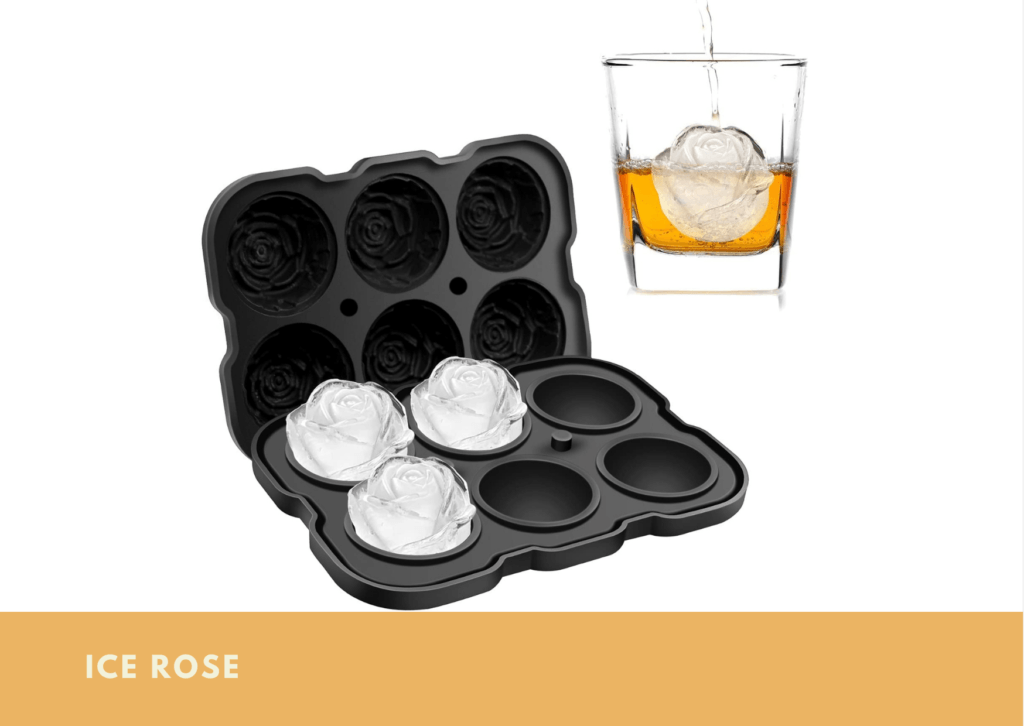 A great ice mold producing beautiful roses for those romantic nights, or just to impress your guests. Measuring around 2 inches these little beauties will be the talking point of any gathering or party.
Made from durable silicone like the last two and having low and high temperature tolerances means they can be used as molds for other things. Unlike the last two which both made 4 ice cubes ( I know they are not cubes) this rose mold will make 6 ice roses.
Next time you have guests serve them roses in their drinks, they will love it.
Iced Golf Ball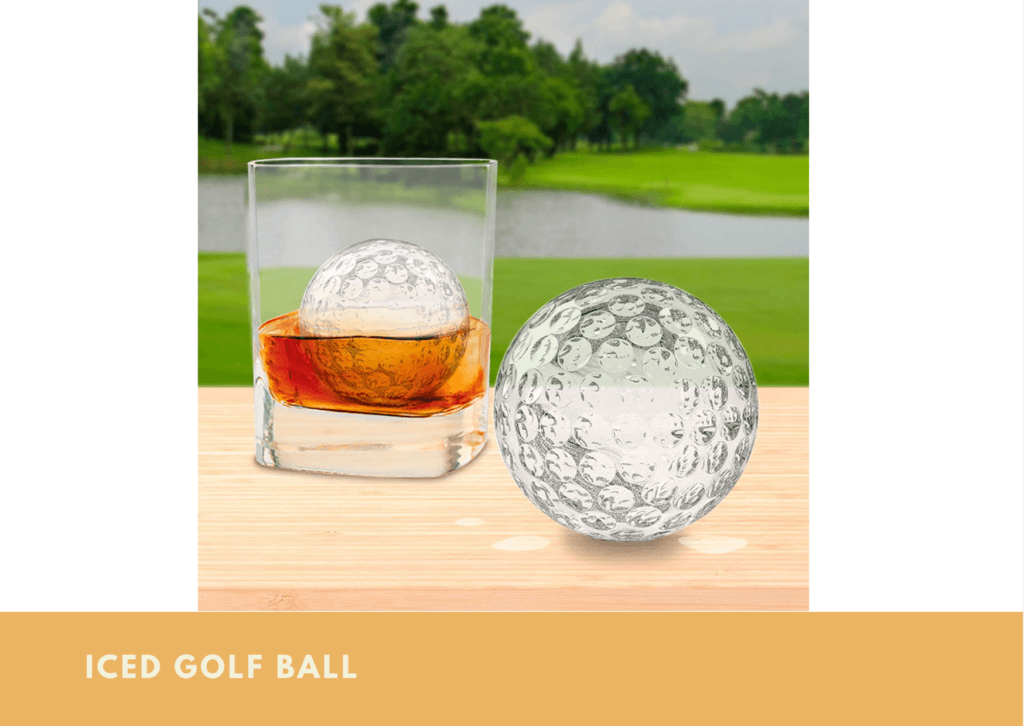 Do you love to play golf or are you just a golf fan? If so, the ice golf balls are the perfect way to keep your favorite drink cold. These would be a great present for that golf lover in your life, they won't be disappointed.
The molds are singular and come as a set of three, they produce a 2.5 inch diameter golf ball keeping your drink cold for longer. The dimples (turbulators) on these ice balls really do look like the real thing and if you threw one like a ball, would possibly do their job and produce less drag as they flew through the air.
That's a bit technical and who wants to throw their ice anyway, just enjoy these great golf balls in your favorite drink.
Baseball Ice Molds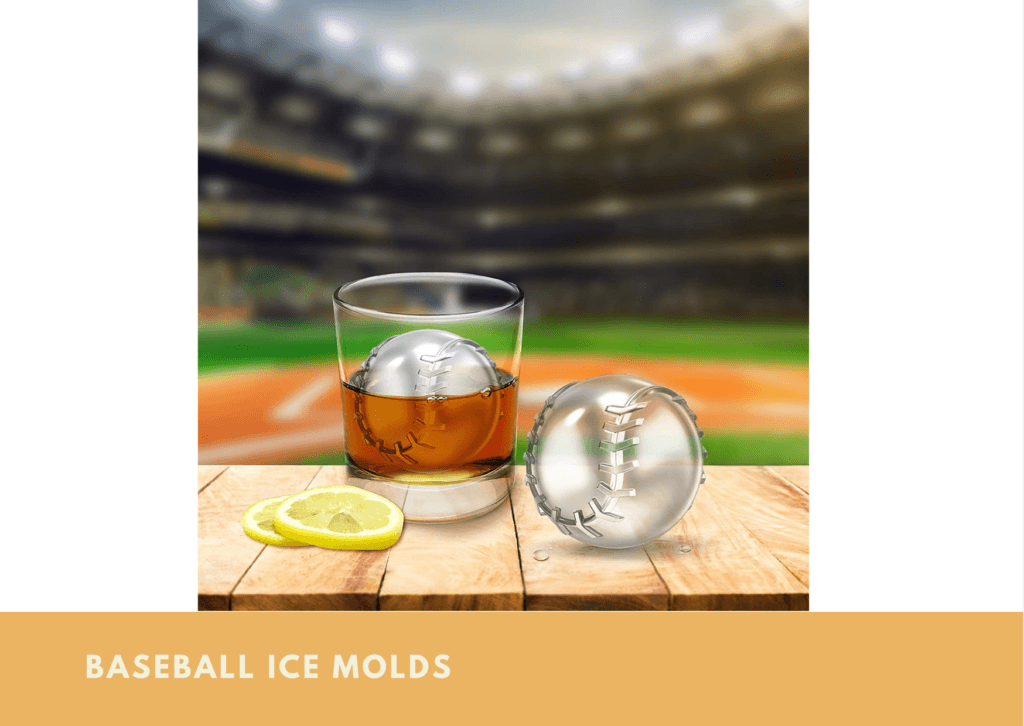 Sticking with the sport's theme here we have the coolest baseball ice ball ever, and what a way to keep your drinks cold. Like the ice golf ball, this baseball ice comes from Tovolo and their sport's themed ice molds don't stop at golf and baseball.
You can also get football, basketball and tennis ice molds too. If your home bar is a sport's themed bar, then these sport's ice molds are the perfect choice.
The best way to keep your drinks cold while watching sport.
Buddha Ice Mold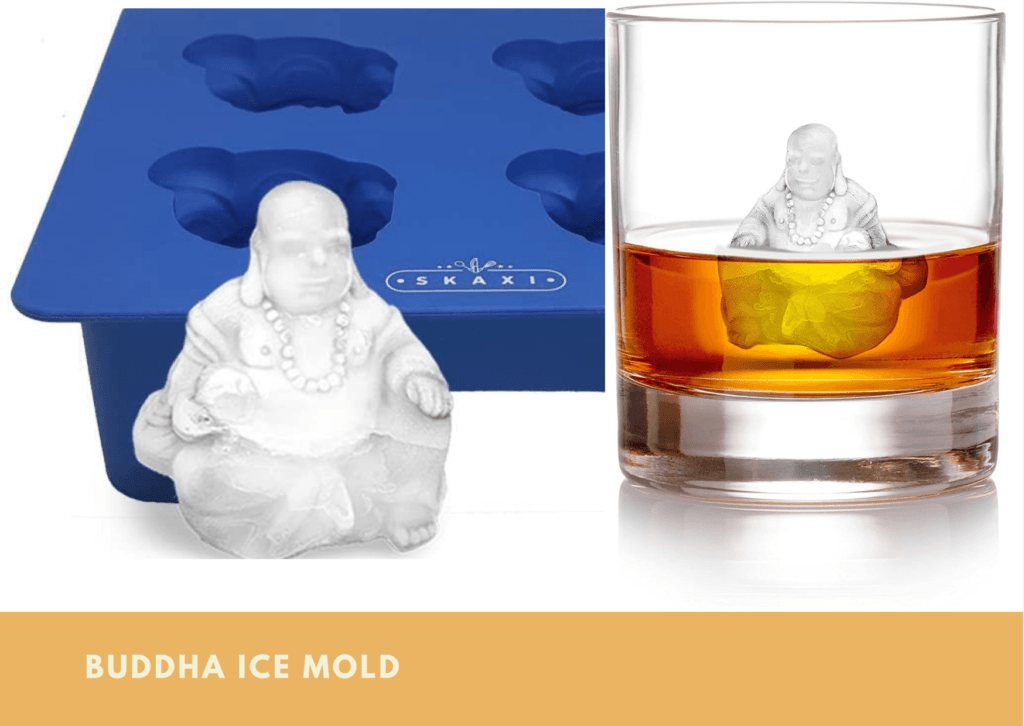 This Buddha ice mold will give you 4 little Buddha ices to pop in your drinks. A great novel ice tray that can also be used for soap, chocolate, bath bombs and candles. A premium silicone product that can withstand a low to high range of temperature.
The little Buddha's come out at 1.8 inches high and the same in width too.
Although this is described as a Buddha ice mold it is in fact a Budai ice mold, Budai was a Chinese Monk and is normally shown laughing or smiling earning him the nickname the laughing Buddha.
A great novel way of cooling your drinks with Buddha sitting in the middle of your glass.
Death Star Ice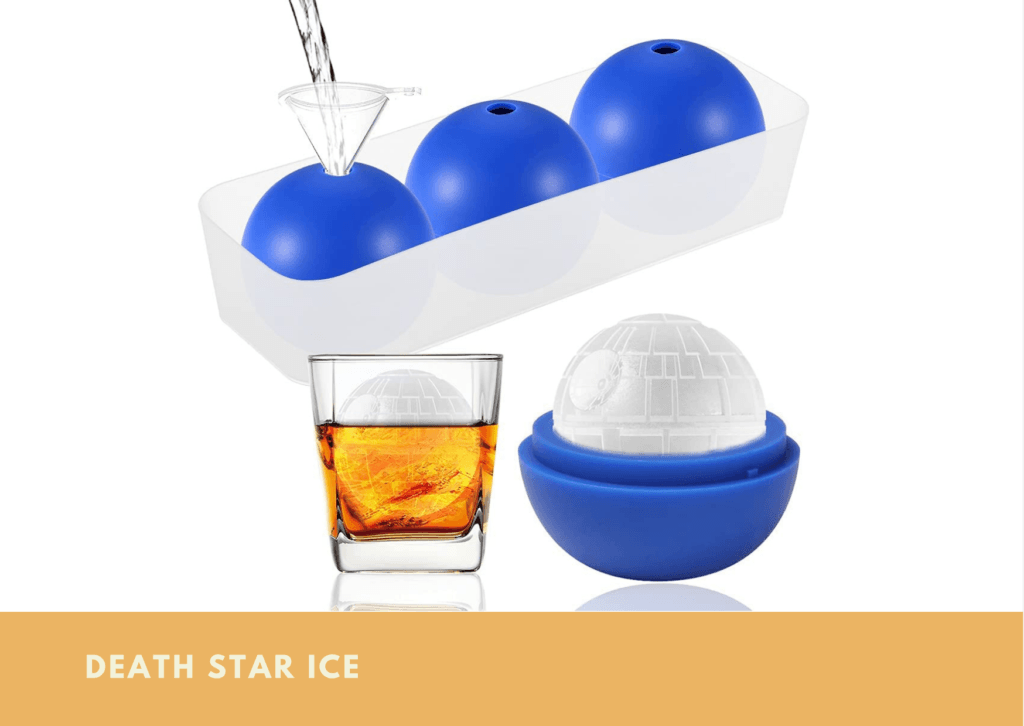 For the Star wars fans we have the Death Star ice molds which produce the moon sized space station. Just bear in mind that the actual ice does not come out the same size as the moon.
They are in fact around 2.4 inches in diameter which do make them pretty big for an ice ball and will definitely be slow in melting, keeping your drink cold for longer.
A brilliant way to celebrate Star Wars.
Super Hero Ice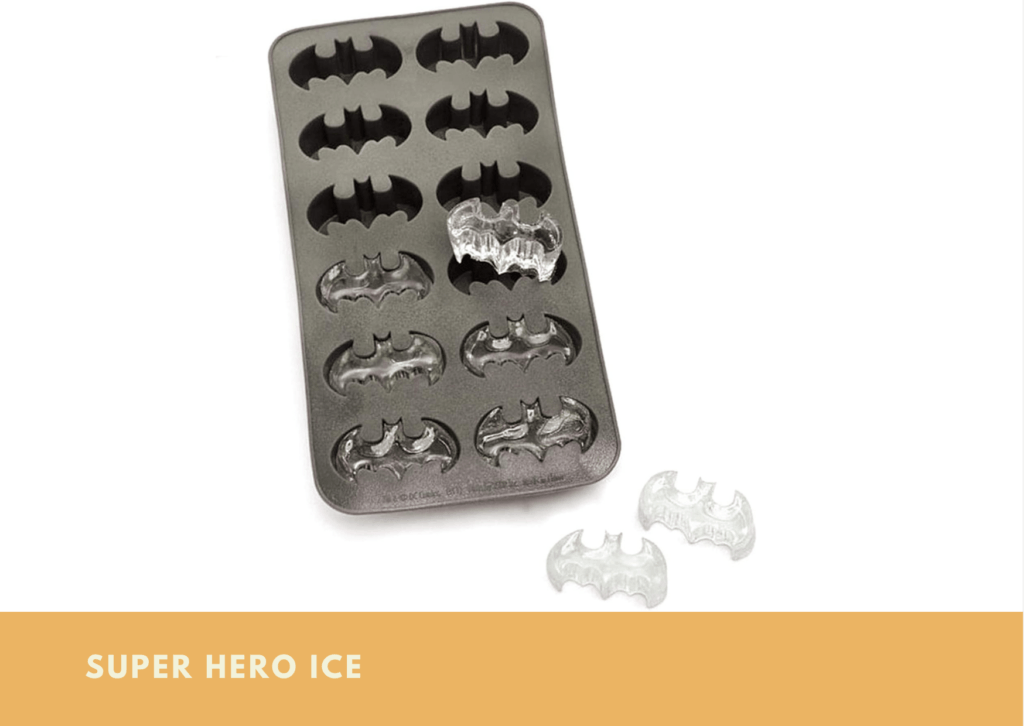 How about some Batman ice cubes for you and your guests, these will be a popular choice. This one is a little different in that it is a tray, you just fill the Batman shaped holes and freeze. You can then pop out the Batman ice for your drinks.
The mold has 12 Batman molds, so you won't leave anyone out, unless of course there are more than 12 people at your home bar. If that is the case, then best to buy 2 of these ice trays.
A must have ice mold for Batman Fans.
Gravestone Ice Mold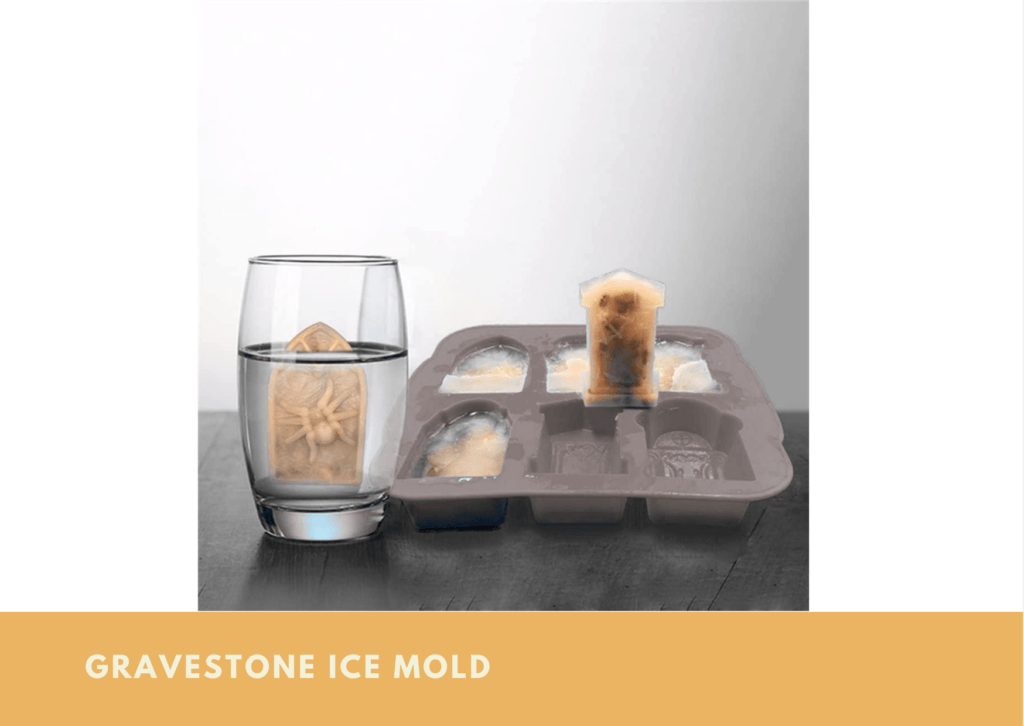 If creepy is the game, then these gravestone ice molds will be your thing. There are 6 molds in this ice tray, which include a RIP gravestone, a 'Here Lies', a Spider and a Skull gravestone.
These would be ideal for a Halloween party, which you could even make chocolate or soaps for, but ice is the best as they will look great in any drink.
Treat yourself to some creepy fun and impress your guests.
Tiki Ice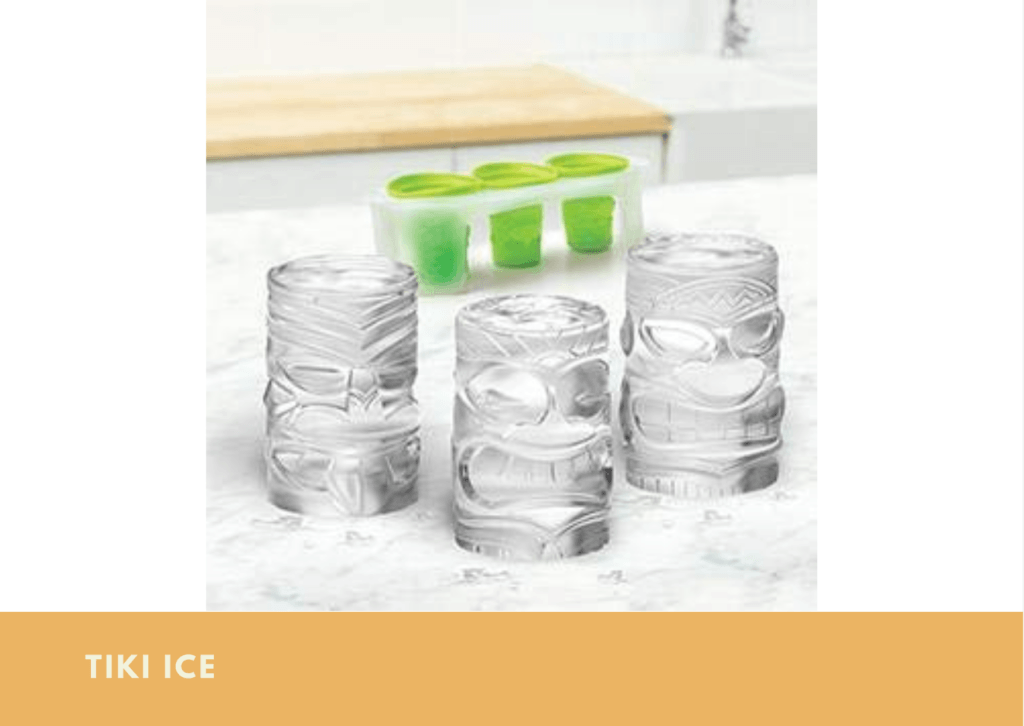 We all love the idea of a Tiki bar and many do theme their home bars on Tiki, so what better ice to put into your long cocktails than an actual Tiki.
Standing at around 3 inches in height and being cylindrical, they mimic the shape of a glass, which makes them perfect for a Tiki bar. They have great detail and come in 3 different Tiki Designs.
Astound your guests and pour that rum based cocktail over cool Tiki ice.
Funky Ice Molds
This bunch of ice molds are definitely funky, that's for sure, and these are just the tip of the iceberg (I know, a bit lame). Who knew that there were so many ways to enjoy ice in our drinks.
The good thing is that most of them are large enough to melt slowly, which keeps your drink cold for longer, and waters it down less than smaller cubes.
Most of these ice molds can also be used for other uses being made of durable silicone that has a wide temperature range. Make jello, chocolate, ice cream or soap with your molds, some people even use resin in these molds, so they are pretty versatile.
I think my favorite has to be the diamond shape ice, it just looks so good in the glass, but like I said these are not the only ice molds available, there are plenty more. What are your favorite cool ice molds? Pick one from this list or share your own favorite below.