The very word Tiki conjures up the essence of calm and serenity, the soothing melody of the tiki sound, the rum based cocktail in hand, a gentle sea breeze and the feel of soft sand between our toes. Ooh, and don't forget the Hawaiian shirt or beautiful floral design dresses.
Just pop to any tropical island and you will find a tiki bar where you can enjoy a simpler way of life without stress or time based deadlines. That is not feasible for everyone, but luckily there are bars and restaurants in towns and cities around the globe that are based around the whole tiki lifestyle.
This is good news, but what about something even closer to home, what about building your own tiki bar in your own home, either indoors or outdoors, this will probably depend on where you live in the world. The tiki appeal is exciting, vibrant and fun, so kick of the dull and take a look at a tiki bar and accessories, you know you want to.
What Is A Tiki Bar?
A tiki bar is an experience of tropical paradise, an influence from the Polynesian islands which are part of Oceania a group of around 1000 islands. These include Atiu which is part of the Cook Islands, Bora Bora, Easter Island and of course Hawaii.
Tiki was a movement, an experience borrowed from the Polynesian culture and blown up into a big deal, exaggerated and expressed in a western way. It has evolved in many ways over the years into a lifestyle an escape from the normal busy everyday lives that we lead in the 21st Century.
The tiki bar is what you want it to be, building your own is an exciting project. Let the base of your bar be the light influences of the Polynesian islands, then build on it with your own style and design. Let it be a space of your interpretation of the whole island vibe, the laid back lifestyle with no stress.
Tiki Bar Designs
The basic tiki bar design is a simple hut constructed of bamboo with palm leaves for the roof, so pop to your local bamboo and palm leaf store and get building.
Alternatively you could purchase a ready-made tiki bar, or build your own tiki bar. Things have change and bamboo and palm leaves are not compulsory to the design of a modern tiki bar.
There are plenty of places to inspire your tiki bar design, one of the best places is to search Pinterest for such ideas. You will be surprised how many tiki ideas are on Pinterest, from simple pallet designs to more complex designs with swings as bar stools.
Big Kahuna Tiki Bar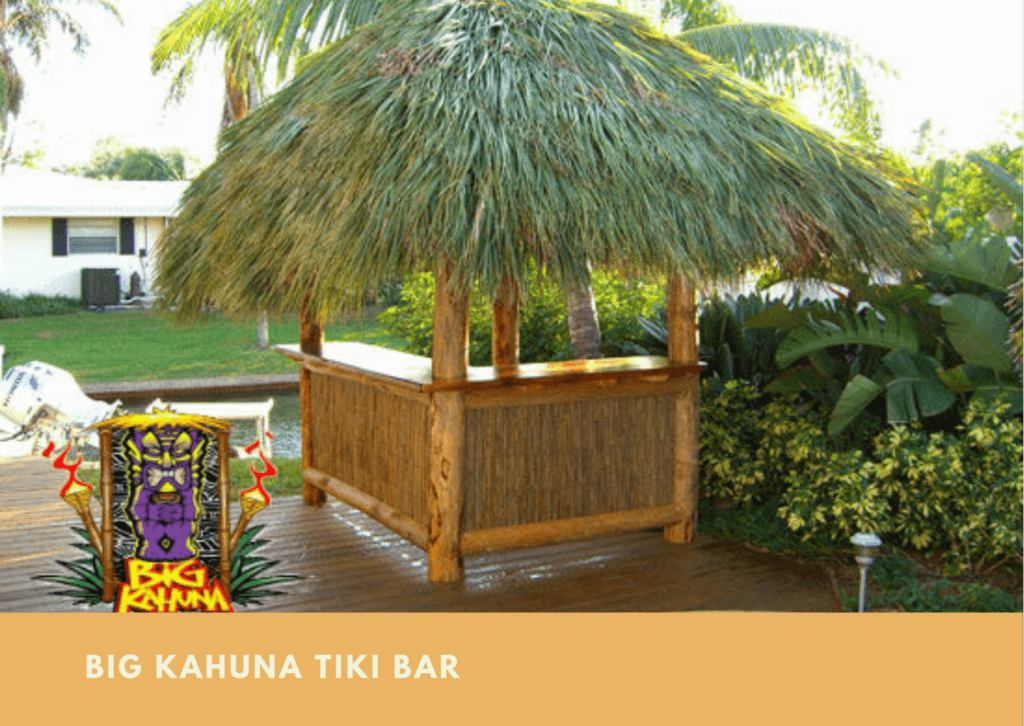 This is a good example of a purpose built tiki bar that you can purchase from a company that specializes in building tiki constructions.
This particular one is from Palm Huts and is basic, but beautiful, simple, but an authentic design with real palms. Whether you want to go small or large, this company will accommodate. They build custom tiki huts for the home or businesses alike, so you know you are going to get the right feel for your home tiki bar.
When you haven't got time or the inclination to build your own tiki bar, then a custom-built one from a reputable company is the way to go.
Tiki Hut Bar Plans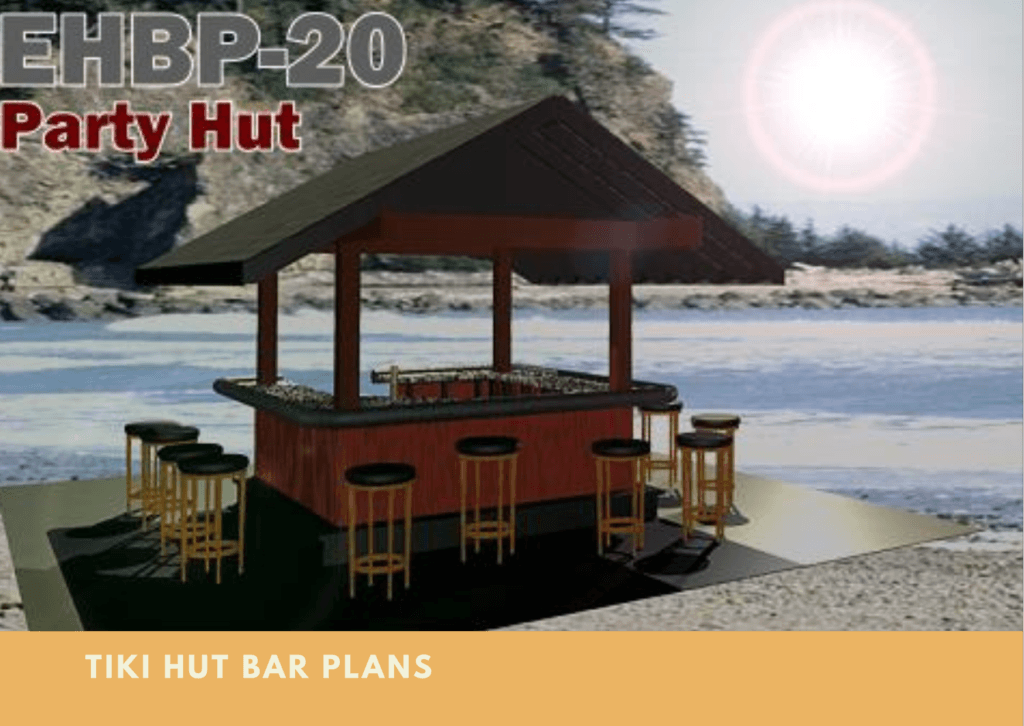 You may have the time and the inclination to build your own tiki bar, so you may prefer to build you own, it will be a huge achievement and an inspired project.
Like I said before there are plenty of ideas online to get your own imagination flowing.
To build a bar from scratch will take some planning, but as long as you are thorough and you take your time in the planning stage, then you can produce a very professional looking tiki bar.
As an alternative to all the planning and headaches, you may want to consider building your tiki bar from ready-made plans. This is a great way of building a bar yourself without the headaches of drawing up the plans yourself.
Working from a blueprint is the easiest way to build your own tiki bar.
Tiki Bar Accessories
Decorating your tiki bar is the best part of the project. Once you have your tiki bar in place, then it is time to make it look great. The base of your tiki bar will have the basic look, but this is where you can get creative and add your own style to it.
A grass skirt for your bar, some tiki carvings on the bar, or some impressive tiki lighting, all will add to the look and feel of your bar.
Here are a few great accessories for your tiki bar experience.
Hibiscus Brown Table Skirt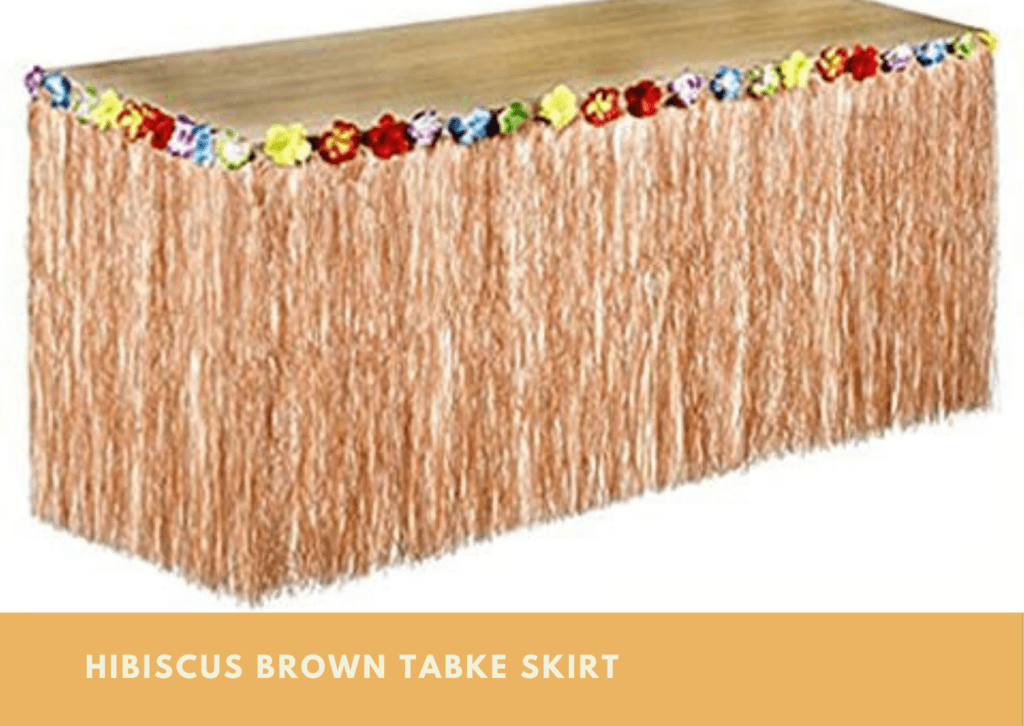 This is a grass skirt that you can attach to your tiki bar top, or it can go around a table too. It creates that authentic grass skirt look without wearing one yourself.
It comes with 12 tropical green leaves that you add to the grass skirt or attach to other parts of your bar.
The grass skirt is 9ft long, so if your bar is 15ft long you will need two of these, make sure you measure your bar or table before ordering.
This is a great bit of fun for your tiki bar.
Tiki Bar Sign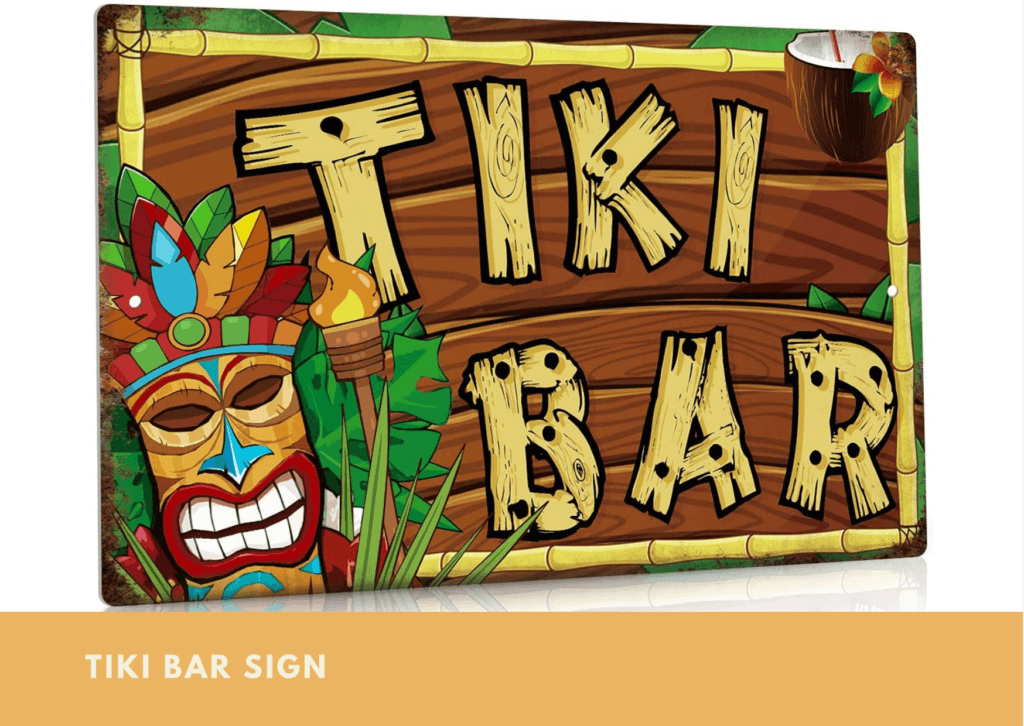 Every bar needs a bar sign and a tiki bar is no exception, what better for your bar than a design that has tiki written all over it.
This 12 inch x 8 inch sign is made from quality aluminum and comes with pre drilled holes for easy fixing with screws. Alternatively you can use a good quality double-sided tape or zip ties to fix your sign.
The picture includes bamboo, carving, torch and coconut, how much more tiki can you get.
Tiki Torches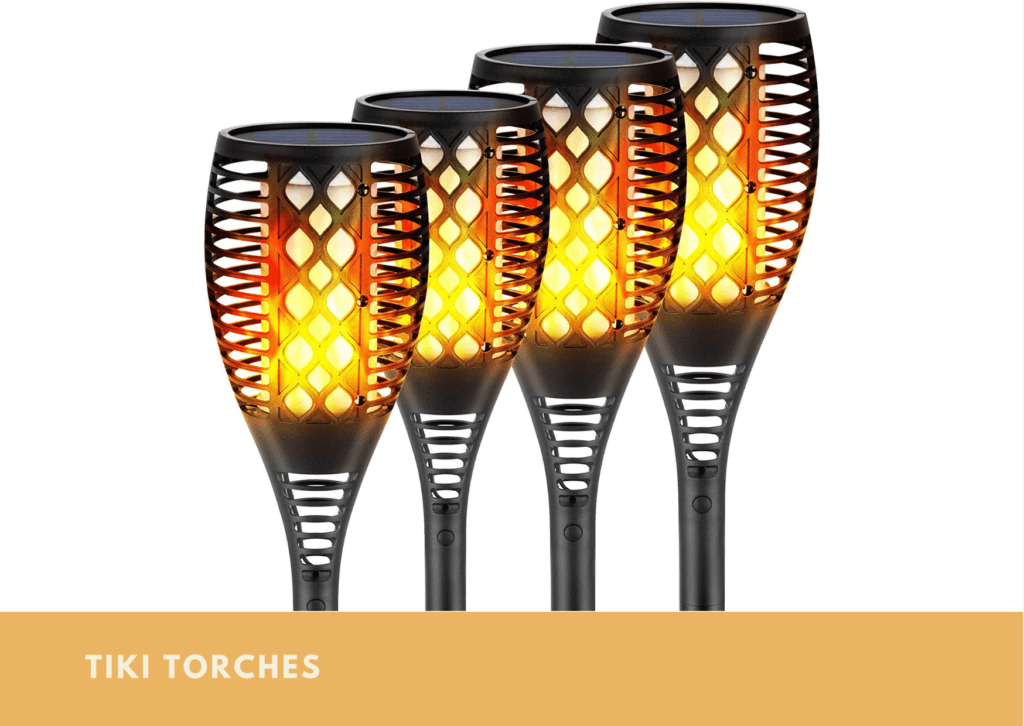 Lighting is an important part to any bar, and it is no different for the tiki bar. Solar lights are a good thing for your outside tiki bar because there is no electricity involved, they are portable so you can move them to suit, and the best part is they recharge themselves. As long as you have the sun, they don't work well in the shade.
If your bar is in the shade, then just put these torches in sunlight and move them to where you want them when the sun goes down.
These torch lights are a beautiful design and will fit into any tiki setting, mounted on a spike they can be put in many locations. They are just over 30 inches in height with the complete spike fitted, and give off a good light 96 led lamp beads.
They create a real flame feel with the dancing flame setting, just the ticket for your tiki bar.
Totem Sculpture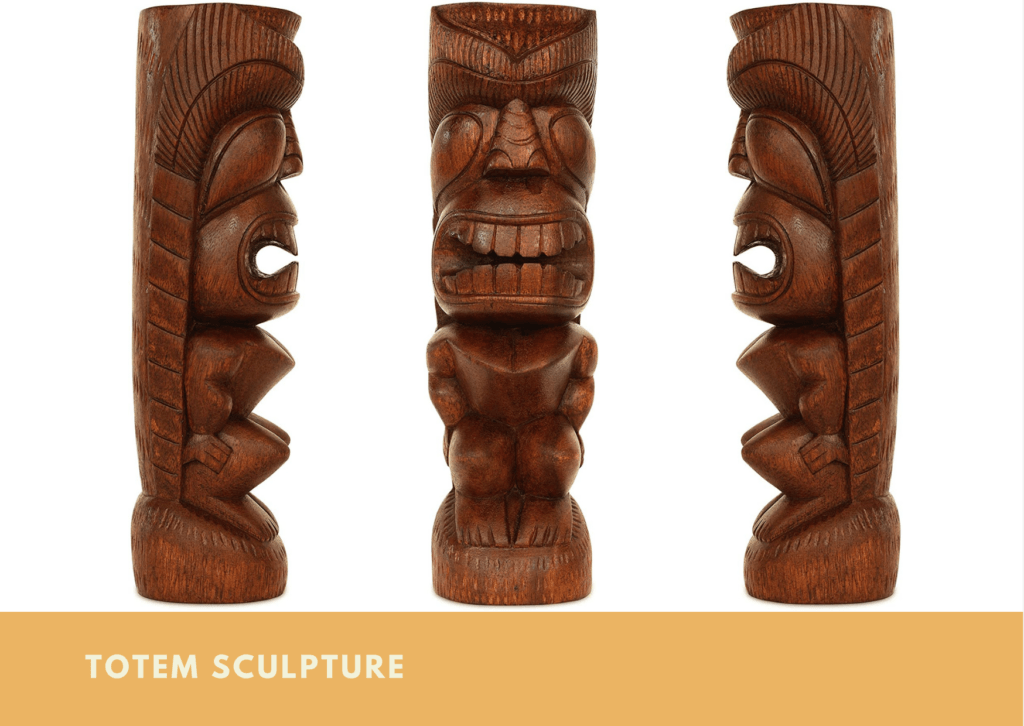 How about adding some tiki style to your bar top with this hand crafted tiki totem carved from natural suar wood. This symbolizes island life and will look just great as a tiki bar accessory.
It stands around 12 inches tall and because it is hand crafted each one is unique, so you are getting a truly one off carving.
A perfect addition to the tiki bar.
Tiki Palm Tree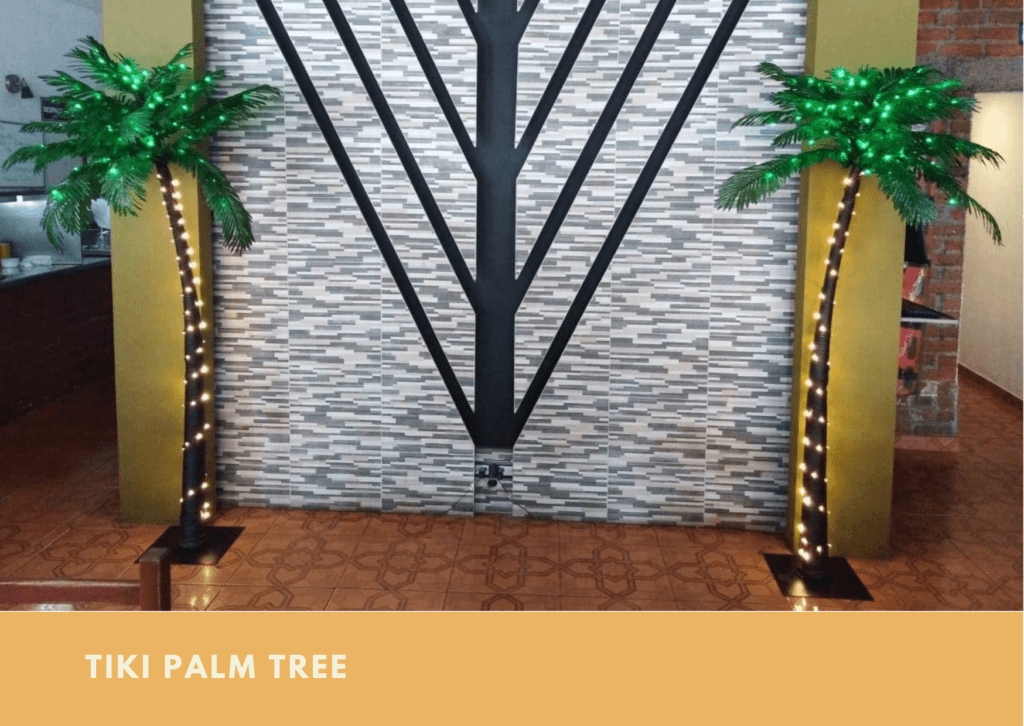 I am not sure about this one, but if you love palm trees and you live in an area without them, then this could be the palm for you.
It stands 7 ft tall and has led lights around the trunk and more under the palm leaves. It is not solar powered and will need to be plugged into a wall outlet.
The tiki palm will add a fun aspect to your tiki bar and be a big talking point.
Tiki Fashion
We cannot forget the tiki fashion, when you go to all the trouble of building and then decorating your tiki bar, would in not be a let down to not look the part yourself.
I am not saying that you need to dress up tiki every time you open your bar, but it has to be done now and again, surely.
For the men we have the classic Hawaiian shirt (the louder the better), which is best paired with shorts or linen pants. The ladies on the other hand can also wear the classic Hawaiian short with shorts or skirt, but also have the option of some great dress designs.
Check em out.
Ladies Tiki Dress
This great Hawaiian Luau dress is incredibly beautiful with its bold print and halter-neck it is screaming tiki and you will just need your cocktail in hand.
The base color of red and orange set off the palm tree and sunset scene beautifully and the halter-neck and elastic back make this easy to fit and extremely comfortable to wear.
Add to the fun and get your man the matching Hawaiian shirt.
Classic Hawaiian Shirt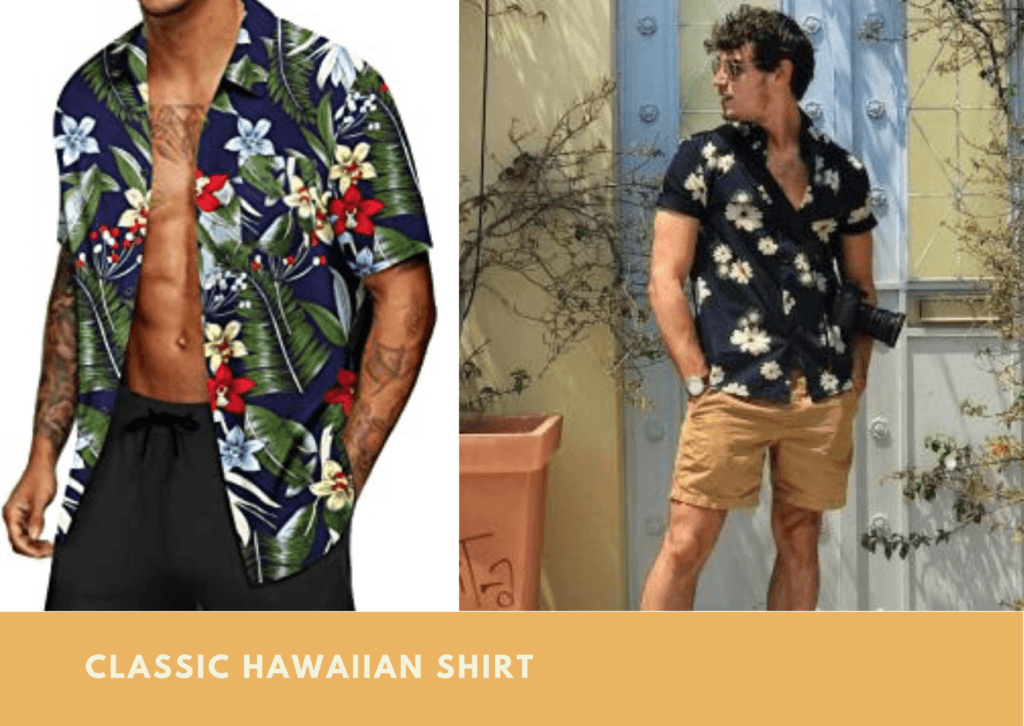 A Hawaiian shirt is made for the tiki bar and will add to the experience, plus they look great and you can go as bold as you like with the colors and patterns.
This shirt is lightweight and breathable and will look the part in any situation, but at your tiki bar paired with shorts or pants will look sensational.
Complete the tiki experience with the loudest shirt you can find.
Home Tiki Bar
The tiki bar is without a doubt one of the coolest things you could ever add to your home, imagine the aesthetics of the bar itself, the sweet tropical tones of the music and all those bar accessories just adding to the experience.
Then, add your clothes to the equation and you are busting off the scale, you will be the envy of the neighborhood.
A tiki bar just promotes fun, you can't be serious in this kind of environment, its too laid, what better way to add the perfect space to your home.
Give use your tiki's, share your tiki bar and accessories below, let us know if you have a tiki bar and what things you have decorated it with. Pleased do share your outfits too, but most of all just have a fun tiki time.