The Hard Seltzer market has boomed over recent years and many brands have knocked out their own version of the fun fizzy drink, with new brands also popping up too.
The new fangled drink is seen by many as a healthier way to consume alcohol, this is because they are deemed to be low in sugar and low in calories too. While this may be true for many brands, not all hard seltzers are made equal, so be sure to check the ingredients before you buy.
It has become a trend that is hard to ignore, this popular fruity drink has become a firm favorite with many people, young and old. It is a great drink for a summers day and a good alternative to beer, for some. Here are some of the best hard seltzer drinks for your home bar.
What Is Hard Seltzer
To put it simply a hard seltzer is carbonated water laced with alcohol and fruit flavoring. The alcohol by volume is usually between 4 – 6 %, so is considered fairly low.
A fruit flavored drink with a little alcohol in it, it's a new concept, right?
We have been here before, in the 1980's  and 90s we had the flavored alcoholic drinks known as wine coolers or alcopops, which included Bacardi Breezer, Smirnoff Ice, Hooch and Two Dogs Lemon Brew.
We have also had flavored water without the alcohol content which has been around for many years. Although fruit beer is also nothing new, in recent years we have seen an explosion of flavored beer coming from the craft breweries.
It may not be a new concept, but hard seltzer is a present trend that is not going away anytime soon, so embrace and enjoy.
Here are some fun hard seltzers to enjoy at your home bar.
Truly Hard Seltzer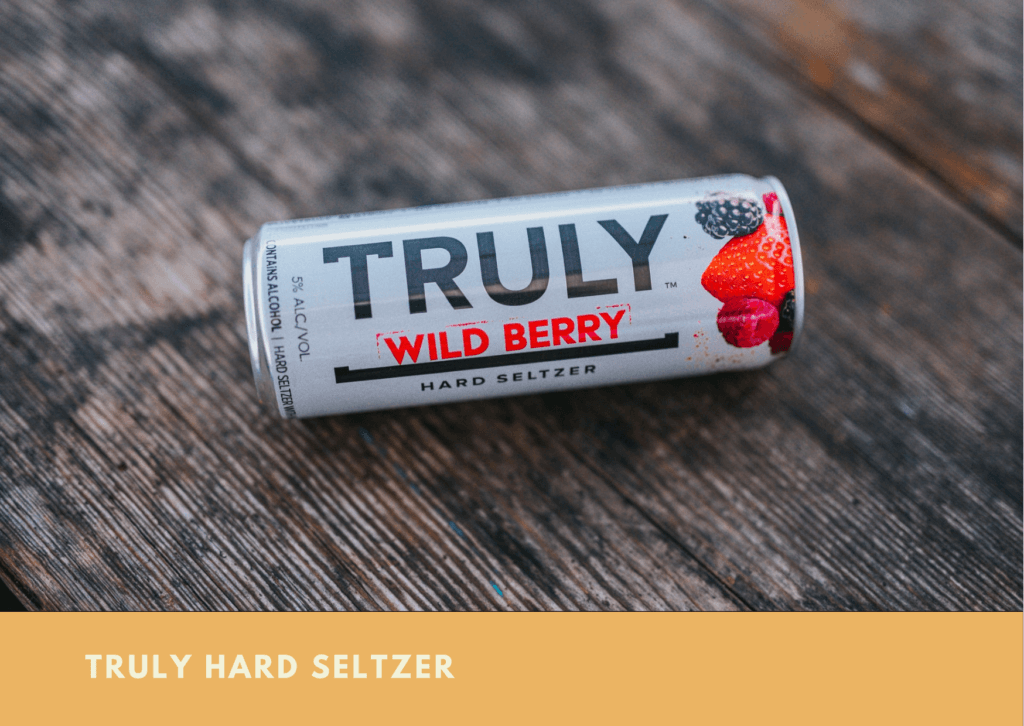 Truly have a hard seltzer range in a berry mix, citrus mix and tropical mix, plus a few extras.
The berry mix includes Raspberry Lime, Blueberry and Acai, Wild Berry and Black cherry.
The citrus mix is made up of Lemon, Lime, Grapefruit and  Citrus Squeeze.
The tropical mix has Mango, Watermelon and Kiwi, Pineapple and Passion Fruit.
These all come in 12oz cans and have a 5% ABV, contain 100 calories 1g of sugar and are gluten free.
The extras I mentioned are Black Raspberry and Peach Mango, these come in a 16oz can with a hefty 8% ABV, 220 calories and the same 1g sugar, and of course are gluten free.
A truly good choice of hard seltzer for your home bar.
Bud Light Seltzer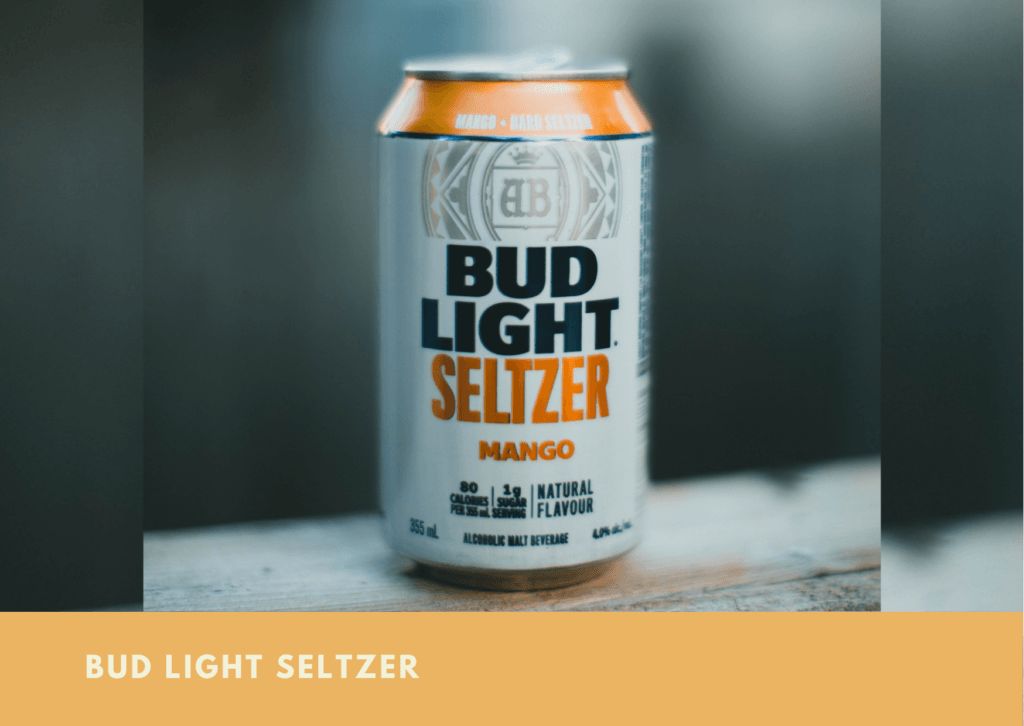 The giant that is Budweiser have got in on the act and have an extensive range of hard seltzers to offer including an ice tea seltzer, excuse me.
The standard variety pack consists of Strawberry, Mango, Lemon Lime and Black Cherry.
There is a seltzers lemonade pack containing Original lemonade, Strawberry, Black Cherry and Peach Lemonade.
A retro summer pack has Summer Ice, Blue Raspberry and Cherry Limeade.
The ice tea pack includes Apple, Tangerine, Raspberry and Peach.
A limited edition pack named out of office brings us a cocktail theme with Mango Mai Tai, Strawberry Daiquiri, Classic Lime Margarita and a Watermelon Mojito.
These all come in a 12oz can and have a 5% ABV with 100 calories and 1g of sugar.
If you want to go big, then there is a platinum seltzer pack, which packs a punch at 8% ABV, comes in with 170 calories and 3g of sugar. The flavors are Wild Berry, Citrus and Blood Orange.
That is quite a range from Bud Light and would take up a fair amount of space in your home bar if you decided to stock the lot.
Fitzer Brava Mineral Water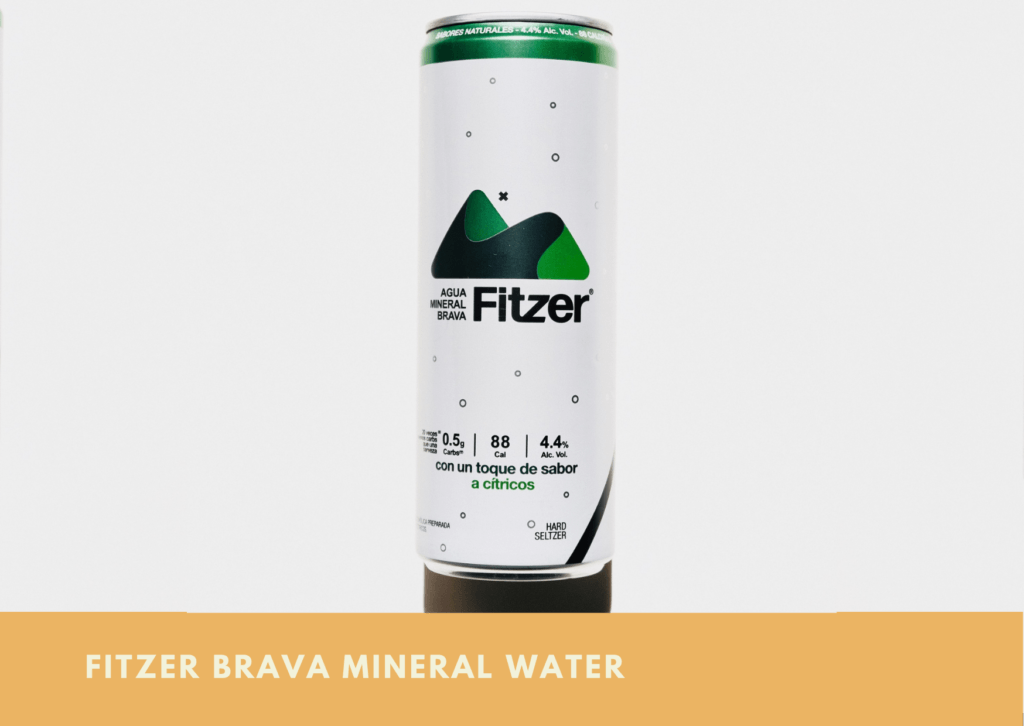 This hard seltzer from Mexico boasts a 100% natural fermentation and without any artificial flavorings. It comes in a 12oz can and weighs in at a very light 88 calories with 0.5g of sugar. It will not knock you off your feet either with its sensible 4.4% ABV.
There are 4 flavors, Citrus, Mango, Red Berries and Mandarin or you can get a mixed pack containing all these flavors.
Could be worth a trip to Mexico to stock up the home bar.
Naughty Water – Boozy Seltzer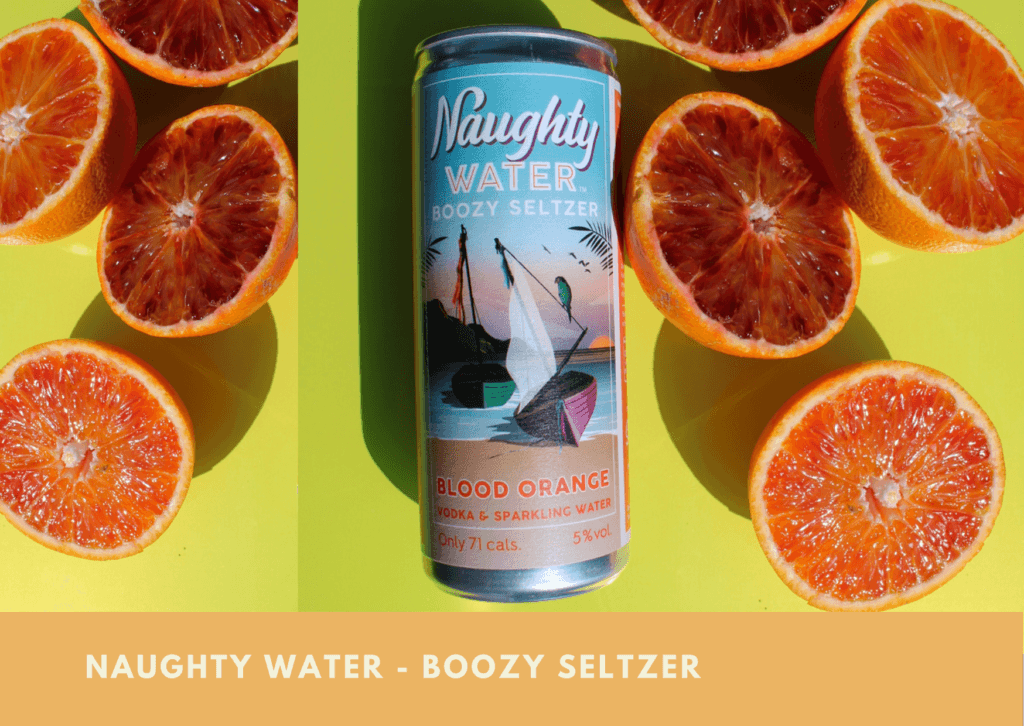 This boozy seltzer only has 3 flavors, but they are pretty naughty ones, with zero sugar and carbs and only 72 calories per can you really wonder if they are naughty after all.
There is Mango and Passion Fruit, Cranberry and Blood orange. It is naturally flavored sparkling water and vodka based which is 7 times distilled. This vegan friendly drink weighs in with a 5% ABV and has a great vibe to it.
If you are feeling naughty then this boozy seltzer may be for you, and your home bar.
White Claw Hard Seltzer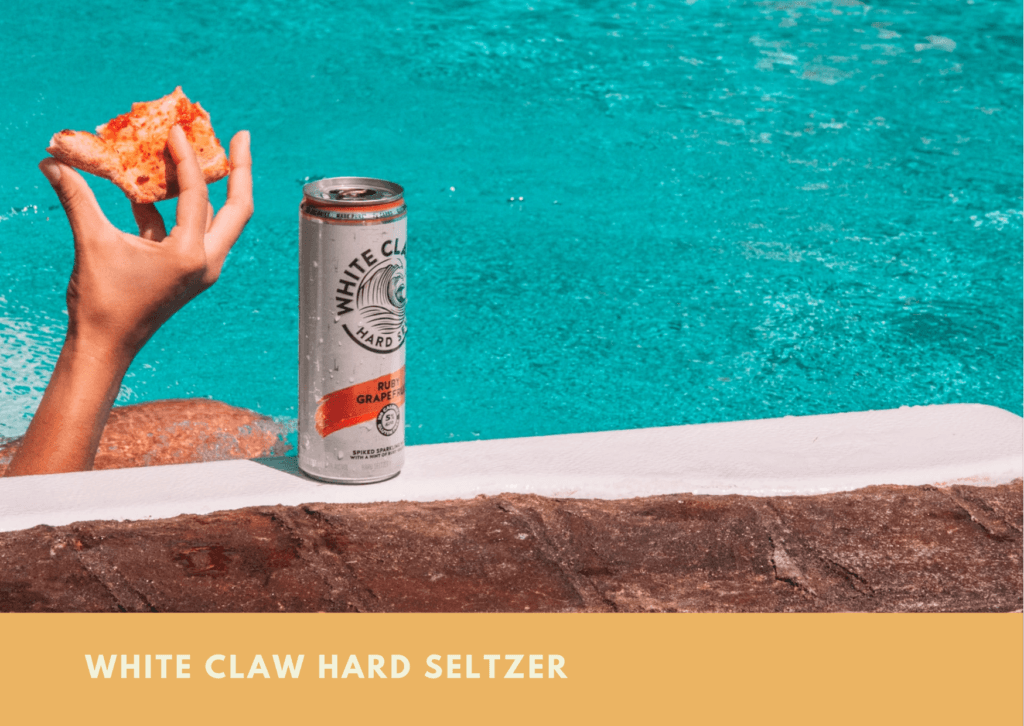 You thought I would leave out possibly the most popular of hard seltzers on the market, oh no, it had to be included, I was just leaving the best until last. The daddy of all hard seltzers was one of the first to hit us back in 2016 and its popularity has grown and grown since then.
We have some great flavors too, Natural Lime, Watermelon, Tangerine, Raspberry, Blackberry, Black Cherry, Strawberry, Pineapple, Lemon, Mango and Ruby Grapefruit.
A sparkling water with alcohol and flavoring it comes in a 12oz can and boasts just 95 calories is gluten free and has a 5% ABV.
This hard seltzer has led the charge in the seltzer market and is the most recognizable of them all. Get some for your home bar and invite your friends round, they will not last long.
Stock Up With Seltzer
The hard seltzer market has grown incredibly over the last few years, even to the point that it has stolen shelf space from the ever popular beer in a lot of big stores.
White Claw is seen as the leader in this market , but there are way more hard seltzers than the few that I have included here. There are such other names as Amass, Corona, Coors, Diamond Bear, Karbach Brewing Ranch Water, Hoot, Vizzy, Endless Summer, Smirnoff, Topo Chico and Bon Viv and that is just the tip of the iceberg.
People see it as a healthier option than beer, it has less calories and sugar, yet still packs around a 5% ABV. You can see why it has become so popular, and I guess on a hot summers day is pretty refreshing too.
If like many you have taken to this light summer drink then share your best hard seltzer drinks below and why you like them so much. If like me you still prefer beer, then just move on to another post, one about beer might be a good idea. Whatever you do, enjoy.