Just a mention of the words Tiki Bar and images are conjured up of the Caribbean, the tropical paradise islands of Oceania and the cocktails that befit those images, think Rum, think lots of Rum.
We are talking exotic cocktails with tropical tastes and Hawaiian style music, the sound of the sea, and the sand beneath our feet. The thought of Tiki Bar Huts has suddenly become appealing, who wouldn't want to recreate all this magic in their own backyard.
If it sounds good to you too, then lets dig deeper.
What Is A Tiki Bar Hut
Simply put, it is a basic square bar with a roof, the roof being made from thatch.
It is your typical image of a tropical island, but Tiki is more than just a simple bar that serves rum based cocktails. Tiki is a Maori term who are Polynesian people and it means the first men who were created by Gods, they would carve images in trees of these Gods to represent their power.
If we think about palm trees, coconuts, cocktails, bamboo, white sandy beaches and clear blue sea, then we have the ingredients to reproduce the Tiki culture, which has now traveled the world and is enjoyed in themed bars and restaurants as well as in peoples homes.
I am pretty sure that one of the first Tiki bar/restaurant was opened in the 1950s in California by Ernest Gantt, who being an avid traveler brought back the Tiki influences for Americans to enjoy.
Fast forward many years and we all have access to experience the Tiki culture firsthand if we are prepared to travel, or we can experience a form of it without traveling too far, we can even reproduce it in our own backyards.
Will you decide to reproduce the Tiki Magic in your backyard?
Tiki Bar Construction
Traditionally they are of course made from wood, which was probably Bamboo originally, but can be any type of wood you choose. The thatch roof would have originally been made from palm leaves, but can be made from straw too.
They are a simple construction which are based on or resemble the Tiki Huts constructed and lived in by Seminole tribes in the 1800s. They needed to be put up quickly by these tribes, which is why their design is simple and straight forward.
Start now and you will be finished by supper.
How To Build A Tiki Hut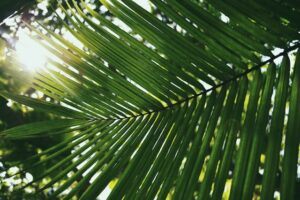 Although the Tiki Huts were simple in design and we could probably construct one from a picture, the bar version is a little more complicated as we have to accommodate a bar inside.
Building A Tiki hut might seem daunting and it would be if you had to do it from scratch. You would have to design it, which is not that difficult as we have a blue print from a picture of a Tiki Hut. You would then need to plan how it all goes together and workout what materials will be needed and how much of that material is needed, and of course the cost.
If you are building a Tiki Bar in your backyard, you can adapt it from the original look, by not using bamboo or not thatching the roof, this is perfectly acceptable and will still be enjoyed in the spirit of Tiki. The roof can be sheeted with OSB and finished with shingle or tiles and then if you choose, straw to make it look authentic.
There are many options, but life would be easier if you could have a plan to work from.
Tiki Bar Plans
How about a comprehensive detailed plan that not only gives you material options and quantities, but also step by step instructions on how to build your Tiki Bar.
The Tiki Bar and Hut plans are easy to follow and available right here.
They start by reminding you to adhere to your local ordinances and building codes and then show the most important part of any building, the foundations, giving you several ideas on how to achieve a solid foundation.
Then it is to the four main structural uprights which also support the roof, then you will be shown how to construct the frames that will become the bar support walls.
The roof construction is next showing all the trusses and ridge boards that will make up the roof frame. Then comes the roof covering, the sheeting and the decoration.
Now the fun bit, the actual bar top which is made up of three layers, being the rough base layer, the top finish layer and the beer gutter boards. It shows exactly how to cut the bar top for the least waste of materials. There are details about how to achieve different arm rails designs.
Drawings show how to typically set up the bar, with cabinets or shelves, with room to add a sink and a refrigerator or kegerator.
These are great plans with detailed measurements and illustrations to show you how to achieve each step and build the perfect Tiki Bar for your outdoor space.
Tiki Bar Hut – Build Or Buy
Think of all those evenings enjoying your very own Tiki Bar, your friends will be impressed and what could be better than sitting at the bar in your own garden.
It really is pretty straight forward to build your own Tiki Bar with those detailed plans I referred to above, and they don't cost the earth either, so if you want to do it yourself, then get the plans and get Tiki building.
If on the other hand you are not up for following plans and really do not want to build it yourself, then you may not get a full Tiki Bar like the one in the plan, unless you want to part with a small fortune or have it made for you, which can be expensive.
There are smaller versions available which are pretty cool, but do not reflect the full Tiki Hut design, this is the kind of thing I mean.
However you decide to get your Tiki Bar, the most important thing is to enjoy it and have fun with friends and family. I would love to hear from you if you have built one for your backyard and have any tips to share, or if you just have a question, pop them below in the comment's area and I will get back to you.