A bar mat or bar runner sits on top of the bar counter. They come in a variety of materials from cloth to silicone rubber. But what are there purpose and do I need a bar mat?
They may be used in most commercial bars for good reason. However are they really needed in a home bar environment?
Do I Need A Bar Mat?
Yes, a bar mat or runner is an essential bit of home bar kit. They are used to stop the bar counter from becoming saturated from spills and condensation that pools around the base of a glass. There is nothing worse than a wet bar top counter, so bar mats are a must have in any home bar.
Apart from being essential and practical, bar mats and runners add to the hole look and feel of a home bar. In this article I look at the different types, including the best type for a home bar.
Are Bar Mats Necessary?
Without bar mats a bar will suffer from being constantly wet from spillages and condensation form glasses. Also depending on the bar top material some will suffer from glass ring marks.
You can get by without bar mats or runners and just use coasters. However a standard pub coaster or beer mat is made from layers of paper. This does soak up a certain amount of liquid, but becomes saturated fairly quickly.
A coaster made from plastic, wood or metal will not soak up any of the condensation from the base of a glass.
Bar mats do the best job of dealing with spills, drips and that pesky condensation.
What Is The Difference Between A Bar Mat And A Bar Runner?
Very little really. it mainly comes down to size.
A bar mat is usually twice as long as it is wide, say 20 inches X 10 inches ( 50cm x 25cm). Where as a bar runner is a lot longer in comparison to its width.
This could be 40 inches x 10 inches (100cm x 25cm), it just runs a longer length of the bar.
What Are Bar Mats Made Of?
There are three types of bar mat material, but they all do the same job.
The Cloth Bar Mat
The cloth bar mat is basically a small towel and they are sometimes referred to as bar towels.
Made from cotton they look and feel like a towel. It is fair to say that they are effective at soaking up a decent amount of liquid. Also they are easily replaced for a fresh one and easy to clean too.
Just pop them in the washing machine and they are fresh and good to go again. These are probably the cheapest type of bar mat.
It is best to have a selection of these so they can easily be swapped when they get too wet.
Bear in mind this type of mat is not non slip and do move around on the surface easily.
The Rubber based Material Bar Mat
As the title suggests these type have a thin rubber base with a material top. The material on top is normally a polyester wicking fabric that helps to soak up liquid.
In a commercial setting they can become pretty saturated quickly, however they are ideal for a home bar. Easily washed under a tap and can be hung up to dry.
These are also non slip too, so stay where you place them on the bar. Mostly they will cost a little more than the basic cloth bar mat.
The Rubber Bar Mat
A rubber bar mat is normally made from a food grade PVC rubber material. It is designed to cope with a certain amount of spills which it contains until emptied.
A flat mat with a lip around its parameter houses an array of rubber prongs. The prongs allow liquid to flow around them.
Easy to lift and empty, rinse and then ready to go again. They are non slip and easy to clean.
I have found that these are the most expensive out of the three types of bar mat. Having said that not by a lot, so still accessible.
Which Bar Mat Is Best?
Probably the all rubber mat with the prongs, yet I prefer the second one with the rubber base and material top.
They just look better and are more slick too. The all rubber mat is probably the best for a commercial bar because of the volume of drinks served.
However unless you are hosting a party, which would not be every night, then these type may be overkill.
It is really down to personal choice and how each design will fit with our own home bars.
Which ever one you prefer, they all do the job they are designed to do. And they are a must for any home bartender.
Here are a few of my top picks, including the best type for a home bar (in my humble opinion).
As an Amazon Associate, I earn from qualifying purchases.
What Is A Branded Bar Mat?
A branded bar mat is the type that will carry the name of a product associated with a bar or drinks brand.
Newcastle Brown Ale Cotton Bar Towel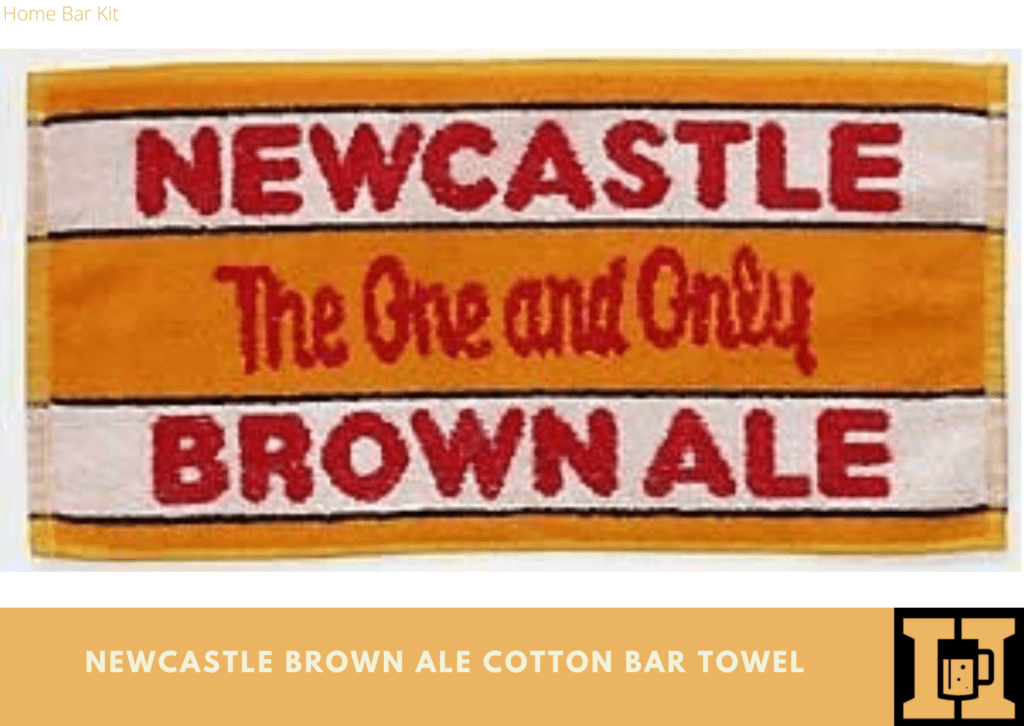 Check Latest Price
A typical branded bar towel that has the branding of the famous Newcastle Brown Ale.
These type of bar towels use to be the norm many years ago. However they are not seen as much in pubs these days.
This particular one is 100% cotton and measures just under 21 inches x 10 inches (52.5cm x 25cm).
You can get these in many brand name and colors. They are always handy to have in any bar, even if you don't use the as the main bar mats.
Jack Daniels Wetstop Bar Runner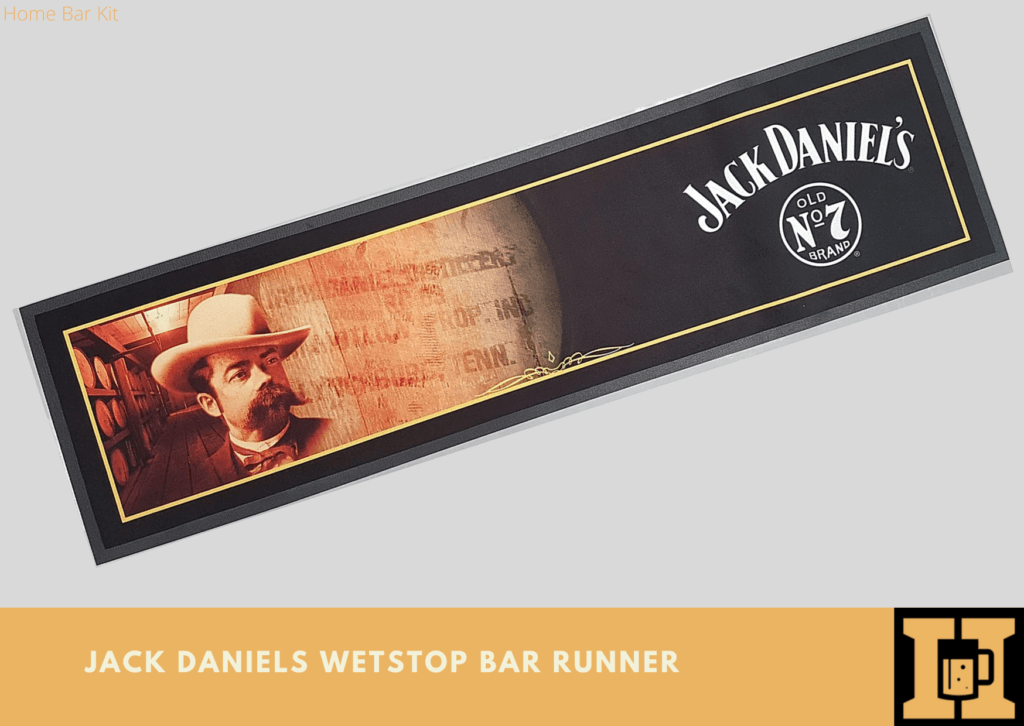 Check Latest Price
This is the second type of bar mat, although this Jack Daniels one is more of a bar runner.
It has a rubber base with a polyester pile top for soaking up liquid. The length is 35 inches and the width is around 10 inches ( 89cm x 24cm).
A neat looking braded bar runner, however other brands are available too.
Guinness Rubber Bar Mat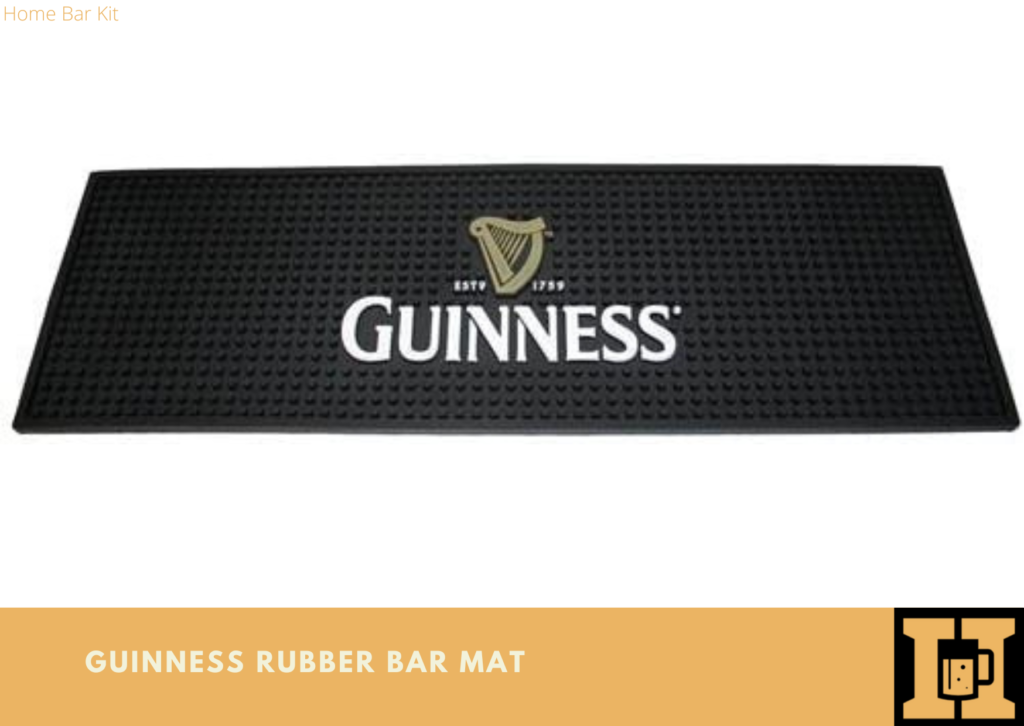 Check Latest Price
So this is a branded version of the rubber bar mat with the prongs. Obviously this one carries the world famous Guinness brand.
Made completely from rubber it is non slip and easy to clean. It is 24 inches x 8 inches wide ( 61cm x 20cm). As it is three times the length of its width it is leaning towards a bar runner.
They do come in many sizes and like the other there are other brands you can get this style of mat in.
What Is A Novelty Beer Mat?
Novelty beer mats or runners are normally funny slogans or even bar rules printed on to the surface. There are plenty to choose from, whether it just says happy hour or a flag of your country.
Union Jack Bar Towel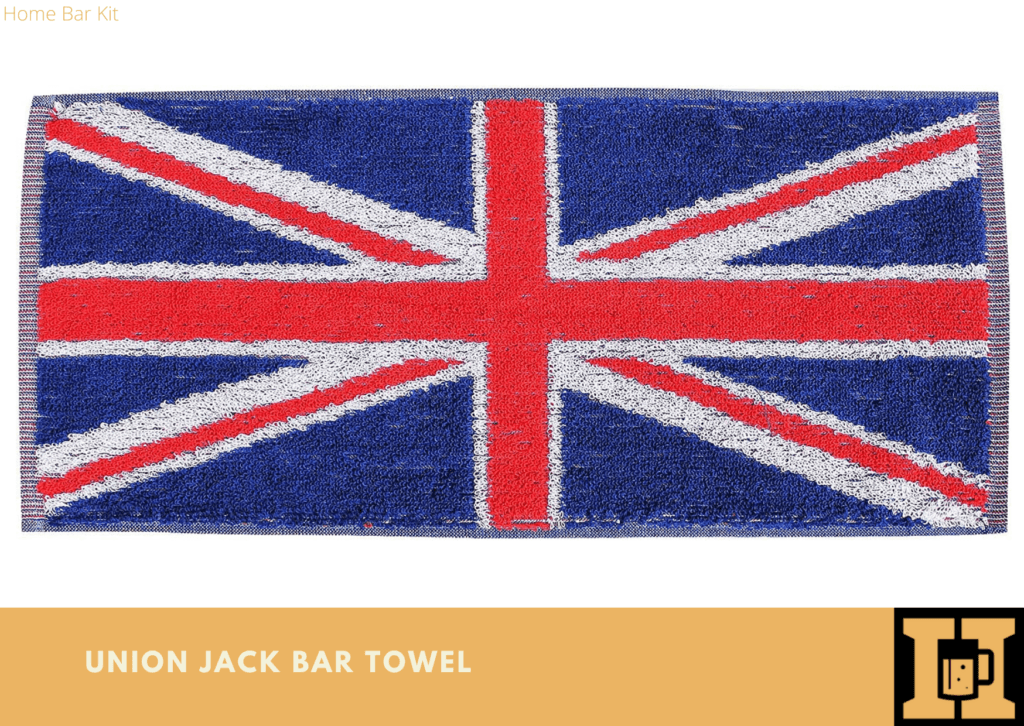 Check Latest Price
A flag design on a bar mat or runner can be a great addition to a home bar. I would imagine it is possible to get most flag designs.
However this one is the union jack as is the bar towel style. Made from 100% cotton it measures just under 20 inches x 10 inches ( 50cm x 23cm).
Bar Rules Bar Runner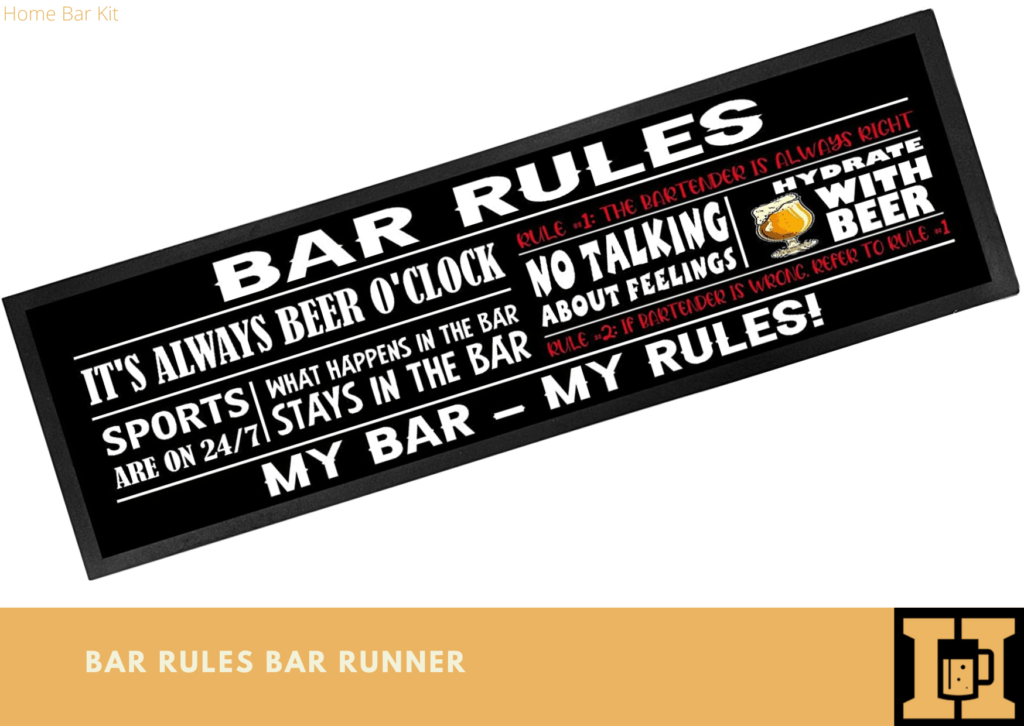 Check Latest Price
That's a bit of a mouthful, however this is a typical novelty bar mat. It displays an array of funny bar rules.
A great addition to any home bar and will always draw your guests attention creating a good talking point.
It has a non slip rubber base with a polyester fibre top to soak up the drips and small spills. The measurements are just shy of 35 inches x 10 inches (88cm x 25cm).
Normally bar rules are on a plaque on the wall, but this is a good way of bringing it to the serving area.
Happy Hour Bar Mat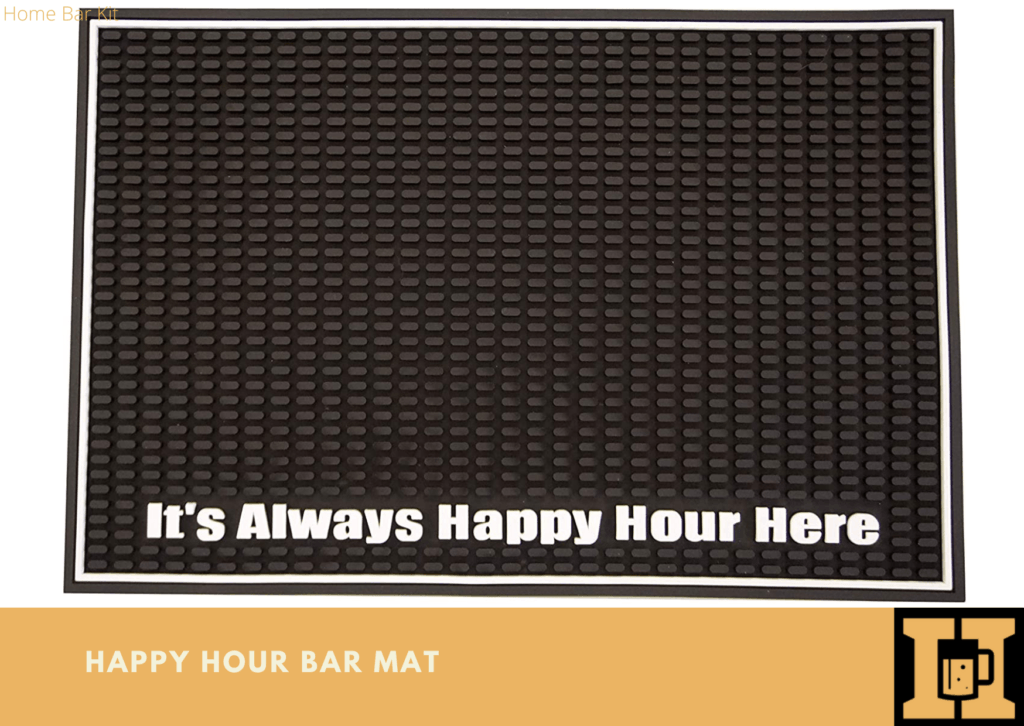 Check Latest Price
As the title suggests this is a simple design bar mat that states it is always happy hour. Made from durable rubber with a lip filled with rubber prongs.
This is made to be no slip so will stay put on the bar top. It measures 18 inches x 12 inches (45cm x 30 inches. So this is a broader rectangle shape.
A simple design but serves its purpose and looks good too.
What Are Personalised Bar Mats?
A personalised bar mat is the type where you can add your own image and text. So in my opinion these are the best ones for a home bar.
They help to brand your home bar and make it a personal space relating to you or your family.
The obvious personal bar mat is to have the name of your bar printed on it. We all name our home bars, so what better way to cement this than with our bar mats.
However we can also have our own funny jokes or bar rules too.
Simply Personalised Bar Mat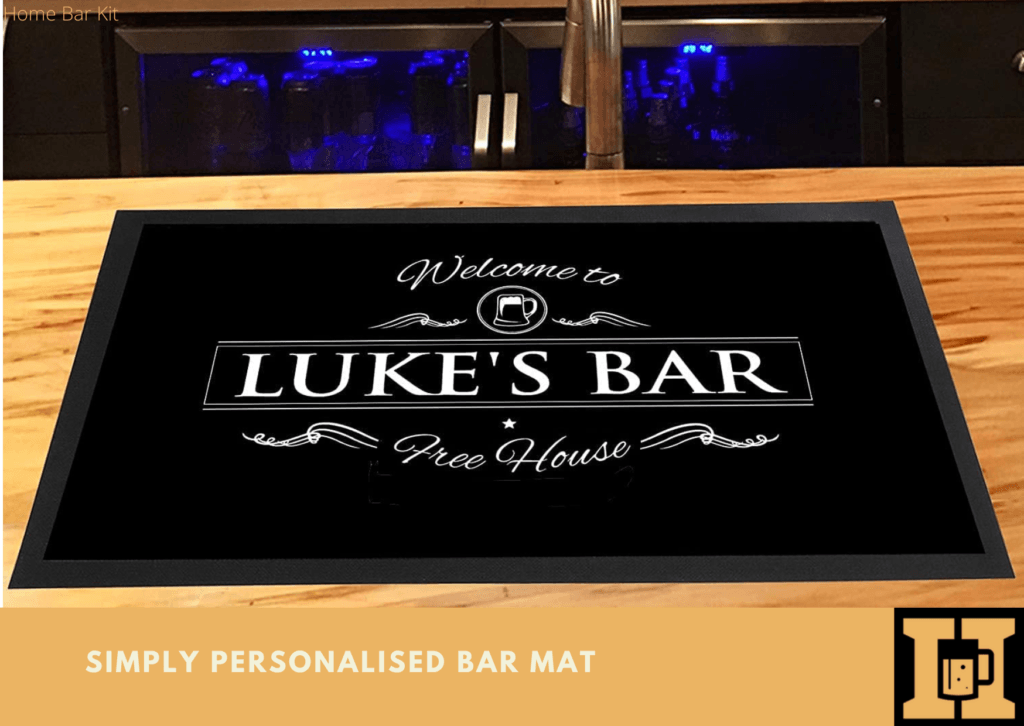 Check Latest Price
This bar mat is a simple design that welcomes your guests to your home bar and adds that you are a free house.
A straightforward black bar mat with simple but attractive white text. It measures 17 inches x 10 inches (44cm x 25cm).
If you like a simple understated design then this is a great choice.
Neon Bar Mat
Check Latest Price
How about a neon bar mat, if simple is not for you and you want a little bling, then this could be the one.
A black fibre background over a thin rubber mat, sports a neon message of your choice, like you bar name for instance.
This bling bar mat measures 17 inches x 10 inches (44cm x 25cm).
It won't go unnoticed, more like a bar top attraction.
Personalised Bar Mat Set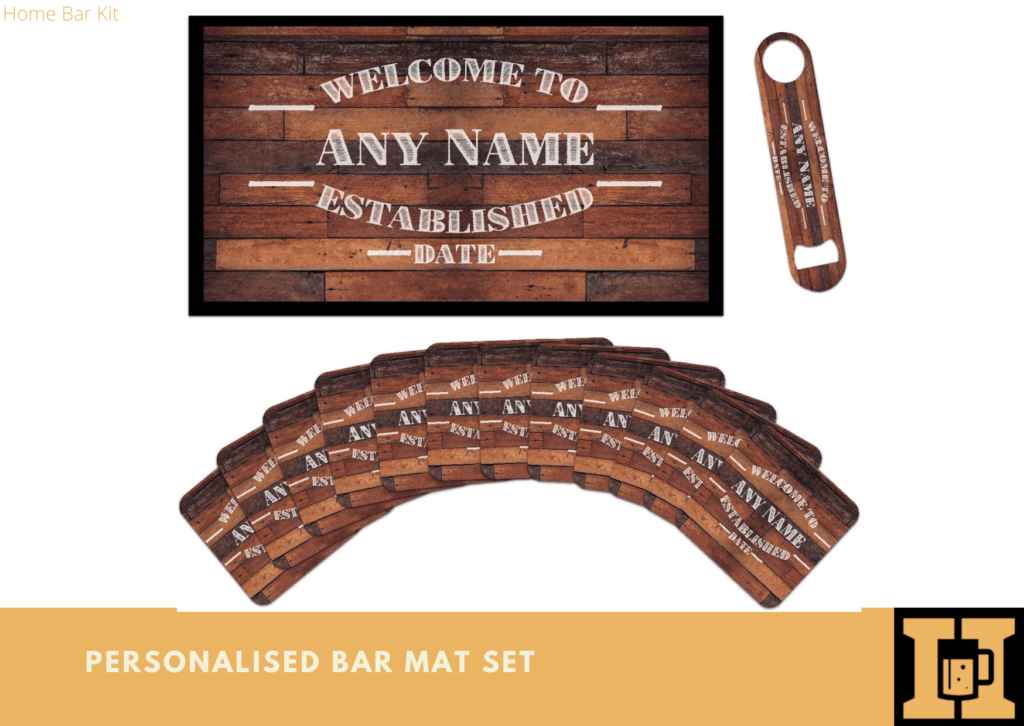 Check Latest Price
This may be the ultimate personalised bar mat because it comes with matching beer mats and a bottle opener.
You can add you bar name as well as the date it was established, which is a nice touch. The same name and design are on the bar mat as well as the twelve beer mats and the bottle opener.
The bar mat is rubber backed with a polyester wicking fabric on top. But the beer mats are the standard paper layered. While the bottle opener is made from stainless steel.
The bar mat measures just less than 18 inches x 10 inches (45cm x 25cm).
A cracking bar to to brand your own home bar.
Final Thoughts
I think I have covered a decent amount of different bar mats and runners. They all serve the purpose they are designed for whilst adding to the look of a home bar.
Especially the personalised ones that can really bring the personal branding touch.
The choice of material is a personal thing, however I like the rubber back with the polyester wicking fibre. They seem to be the most customisable ones and are more than adequate for a home bar.
But why not have a mixture of two types or all three types. Depending on the length of a bar will determine how many are needed.
I hope you liked my bar mat picks, whether you are buying one for your own home bar or getting one as a present, they are all great.