The idea that you can buy a flat pack home bar sounds amazing. Get it delivered right to your door, then unpack and assemble, and hey presto your very own home bar.
It's a cool concept and makes the dream of having a bar in your home surprisingly easy to achieve. This could be a very popular product, but as flat pack furniture goes there is the good, the bad and the ugly. So which one is this?
The Home Pop Up Bar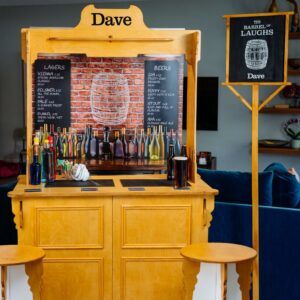 The idea is a great one, and it comes from a collaboration between the online retailer Firebox and the UK's comedy TV channel Dave.
The UK's lockdown restrictions have begun to ease and on the 12th April bars and pubs can serve drinks outside in beer gardens. You have to bear in mind that you can't just turn up and expect to get a table. You need to book a table in advance, which is fine until you try it.
So to help those who are left out in the cold, firebox and Dave launched their flat pack bar. This was also to celebrate the return of the popular series Meet The Richardsons a Dave favorite, which is a mockumentary about the two comedians Jon Richardson and his wife Lucy Beaumont .
Jon Richardson is involved in the marketing and is the star of the assembly video found on Youtube, a funny watch.
The Easy Home Bar
The product is named "Dave's Flat Pack Pub" and really does come in a flat box, but what do you get in this box.
The main bar assembly which boasts to be solid plywood, so should be pretty sturdy. Then you have two bar stools which I can only imagine are also plywood. There is a backdrop that shows a typical behind the bar scene. This is basically a large poster on a stand showing shelves of beer and fridges, with bottles on the counter and chalk drinks menus.
The backdrop poster just gives the bar the pub look, but is optional whether you would want to use it. The promotional images also show a bar sign sporting the name The Barrel Of Laughs. I am not sure if this is included as it doesn't actually state that it is.
What is included is the assembly instructions and all fixings to get your bar up and running.
Epic Or Not
The actual bar looks solid and is versatile because you can literally pop it up anywhere indoors or outdoors, this is a big plus point.
The idea is great, there is no doubt about that, but will Brits all be rushing to buy one?
If they did rush to order their flat pack bar, then they are probably disappointed because there was only a limited number available to purchase at Firebox, and they sold out pretty quickly. The website says they are sold out, but does not say whether they will be available again, hopefully that will change.
This nifty idea has got people fired up, but left them high and dry once again because only a limited number of people were able to get their hands on one, and are no doubt enjoying a beer or two right now.
This got me thinking (dangerous I know), are there anymore flat packs of this type available, and if so then it would be a good idea for me to share them with you.
The Alternative Bar
I noticed that a few were hailing Dave's Flat Pack Pub as a worlds first, but it is not. Don't despair if you missed out on this bar, there are others available and I have included two here for you to get excited about.
Flat Pack Bars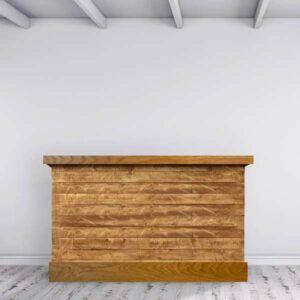 This UK company Flat Pack Bars seems to have designed the ultimate pop up bar that can be put up and taken down in seconds. Their bars which come in different sizes and colors have three pieces to assemble. You have the fold out bar walls (front and two sides), a shelf and a bar top.
The ease of putting these bars up and taking them down means, it doesn't have to be a permanent fixture and can easily be put away and stored.
The quality looks top-notch too, resembling a traditional style bar, you can even have a solid oak bar top and add text to the front of your bar. If you missed out on Dave's offering, then this company can rescue you from disappointment. Just browse their website for the bar you want and it will be delivered to you door, ready to party.
The Temorary Bar
Initially designed for any business that needed a bar that could be put up and taken down easily and taken to any location.
Flat Pack Bar System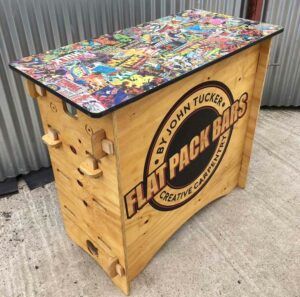 Another UK company John Tucker Carpentry is a master craftsman who has a woodworking and joinery service, so you could probably get any of your woodwork needs sorting by John.
The part of his business that I want to share with you though, is his flat pack bars. These bars are aimed towards businesses that need a bar to literally pop up, like at a festival or trade show, but can also be used for home use too.
They are designed to be interlocking with other units, so you can build on a basic bar if required, including corner sections. Held together by a series of large pegs and just two hand tightening bolts for the bar top, no tools are needed for the quick assembly of your bar.
In my opinion these don't look as good as the ones from flat pack bars and are not as quick to assemble, but because they can easily link together with other John Tucker bars it makes them incredibly versatile.
When I say they don't look as good, I do not mean in terms of quality and construction, I mean aesthetically, and of course that is just my taste and opinion.
To Flat Pack Or Not To Flat Pack
I searched for similar companies in the US, but found nothing that can compare, that doesn't mean they do not exist though. It seems then, on the surface that the UK are leading the way in this flat pack bar phenomenon.
These two companies look to be ahead of the game when it comes to flat pack bars, and are well worth checking out if you prefer to have a bar that not only comes out of a box, but can be put up and taken down quickly for either storing or moving around to suit.
I hope that this information has helped you find your flat pack home bar, even if you had not even thought about this as an option and just stumbled upon this article, but especially if you wanted to get the Dave bar and missed out.
Let us know your thoughts and/or experiences with flat pack bars, if you were lucky enough to get the Dave's Barrel of Laughs pack, then let us know the quality and how you are getting on with it.
If you prefer to build something more permanent, and want to take the project on yourself, the best place to start is with a Bar Plan.