If you like beer then you will probably prefer it when it comes from a beer tap, the taste of a draft beer is the best beer. We all like a can or a bottle of beer, but draft beer is king.
If you really want a draft beer experience at your home bar, but don't have the room, or don't want the hassle of a large kegerator, then think mini beer keg dispenser.
Beer On Tap
Having beer on tap at your home bar is a great thing and if you have the space for a full on kegerator, then that is brilliant. However, not every home bar has the space for those fridge sized units, plus they can be expensive too.
A mini kegerator is the answer, these compact units will give you a beautiful beer straight from the tap and sit nicely on your bar top. These neatly compact units can also be taken with you, to events, parties or just to a friends barbecue, making them a versatile must have beer product.
There are many mini kegs available, in fact the choice can be overwhelming and it can be hard to know which one to pick for the best. I have researched the best of the bunch, those that will pour the best beer for your buck.
GrowlerWerks uKeg Go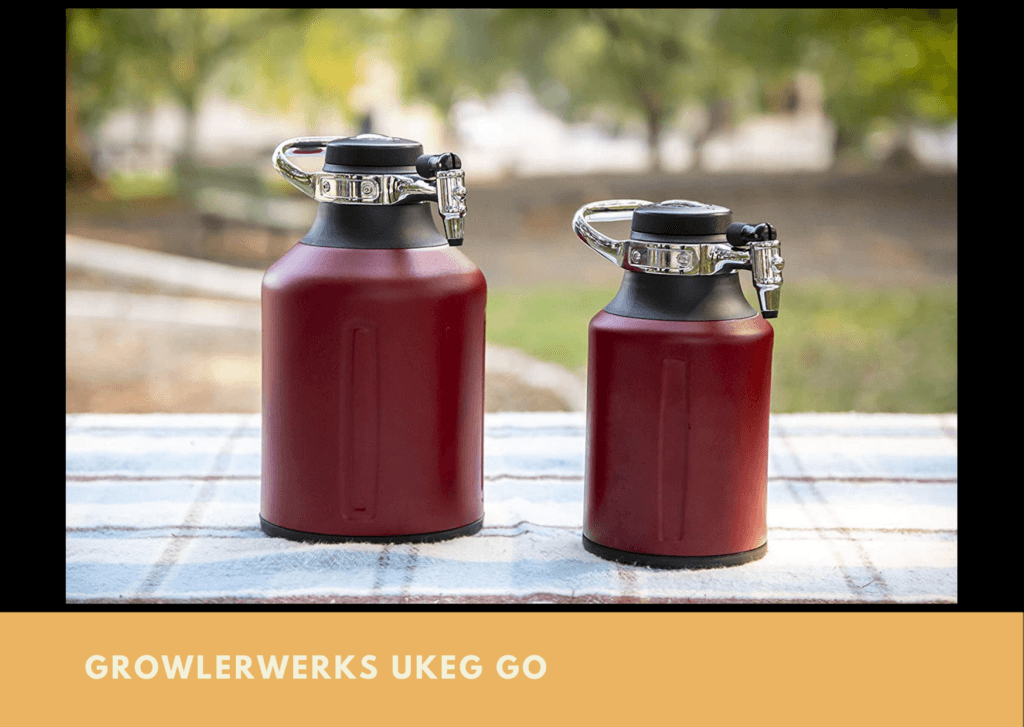 Kicking things off, we have the uKeg Go from GrowlerWerks, which really is a neat little unit that is marketed as a go anywhere drink dispenser.
Standing at just over 10″ it has a great design carry handle and a cap that integrates the co2 cartridge, making this a really neat package, that will dispense your drinks anywhere.
It is a 64oz container that will give you around six small glasses of beer, or other beverages of course. If you prefer more capacity for your beer, then this mini keg is also available in a 128 oz unit.
A double wall insulation will keep your drink cold for around eight hours and with its patented carbonation system it will also keep your drink fresh for weeks, but I can't see the drink being in there for that long.
It uses an 8 gram co2 cartridge, which you can buy as a two pack sold separately.
All in all this is a great little portable kegerator that will serve your beer well at your home bar or on the go.
Nutrichef Mini Keg System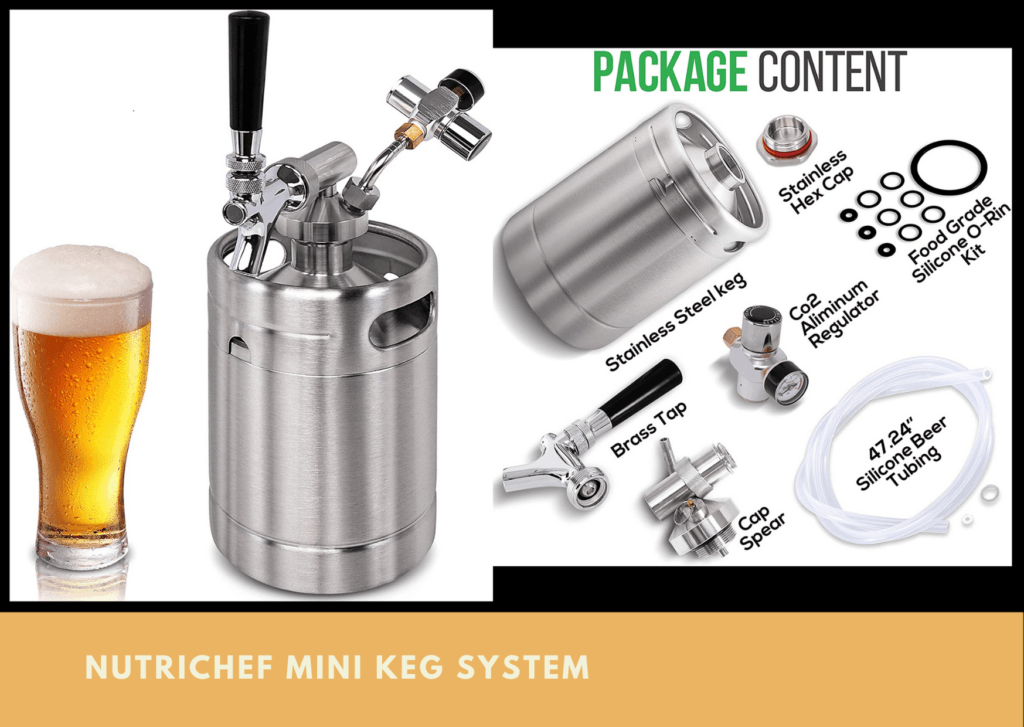 This is a professional looking bit of kit, it is good quality and robust being a stainless steel construction, which also includes the tap and regulator.
It stands at a little over 13″ and has a 64oz capacity keeping your beer vacuum pressured for up to 8 weeks, but we all know that your beer is not going to last that long.
This mini keg takes a 16g universal co2 cartridge, which screws directly into the regulator and again is sold separately. It looks the part and plays the part perfectly, giving you a great draft beer every time.
GrowlerWerks uKeg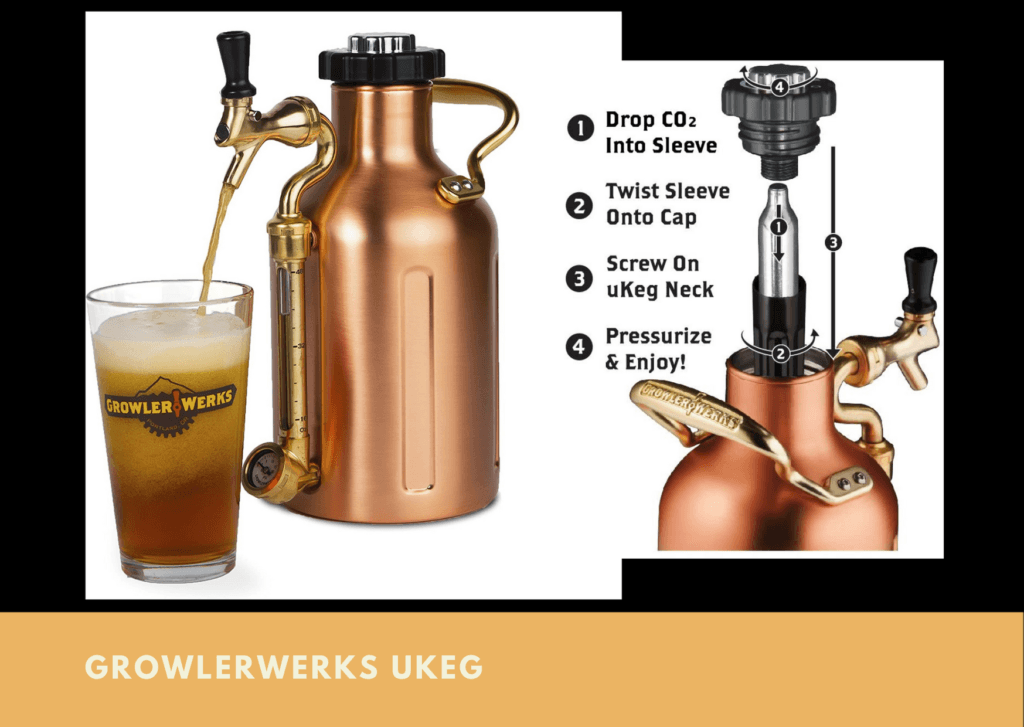 It's another one from GrowlerWerks and has to be one of the coolest looking mini kegs available with its industrial design. Have this beauty sitting on your home bar and people will think you are brewing the beer yourself.
You can also get this in silver or black, but I think the copper has to be the best.
The carbonation can be adjusted from zero to 15 psi, and the pressure inside the tank can be read with the built in pressure gage. A sight glass will tell you just how much of your favorite beer is left inside, which is not only helpful, but looks great too.
The capacity like the others is 64oz (there is a 128oz version) and it is a little under 11″ in height. It has the same integrated co2 cartridge design as the uKeg Go.
If you are going to get a mini keg, this is a must have just from its looks alone.
Keg Smiths Mini Keg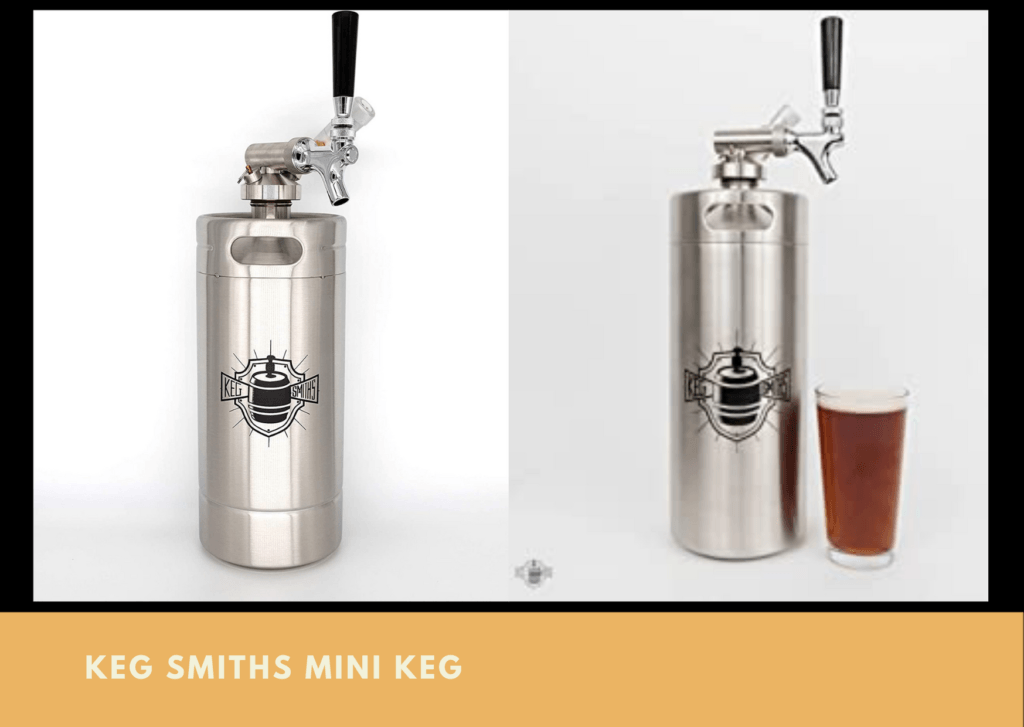 If you are looking to go a little bigger because a 64oz is just not big enough, then this 128oz mini keg from Keg Smiths is a worthy contender.
The keg is made from stainless steel and stands 16″ in height, as is the tap and regulator system. A 12 0r 16 gram beverage grade co2 cartridge screws directly into the regulator.
If you want to force carbonate your own home brew, then this keg will do the job by turning up to 15 psi and leaving overnight, very handy.
A nice clean simple design with a professional edge.
Bacoeng Keg Growler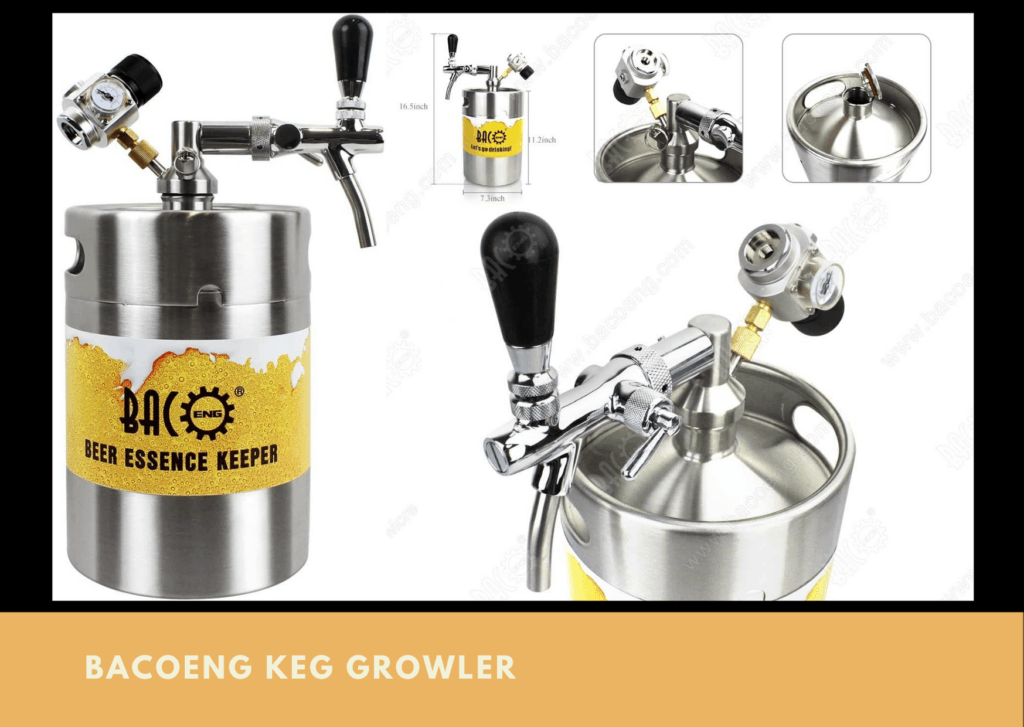 We are going bigger still with this 175oz keg from Bacoeng, although you can get this keg in a 64oz and 128oz if you like this design but don't want this larger model.
This is a good quality well-made keg and tap assembly, with an energy saving secondary regulator with 0 to 30 psi that not only gives more accurate readings, but will save around 35% co2 which has to be bonus. The spout and handle assembly has a flow control lever as well as a pressure relief valve.
It has a travel cap and a detachable handle making it easy to transport and protect the tap and regulator assembly. This keg is a good all rounder that will give any home bar a professional feel.
Green House Mini Beer Dispenser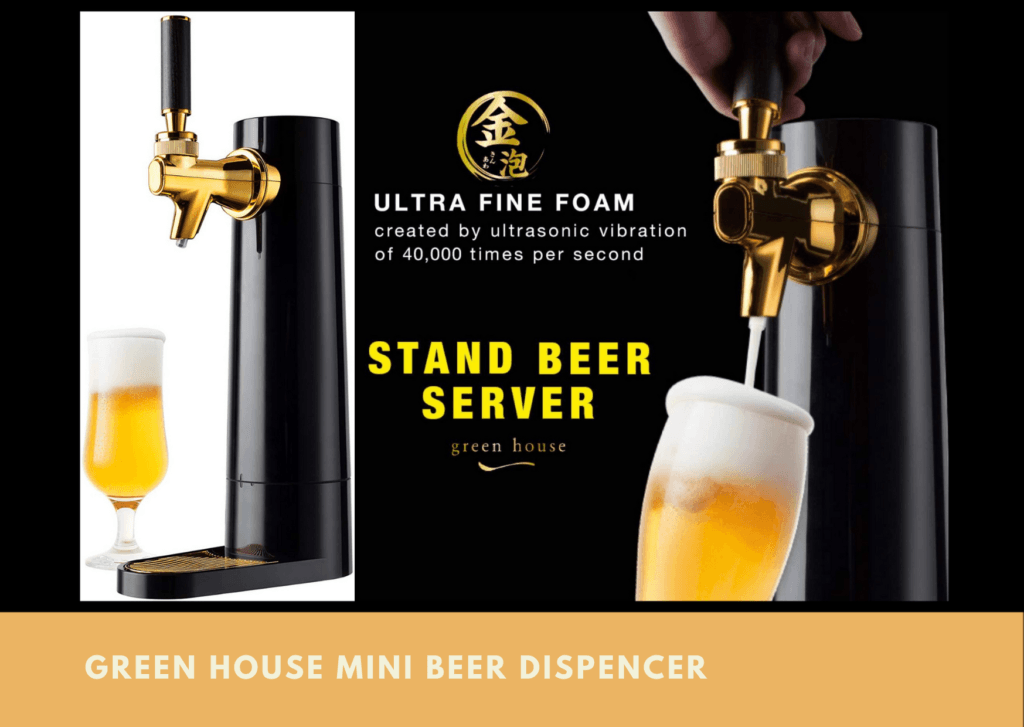 We are going from the largest so far, to the smallest. I included this one as it does look good, a bit like a traditional draft tap in a bar, so would look great on any home bar counter. However, there are some problems.
It is not really a kegerator, it does not keep the beer carbonated or pressurized, it literally is just a dispenser, and I know it shouldn't be here with this list of kegerators, but like I said, it looks good and you may just like it.
Although it is pleasing aesthetically, it is pretty much plastic, so bear that in mind if you have taken a shine to it. It will only hold one bottle or can at a time, so you will be forever reloading it, but that said it is an easy operation. It comes with ice packs to keep your drink cold.
It also uses ultrasonic vibration to create a very fine foam to top off your beer and will require two batteries to work. It is a bit of a gimmick, but a fun one.
Krups B100 BeerTender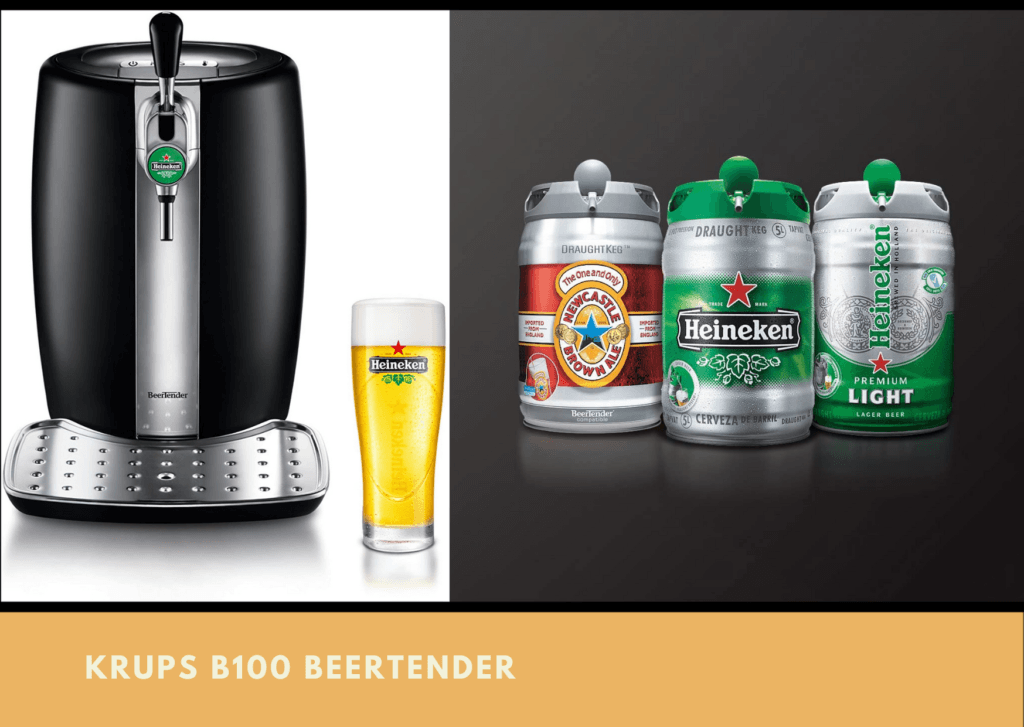 This is a little different again, but you will not need a co2 cartridge as the 5L kegs used for this unit are already pre-carbonated. It looks an impressive unit, and holding a 5L keg is a strong point, then you have the temperature control that maintains the perfect level of coldness for your beer.
What is not to like?
The price is not to like, it is pretty expensive compared to the other units featured here. Then you have the restriction of beer, if you like Heineken or New Castle Brown Ale, then you are in luck and this could be the one for you. If you don't want to drink them all the time, then there is not much point investing in this product.
The other thing is getting the 5L kegs as they are not always readily available.
Like I said it does impress, but it may be to restrictive for many.
Homecraft Mini Kegerator System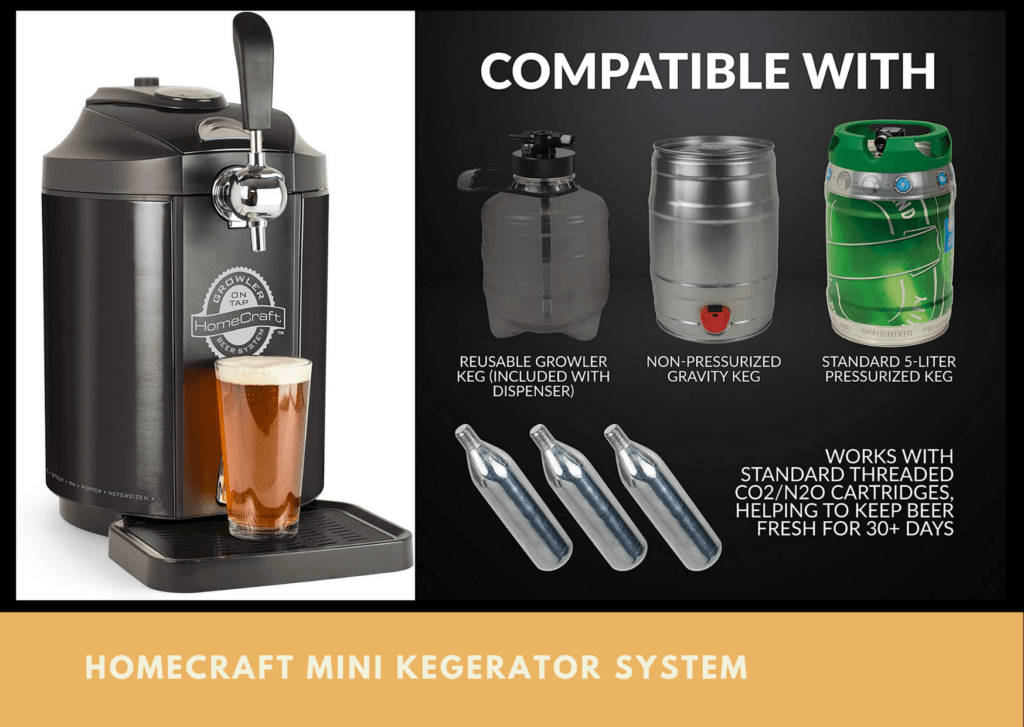 This one has to be the most versatile in terms of what it can hold beer wise because it not only comes with its own reusable growler, but is also compatible with all standard 5L pressurized and unpressurized kegs.
If you have trouble sourcing a keg to put into this unit, then at least you can refill the growler that comes with it. A great idea that will appeal to all beer lovers looking for the perfect draft pint.
It takes the standard c02 N20 cartridges and comes with three included. It has its own cooling system with an adjustable temperature gauge which ranges between 36 and 53 degrees.
This is a stylish mini keg that is pleasing to the eye.
The Best Mini Keg
These are probably some of the best mini kegerators available, with the exception of the mini beer dispenser, but only because it is not a real kegerator. All of them have a decent amount of stars when it comes to being reviewed and all of them look the part.
Each one will appeal to different tastes as they all have their own character and features that stand out. Personally I love the Homecraft Mini Kegerator System as it can hold a 5L keg, but also comes with its own refillable growler, which makes it the best in terms of versatility.
Let us know about your mini kegerator experiences and which if any is your favorite from the above list.