The last several years have seen gin become the drink of the moment and there has been an explosion of new gins hitting the market. You can now get so many flavored gins, but that is not all, the tonic mixers have gone the same way with many flavors to add to your gin.
The gin and tonic is a drink loved by many, but now there is so much more that can be done to spruce up this classic. Your home bar is the perfect place to experiment with the humble G&T. Treat your taste buds to the many combinations of flavor you can mix with these simple gin drinks.
It is not just about the gin or the mixers, but also about the fruit you can add to your drinks. Gone are the days when you only had the option of a slice of lemon or lime.
The new era of the gin drink uses way more fruit to enhance that beautiful bitter juniper taste.
Basic Gin With Tonic
I think even though the drink has changed a lot in recent years, the basic gin with tonic is still a favorite and I can't see it ever fading away behind all the new concoctions.
Standard gin without other added flavors will give you that classic pine flavor which comes from the juniper berry which is used with other herbs and spices whilst going through the second distilling stage. The taste for me is Piney with a bitter edge, and a peppery finish.
That was my best effort to sound like I am an expert drinks connoisseur.
Your basic tonic water has a bitter taste which comes from the Quinine infused into carbonated water. Quinine comes from the bark of a south American tree called the cinchona, just in case you were wondering.
You may not like gin on its own, or tonic water for that matter, but put the two together and you have a combination that is a winner worldwide. There is a little science involved in why these two drinks work so well together.
I found this great article from qz.com that explains the science behind this great duo.
So that is the basic G&T we all love, but now its time to look at some simple gin drinks you can mix at home.
The Bees Knees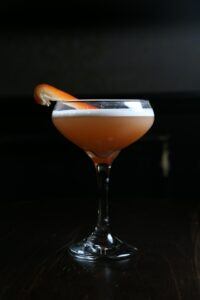 This is a lovely sweet little number that is just so easy to make, and will thrill the crowds. There are just three basic ingredients that you will need.
Add the three together and you have yourself a Bee's Knees. You can garnish with a twist of lemon or orange, and some variations actually add orange juice as well as lemon juice.
There is a little history behind this drink, but I will not go into it here, if you want to know I found the basic history lesson on Wikipedia, which also shows the recipe and how to prepare.
Gin Fizz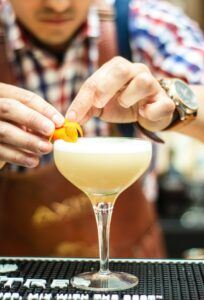 The classic gin fizz has a light sour citrus flavor with a creamy texture which comes from egg whites. Who, wants to put egg whites into their drink. The original recipe had the egg whites, but they can be left out if it doesn't float your boat.
Gin
Simple Syrup
Soda Water
Egg White
Lemon Juice
Put the gin, syrup, egg white and lemon juice into a shaker and go for it. Pour into a gin glass and add soda water and garnish with lemon or lime peel. It's a great refreshing drink that is very similar to the Tom Collins drink which is the same but without the egg white.
The simple syrup is just water and sugar mixed together to act as a sweetener.
If you decide to keep the egg whites, then do please be aware of the food advisory about consuming raw eggs and the increased risk of foodborne illness.
Fresh And Smooth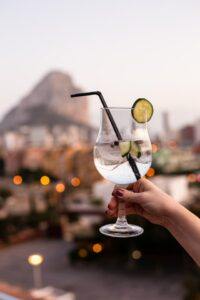 The reason I called it fresh and smooth is that I don't think there is an official name for this drink, and because it is just fresh and smooth.
Pour your gin and tonic over ice in a large gin glass and add a long slice of cucumber.
It is simple, but it is just divine, so fresh and the cucumber seems to mellow out the gin and tonic, making it really smooth. I stumbled across this several years ago and it is a firm favorite that I visit regularly.
The cucumber is best when you slice a thin layer from its length with a food slicer. It curls up nicely in the glass, and just works. A slight variation is to add a mint leaf or two, which works well with the cucumber.
You can also add cucumber in the same way to a jug of water, it just gives your water a real va va voom.
The floradora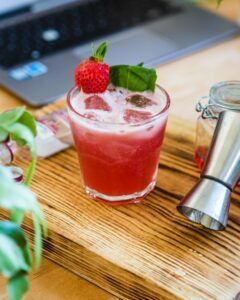 What a great name for a drink, which originated from a bartender back in 1900 when a cast member for the Broadway comedy of the same name asked him to make up a drink for the cast. He came up with this extremely delicious drink using gin as the base and named it after the comedy musical.
Gin
Creme De Framboise
Lime Juice
Ginger Ale
Simply put the gin, creme de framboise and lime juice into a shaker with ice and shake it. Pour into a gin glass over ice and top up with the ginger ale, garnish with raspberries. The creme de framboise is a raspberry liqueur, but you can use a raspberry syrup if you prefer, which was in the original recipe.
Once you have tried this little pink beauty it will become a firm favorite.
The French 75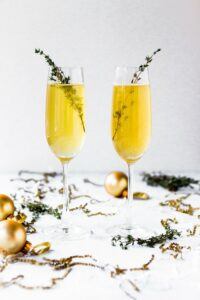 This gin based drink is said to have come about during world war one and is named after the large 75mm gun used by the French during that war. There are lots of debate about when this drink came about with not everyone agreeing on the date or who invented it.
I will let them debate while I just enjoy the drink, and I suggest you do the same. Whoever it was that gave it to the world, thank you.
Gin
Simple Syrup
Lemon Juice
Champagne
Add the gin, syrup and lemon juice to a shaker over ice and give the magic shake. Pour into a champagne glass and top up with champagne, simple but amazing. The kick to this drink was jokingly likened to being shelled by the 75mm gun, hence its name.
Negroni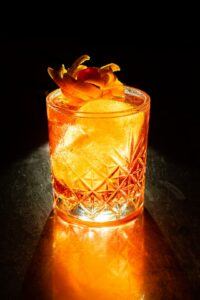 Proceed with caution.
This Italian gin drink should be consumed with caution, it is not a good idea to have more than one in a single sitting. Like any other gin drink you mix gin with one or more other drinks, the difference this time being alcohol.
Gin
Sweet Vermouth
Campari
Pour the gin, vermouth and campari into a glass over ice and garnish with a slice of orange, then wait for the fireworks. Three alcoholic drinks in equal measures in one glass with a little orange to taste makes this bitter-sweet drink a popular choice, just don't over do it.
Fog Cutter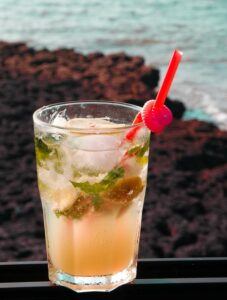 If you think three alcoholic drinks in one glass is a lot, then think again because we have topped it with the tiki inspired fog cutter which has four.
Gin
Rum
Brandy
Sherry
Almond Syrup
Orange Juice
Lemon Juice
Combine all the ingredients except the sherry into a shaker and well, shake. Add the sherry and pour in a tall glass over ice, use a garnish of your choice. The almond syrup is a mixture of almonds, sugar and rose water and can be purchased ready mixed, it is used in many Tiki classics
The fog cutter is a tropical fruity drink that really packs a punch, so drink slowly and enjoy.
Aviation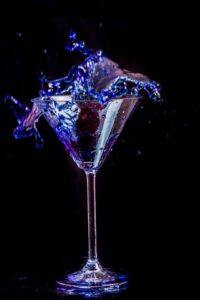 This gin drink is a floral cocktail invented by head bartender Hugo Ensslin back in the early twentieth century. It has a violet like taste as well as color which comes from the creme de voilette used in the mix.
Gin
Creme De Violette
Maraschino Liqueur
Lemon Juice
Add the ingredients together over ice in a shaker and do the shake, pour into a glass and garnish with a cherry.
The Maraschino is a cherry based liqueur and the creme de violette as the name suggests is a violet based liqueur which will over power this drink if too much is added.
Dry Martini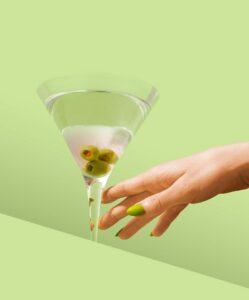 You cannot have a list of gin drinks without the classic dry martini, which is simple and delicious.
Add together in a glass and pop in an olive, so so simple.
There are many variations of this great drink, and also much debate about who came up with it and when. I just know that it is probably the easiest gin drink to mix and the easiest to play around with and adapt to your own taste.
G&T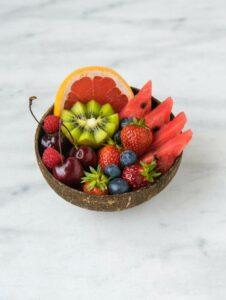 There is another way to enjoy the beauty of gin, working from the humble gin and tonic and not involving any other drinks. You may be saying, 'That's just a gin and tonic then', and you would be right, but Let's add a twist.
As I mentioned at the beginning You can buy a bottle of gin in pretty much any flavor, as well as the tonic water too. Try out all the different types of gin and tonic available, that will keep you busy for a long while, there are literally thousands.
The other way of spicing up a standard gin and tonic is to try different types of fruit and/or a combination of fruits. We have all had lemon, lime and olives in our gins, but be a little adventurous.
Apple
Orange
Raspberries
Blackberries
Strawberries
Kiwi
Cucumber
Pear
Mango
Grapefruit
These are just some off the top of my head which can be added to a standard G&T, but mix two, three or four together and experiment. Try adding herbs too, sage, mint or oregano to name just a few, its all about expanding the boundaries.
Mix It Up
How the humble gin and tonic has grown over the years, from a simple refreshing drink enjoyed by millions into a global superstar of epic proportions and endless combinations of flavors.
It had its years of obscurity, but it is back and more popular than ever. However, you enjoy your gin drink, be daring and bold and mix it up either with these simple gin drinks or with your own mixes.
Share your own gin mixes below and do try some of the above and comment on your experience with them. Let us gin together.
Rob is a passionate home bar and pub shed enthusiast with a passion for craft beer. With hands-on experience in designing and building his own home bar, Rob shares his knowledge, tips, and inspiration to help fellow enthusiasts create their own perfect space. Alongside the world of home bars and pub sheds, Rob also explores the diverse and exciting realm of craft beer, providing honest reviews to help you discover your next favorite brew. Join Rob on a journey of flavor, design, and craftsmanship right here on Home Bar Kit.