A home bar is not complete without a set of brandy glasses, the deep round bowl with the narrow mouth and short stem are an iconic design that house the drink beautifully. Just like a Martini Glass fits that drink, the brandy glass is specific to brandy.
Also Known as a snifter glass they are designed for aged spirits like brandy and whiskey. The large bowl sits perfectly in the palm of the hand gently warming the brandy, while the narrow mouth traps the aromas of the drink.
Now that we have that beautiful picture in mind of cupping that glass bowl whilst our noses twitch with those distinct aromas, which glasses are the best brandy glasses.
Brandy Versus Cognac
There is no real difference between brandy and cognac in respect of them both being made from grapes and then distilled and aged.
Like sparkling wine, which cannot call itself champagne unless it is made in that region of France, cognac is a region of France too. A brandy made in the cognac region can call itself a cognac, while all other brandy made anywhere else in the world, cannot.
If you drink brandy then, would you use a different glass than if you were drinking cognac?
No, although there will almost certainly be a special glass for cognac only, or brandy only, a typical brandy design glass will suit both drinks.
Brandy Based Cocktails
A decent brandy can be best enjoyed neat, but on the rocks is cool too. This drink is one of the oldest spirits, and has been a favorite in cocktails for many years, here are a few to try out.
The Sidecar
An old favorite that has been around for a century and is still wowing the crowds. This cocktail consists of brandy (or cognac), Cointreau and lemon juice. It is normally garnished with an orange twist and sugar on the rim of the glass.
The Brandy Alexander
This is one of my favorite cocktails, it is definitely worth trying. The original Alexander was a gin based cocktail, but this one takes the gin out for the brandy.
It consists of brandy, creme de cacao and cream, it is garnished with nutmeg, and tastes fantastic.
The French Connection
Seeing as cognac is a region of France I thought I should include this simple but beautiful cocktail. It has just two ingredients which are cognac or brandy with amaretto, and the two go so well together.
There are many more brandy based cocktails, but it is time to look at some beautiful brandy glasses to compliment your home bar and add to your ever growing bar glass collection.
As an Amazon Associate, I earn from qualifying purchases.
Reidel Vinum Brandy Glasses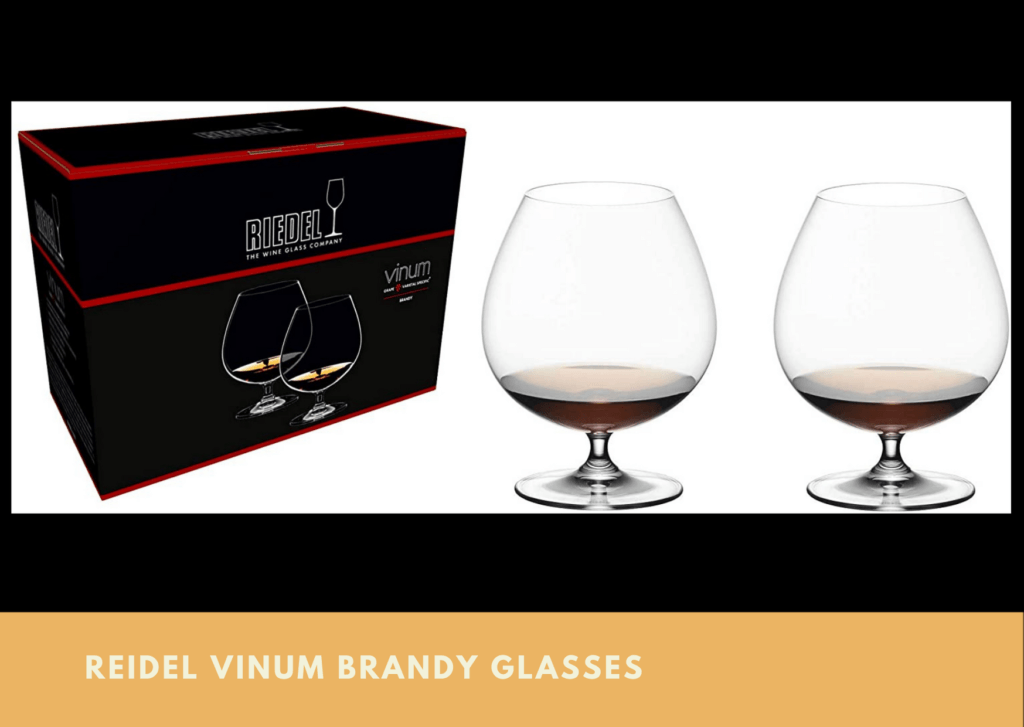 A simple elegant straight forward design that will sit beautifully in the hand. It has the classic big bowl and narrow mouth, sitting on the short stem base.
These are not cheap glasses, but they do come from the Reidel company renowned for quality glasses. Standing at around 6″ in height and a little under 5″ at the widest part of the bowl, these will enhance any brandy.
Set of 2
Epure Collection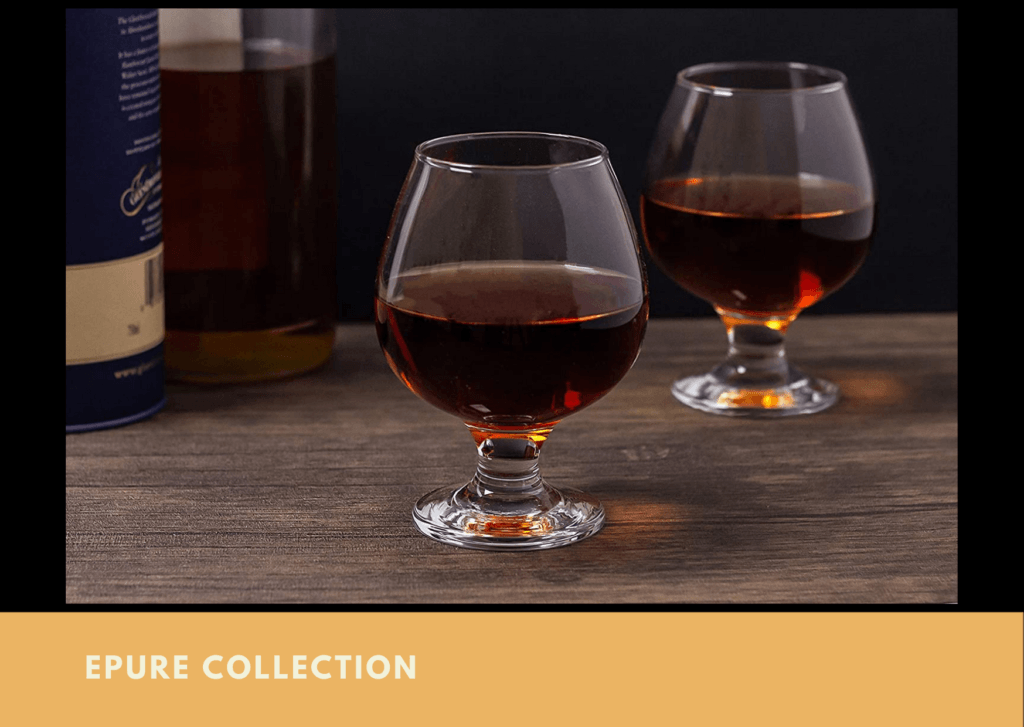 These glasses are the opposite to the Reidel Vinums elegance as well as their price too. If you want your brandy glass to be sturdy, then these will fit the bill. They are not as elegant with their thicker stem and heavy set, but they ooze strength and boldness.
A great looking glass set that will go easy on your pocket, there is no excuse not to add these to your home bar set up.
Set of 4
GaoGao Super Glass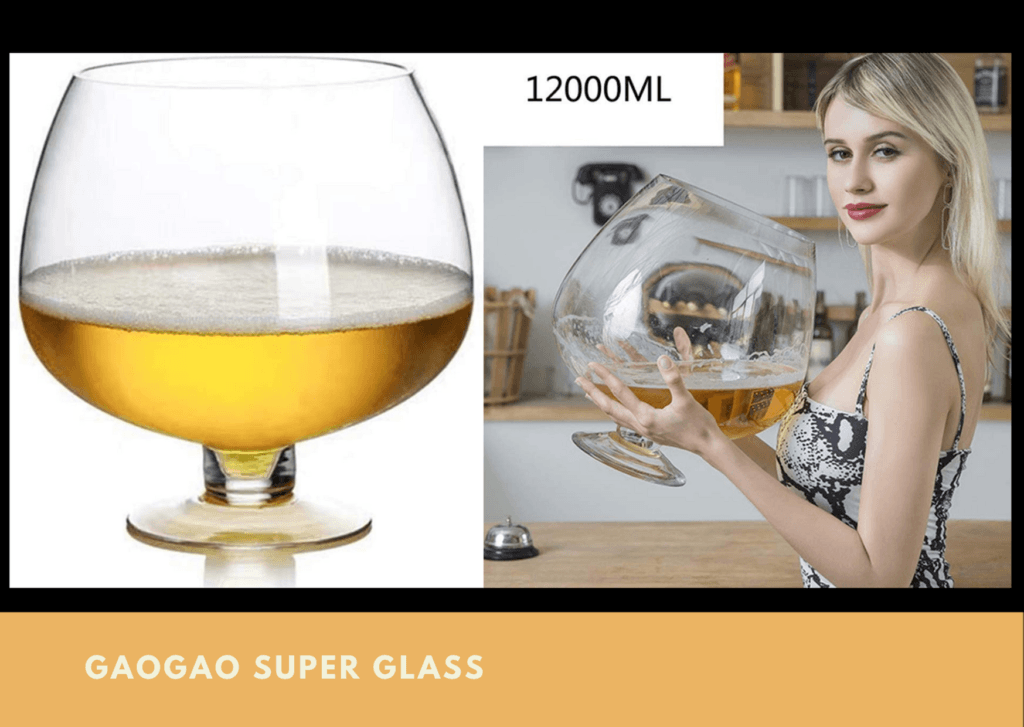 I had to include this one even though there is no way I would buy this for brandy or any other spirit drink, it's just for fun. You would get a couple of bottles of wine in this monster, and they go even bigger.
This is a 2000ml or 67oz goldfish bowl, it looks like a brandy glass, but its big, but not as big as the biggest in the range which is 12000ml or 405oz that you could quite literally dive into.
If you check this glass out, don't look at the price of the 12000ml version, that is a lot of money for one glass.
One of these would certainly make a fun talking point at your home bar, and you could have some fun drinking games with it, but it is going to take up a fair amount of space.
1 Glass
Season Story Large Snifter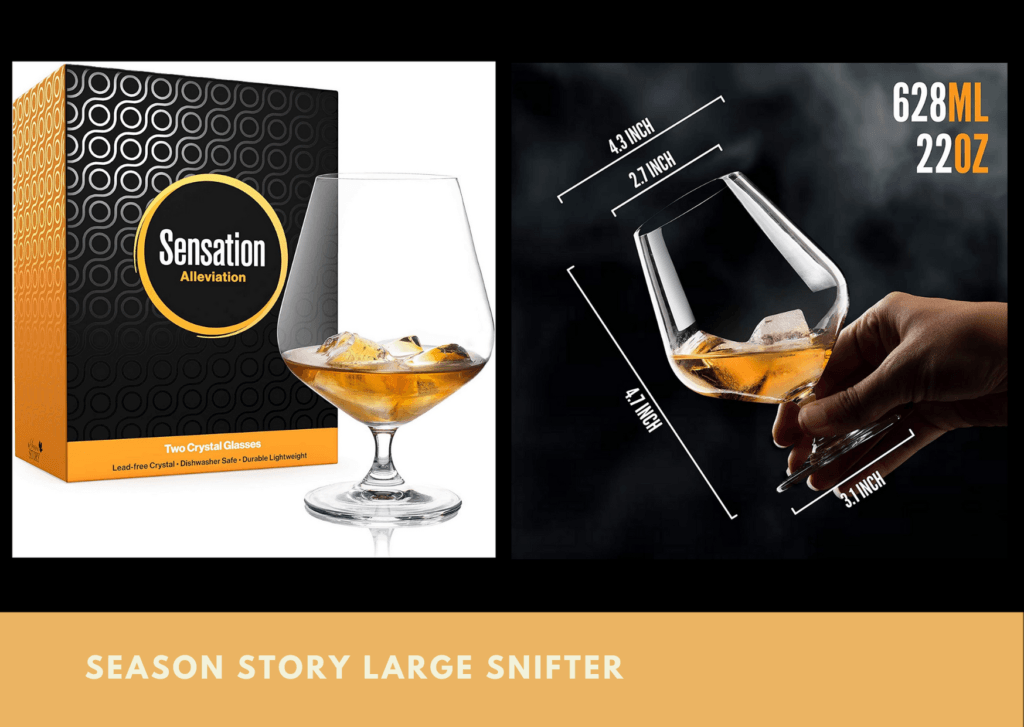 Back to the real world we have these stylish brandy glasses from Season Story, which are from the limited edition sensation line. They don't have the standard bowl design, but instead have a taller more angled glass shape, with a stem and base.
Standing at 4.7″ in height and 4.3″ at there widest part, these will hold 22 ounces. You wouldn't want to add that much brandy to your glass, but if you use them for longer drinks such as cocktails, then it's a nice size.
Set of 2
Mulstone Snifter Glasses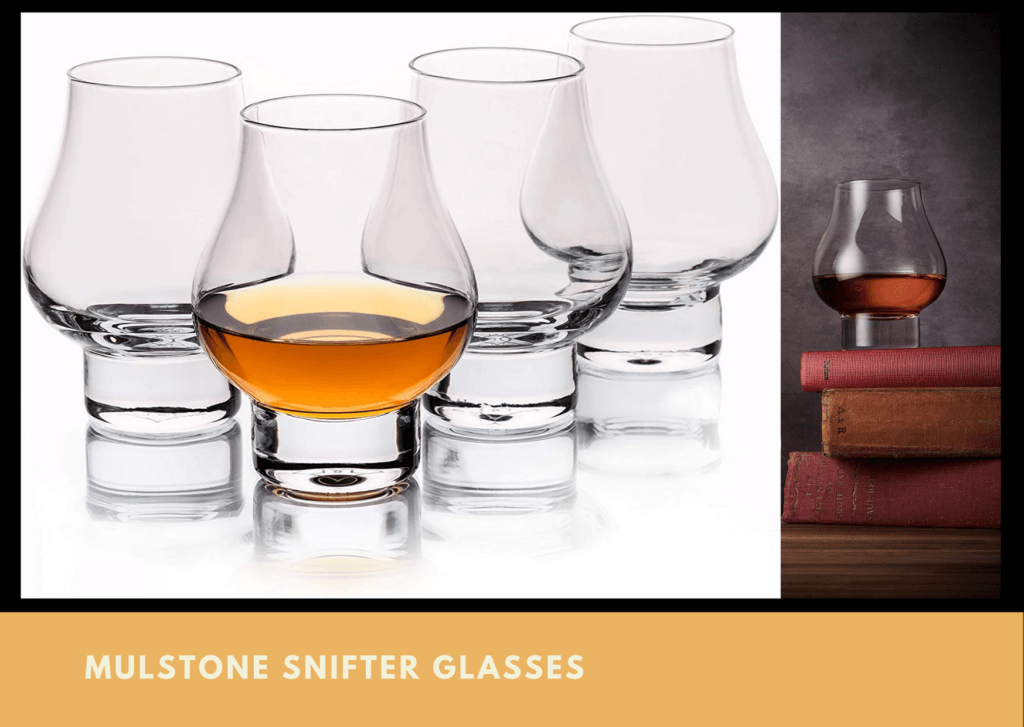 Time for something a little different, not your traditional shaped brandy glass, but more of a tulip shape. Some experts say the tulip shape are better for enjoying cognac and brandy than the bowl shape we are use to.
At just over 3″ at their widest point and standing just under 4″ tall, with a 6.7oz capacity, they are on the smaller side and could be used for tasting purposes as well as sipping your favorite brandy.
The stout base makes them perfect for resting on their side and swirling your drink prior to tasting. A decent set of brandy glasses with an unusual design and a reasonable price tag.
Set of 4
Sipper Glass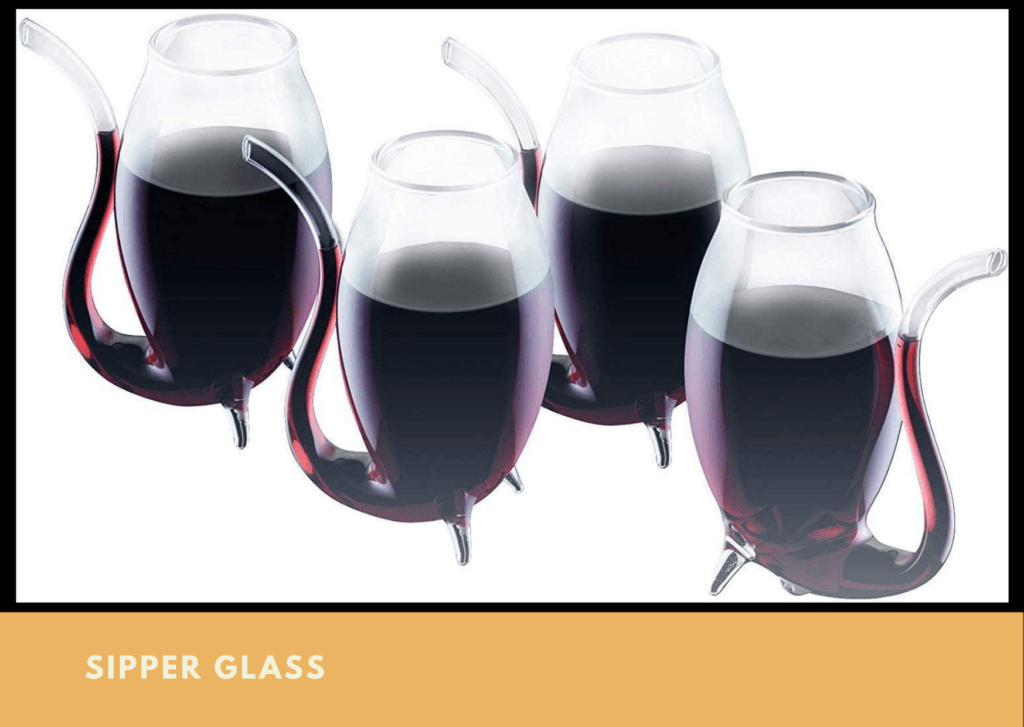 Staying away from the traditional again, we have something that looks a little weird, a glass with a built in straw. In fact these are port/brandy sippers and designed this way to draw the port or brandy from the bottom of the glass which deters the alcohol from oxidizing.
Although a little odd looking they are a fun way to enjoy your brandy and a definite talking point at your home bar. They are quite small with a capacity of 3.3 ounces.
The glass is pretty thin so make them a little fragile, I would be very gentle when washing and handling these glasses.
Set of 4
Waterford Elegance Brandy Glass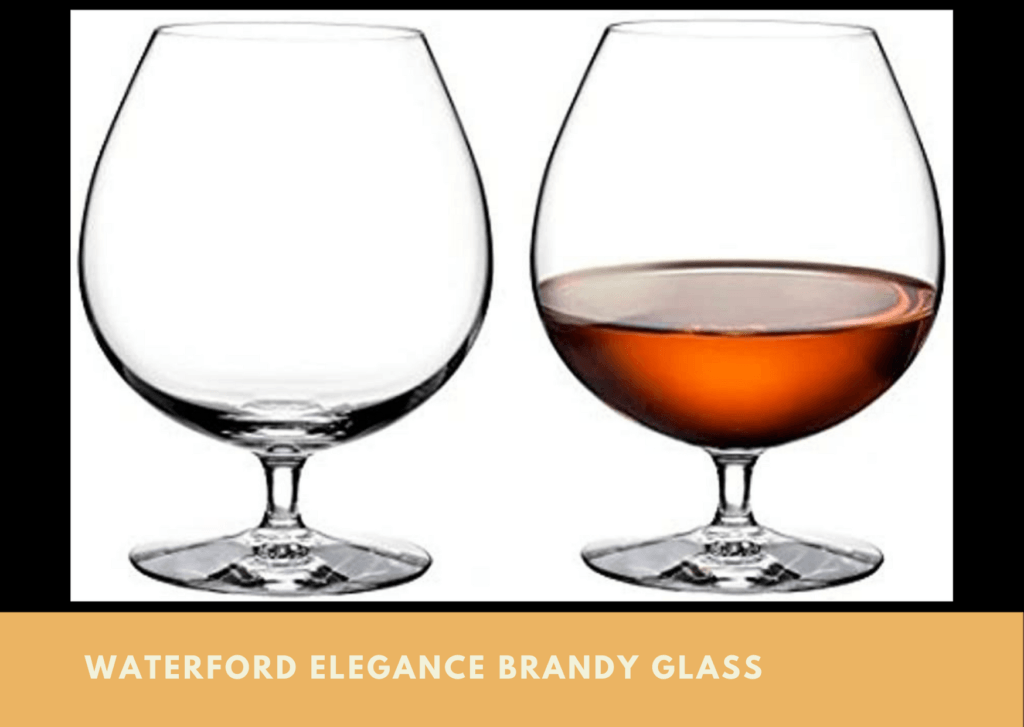 Waterford Elegance Brady Glass
We are back to the more traditional brandy glass, and these really hit the spot.
If you are looking for quality, then these glasses will deliver, an elegant design from the Waterford Crystal. Known worldwide for their quality you can rest assured you are buying the best crystal brandy glasses, even though they will dent your pocket somewhat.
These are large glasses with a width of 4.5″ and a height of 6″, but still fit into the palm of your hand nicely. If you want your brandy to have the best, then these will do the job.
Set of 2
Waterford Lismore Brandy Glass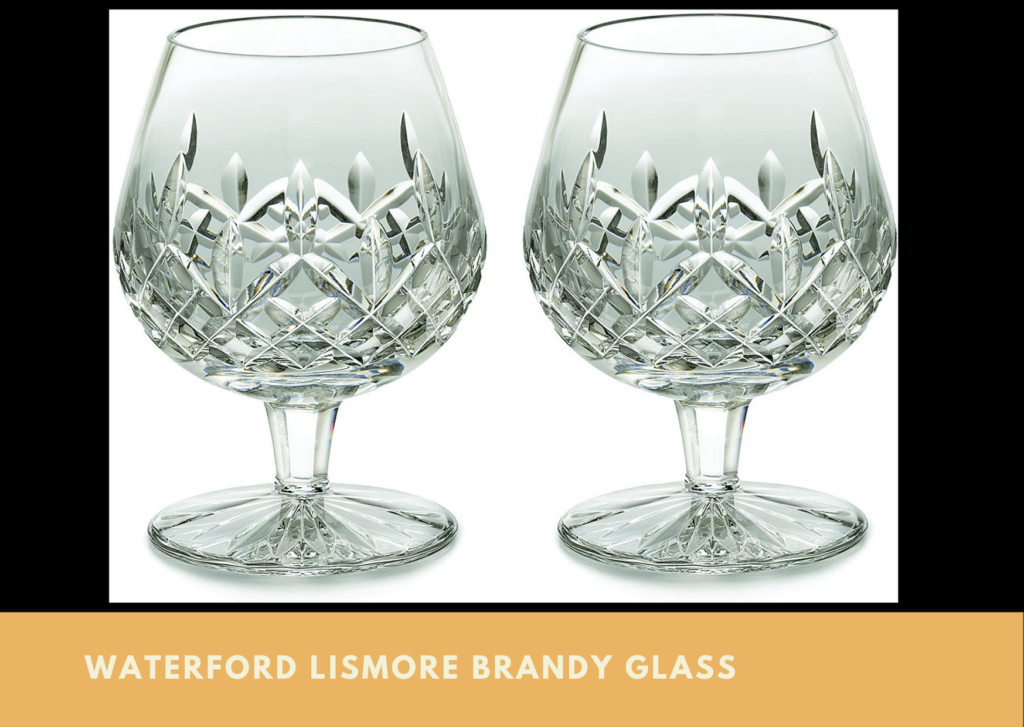 Waterford Lismore Brandy Glass
Sticking with the Waterford brand, here we have an exceptionally beautiful glass, the best of the best for your brandy and cognac. The stunning wedge and diamond cuts on these glasses are the Lismore pattern, which is a design that was launched in 1952 and remains the only pattern left from that period.
The shape is a traditional one with a deep bowl, short stem and flat base, the cut pattern just makes these exquisite. There is one little problem, though, the price is pretty exquisite too.
The bowl is 2.5″ at its widest point and the glass stands a little over 5″ with a capacity of 12oz, so a nice size that will sit in your hand nicely.
Set of 2
Mosscoff Copper Brandy Glasses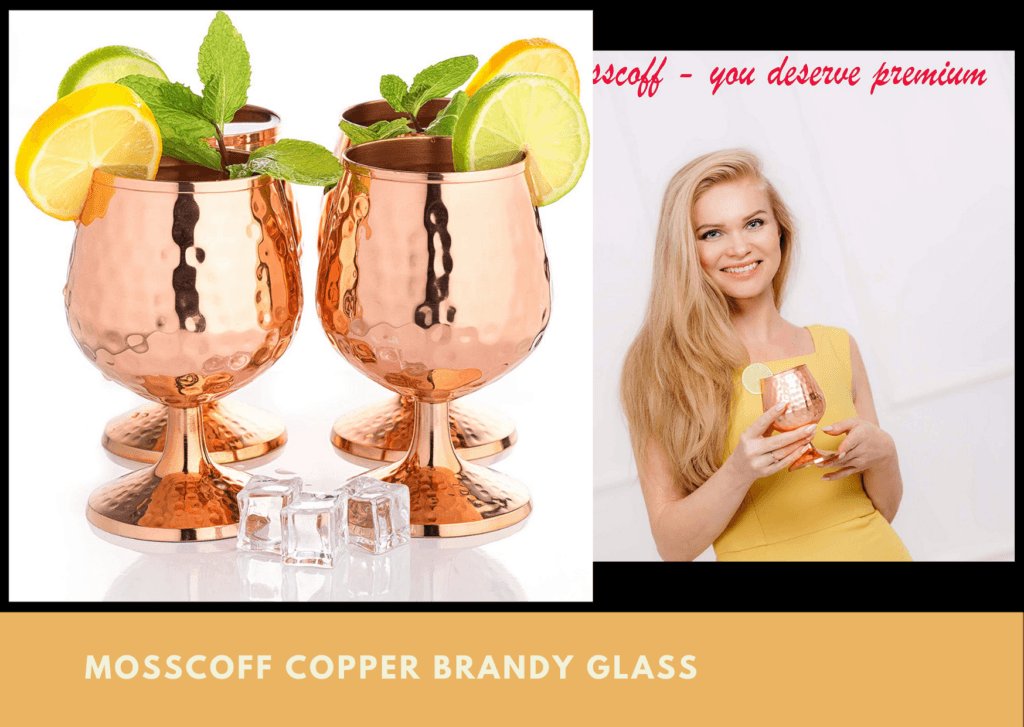 Technically they are not glasses, maybe they are brandy goblets, although traditional in their design, they are not traditional in the material used, which is copper.
They do look good and they are not going to crack or smash like glass can, so could be more sustainable long term. They are hand crafted, which means no two copper brandy goblets are the same, which is kind of neat.
The base and stem are made from copper plated brass and unscrew from the main body. Holding 14oz they are a decent size.
Set of 4
Amesser Old Fashion Glasses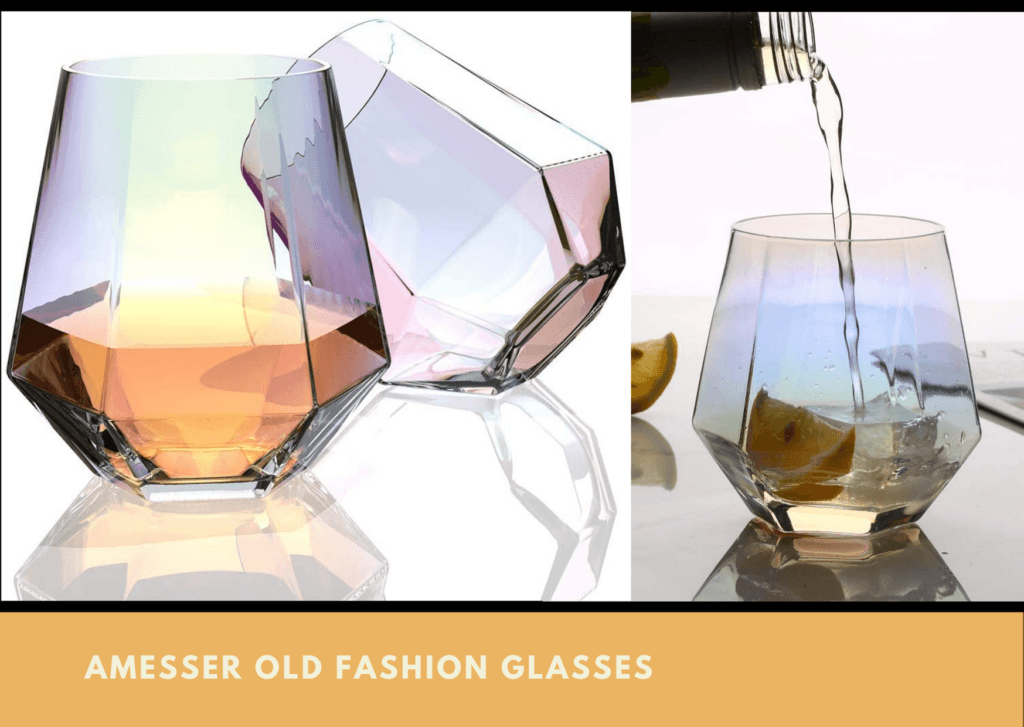 Finishing off with a glass that will dazzle and please anyone that use them. These are anything but old fashion, with their contemporary geometric design and the iridescent effect they just feel so up to date and modern.
The beautiful colors of the rainbow that you see in a soap bubble are the same thing you get from these glasses, changing color from every angle, and they have a lot of angles going on.
The shape is not traditional, and of course they have no stem, which means they can be placed flat or at an angle, adding yet another feature. At 3.6″ at there widest point and 3.7″ high they have a capacity of just under 11 oz and I think you may agree a great glass to finish off with.
Set of 2
The Perfect Brandy Glass
Whether you like the tradition of the deep bowl, narrow mouth and short stem, or you prefer to go for something a little different, then that is the perfect brandy glass.
Although I picked all these glasses for brandy, they can be used for whiskey, port, wine or some cocktails, in fact you can use them for any drink you want to, there is no actual law that says otherwise. That being said, glasses are shaped differently to enhance the drink they were designed for.
I think the ten glasses I picked should give out a favorite to most people, and if you know which one you like best, then let us know below. If however you are not keen on any, then do share your best brandy glasses with us.
Rob is a passionate home bar and pub shed enthusiast with a passion for craft beer. With hands-on experience in designing and building his own home bar, Rob shares his knowledge, tips, and inspiration to help fellow enthusiasts create their own perfect space. Alongside the world of home bars and pub sheds, Rob also explores the diverse and exciting realm of craft beer, providing honest reviews to help you discover your next favorite brew. Join Rob on a journey of flavor, design, and craftsmanship right here on Home Bar Kit.