Every bar should have a set of martini glasses, there is no debate here, they are a sophisticated glass that serve a sophisticated drink. We all know the classic v shaped conical glass with the thin stem, filled with a vodka martini shaken and not stirred for Mr Bond himself.
Things have moved on though and there are many other weird and wonderful designs available to choose from. There are some really cool martini glasses to choose from, but do they beat the classic glass on looks and functionality.
Martini
The original martini drink was a mix of gin and vermouth, which later would be garnished with an olive or a twist of lemon. The ratios of the mix differed over time 2:1 of gin and vermouth supposedly being the original mix, but a varied ratio as time moved on.
A few different types of martini that we now know.
Vodka Martini
As the name suggests this drink is made with vodka instead of gin and mixed with a dry vermouth and served straight up or garnished if required, olives being the most popular choice.
Dirty Martini
Made in the normal way with some olive juice or brine and garnished with an olive or two.
Smoky Martini
This one might be a little controversial, but it may be the best one you have tasted. Drop the vermouth and replace with scotch whiskey.
Espresso Martini
Vodka, coffee liqueur and espresso make an interesting drink and one that has gathered a lot of popularity over the years.
Some might say that a lot of concoctions that call themselves martinis are not actually martinis at all, but we won't go into that here.
Such a popular drink deserved its own glass and the classic martini glass served the drink well with its beautiful slender look. It seems that the slender look is not for all though, and just like new martini recipes have exploded, so have designs of the glasses to put them in.
I have my top picks, not in any particular order of preference, just a selection of great looking glasses that I think will serve your martinis well, however you make them.
Add some of these glasses to your home bar glass collection.
Dragon Stemless Martini Glass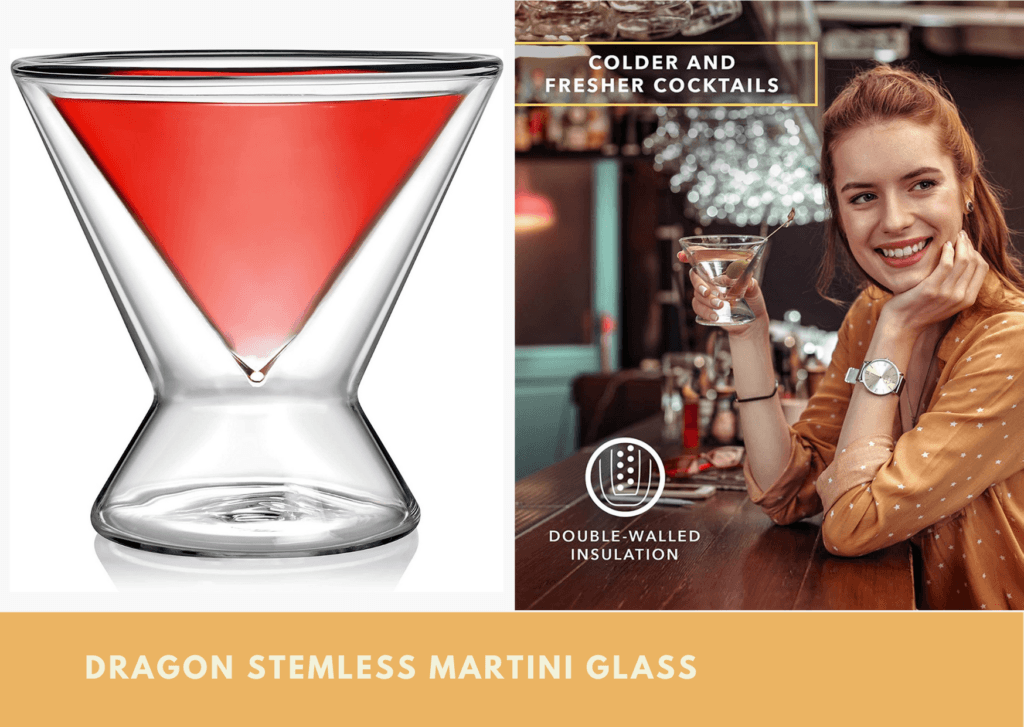 These are good-looking glasses and have kept the classic v shaped top which has become associated with martinis. The slender stem has been chopped for a stouter base making them a sturdy glass, but changing the look considerably.
These are double walled insulated which lends to keeping a cold drink cold for longer, which is a good thing. With a 7 oz capacity these glasses are also ideal for other small cocktails and liquors.
I like them, they look great and they have been designed with the thought of keeping the drink they hold cold, just like the original design. Dragon Glassware have some pretty funky designs and these are up there with the best, a definite contender for your next martini glass set.
Set of 2
---
JoyJolt Carre Martini Glass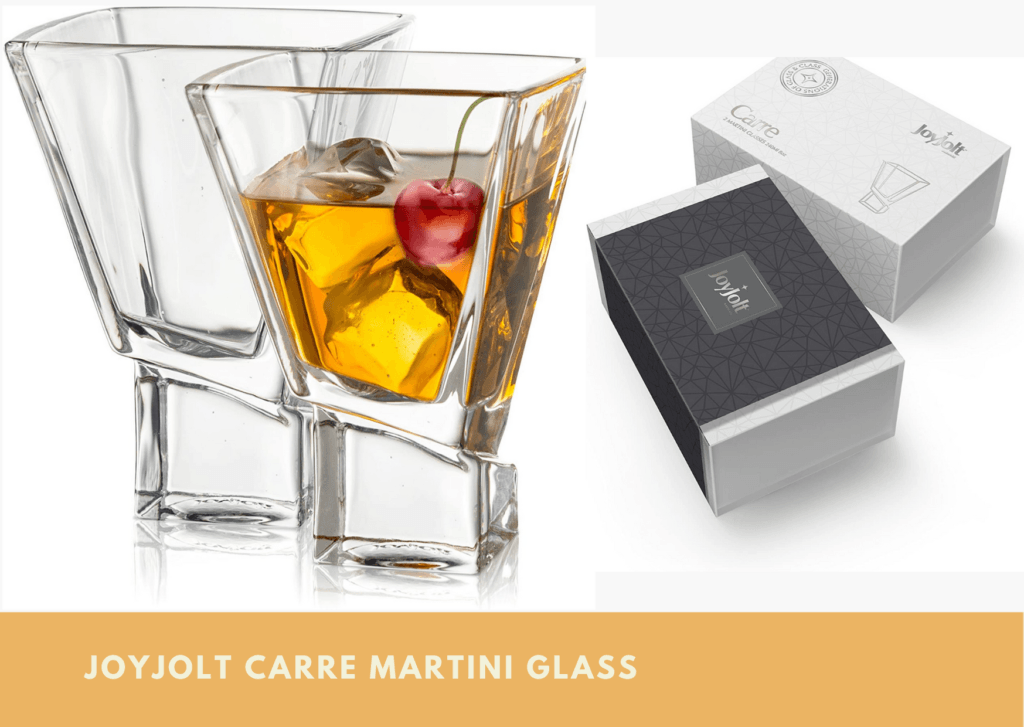 A very cool and contemporary look, a square, handmade and a strong looking glass, that boasts top quality materials, that the company explain as virtually indestructible. Carre is a design range that includes shot glasses and whiskey glasses, so you could have a matching range.
These have a larger vessel being able to hold 8 oz of your favorite martini mix and the base is strong and sturdy keeping your drink safe.
These are a design I like, contemporary and different being of square design, but hold a certain elegance too. The offset top to bottom of the glass is a neat look, again a definite contender for your home bar.
Set of 2
---
Mitbak Martini Glass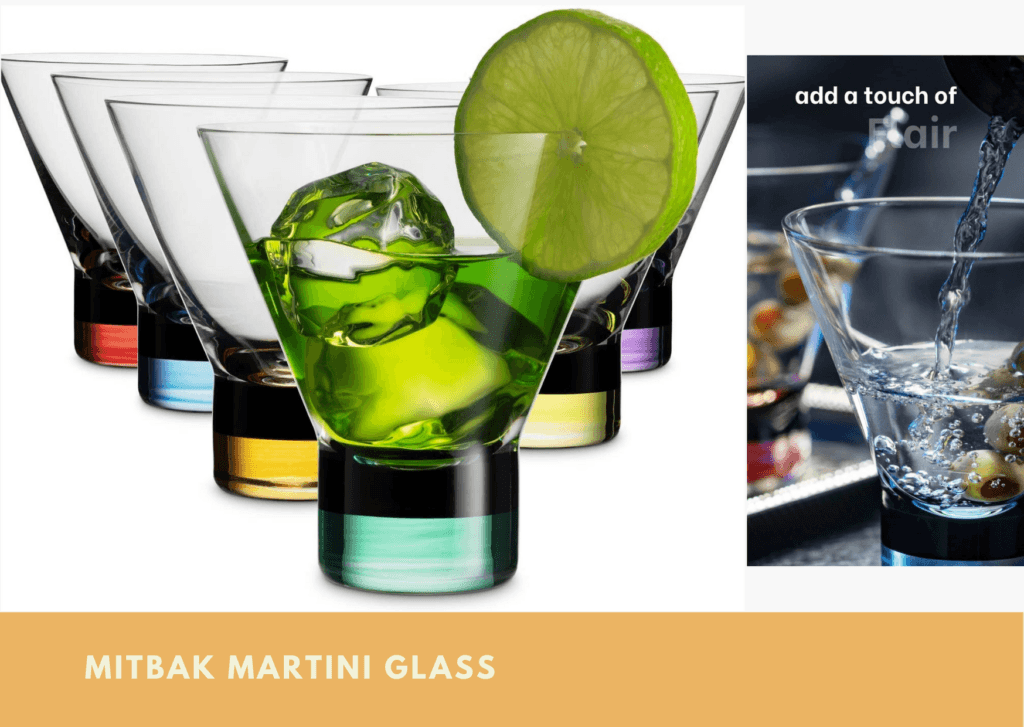 Another looker, these glasses are a bit of an all-rounder, suggested as being as useful in the kitchen as at the bar because they can be used as dessert glasses. I guess many glasses can be, but these have got that kind of look to them. Again can be used for other small cocktails and drinks holding 8 oz of your favorite tipple.
Keeping the traditional round shape on top, they have a short solid base that incorporates a little color, having a black band and then a color band to brighten up any bar top. You will also know which drink is yours by the color band around the base.
Having the classic look on top, but with a modern twist, these glasses are worthy of any bar, and of course, the kitchen for those dessert needs too. Whilst they are not my favorite, they still are a stand out glass.
Set of 6
---
Riedel Vinum Crystal Martini Glass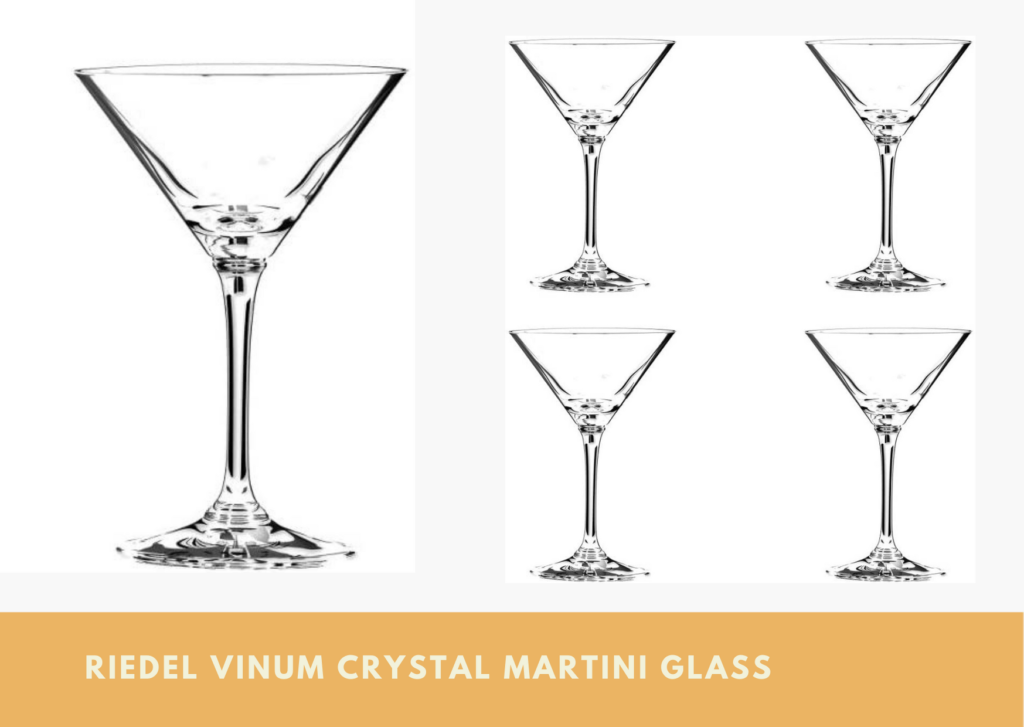 We are going high end with this classic style martini glass, machine blown crystal which oozes quality and sets these aside as a real top end luxury product. Being crystal you will find that these are thinner than normal glass and it would not do to clink them to hard.
Whilst they are beautiful glasses, they are expensive too, and smaller, coming in at 4.6 oz these will not hold a big martini. Like any martini glass they can be used for other cocktail drinks.
I do like them a lot, but then I love the classic shaped martini glass. These are for sure a contender for any bar, but just bear in mind that they may be a little more fragile than other options.
Set of 4
---
RSVP Endurance Stainless Steel Martini Glass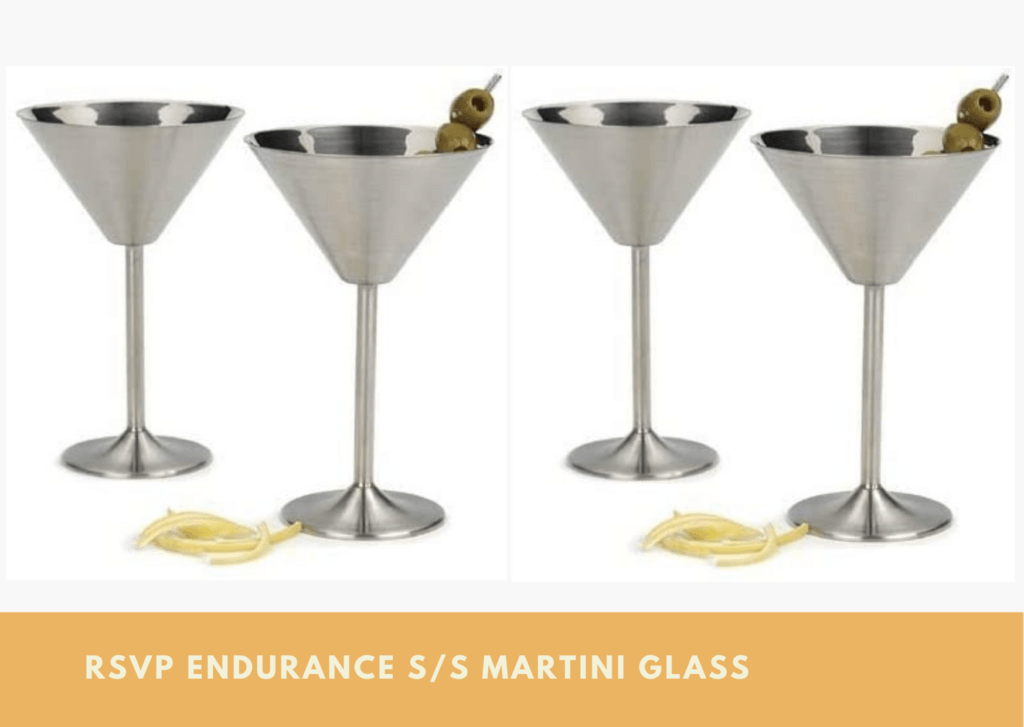 How do we feel about stainless steel glasses, well to begin with they are not actually glasses because they are not made of glass, that is if I was being pedantic. They may not be glass, but at least you can't smash them, you could dent them and scratch them, but not smash them.
If you have not drank out of stainless steel vessel before, then you may be skeptical of buying them, but although it seems weird at first, you do get used to it and they even have another advantage over glass. Stainless steel seems to keep the drink colder for longer. They keep your drinks colder and you won't smash them, what more do you want from your martini vessel.
I do like them and they do have the classic look, but many people just like to drink their martinis from a glass, it's that simple.
Set of 4
---
Orrefors Intermezzo Martini Glass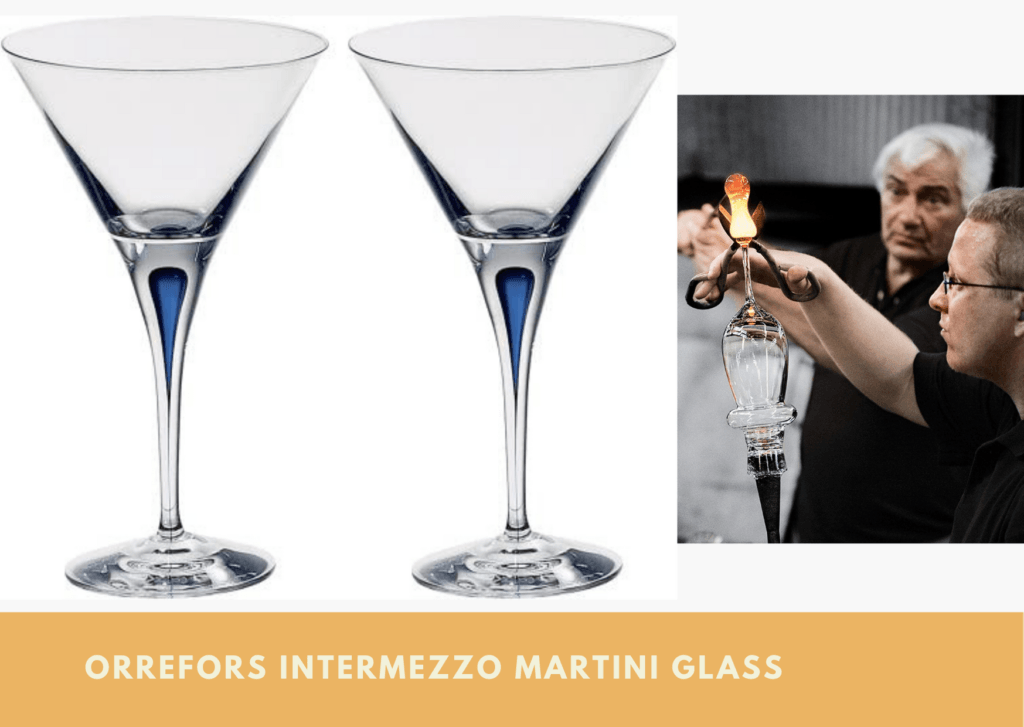 I think the only word to describe this glass design is stunning. So elegant and beautiful these glasses scream quality and just look incredible. The classic shape top runs seamlessly into the elegant traditional style stem, but at the same time looks like a completely different component.
The blue drop that sits in the stem just adds even more finesse and the only ordinary part of this glass is the base. They are crafted in Sweden using traditional glassblowing techniques into a crystal of loveliness. They are a decent size holding 7 oz and also a decent price being a little on the expensive side.
I think you can tell that I love these beauties, they really are a work of art, and of course they would be the center piece of any bar. Like the Riedel Vinum crystal glasses I think these too could be fragile, but worth buying all the same.
---
Deco Unbreakable Martini Glass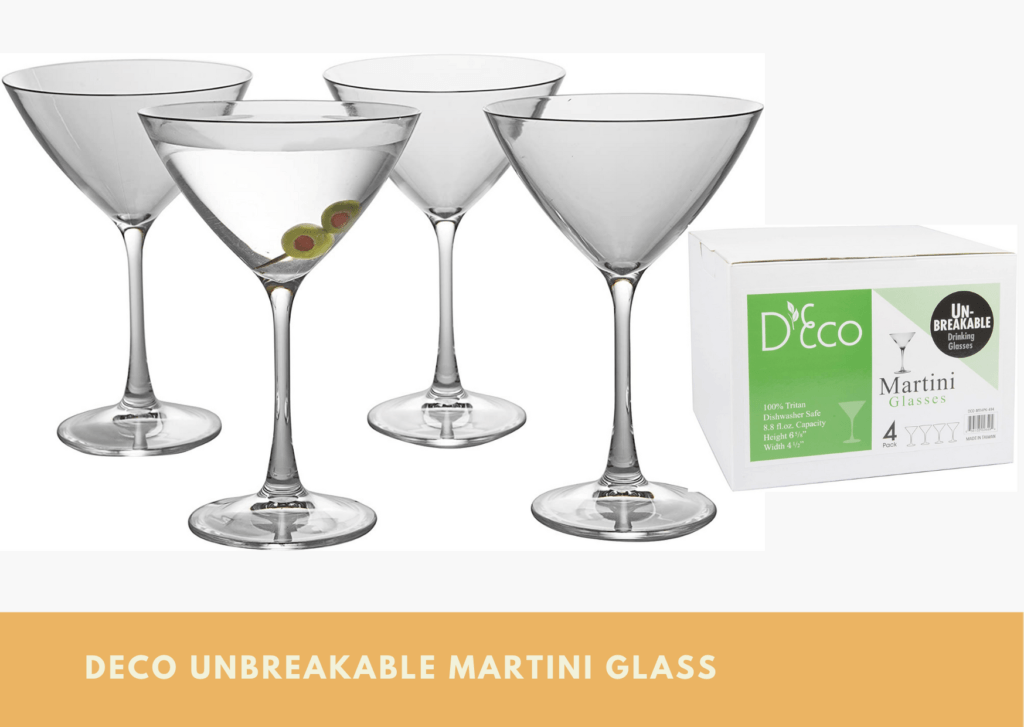 If you are taking your martini outside to enjoy the sunshine, or indeed if your home bar is an outside bar, then these might be the glass to consider. They are made from Tritan, which is a plastic type material that looks like glass.
These are the traditional design and really do look like glass, very clear and are supposed to stay that way, even after many washes.
They say that they are like glass until you drop them, because unlike glass they will not shatter or crack. In fact, they claim they will never break, I'm not sure you should say never, someone out there is going to break one, you just know it.
They pack an 8.8 oz capacity, so the largest glass so far. A decent looking glass that is practical especially for outdoors, plus they will be kind to your pocket, so they have to be considered.
Set of 4
---
Dragon Glassware Martini Glass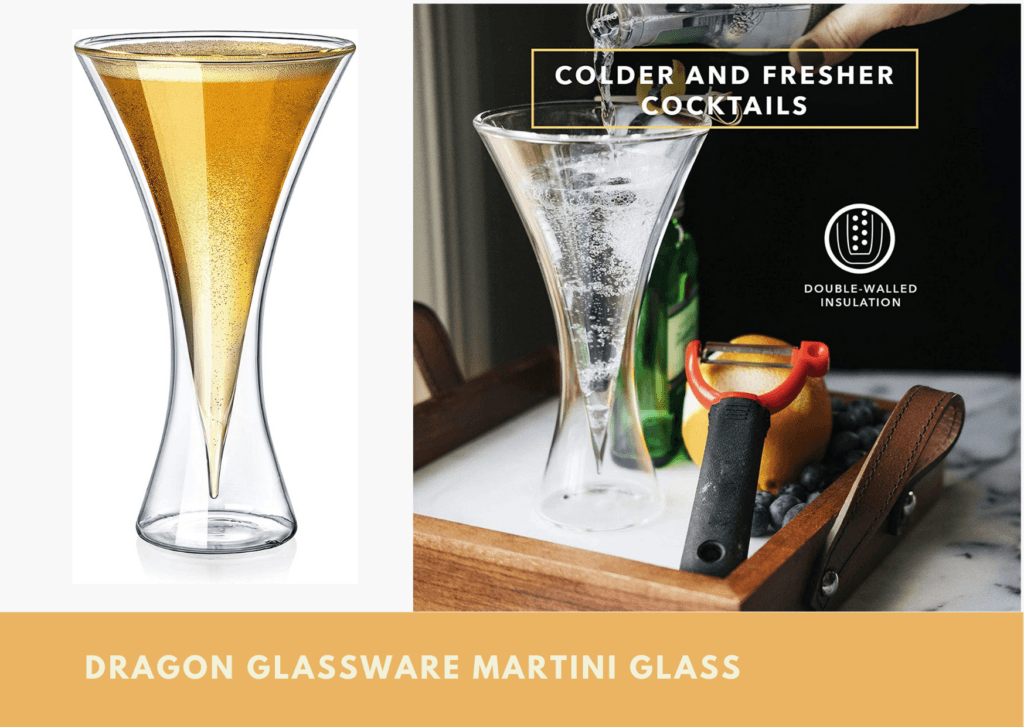 Before I say anything about this glass, I have a little confession, so please forgive me. This is not marketed as a martini glass, but a cocktail glass, and as a martini is a cocktail I thought I would bend the rules just a little. Apart from that I just had to include this work of art, it is just so cool.
It sits there like a top-heavy hour glass and takes the drink deep down to a point, a beautiful thing. It keeps it cool with its double insulated walls and packs a punch at an 8 oz capacity.
A very distinctive glass that has to be at the top end of choices, in fact I am going to say it. Yes, these are my favorite martini glasses, even though they are cocktail glasses, oops.
Set of 2
---
Lemonsoda Stemless Martini Glass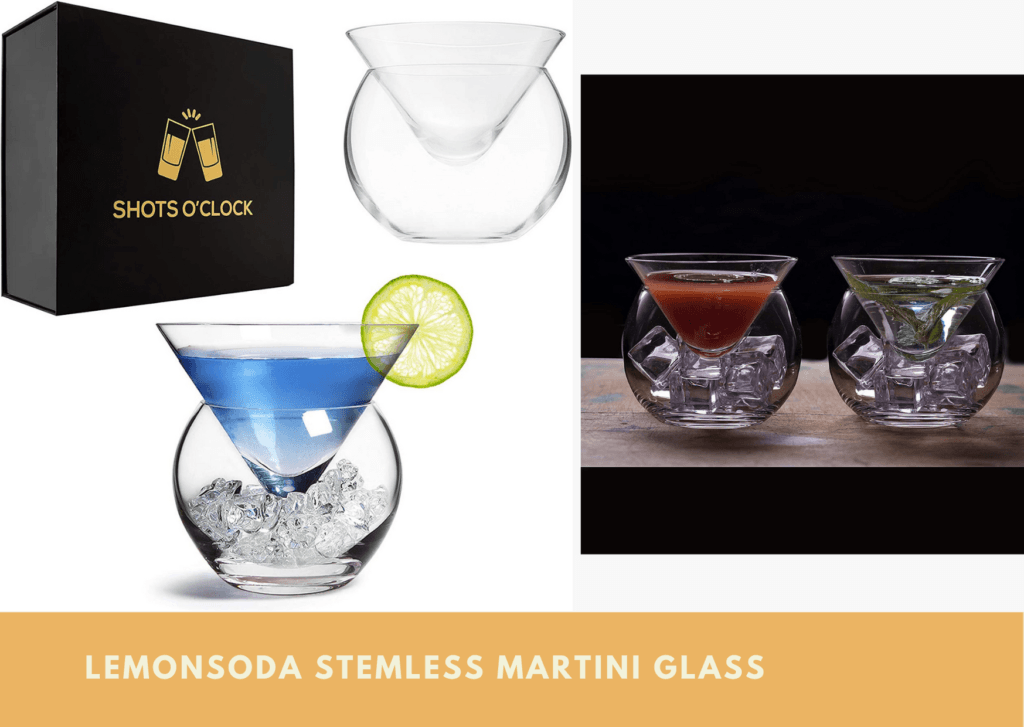 I've gone nuts with this one, have you ever seen anything like it before?
It's great though, a martini glass with its own ice bucket, now your cocktail is going to stay cold, and look impressive too. Fill your glass bowl with ice, pop in your glass and pour your favorite martini mix, a novel way of serving a drink.
Is that what it is though, a novelty, I am a little worried about the glass having no base, which means it has to always be rested in the bowl. You literally cannot put that glass down unless you rest it in the bowl, and then you have glass on glass, so make sure you rest it down gently.
I like it, but wonder how practical it will be, its a great idea and looks good too, I just don't know.
Set of 2
---
Artland Midnight Rouge Martini Glass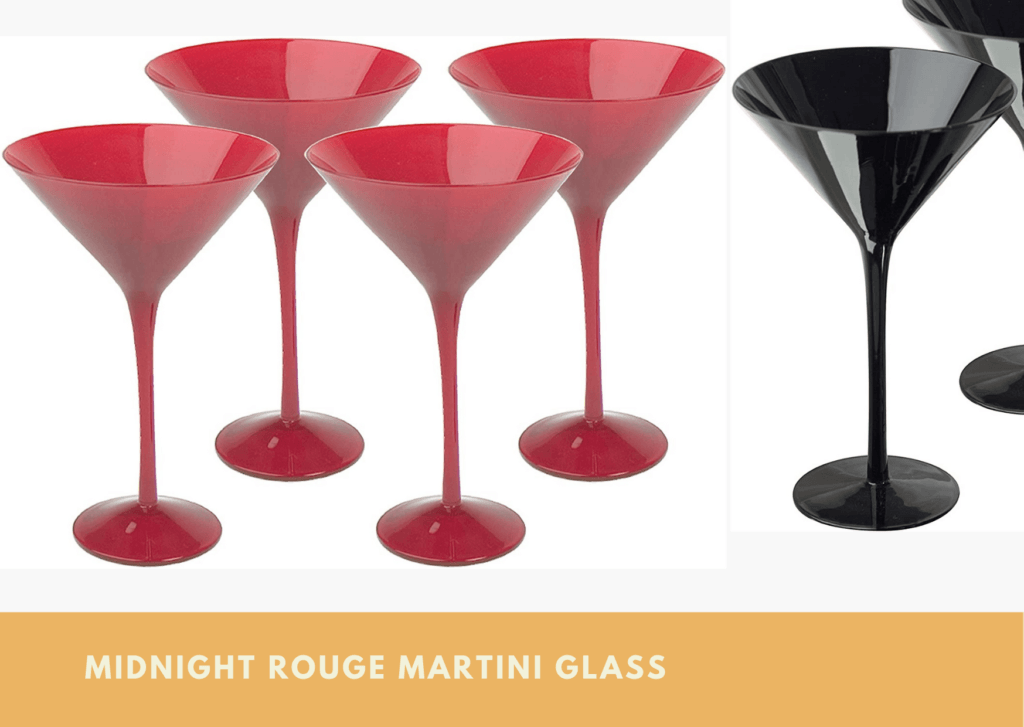 Finish off with a bit of glamour, these midnight rouge glasses add color and sparkle to any evening. Design wise they are the simple traditional design we all know, but add the red and you have ramped up the glamour.
At 7 oz capacity they hold a decent amount of drink and are of a good quality. These glasses are available in midnight black too, and available in both colors in 6 other designs including flute and wine.
I like them in the rouge and black, but like other glasses of this design they can be fragile, so washing them should be a gentle experience.
Set of 4
---
Best Martini Glasses
I am not saying that these are the best martini glasses you will ever find, but they are a good selection of different styles and there is probably something there for every ones taste. Whether you prefer crystal which will normally be thinner than regular glass, and more expensive too, or you prefer ordinary glass, I am sure you will enjoy at least one of these sets.
The plastic glasses are a good bet if you entertain outdoors a lot, but I would say they would be worth getting as well as owning a glass set too.
There is a certain satisfaction in having the right glass for the right drink and the traditional martini glass can twin with other cocktails too. As we have seen though, the new designs which are really cool martini glasses can also lend themselves to other drinks.
My favorite has to be number 8 the Dragon Glassware martini glass (which is not strictly a martini glass), I just love the hourglass design that shows the drink going down to a point. I still would have to stick with the traditional type design though, so having both is the best scenario.
What are your favorites, or have you found some other designs that you prefer to those above, share your favorite design below and why you like them.