A slogan for your home bar is by no means a must, but it is a great thing to include. Just like a bar sign, which in my opinion is a must, a slogan can add fun to your home bar. Or you can add a touch of coolness too. So what do I mean by best home bar slogans and more?
Whatever slogan you choose for your home bar can be used in many forms. As part of your bar sign, like a tagline. Made up as a fancy plaque, or on a poster, or even beer mats. Have your slogan printed on a T-shirt, what is cooler than that.
Best Home Bar Slogans And More
The cool thing is, the best bar slogan is the one you like the most. And it doesn't have to stop at one, there is no limit to the amount of slogans you can add to your home bar. Use an existing slogan off the shelf or make up your own. It can be cool, sarcastic or just down right funny, the skies the limit. Have fun with it and enjoy the ride.
There are many ways to use a slogan for your home bar. Here are some great ideas I have put together to inspire you.
**As an Amazon Associate, I earn from qualifying purchases with no extra cost to you.
A Sign With A Tagline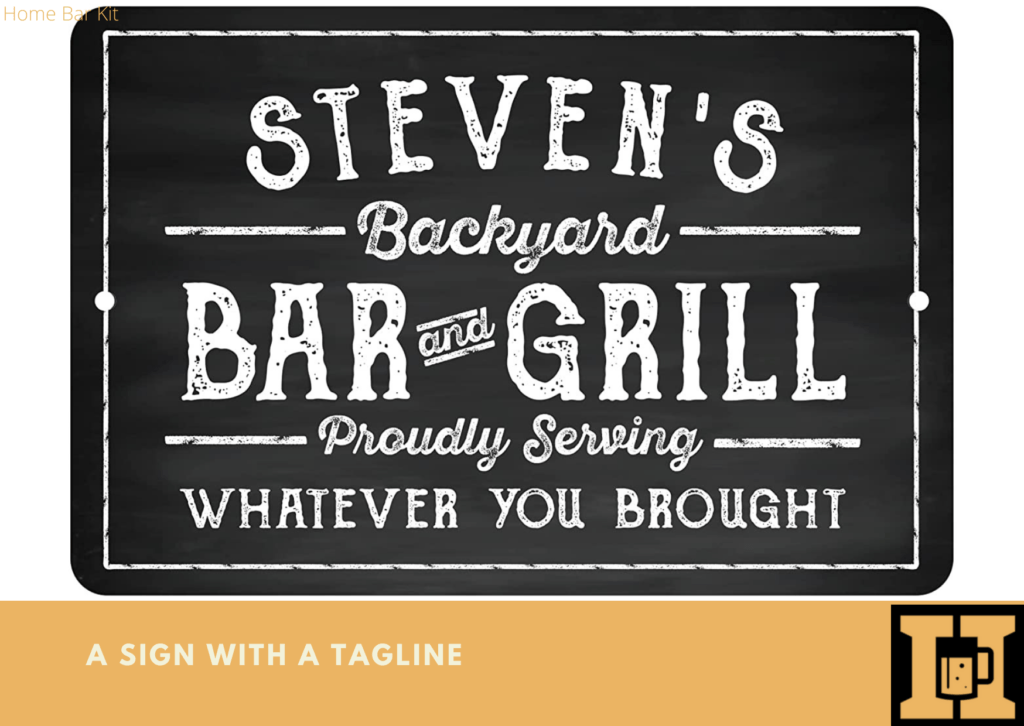 These will normally fall into the personalised bracket. A sign that you provide the name for and it will be produced. This means your bar sign is unique to you and your bar.
Normally there is room to add a tagline, whether that be a funny one or something personal to you. A bar sign can come in many forms, including wood, metal or a neon light design.
The bar sign in the image is a metal personalised sign Steven's Backyard Bar and Grill with a tagline Proudly Serving Whatever You Brought. It comes in four sizes with the smallest being 4 x 6 inches (10 x 15 cm) and the largest 12 x 18 inches (30 x 45 cm). With pre drilled holes it is ready to hang straight from the packaging.
A bar sign with a tagline is only a simple order a way and there is a great selection to choose from.
Bar Slogan Signs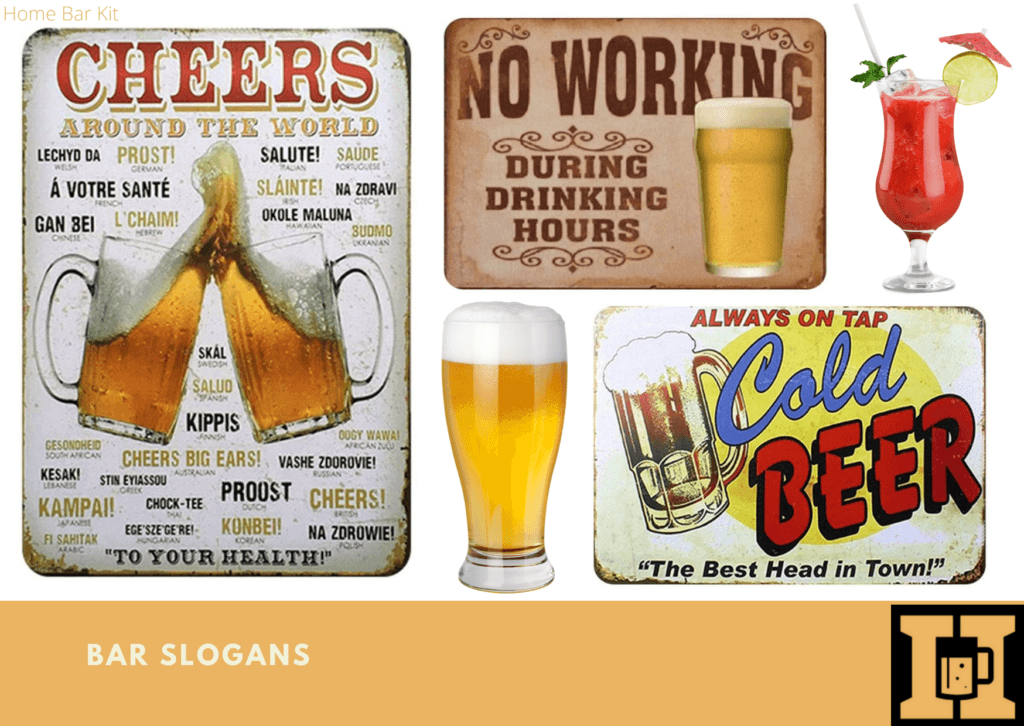 If your bar already has a name and you would prefer a separate slogan, maybe more than one even. Then there are many to choose from, and they come in many shapes and sizes.
The ones in the image are just a few, first, No Working During Drinking Hours, simple and funny. Second, Always On Tap – Cold Beer – The Best Head In Town, a statement with a little funny twist. Finally, Cheers Around The World, a great fun information bar sign.
This is where we can really have fun with our home bar. These kind of signs look good and have cool and funny messages.
Life Happens, Beer Helps.
Your Making Too Many Sober Decisions.
Whiskey Wednesday: It's Like Taco Tuesday But For Badasses.
Good Times, Good Friends, Good Beer.
A Great Place To Be Stranded.
Beauty Is In The Eye Of The Beer Holder.
The Place To Meet Neighbors and Friends.
Time To Wine Down.
IPA Lot When I Drink Beer.
We Have An Open Door Policy. Bring Beer And We'll Open The Door.
Everything Happens For Riesling.
Vodka May Not Be The Answer, But It's Worth A Shot.
Don't Worry Be Hoppy.
Love The Wine Your With.
Time Flies When Your Having Rum.
You Look Like I Need Another Drink.
The list could go on and on, there are just so many slogans to choose from. Or make up your own slogan and get it put on a sign.
Home Bar T-Shirts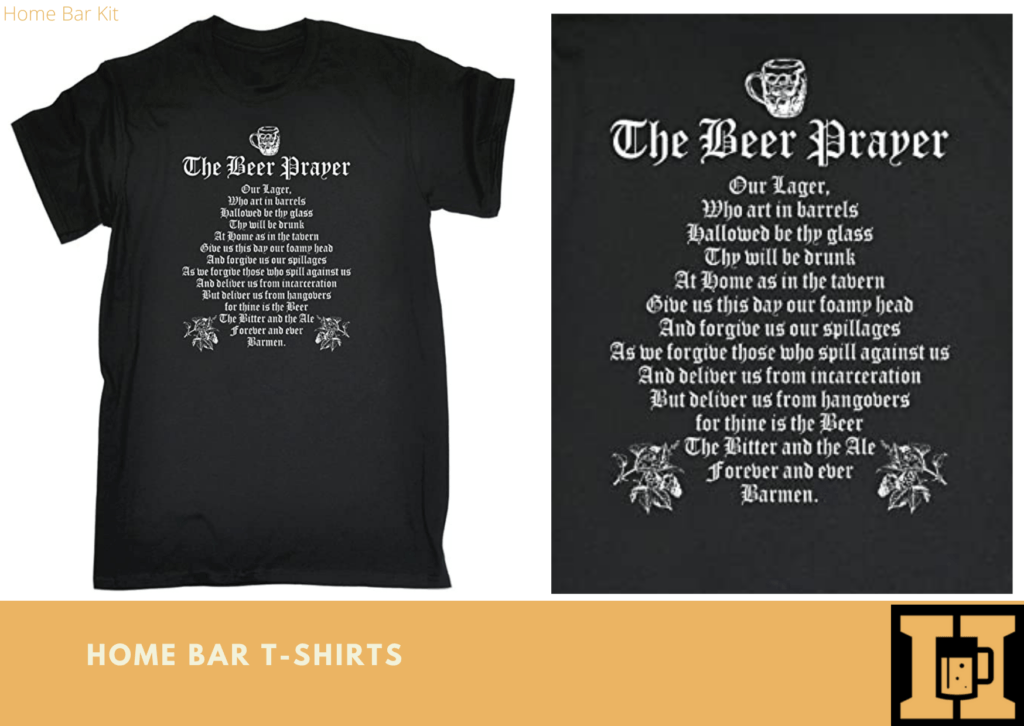 Having a T-shirt with a bar related slogan goes well with running your own home bar. As well as having some funny signs, why not wear a slogan or two. Again there are plenty to choose from, but if your favorite is not on a T-shirt, then just get one printed.
The one in the image is The Beer Prayer, a humorous take on the Lords prayer all on a T-shirt. A great one to wear at your home bar when you have friends round. A few others I found that are good fun are Back To The Boozer, a take on the film Back To The Future.
Beer Will Change The World. I don't Know How But It Will, another good one. Also According To Chemistry, Alcohol Is A Solution. There are plenty to choose from, however making up your own slogan for a T-shirt makes it personal to you.
Slogans On Coasters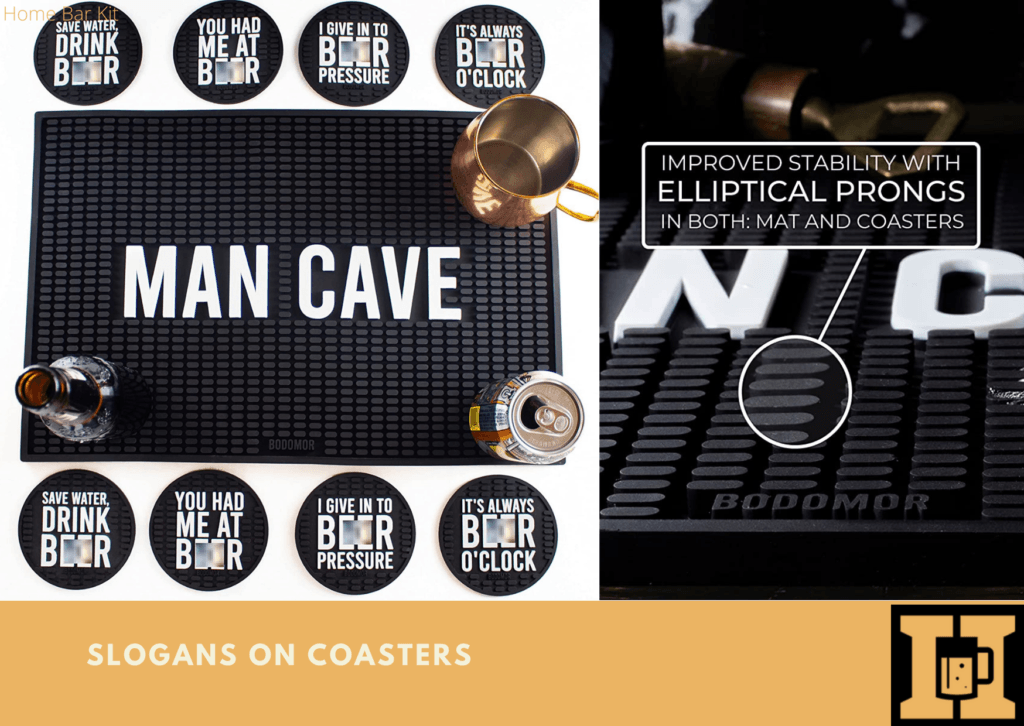 We use coasters or beer mats in our home bars, so why not make them more interesting. Using slogans on coasters is a fun way to serve your drinks. They don't even have to be drink related, they could be funny pictures, sports related or just simple statements.
The one featured is a large beer mat with a set of eight coasters with slogans like Save Water Drink Beer and You Had Me At Beer. The are strong and stable with elliptical prongs on both mat and coasters. Just like the bar signs and T-shirts there are a variety to choose from. However it is possible also to get coasters you can personalise.
Slogans On Beer Glasses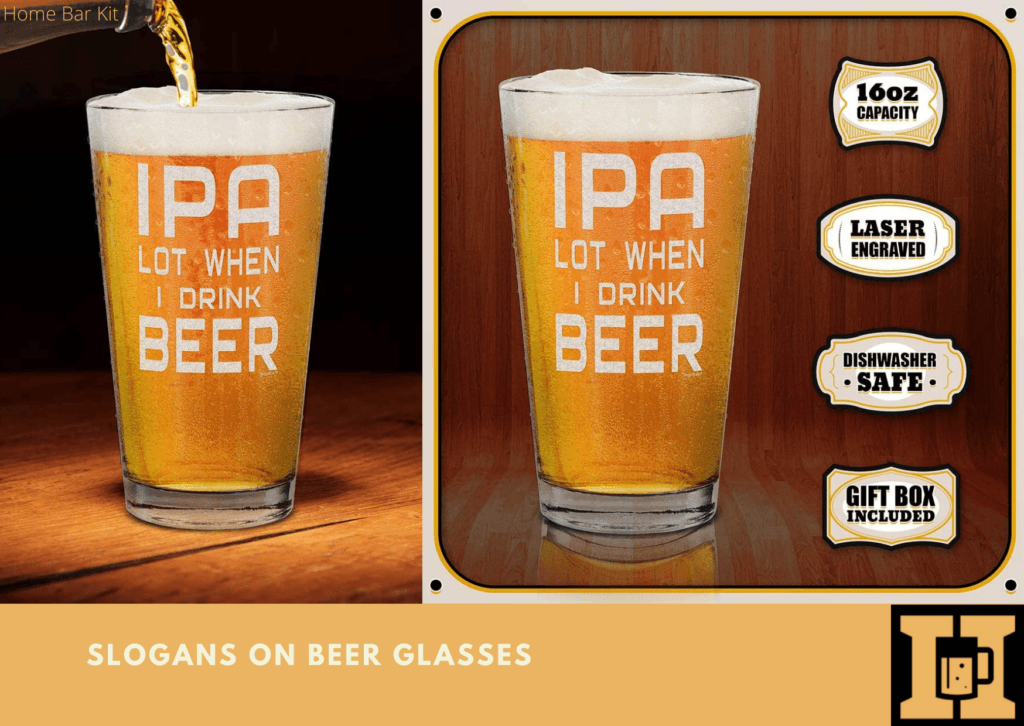 This is a real fun one to have at your home bar. Glasses with slogans on them are a great idea to share with your family and friends. It can be any type of glass, shot, beer or cocktail, it will work on all of them.
The featured one is the very funny IPA Lot When I Drink Beer. But there are many more like, That's What I Do, I Drink Beer And I Know Things. Also, I Only Drink Beer Three Days A Week Yesterday, Today And Tomorrow. Although I have featured a funny beer glass, you can get funny shot glasses, cocktail glasses or liquors glasses.
A great way to put a little fun into your home bar.
Final Thoughts
Decorating your home bar with slogans is a great fun thing to do. Whether it is with coasters, signs, glasses or on a T-shirt, its just a cool thing to do. A statement with a play on words works well. Likewise a funny joke works too.
Also they don't have to be drink related, what about sports Baseball Is 90% Mental. The Other Half Is Physical. Or Golf, The Classy Way To Avoid Responsibilities. How about motivational like Happiness Is Not By Chance, But By Choice, or You Don't Come This Far To Only Come This Far.
Whatever your interest beyond your home bar, add a little fun with some related slogans. You will enjoy it, your family and friends will enjoy it. You could come up with some new ones between you, have a slogan brainstorming night at your home bar.