A bar top can be a busy place and keeping the surface clean and drip free can be a challenge. The busier the bar, the more the bar surface suffers and it can soon become saturated with beer and other drinks. It can be a constant job mopping up drips and spills.
A home bar is obviously not as busy as a regular bar, but at times it could become busy. A party or gathering, watching the game with friends and your home bar will be in constant use. How do you keep spills to a minimum?
The obvious choice is to place some bar mats on your bar, these are designed to collect drips and small spills from drinks. This will keep you bar surface clean and dry, sounds good right, but so they actually work?
Do Bar Mats Work?
There are good bar mats and bad bar mats and depending on your choice will determine how well they work. A good quality bar mat will help keep you bar top clean and dry for a good few hours. This will let you focus on serving your guests drinks rather than constantly wiping the bar top.
A poor quality mat might hold on for an hour, but then be saturated and become useless. It will then become more of a hindrance than a help, putting you back on cloth duties.
The Cleanest Bar Top
We don't have to strive for the cleanest bar top in the world ( I am not sure whether there is an actual award for that), but it is good practice to keep a clean bar surface.
There is nothing worse than going to a bar and ending up with wet and sticky sleeves. We have all done it, lean your lower arms or elbows on the bar surface and find you have just put them in a puddle of beer.
It is annoying and can spoil clothes, or at the very least cost you in dry cleaning bills. Although our home bars are less likely to be that bad, we still need to keep them clean and dry. Who wants their guests experiencing the dreaded wet sleeve horror? None of us want that.
The Best Solution
The solution then is to have a good set of bar mats in place to help us keep the bar surface clean and dry. There will still be some minor spills, but these will be easy to deal with. To further help with bar top moisture, use beer mats with your bar mats.
A glass with a cold drink in it can cause condensation to run down the outside of the glass. This creates a ring of liquid on the surface the glass stands on. Every time the glass is picked up, then put down, more liquid gathers. A set of bar mats alongside beer mats is the best solution to keeping our bar tops dry.
It doesn't have to be a big expense to keep our home bar tops dry. I have picked out some great bar mats to combat the dreaded the drips and spills. I will show the not so effective ones first.
Cotton Bar Mat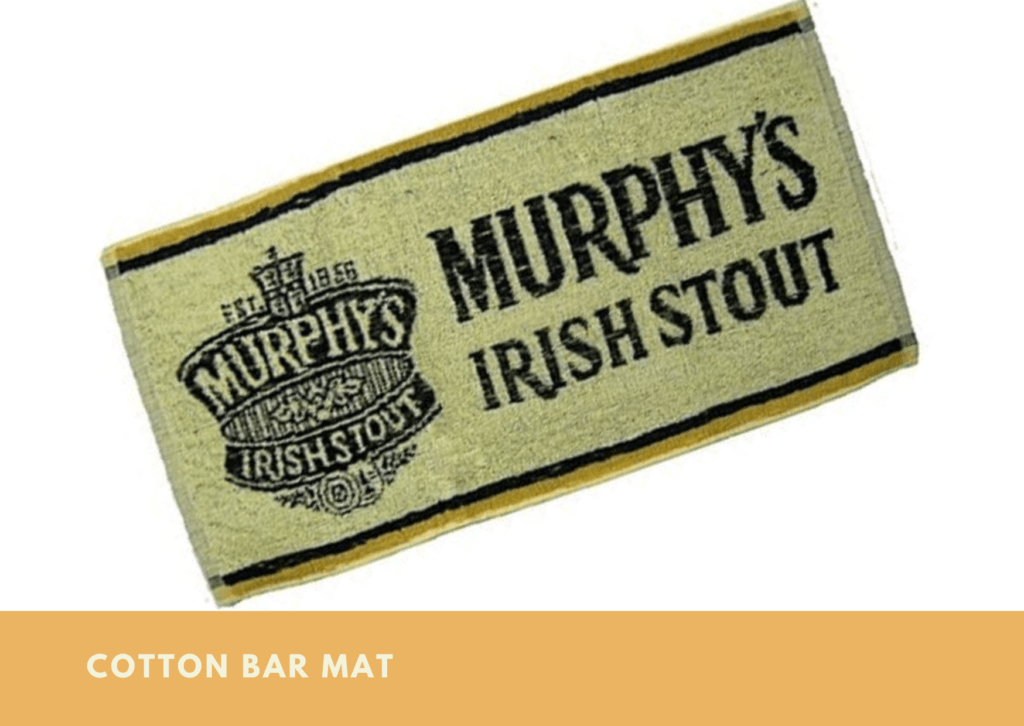 These were a common bar mat, normally supplied by breweries. They would be branded with the name of a beer and placed on the bar to soak up any liquid. Although these do a good job of soaking up drips and spills, they need to be replaced regularly.
There is only so much these can soak up, they are a small towel after all. Once they get wet, they stay wet and quickly become saturated. They are quite cool, but there are more effective mar mats now, also they are quite hard to come by now.
Look cool, but not the best solution for a home bar surface.
Felt Bar Mat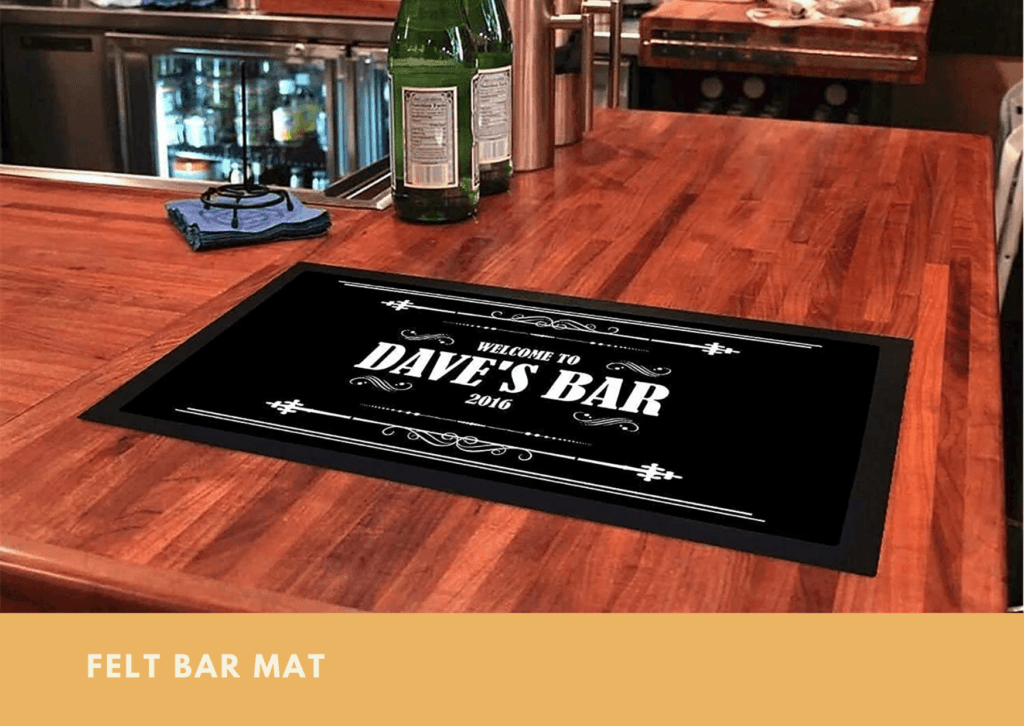 Another not so effective bar mat is the felt mat with a rubber base. Again, these used to be widely in service protecting bar tops everywhere from drips and spills. They are still around, but not so popular, this is because they are not that effective.
Basically, the surface is a short brushed material sitting on a rubber backing. It feels like felt, but is polyester and although will soak up the odd drip, becomes overwhelmed quickly. The fibers are very short and can only deal with the smallest of spills.
Look neat, but become quickly soaked. Now that we have looked at bad beer mat, lets look at the good beer mats.
Rail Bar Mat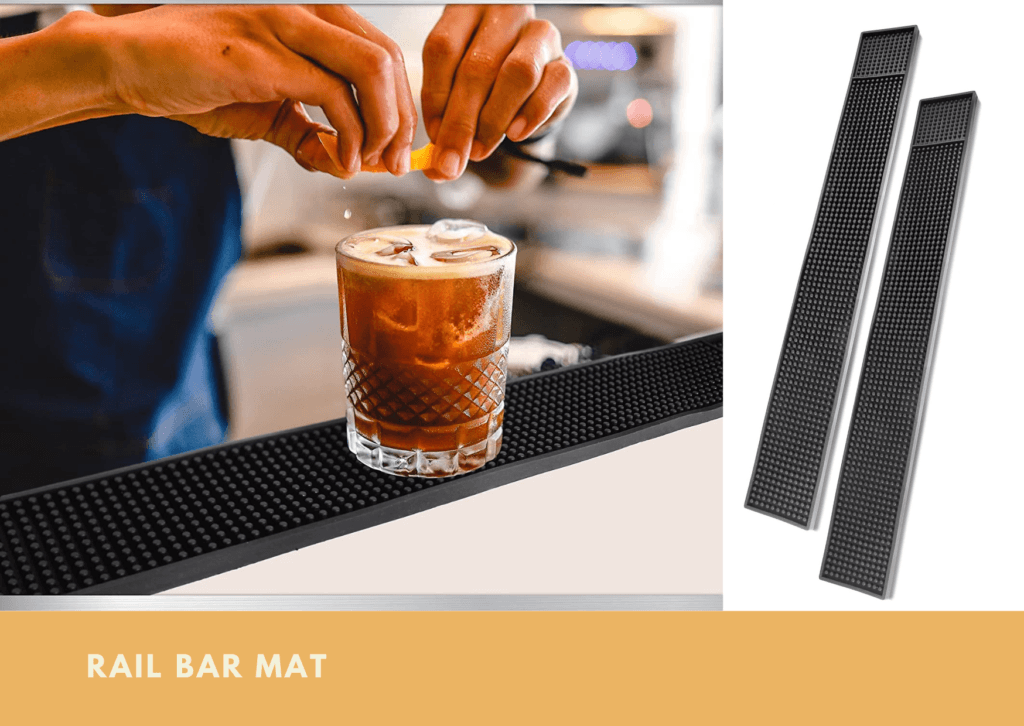 The rail bar mat is designed to sit close to the edge of the bar on the bartenders side. This allows for a glass to be placed on the mat and the drinks prepared. The mat will collect any drips or spills, and when the drink is ready it is passed to the guest, preferably onto another mat.
It is long and narrow with a length of 23.5 inches (59 cm ) and a width of 3.25 inches ( 8 cm ), just the right width for a glass. The length is so several drinks can be prepared at once side by side.
Made from non-toxic rubber, they are safe to use around food and drink, are non-slip on the bar top which protects the glasses. The rubber base is solid with lots of small nipples on top and a raised edge, this allows spills to be collected. They are easily emptied of liquid and rinsed under the tap, ready to go back to work.
Look good on any bar top and serve the purpose they were designed for, a good bar mat see.
Large Bar Mat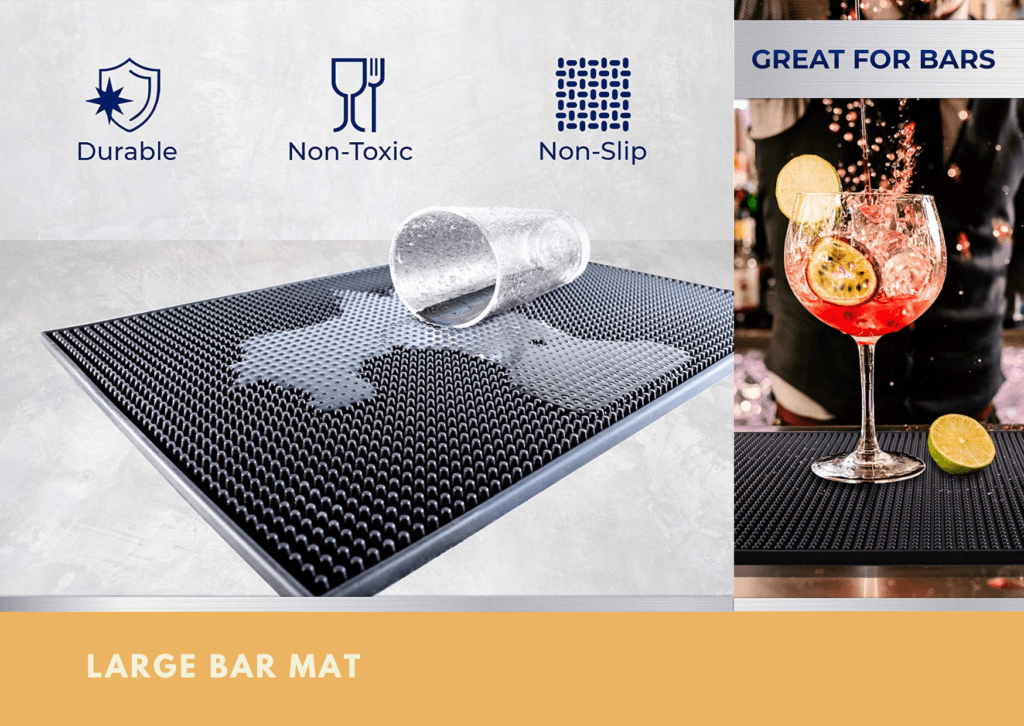 The large bar mat is exactly the same as the rail bar mat in terms of construction and material. How they are different is in their shape and size. Measuring a length of 17.7 inches ( 45 cm ) and a width of 11.8 inches ( 30 cm) these mats are made of the same non-toxic rubber.
These mats are ideal placed on the middle of the bar so they are accessible from both sides. The bartender can easily place a drink on them, and the guest can easily access that drink. Again easy to empty off any spills and run under the tap to clean.
A mat this size can also be put on a drainer to let any washed glasses drain. As, we know its better to let a glass dry naturally than to use a cloth on it.
Bar Mat Set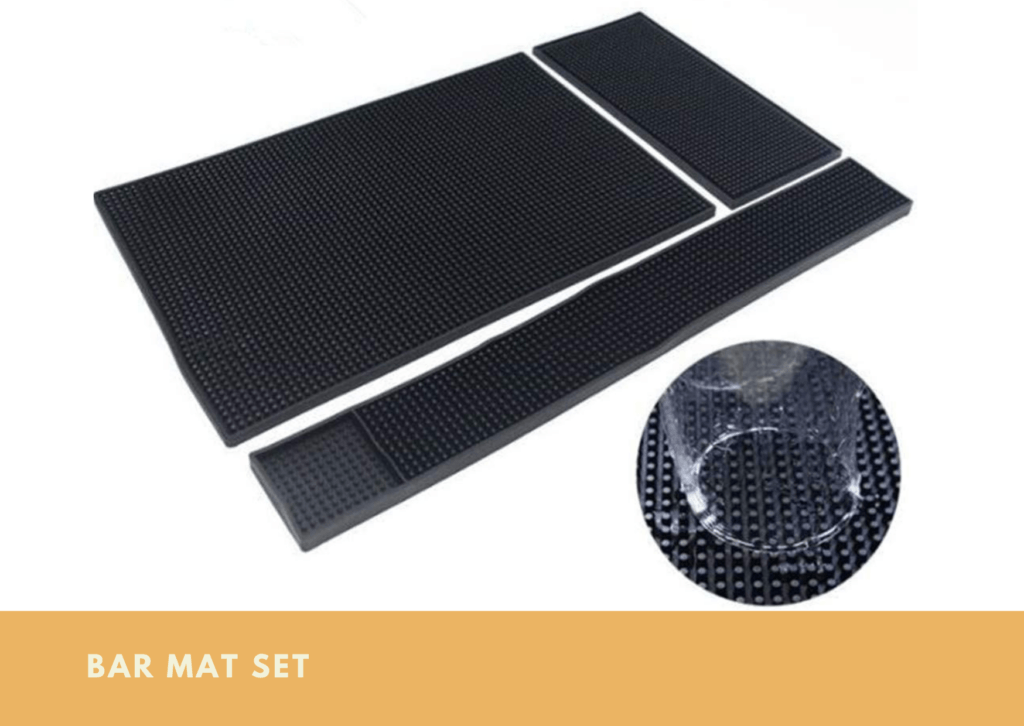 Here we have the same thing, but a set of three, each piece being a different size. There is a rail bar mat measuring 23.5 inches ( 60 cm ) in length by 3 inches ( 7.5 cm ) in width. Also, there is a large mat measuring 18 inches ( 45 cm ) in length by 12 inches ( 30.5 cm ) in width. Then there is a medium size mat measuring 12 inches ( 30.5 cm ) in length by 6 inches ( 15 cm ) in width.
They are of the same construction and material and have all the same features as the other two mentioned. These are also available in other colors, like red and blue if you want to jazz the bar top up a little.
Ideal as a bar mat set for a small home bar.
Novelty Bar Mat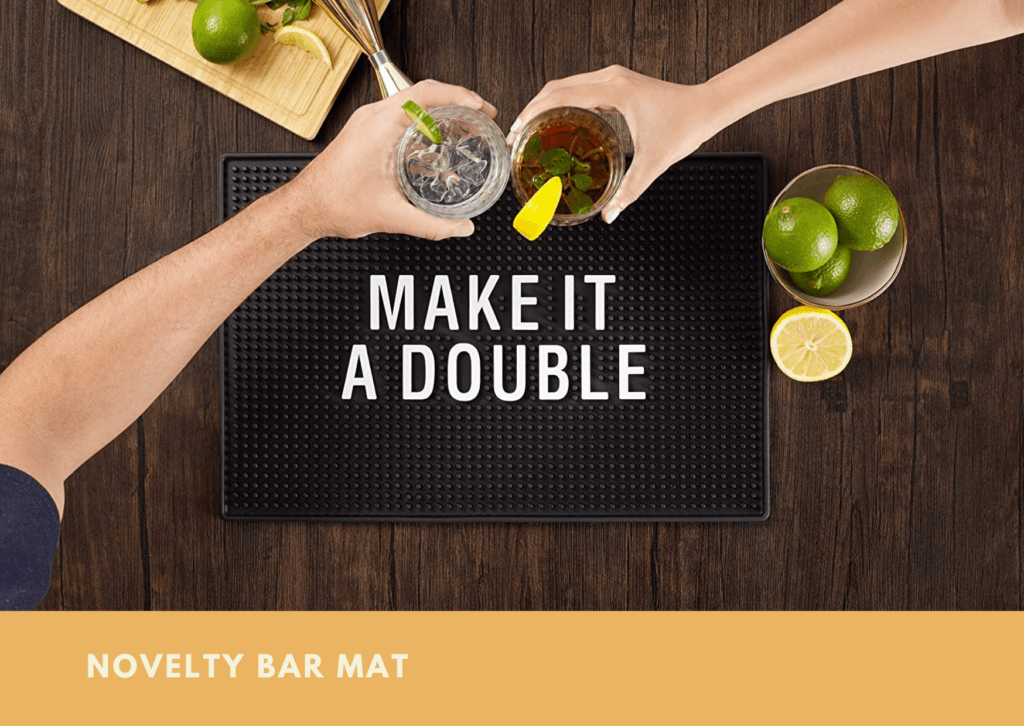 This is the same design again, and the reason is because these are the best bar mats for keeping a bar surface clean and dry. The difference with this mat is that it has a slogan on it 'Make It A Double' and gives that fun factor to the home bar.
There are many slogans available including 'Hit Me With Your Best Shot' or 'Single Or Double'. A normal size for the novelty style bar mat is large at 18 inches ( 45 cm ) in length and 12 inches ( 30 cm ) in width.
A great way to add a little fun to the home bar, while serving as an efficient bar mat.
Round Beer Mat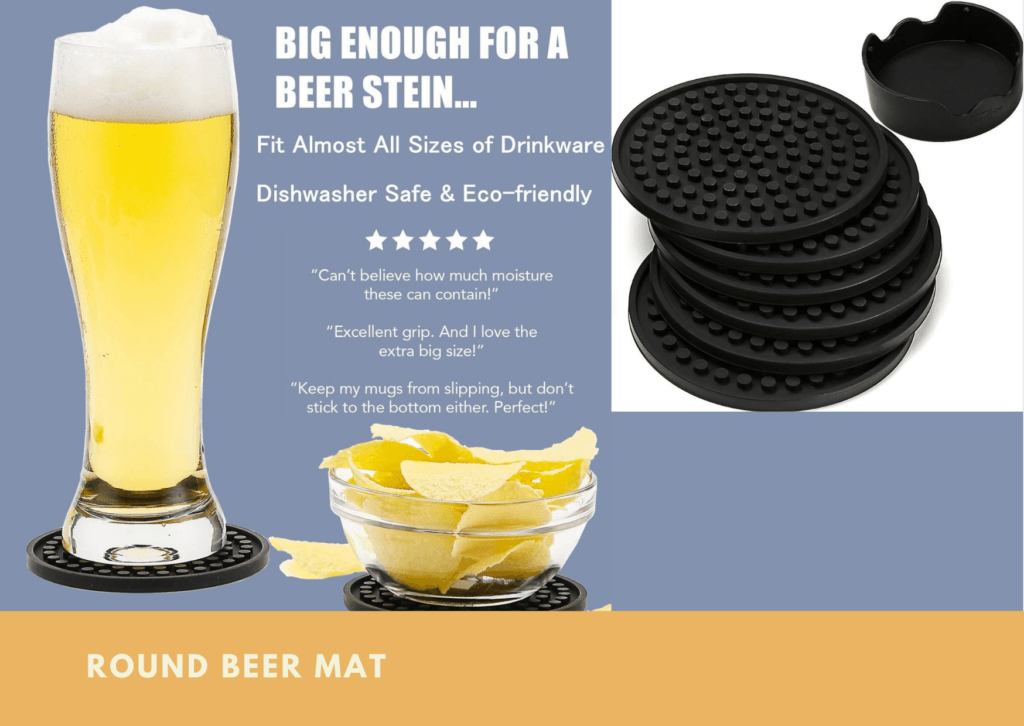 As I said earlier, it is a good idea to have a set of beer mats (coasters) for the home bar too. The bar mats will take the bulk of any spills, whereas the individual beer mats look after each guests drink.
Measuring 4.3 inches (11 cm ) in diameter, these are the same design as the rubber bar mat, but instead are constructed of a silicone materials. They work in the same way and this set contains six mats and a handy tray to stack them in.
A perfect accompaniment to the bar mat, plus they look neat and tidy too.
Personalized Beer Mat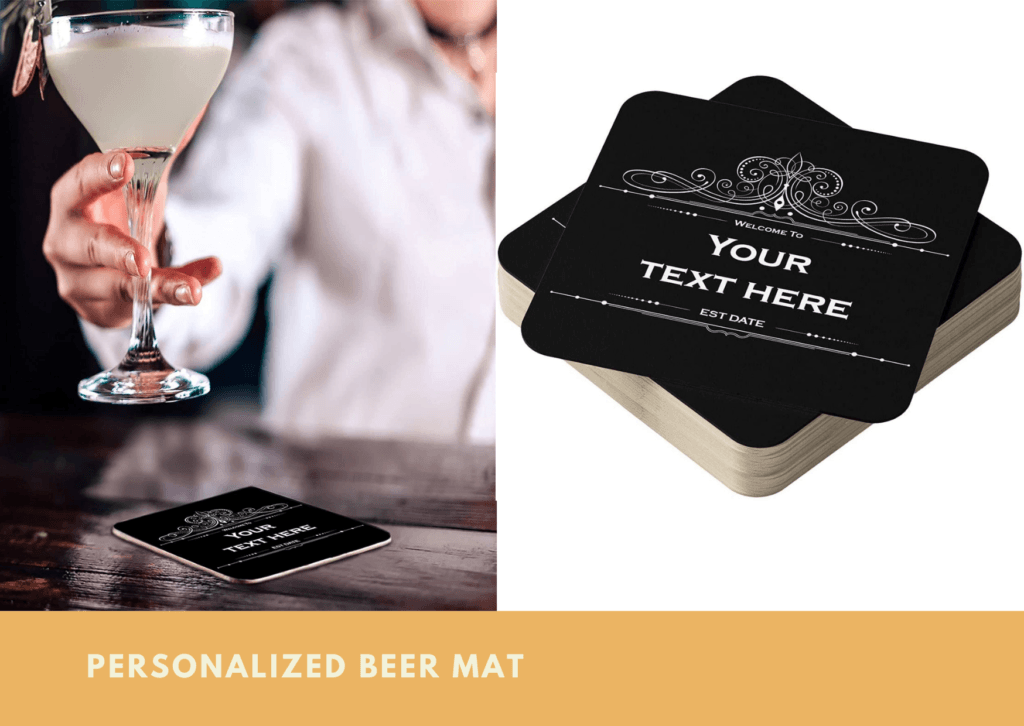 A standard beer mat, but with the option of personalizing with your own text. Put your name, home bar name or any other message you like on these bar mats. Made from 100% cardboard, they do a good job of absorbing the condensation off of a glass and any drips. After a while they do get quite wet, so are as seen a throw away mats.
Presented in pack form, they are available in packs of 24, 48 or 96, so will last a fairly long time, making them economical too. There are many types of personalized beer mat, it is just a question of picking the design you like and adding the text you want.
A great way to make your home bar more personal and keeping those drips off the bar.
Luxury Beer Mat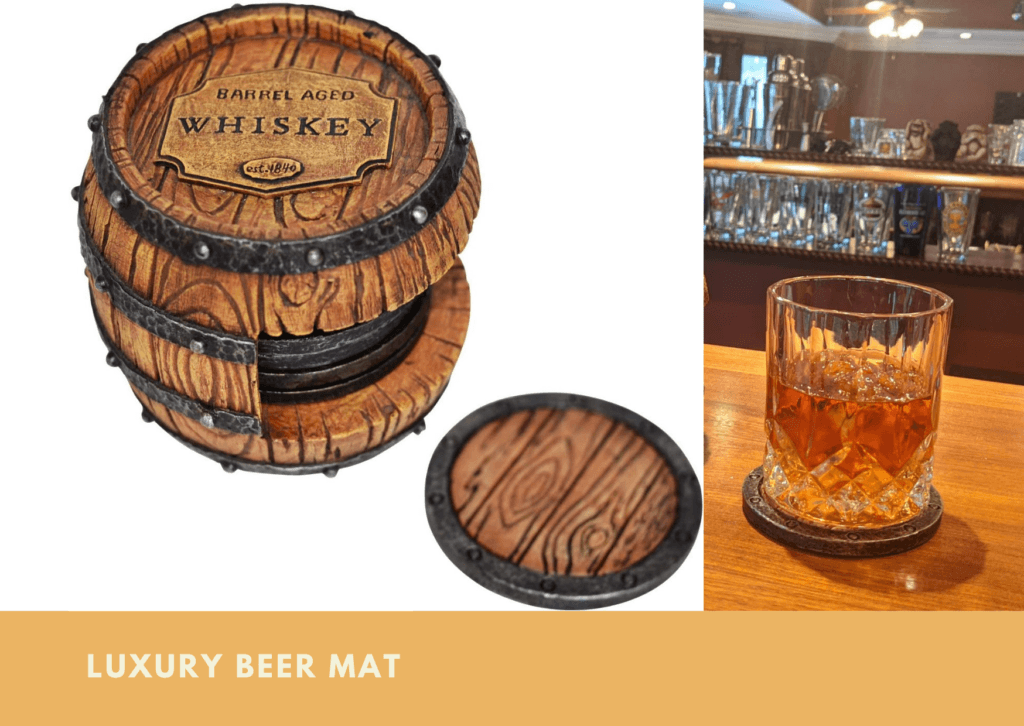 We all like a bit of luxury in our life sometimes, so how about a set of mats in a whiskey barrel. A great choice if you love your whiskey, and at the same time the perfect mats to keep your bar top from damage.
Made from durable polyresin material with a cork base, these will not slide or scratch the bar surface. A pack of five mats fit neatly into the whiskey barrel holder when not in use.
Impress your guests with these luxury whiskey barrel beer mats.
Novelty Beer Mat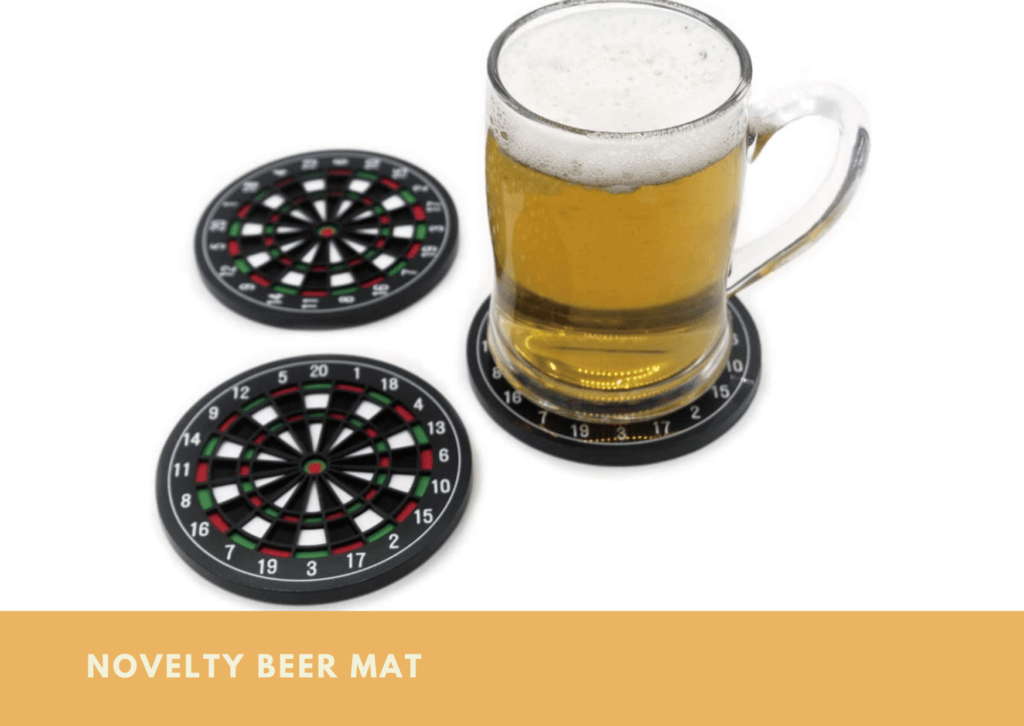 A novelty beer mat will add fun to the home bar, and if you are a dart's fan, then these are just the ticket. Mini dartboards that you can place your drink on and protect the bar surface.
Made from a plastic silicone material, they have non-slip feet on the bottom, this will protect your guests drinks. The indentation cut outs of the dartboard design act the same as the bar mat nipple design collecting drips and condensation. Easily emptied of liquid and a simple rinse keeps them clean.
A fantastic gift for a dart's lover and a great way to add fun to the home bar.
Final Thoughts
A collection of bar mats and beer mats that are an effective solution for keeping the home bar surface clean and dry. These will also work on any table, desk or kitchen work surface, but best saved for the home bar.
Although there are some bar mats that are not that effective. It is clear to see that if we get the right type and the best quality, then bar mats do work. They are the best thing to keep your bar perfectly functional without wiping the bar top every five minutes.
Rob is a passionate home bar and pub shed enthusiast with a passion for craft beer. With hands-on experience in designing and building his own home bar, Rob shares his knowledge, tips, and inspiration to help fellow enthusiasts create their own perfect space. Alongside the world of home bars and pub sheds, Rob also explores the diverse and exciting realm of craft beer, providing honest reviews to help you discover your next favorite brew. Join Rob on a journey of flavor, design, and craftsmanship right here on Home Bar Kit.