Getting together with family and friends for a drink and a catch up at your own bar is fun in itself, but sometimes we all like to up the fun, which is where some great home bar games come into play.
There are the traditional tried and tested games and there are the new ones ready to explore. A large bar area will accommodate many types of games, but a small bar area may have to stick to those games that take up less space, which does not mean they are less fun.
We will start with those simple games that do not require much space.
Bar Games For Small Spaces
The obvious game that jumps straight to the mind is of course cards. There are many types of card games, in fact the list is endless and this is a tried and tested game that will give hours of fun.
Then we have the quiz games, which have always been a bar favorite and again there seems to be an endless supply of these game types available, but they are fun and good for the brain too.
What about Chess, droughts, dominoes or scrabble, these plus other board games can all be played in the bar without taking up too much space.
For something more lighthearted and less taxing on the brain we have Jenga, this game is suitable for all types of spaces, from small to large as it is sold in different sizes.
Then we have the small table-top versions of larger games, such as table-top shuffleboard, football and pool, all bar favorites.
There are even mini versions of arcade games that will fit on a table or bar top, including the popular pinball and space invaders. If space is tight, there is no problem as there are so many games old and new that are suitable, so no need to miss out on the fun.
Bigger Bar Games
When space is not so tight, but you still can't fit a full size snooker table, then you can spread out a little and enjoy more than just those tabletop games.
Slot machines are an obvious choice, and although there may only be room for one or two, they are a great bar favorite. These type of machines, do not take up a lot of room, and also come in a variety of types, from the standard slot machine to the arcade machines that more than one person can play.
Other games that do not take up too much room are the classic carnival disk drop game, spin the wheel or the ring toss game, all good fun and can be played with multiple players.
If you have a little more space than a just table or bar top, then these games are a great choice.
The Big Bar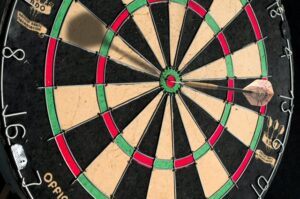 A big bar means big games and there are plenty to choose from, starting with the all time favorite, darts. The actual equipment for this classic bar game is pretty small, but you need some space because the thrower has to be a certain distance from the board and you will need space to the sides for those stray darts.
A dart board should be hung 5 feet 8 inches from the floor to the bulls eye and have a total minimum width area of 5 feet. The throw line or oche should be 7 feet 9 1/4 inches from the board which can be marked with tape, or a rubber mat with the right markings can be purchased
Along with darts can be other floor games like pong golf or putting mat, mini bowling, dance or piano mats. All need a little floor space, but they are all great fun to play in your home bar.
The bigger bar area will accommodate several arcade and slot machines instead of just the one, but also table machines like pinball and football table or even a sit down arcade machine.
The Biggest Bar
If your home bar is of magnificent proportions then you may want some big games to fill up some of that space, if this is your problem, then why not go for the daddy of all bar games, which has to be pool.
To have room for a pool table is great because who doesn't like to shoot some pool with friends when they are enjoying the bar experience. A pool table can be 8 feet long and 4 feet wide depending on which version table you decide on, so taking into account cue size and playing area you are going to need a space of around 18 feet x 14 feet to comfortably enjoy the game.
If snooker is your game and you really want a full sized table, then a little more room will be needed. A snooker table will come in at 12 feet long by 6 feet wide, so the area needed to play comfortably will be around 22 feet x 16 feet, being considerably more than the pool table.
If you have the room, then great, you will be able to fit any variety of the bar games we have discussed.
Cool Bar Games
All bar games are cool, and we all love to play them, and whether the room is tight or not there are plenty to choose from, so get picking the games that appeal to you.
When you are picking your games be sure to measure the area so that you can play them without restrictions, there is nothing worse than trying to play a game in half the space needed to play properly. We have all tried to take a shot at pool when we have had to angle the cue halfway up the wall, it never works out well.
Only pick the games you have the room for, and enjoy exploring how many are available because you will be surprised at the quantity.
Have fun and enjoy.
Rob is a passionate home bar and pub shed enthusiast with a passion for craft beer. With hands-on experience in designing and building his own home bar, Rob shares his knowledge, tips, and inspiration to help fellow enthusiasts create their own perfect space. Alongside the world of home bars and pub sheds, Rob also explores the diverse and exciting realm of craft beer, providing honest reviews to help you discover your next favorite brew. Join Rob on a journey of flavor, design, and craftsmanship right here on Home Bar Kit.