You have done all the hard work, you have the bar, you have the bar tools, you have all the glasses, in fact you are pretty much ready to open and enjoy your home bar. So what is the bar essentials then?
The drink of course, the beer, the wine and the liquor. You may have the glasses to accommodate all these drinks, but now you need the liquid to fill them. A bar is not a bar without the very product that makes it a bar, it is time to stock up with your favorite tipple.
Its Beer Time
If you have found your way to this website, then I reckon you like a beer, and you are not alone because if I am not mistaken, beer is the third most popular drink in the world after water and tea, although I reckon coffee and soda are right on its tail.
That makes beer a very popular drink indeed, and believe me when I say, there are many beers to choose from around this amazing world of ours. There are lagers, light beers, dark beers, stout, real ale and many craft beers from many companies, making it a long list of beers to try.
We have the big names like Budweiser, Stella Artois, Carlsberg, Corona, Guinness and John Smiths, but these are only a few of the well-known beers to try, and only a fraction of the beers available.
The craft beer industry has taken off in the last few years which has given us so many types of weird and wonderful beers to try, and we now have flavored beers, which I am not keen on personally, but hey if you like a little key lime pie flavor in your beer, then go for it.
Beer is probably going to be the most consumed beverage in your home bar, well it is in mine. Even if it is not the most popular drink in your bar, you will need some stock and don't just buy one brand, have a little variety, after all that is the spice of life.
Remember to keep it chilled too.
The Wine Corner
We know that beer is a very popular drink worldwide, which is why we will keep a good stock. But up there with beer has got to be wine, we all love a little drop of vino and it goes so well with food.
Whether we are eating a meal at home or going to our favorite restaurant, wine is on the menu more often than not, it just compliments the food. It is part of the whole meal experience, especially in a restaurant, but with so many cooking shows and the popularity of home cooking its part of this too, so wine is a must.
A good selection of white, rose and red wine is a definite in any bar, yes it goes with food so well, but some of us just love to relax with a large glass of our favorite wine. Just like beer some of your wine will need chilling, but some is better served at room temperature.
The Best Liquors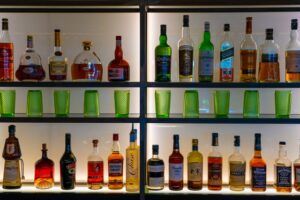 There has to be a selection of different liquors, the best ones are for you to decide because they will probably be different to my choices. The standard or most popular are going to bourbon, gin, vodka, brandy and rum, but there are more to choose from and a lot of varieties of the ones mentioned.
Your bar may have the option to have these bottles of spirits set up as optics, which make it easy to not only pour, but also get the right measurement. If not then just neatly stored on a shelf or the bar top is also fine.
It is worth exploring the many types of liquor available, just like beer there has been a big trend in flavored gins, vodkas and other spirits, and some of them are really nice too.
Mixing It Up
The mixers are an important part of your home bar stock, the obvious or most popular has to be tonic, but there is also the soda water, orange, lime and bitter lemon. So not a long list, but hold on, just like beer and liquor, the tonics have gone wild.
The flavor trend has not escaped the tonics with an array of them getting the full treatment. The highest climber on this tonic flavor fest seems to be the now famous Fever tree tonic which seemed to come out of nowhere and is now everywhere.
Soda And Pop
Although this sounds like an 80s band we are not talking music here.
Whether you call it soda or pop, or anything else, there is a need for a selection of soft drinks at the bar, these are enjoyed cold on their own or mixed with liquor or even beer. But don't forget the kids, they love these drinks and they are going to be around your bar at some point, whether they are your own or your friends, the kids need soda.
Speciality Drinks
Okay these are not speciality drinks they are just other drinks that have not been mentioned here, but should have a space in your bar. There are way too many to list here, but off of the top of my head we have tequila, vermouth, sherry, absinthe, champagne, port and sake.
Quite a mixture, but these are the type of other drinks that will be asked for and like the liquors mentioned earlier will be mixed with others drinks to make cocktails or such like.
Seek out other wonderful drinks that are waiting for the chance to be a part of your bar stock.
I have just thought of a drink I have forgotten and I love it too. I would just like to apologize to the cider drinkers for not mentioning this fabulous drink before now. This has to make our bar stock, it should be right up there with beer, sitting in the chiller ready to be enjoyed, up the cider.
The Beverage Maketh The Bar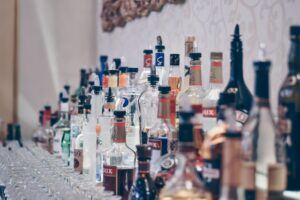 A well stocked bar is a thing of joy and the more variety the better, but there is no need to go crazy and buy every drink you see. Get the basics and grow your stock over time, a selection of beer (and cider of course), wine and liquor will get you started.
Over time add to your stock, but beware of buying drinks that are hardly ever asked for, some drinks can be sitting on the shelves for months, even years with little or no interest. If you entertain regularly with family and friends, then make a note of the type of drinks you are getting asked for and tailor your stock accordingly.
If you have created your own home bar, then you will most probably enjoy a drink or two now and again. The drink is the most important part of any bar, so pick your favorites and build your stock, but most of all enjoy consuming your stock, just not in one night, make it last a little longer.
Once you have your bar up and running and fully stocked, the only thing left to do is enjoy it, right?
This is true, but there is much more to explore, and we will.