Every bar needs a name, it can be a funny name or just a really cool name or a name that reflects something about you. It is your bar and although it doesn't actually need a name, it is a fun thing to name your bar.
Your bar is not a business, so the name is not important in respect of attracting customers or branding, but that doesn't mean that you should not spend some time to come up with a great name for your bar.
How do we come up with home bar names?
Namestorming
A good old brainstorming session (or namestorming session) could bring about a great name for your home bar, sit down with family and friends and throw around some name ideas. If your bar is already up and running, then it is the obvious place to set up your namestorming session, a few drinks may get those creative juices flowing, but don't over do it.
This should be a fun process that you enjoy with those that you have chosen to help you choose a name for your bar. Get out that pen and paper and start writing down those ideas, or if you are going for it in a big way, then get out the whiteboard and get your friends to fire those ideas at you.
Cool Names For Bars
Any name is going to be a cool name for your bar, but there are different types of names you can go for, either traditional like "The Kings Head", funny like "Nobody's Inn" or personal like "Jim's Bar", the choice is yours.
If you go down the personal route then you will not have to do a lot of thinking on the subject, your namestorming session will be very short and you probably won't need that whiteboard. As I said your home bar is not a business, so the traditional route seems a little unnecessary, unless of course you really like a particular traditional name, in which case go with it.
The funny name is the most fitting for a home bar and I like the one I have already mentioned "Nobody's Inn", there is also "The Staying Inn" or what about "Mars Bar", these are all funny cool names for a home bar.
There are other ways you can name your bar, name it after your favorite animal like "Tiger Bar", or how about your favorite place like "Florida Bar". If you love flowers then pick your best one like "The Tulip Bar", there are so many different types of name that you can choose.
Names Of Pubs And Bars
If you are having trouble coming up with your home bar name, then you can just use a name of a bar that you know, may be your favorite bar. Alternatively you could go through a business directory under pubs or bars and see if there is a name of an existing bar you could use.
I wouldn't advise this if you were an actual business, but this is literally your own personal bar, so borrowing a name of an existing business is fine.
If you still can't come up with a name, then don't despair, there is another way and it's called a business name generator. There are loads of these online and they all do the same job, give you great ideas for a business name.
Although you are not a business, you can still use these generators to find your home bar name, you will be surprised how many ideas spring up from these online tools. If you are searching for a name on your own then it can be harder than having help from others, so these tools will really help you with ideas.
Displaying Your Bar Name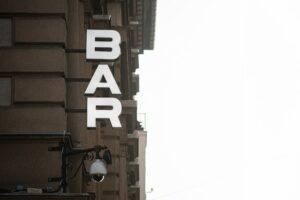 It may have been a short journey to arrive at the name of your bar, or you may have been working on it for weeks with several namestorming sessions and a few headaches.
However long it took or however you arrived at the perfect name, it will need to be displayed, you can't name a bar and then not display the name, that doesn't work.
You will need a bar sign, which you could make yourself if you are a handy diyer, or you can get one made for you, there are plenty of places online that make signs with your own name and design.
Just writing your bar name on a card and hanging it up is better than having no name displayed at all.
Bar Name Ideas
As I write this article I thought it was only right that I should share my own home bar name, and if you share my name, then you may want to steal it, I don't mind.
I could have just gone with "Matts Bar" there is nothing wrong with that, but I played on my name being Matt and came up with something that you find in a bar, the mat you place your drink on.
The name is (drum roll please) "Beer Matts", not the strongest name for a bar, but I like it and it is a fun name that does get a few laughs.
It is not a necessity to have a name for your bar, but I think it is important, you have put a lot of time and effort into your bar, so it deserves a name. Whatever name you decide on just have fun with it, and if you grow tired of it or come up with a better name down the line, then change it.
I hope you have got some bar name ideas from this, and it would be great if you share the name you came up with in the comments section below.