When I saw the Singha bottle in the store it brought back memories of a holiday in Thailand. So it had to come home with me for a little reminiscing of a wonderful holiday. But how good is Singha Thai beer?
Although I did drink Singha a few times while in Thailand, it wasn't my beer of choice. I preferred Chang, but that is for another day, if I can find it. Back to Singha.
How Good Is Singha Thai Beer?
I would say it is a good beer, its light, refreshing and perfect ice cold in the Thai heat. However its not the best premium lager and for me not the best Thai beer. On the nose it is light, a slight malt aroma with a little citrus floating on top. A full on fizziness hits the mouth and a sweet caramel malt is disturbed with a hint of dry lemon. That lemon has a powdery feel in the mouth, and there's not much bitterness to finish. It gets a rate my beer score of 3.6 – 5.0.
It's just a lager and not as nice as I remember when I tried it in Thailand.
Who Makes Singha Premium Lager?
Boon Rawd Brewery are the makers of Singha beer. Founded in 1933 by Phraya Bhirom Bhakdi which is a title given by royalty. His real name is Boonrawd Sreshthaputra and I am a little confused.
Anyway his early exploits involved selling cars as well as a ferry service across the Chao Praya River. However when the government built a bridge he closed the ferry business.
He decided to build a brewery and travelled Germany and Denmark to learn how to make beer. In 1933 with the governments approval he built Thailand's first brewery and the rest is history.
The brewery is now in its 3rd and 4th generation and continues to produce the world famous Singha Premium Lager.
However although it is said that all Singha is brewed in Thailand. On the back of the bottle it says brewed and bottled by Shepherd Neame Ltd under supervision of Singha Corporation Co. Ltd.
The Shepherd Neame website says it is brewed by Boon Rawd Brewery since 1933 and distributed by Shepherd Neame since 2019.
Molson Coors use to distribute Singha, but now it is Shepherd Neame, but are they brewing it too?
How Good Is Singha Thai Beer?
The large 630ml bottle boasts the Asian Singha (lion) which is where the beer got its name. The label at the top displays the Garuda and the Royal seal of approval.
It is an instantly recognisable bottle of beer and a popular beer in Thailand and around the world. Personally I prefer Chang beer, it just has more bitterness to it.
However I don't remember Singha having a powdery like taste to it when I drank it in Thailand. But it fits the bill in the heat and acts as a decent thirst quencher.
Drinking Singha Beer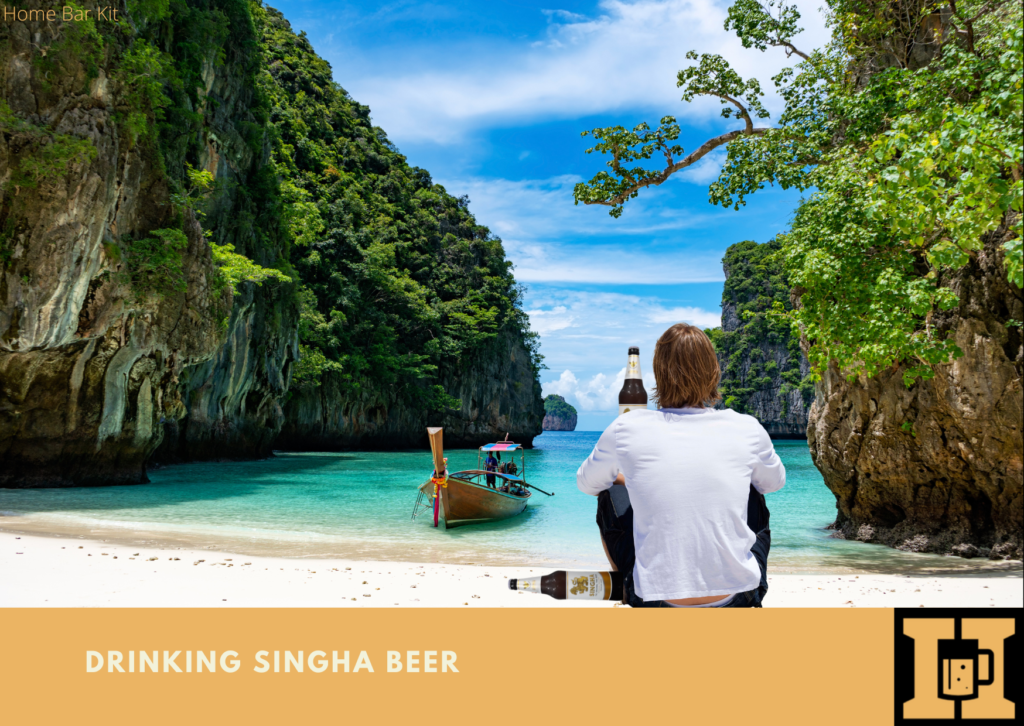 It pours a clear sparkling straw gold with good carbonation forming a moderate foamy white head. The head pretty much fades to nothing, but can be slightly revived with a little glass swirl.
On the nose it is a typical lager smell, with a light malt base and a little citrus on top.
The taste follows the same route with a sweet malty almost caramel flavour distributed by the carbonation. It's a subtle taste, then a slight dry lemon kicks in, but again pretty subtle. There is not much in the way of bitterness, and the aftertaste is a little powdery in the mouth.
An okay lager, a standard lager that I guess is more suited to the heat. It's crisp, light and will quench a thirst, but that is about it.
For me it gets a rate my beer score of 3.6 – 5.0.
M'Lady was of a similar mind and said "Nothing distinct, a box standard lager." A Lady of few words, no not normally. Lou scored it a little lower at 3.4 – 5.0.
Boon Rawd Range
The Singha range of beers only consists of Singha Premium Lager and Singha Reserve Special Edition. Which sounds like the same beer, but with a bit more oomph. Possibly a fuller body and weighs in at a slightly higher 5.3% Vol.
Other beers that Boon Rawd produce are Leo, another popular Thai beer, as well as the pale lager U. I think they also produce some soda drinks as well as water.
I did try Leo while in Thailand, but again preferred Chang. U lager on the other hand I didn't come across, so can't say.
Final Thoughts
So Singha Premium Lager does not hit the spot for me, but at least it brought back a few memories of a great holiday.
It is not a bad beer, I just think it is a little mediocre. I thought it would be better than it is, and I remembered it as being better too. Perhaps it has changed since I had it last, if it has, it is not for the better.
Having said that, many people love it. If you are one of them, then share your thoughts and give it a shout out below.