It is that time of the year again and festive cheer is setting in. A time shared with family and friends and a possible few cocktails along the way. However what's your favourite beer for the holiday season?
Maybe you have a certain beer that is a go to Christmas beer. Or perhaps you prefer to try new ones each year. I have a couple I like to bring out, but it is always good to try something new too.
What's Your Favourite Beer For The Holiday Season?
My favourite Festive beers are Hobgoblin Ruby Beer from Wychwood Brewery and Northern Star by Northern Monk. One is a by the fire winter beer, warming and morish. The other is a rich dessert beer, perfect for after a festive banquet. However there is room for some new beers that will reflect the holiday season.
I will look at some potential contenders, but Ruby and Northern Star will stay.
What Is A Christmas Beer?
A Christmas beer for me is a beer that is a little different, something rich and full of flavour. A beer that lends itself to the spirit of Christmas.
However not everyone will agree, so a festive beer can be whatever you want it to be. A lager, a pale ale or a good old best bitter.
For this article though I am going rich and indulgent, why not, its Christmas.
My Festive Beers
So I am going to include a short list of my Christmas beers. I will include the brewery behind them and a brief description.
To kick things off I will start with my current favourites, and then move onto a few I am going to try and get for this Christmas. What do you mean I've left it a bit late.
Ruby Beer
Ruby Beer is part of the Hobgoblin range and is brewed by Wychwood Brewery in Oxfordshire, England. Although Wychwood is now owned by the mighty Marston's, they have at least continued to brew this great range of beers.
Ruby is a rich full bodied beer, it has layers that build as you drink. A deep brown beer which glows with a reddish tinge when the light hits it. Now that is a little bit of Christmas, c'mon.
Malty chocolate aromas dance around the rim of the glass mingled with a little fruity citrus.
The taste has a rich malty biscuit covered in chocolate. A fruity bitter sweetness begins to develop, then comes in a smooth toffee caramel. A hint of citrus edges in and then a mild bitterness irons out the whole experience.
It's a perfect Christmas cracker.
Northern Star
Northern Star is produced by the independent Northern Monk Brewery based in Leeds, North England. A great brewery that has gone from strength to strength and growing. They have a great range of beers too.
Northern Star is a chocolate caramel biscuit porter, and believe me it is indulgent. Because of this, you probably won't want more than one.
Well one is enough for me, but it makes a perfect after dinner drink. It is black velvet in a glass with a warm creamy head to top.
The nose bursts with sweet chocolate and caramel, followed by a coffee overtone.
Just like the nose, the taste is bold with a chocolate caramel lead, that turns a little bitter. Then a smooth coffee with a vanilla shot bolts in and makes you feel like you are enjoying a rich dessert.
It's a merry meal ender.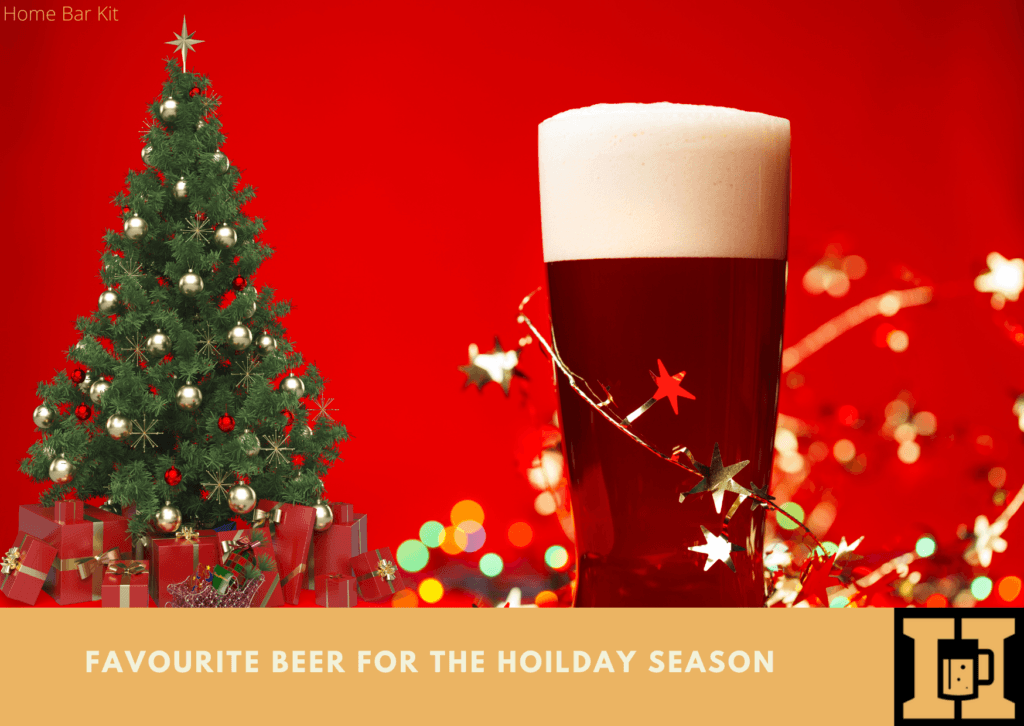 Gingerbread Stout
Gingerbread Stout comes for Hardywood Park Craft Brewery based in Virginia USA. Founded in 2011 by two childhood friends. Although it was ten years earlier at a sheep station in Australia that inspired their move to brew.
Gingerbread Stout is an Imperial Milk Stout, it takes no prisoners at 9.2% Vol, but holds all the hope of Christmas.
Notes of milk chocolate and vanilla form a creamy mouthfeel. Cinnamon and honey lace the chocolate and vanilla. Then to finish, a little spice hit while Ginger breaks through and completes the festive feel.
It's spicy seasonal sizzler.
Samichlaus Classic
Samichlaus Classic comes from the old brewery Schloss Eggenberg in Austria, which is said to have brewing history dating back to the 14th century.
The Samichlaus (Santa Claus) Classic is a powerhouse of a Christmas beer. It weighs in at a huge 14% Vol, so this really is a one bottle festive treat.
It's reddish brown appearance screams Christmas, and notes of rich malt caramel blessed with prunes give it a real festive feel. Raisins, dates, cherries ,figs and plums are all the flavours experienced by its many fans. A strong sweet rich beer.
It's a festive fruitcake.
Fistmas Holiday Ale
Fistmas comes from Revolution Brewing based in Illinois, USA. Dreamt up and Born in 2010 by Josh Deth and now said to be the largest independent brewery in Illinois.
Fistmas is a deep red ale produced just for the holiday season. It delivers rich malts and a bready feel with caramel notes, stone fruits and a hoppy citrus edge, topped with a little spice.
Orange and ginger come through making it a lighter 6.5% festive tipple.
It's a festive frolic for fistmas.
Festive Star
Festive Star is another beer from Northern Monk up there in Leeds, England. It is a festive version of the Northern Star I have already featured.
Northern Star is not actually a festive beer, I just think it fits the festive vibe. However Festive Star is just for Christmas. So what have Northern Monk done to the already very indulgent beer?
They have spiced it up a little to fit the seasonal brief. It is now laced with flavours of vanilla and cinnamon giving it a little Ho Ho Ho. The vanilla flavour is there for me in Northern Star, so they must have ramped it up.
It's a cracking Christmas Star.
Final Thoughts
Although not all of the beers are actually brewed especially for the festive season, I think they all fit the bill. I will not be able to get some of these for this Christmas, however they are on my list for next year.
Especially the Samichlaus Classic, which many people rave about. Its been around for many years, so I don't think it will be going away any time soon.
What's your favourite beer for the holiday season?
Share your thoughts below and let everyone know your festive beer of choice.
Merry Christmas and a Happy New Year.