To have a bar at home is a dream that many of us share, and for those with the space and budget it is a relatively easy thing to achieve. Having plenty of space will give you many options, and the luckiest can even spare a whole room and build a large bar with seating and games area.
When space is tight things become more difficult, it is hard to imagine how you could ever fit in a home bar. There are ways to fit a bar into the tightest of spaces, with a little imagination anything is possible.
Those that are handy when it comes to DIY can adapt any space to accommodate a bar. For those that are not, don't despair, manufacturers have come up with some great small bar ideas. If you want to know how to fit a bar into a small space, then this is the right place.
How To Fit A Bar Into A Small Space?
The best way to fit a bar into a small space is to relax, sit quietly in the room where you would like the bar and scan it. Imagine how the room could be changed around to make a little space that would accommodate your bar. You come up with the smallest of free spaces and I will show how to fit that bar in.
Where Will The Bar Go?
The best place for a home bar is up to you, but there are obvious choices, the bedroom is not the place for a bar, neither is the bathroom. The best place for a home bar is close to a water supply with drainage, but like I said not the bathroom. A lounge is the best place for a bar if you can fit one in and you would be surprised what you can fit in.
The reason the lounge is the best place is because they are normally close to the kitchen which has the water supply and drainage. A dining room is also a great place for a bar, but if space is really tight, then you probably haven't got a separate dining room.
The kitchen is a great spot for a bar, even the smallest of kitchens can accommodate a bar set up.
Home Bar Expectations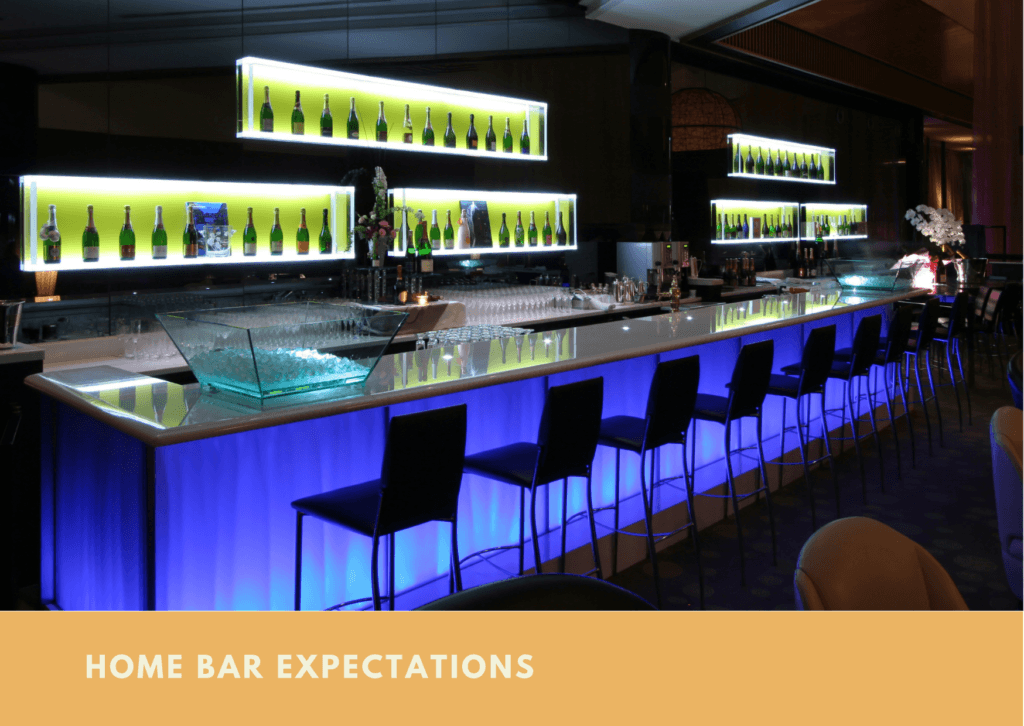 When space is tight you have to adapt your expectations, stop imagining a fully stocked bar with a long bar top and several stalls for your friends to sit at, it won't fit. Instead, think compact but beautiful, small things don't have to be boring, big is not always the best.
For a lounge the first thing to do is measure the room, then draw a plan of the room, to scale if possible. Try moving your existing furniture around to see if you can create more space. You will be surprised how this can change a room, plus when you change a room around it gives it a new lease of life. Have you got a piece of furniture that you do not use that could be sold and at the same time create more space.
It is not as simple in the kitchen because the furniture is normally fixed, but is there a kitchen unit that could be sacrificed for a home bar. If not rearranging the work top space can create an area for a simple bar. Think wall space, if you have some free wall space, then it can be utilized.
Small Home Bar Ideas
There are so many types of bars you can accommodate for small areas and they don't have to be pre-built units. For those that are handy with woodwork, there are options to build your own, all you need is a bar plan. Working from a plan makes things easier, and even if the bar measurements in the plan are to big, just adjust the measurements to fit your allotted space.
Sticking with the woodwork handy among us, what about a closet bar, you will have to empty the closet of course, but these can make great bar. Take the door off and you have a bar built into the wall, or leave the door on and you can shut the bar away when not in use. Closet bars are great bar.
A lounge with a chimney breast jutting out in the middle of a wall gives the perfect opportunity to build a bar in one of the recesses, or buy a bar cabinet that will fit into the recess.
If the back of your couch is not against a wall and is used to separate an area, then you can use the back of the couch to set up a bar. You may be wondering what I mean and if you can't visualize it, all will become clear further on.
Wall space can create some great bar options from cabinets to shelves, may sound boring, but they can look great and function very well too. A corner of a room is a good place to either build your own bar, or buy a small bar unit.
The main function of a bar is to store bottles and glasses to serve drinks, having an area to do this makes it a bar. A big bar in its own room would be nice, but for tight spaces we have to do things a little different.
I have put together some great options for you, and if nothing else they should spark your imagination to come up with something that will fit your space. For the woodworkers, here is a great place for bar plans. For the rest read on for some great home bar ideas.
Counter top Bar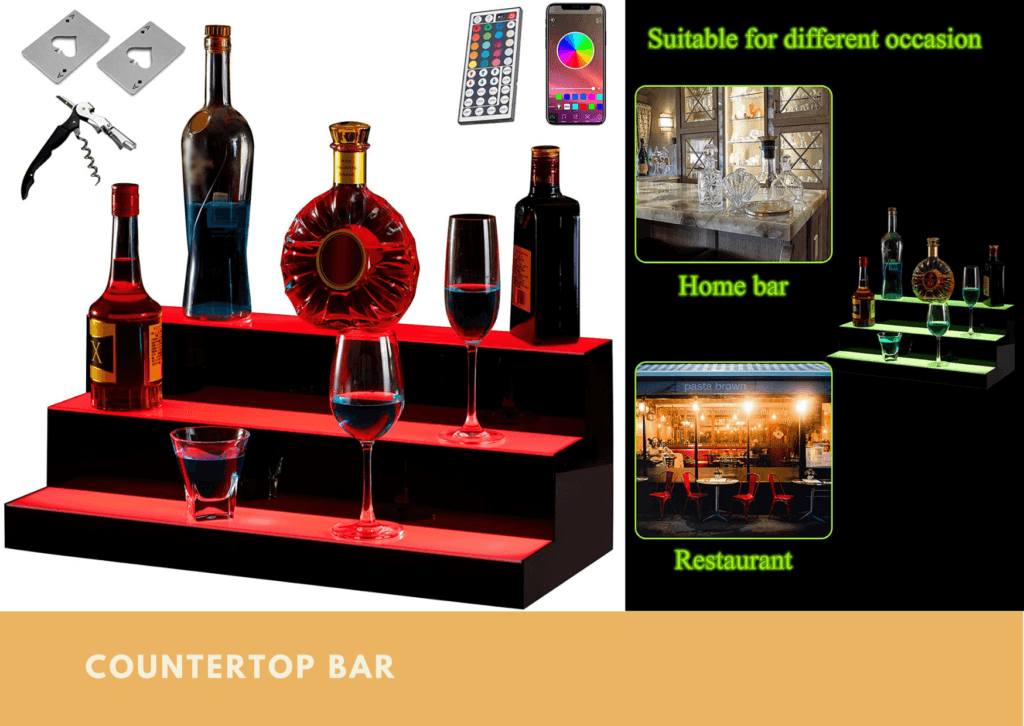 A counter top bar is ideal for the smallest of places. A very versatile little bar idea, sit on any counter, worktop or even shelf and you have a three tier bar display. These are ideal for the kitchen worktop and depending on the amount of worktop you can spare, you could put more than one unit side by side.
I am not sure you can beat the space-saving design of this small bar unit, and they look great too, especially if you get the ones that light up. The lights just set the ambiance and give it that real bar feel. One of these sat on a shelf will transform the shelf into a three tier mini bar.
Check Latest Price
Wall Mounted Bar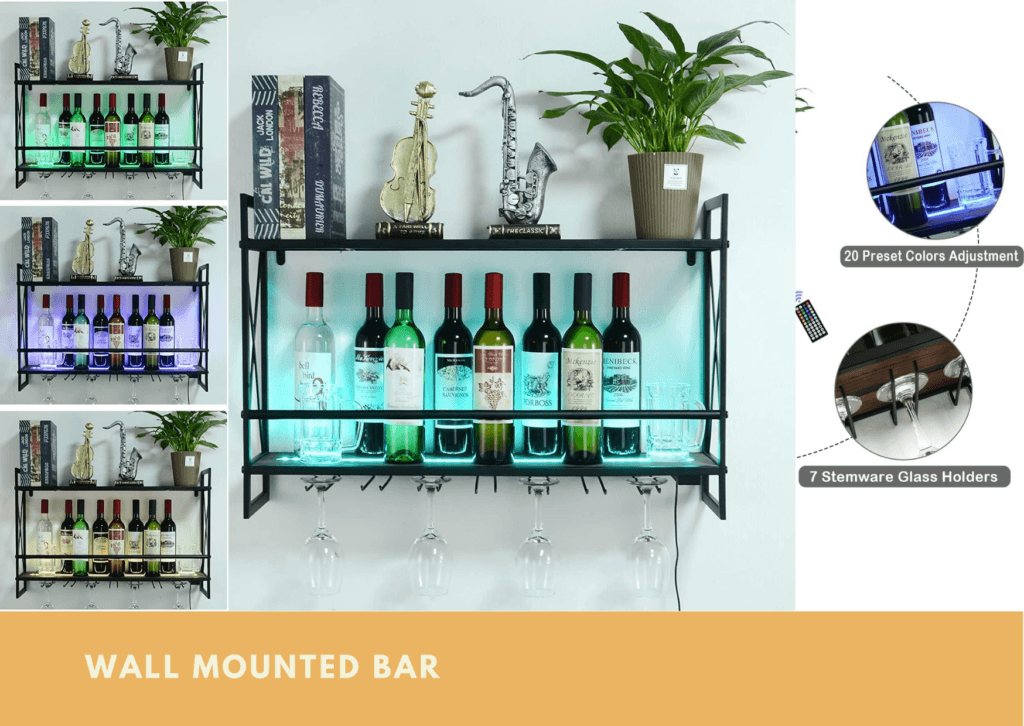 Starting of with the simplest of bar ideas, the wall mounted shelf unit. This is a great way to have a dedicated space for serving drinks, you can have more than one of these if you have the wall space. Put one above a low cabinet and use the cabinet top too, the bar becomes the cabinet top and the wall shelf.
These come in many designs, so there is one to suit every ones taste, you can even get ones with lights which really set off that bar feel or go for the more rustic feel. These are the ultimate bar set up for the tightest of spaces.
Check Latest Price
Large Wall Mounted Bar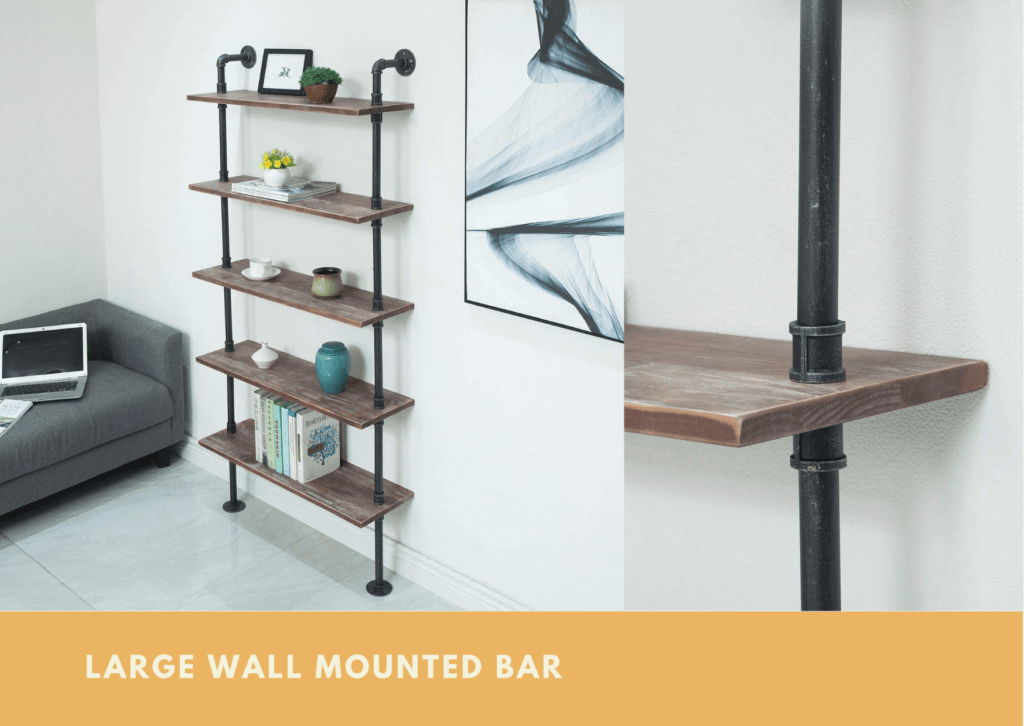 This is expanding on the small wall mounted shelf, if you have some wall space that reaches from floor to ceiling, then these are ideal. They may not have been designed for a bar in mind, but like I said earlier, you have to use your imagination, any shelving unit can be used for a bar set up.
This gives you multiple shelves for more bottles and glasses, plus you will have room for some bar tools too. It is surprising how much you can fit on a shelf unit this size. The same effect can be had by using the small wall mounted shelves fixed one above the other, that way you can have as little or as many as you wish.
The tall wall mounted shelf units are a great way to create a bar set up in small spaces.
Check Latest Price
Console Table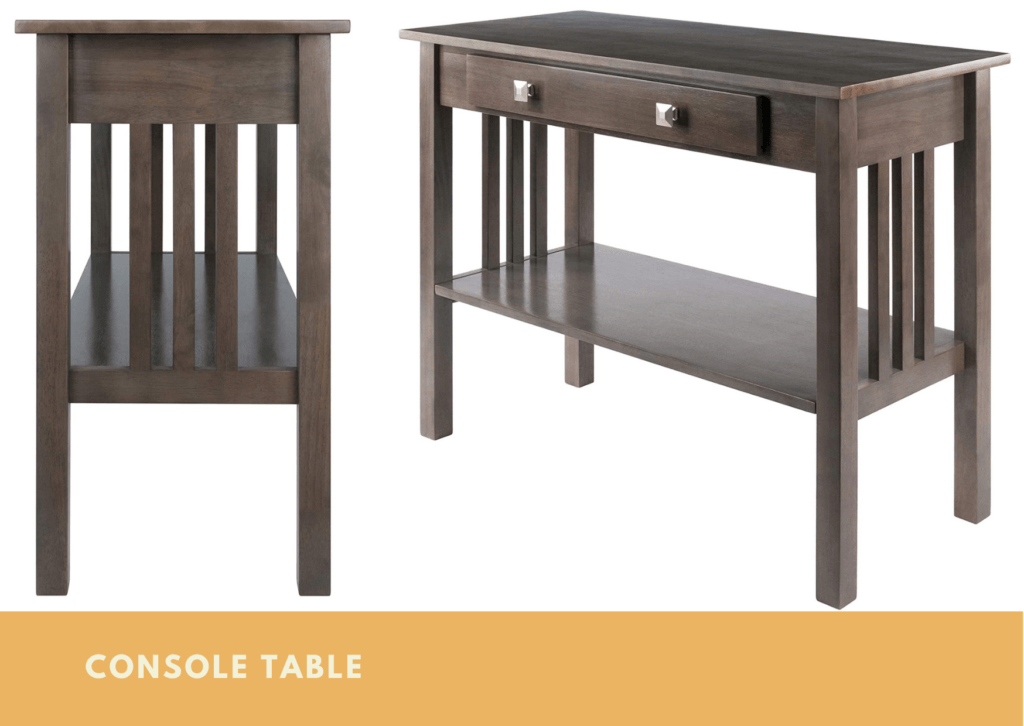 The standard console table has a huge range when it comes to the variety of designs to choose from and they always look good. They also come in many shapes and sizes and make a great home bar. A mixture of shelves and draws give them the room for bottles and glasses, as well as bar tools for cocktails.
The table-top is an ideal prep and serving area and can store an ice bucket as well as glasses. It is easy to find one that will fit to the space available. They are nothing fancy, but they are versatile and always look good, especially dressed up as a bar. A couple of three tier counter top bars on the top will really transform these tables into a feel good home bar.
Check Latest Price
Unique Couch Bar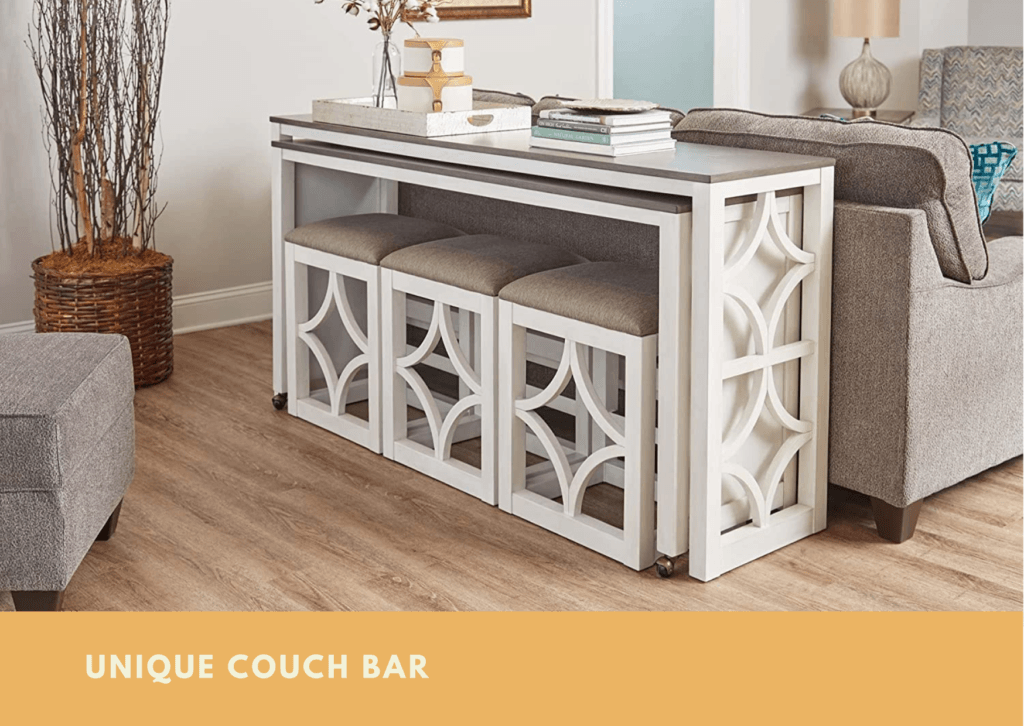 I spoke about this earlier and said if you can't visualize it, then it would become clear later on, well now is later on. Again not necessarily designed to be a home bar, but this is ideal if your couch is not against a wall and you have a little space behind it.
A great sized table that will hold plenty of bottle and glasses. You also have a pull out table underneath that can be arranged adjacent to the main table and used as a prep and serving area. This can be put back neatly after use saving space and keeping it all tidy. If that is not good enough, you also get three stools that stow away neatly under the tables.
I think you would agree that this is a great idea for a home bar, that will not take up too much room. There are other set-ups like this you can create, just look for tables or units that fit within the measurements of your couch.
Check Latest Price
Small Bar Unit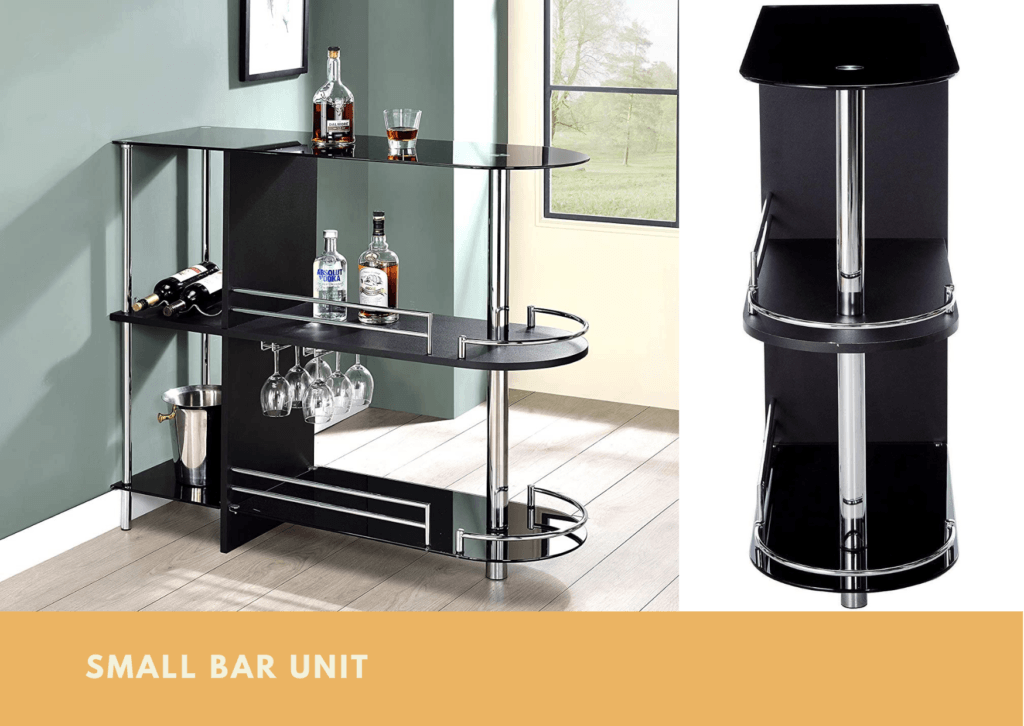 A small Purpose built bar unit will take up less space than you might think and they can be had in contemporary metal frames with tempered glass shelves. They can include small wine racks, stem glass hangers and several shelves for plenty of storage.
These are a sleek design that can be set adjacent to the corner of the room or jutting out from a straight wall. You can set them so you can stand behind them like a traditional bar or put them against a wall because you can access the shelves from both sides.
These come in many designs and sizes, so you are sure to find one that fits your space and situation.
Check Latest Price
Traditional Bar Unit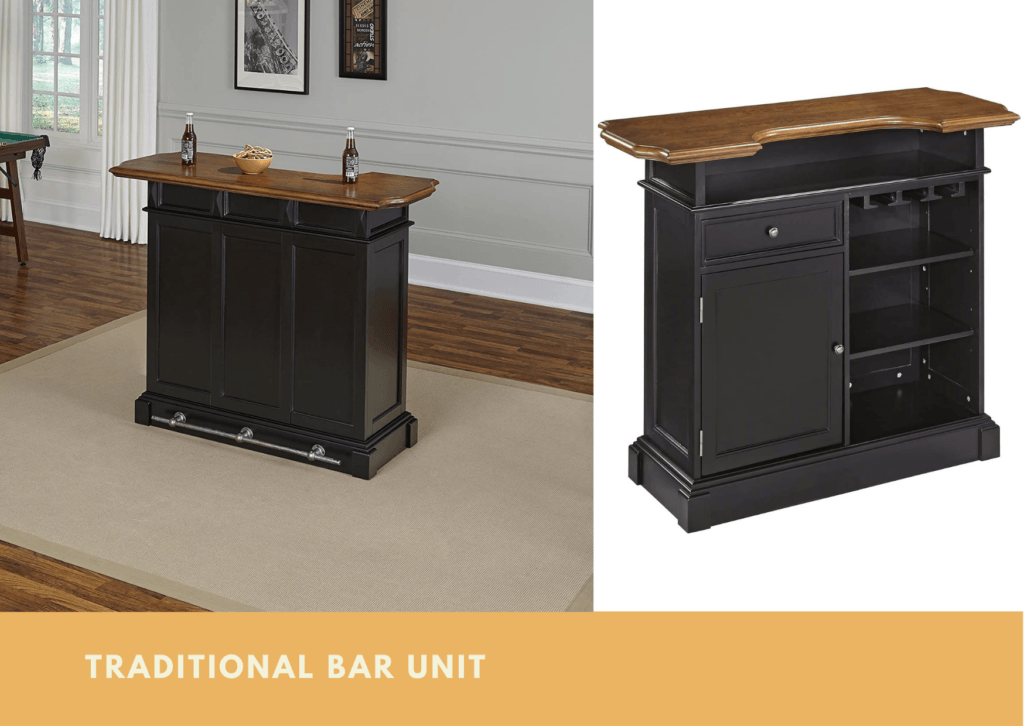 A traditional bar unit looks like a bar, one you would find in a pub, but on a smaller scale, they even come with a foot bar for people sitting at the bar on stools. They can stand in open space or sit adjacent to a wall, but are not best up against a wall as you can only access the shelves and cupboard from one side.
This type of bar normally include a few shelves, a stem glass hanger, cupboard and a draw for bar tools. Made of wood, these units look great and give a proper bar vibe, and although they make take up a little more room than the previous few, they are compact enough to fit into smaller areas.
There are many designs to choose from with the traditional bar unit.
Check Latest Price
Unconventional Bar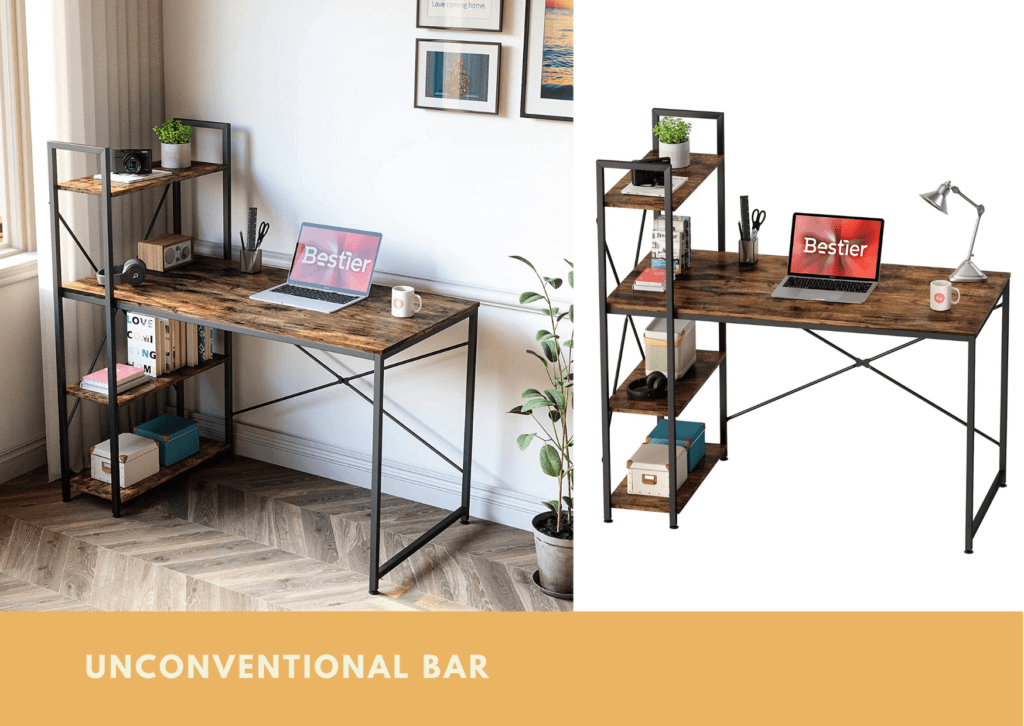 Although it is nice to get a purpose built bar that looks like a bar, it is possible to look at other types of units or desks that you can dress to look like a bar. This way you can find furniture that is space-saving and can serve a variety of uses, in this case a bar.
An office desk that is designed for small spaces can also be a bar, with a desk top (bar top) and a set of shelves incorporated, it can work well. This gives a good amount of space for bottles and glass storage, as well as having a space to prep and serve drinks.
These desks and shelf units come in many designs as well as different shapes and sizes. A lot of them can be configured in different ways, making the versatile to fit into a variety of spaces.
Check Latest Price
The Ladder Bar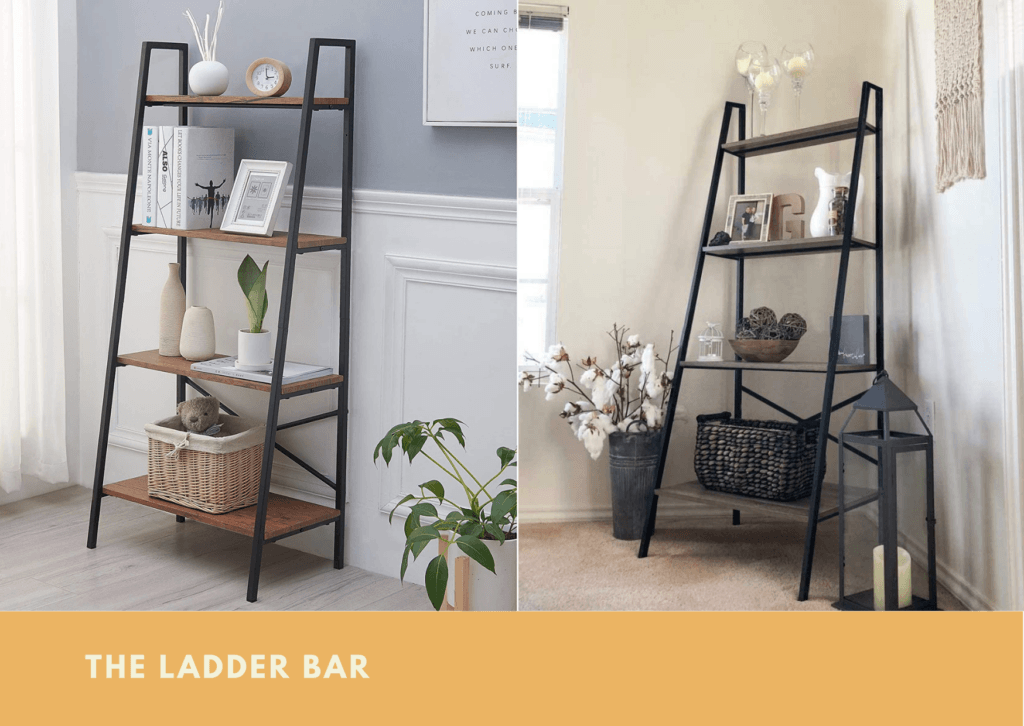 Another unconventional bar, but we can't discount it, these make a great alternative bar. A ladder unit is space-saving and can be placed directly against a wall or in the corner. You get plenty of shelf space for bottles and glasses, the shelves get progressively deeper as they go down. The bottom shelf being the deepest is ideal for bottle storage, and the middle shelf can be used for a prep and serving shelf.
The top shelves would be ideal for glass storage, or why not jazz it up a bit with a counter top three tier unit that lights up just like the first item in this list. A ladder unit will make a great bar in tight spots.
Check Latest Price
Corner Bar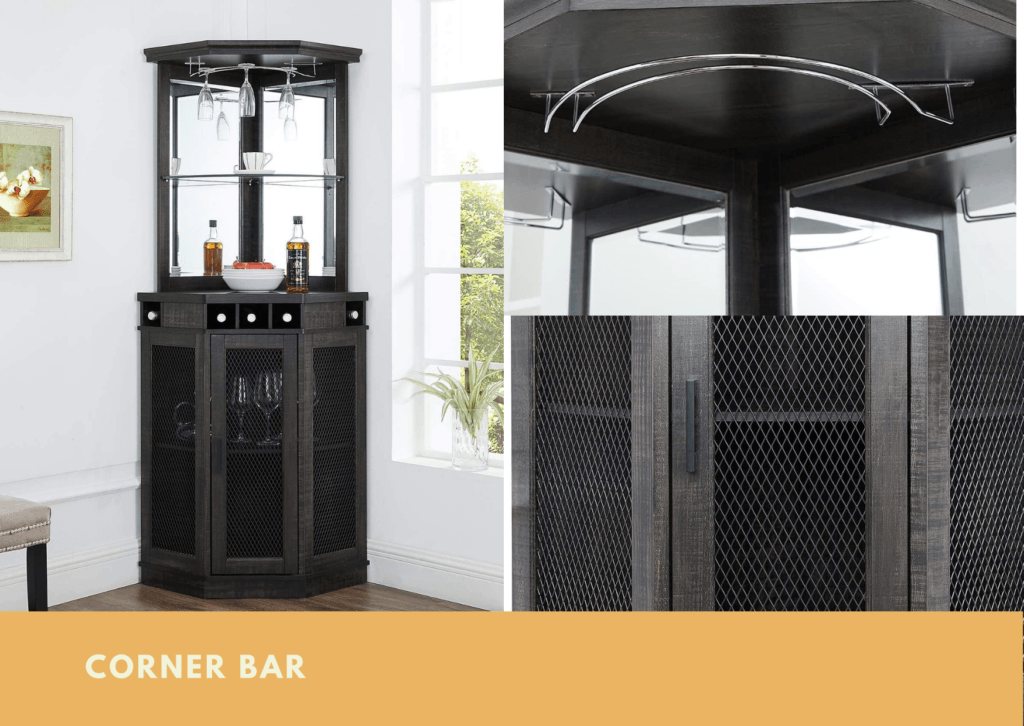 The corner bar, it has to be one of the best space-saving units around in terms of the amount of storage you get for the space invested. They fit neatly into the corner of the room without being intrusive, and they look good too.
A stylish bar that comes in many designs and can include a cupboard at the base with several shelves for storing bottles and glasses. The middle section can contain a small wine rack and on top of that is a serving counter. Beyond the counter are a couple of shelves, one for storing glasses or bottles, the other with a stem glass hanger.
Some of these units come with lights and look great when lit up of an evening, giving a proper bar feel. The top half of the unit can contain mirrors on the uprights, making it feel more spacious. For those that are short of space, a corner bar unit is ideal and stylish too.
Check Latest Price
Final Thoughts
It seems then, that there is always space to fit a home bar, not matter how small your room, there is scope for a bar. If you thought it could not be done in the space you have available, I hope this article has changed your mind. It would be great if it has inspired you to get your very own home bar.
There are plenty of ideas here, but if you want some more, then a good place is Pinterest, there are always so many good inspiring ideas. Just one little thing can spark the imagination and give you the inspiration for your own bar set up. I hope you now know how to fit a bar into a small space. Be inspired and start your home bar project, and let me know your thoughts below.