A brewery that people either love or hate making beers that people either love or hate. Controversial, yes they are, successful, definitely. I happen to like this brewery and the beers I have tried to date have all been interesting. However, is Brewdog Silk Road any good?
It's another New England IPA style beer laced with Lychee and Mango. There are promises of rich fruity aromas and a full mouthfeel with vibrant tropical notes. Sounds good, but does it deliver the goods?
Is Brewdog Silk Road Any Good?
Yes it is good, not exceptional, but a half decent hazy IPA that kind of delivers the goods. It pours a golden amber cloud with a generous frothy head. Mango appears first on the nose with a stream of tropical fruit trying to keep up. The taste bursts open with a candy sweetness, smooth, slightly hoppy and fruity with a comforting malt base. A slight bitter edge finishes proceedings to a sort of satisfying end. Rate My Beer 4.3 – 5.0.
It's a fruity refreshing start that has a bitter end.
The Giant Brewdog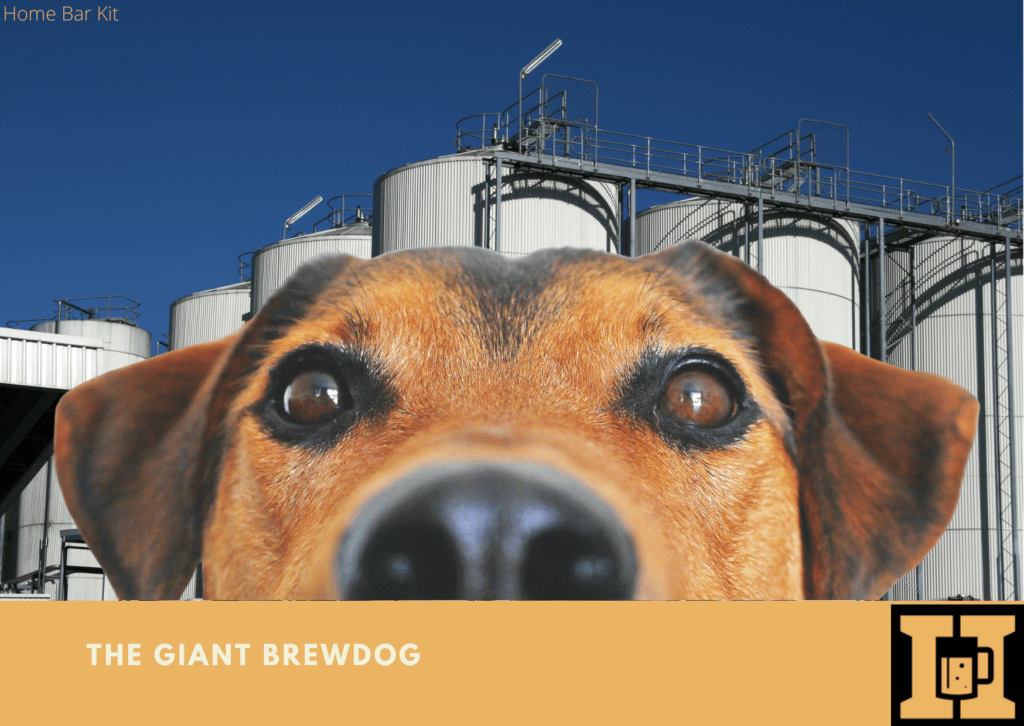 What started out as two men and a dog in a shed has become a giant in brewing. Although the beginning was bumpy, James Watt and Martin Dickie pushed forward and have created a company that shows no signs of slowing down.
The journey has been controversial and certainly divided the crowd. They do not conform to the norm and will push the boundaries, sometimes a little too far.
I am just here for the beer and like to try new ones all the time. Brewdog beers have featured several times and I have enjoyed writing about them and drinking them.
However I am aware of the clouds that hang over James Watt and Brewdog, and will keep an eye out to see if the clouds descend or lift.
For now though I will continue to try more Brewdog beers. There is a large Brewdog team that still works hard to produce some great beers and serve them in their bars.
Whatever the outcome for James Watt, Brewdog is is more than one person. I support the team that are working hard to produce a good product.
Back to the beer.
Is Brewdog Silk Road Any Good?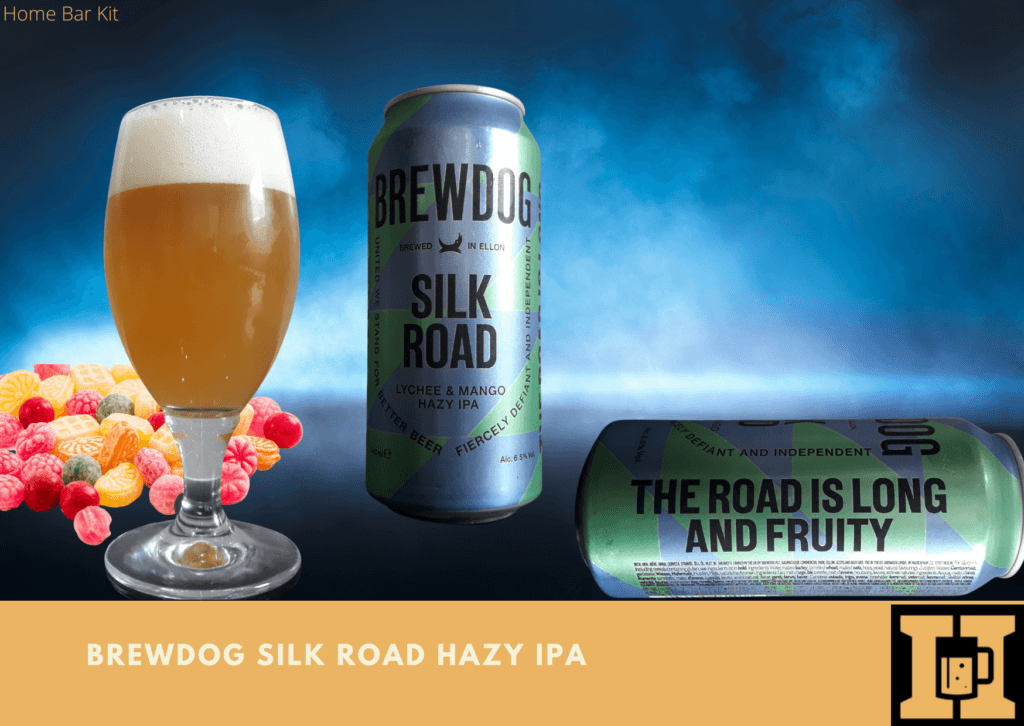 It is a good beer, I like it, but it is nothing exceptional. It doesn't stand up to Hazy Jane or Punk, but maybe it's not trying too.
Another New England IPA that is laced with Lychee and Mango and bursting with a fruity front leading to a bitter end.
The hop count is low in comparison to other sibling beers with just Ahtanum and Simcoe on board. The malt bill is more expansive with Caramalt, Carapils, Oats, Pale Ale and Torrified Wheat.
This maybe why the beers hoppiness is subtle with a rich malty base and a side of bitterness.
The pour is a velvet swirl of orange and white. It settles to a golden amber haze with a generous head. The head fades fairly quickly to a thin cover.
The nose is a burst of fruit with mango leading the way. A candy aroma blends in behind the mango, which is the lychee.
This comes through in the taste with mango at the forefront and a candied sweetness floating around it. It tastes like the candy sweets pear drops. There is medium carbonation and a smooth rich malty base that finishes with a bitter end.
I also got hints of orange and grapefruit, and M'Lady got melon too. It's refreshing and obviously juice like, but it doesn't feel like it has much weight.
That said, it does and weighs in at a session busting 6.5% Vol, so not to be taken lightly. It's decent enough and scores a rate my beer of 4.3 – 5.0. Lou scored it slightly higher at 4.4 – 5.0.
It's good, but not that good.
More Brewdog Beers
So as we know Brewdog are progressive in their production of beer and they are not slowing down. There always seems to be a new beer on offer, so what's on at the moment.
Here are a few beers that I have my eye from their vast range of beers.
La Out
I am not a fan of this type of concoction, this is marketed as the ultimate one-two. A hybrid beer that is a lager, but a stout too.
I will give it a go though, if I come across it. Promising to be malty, dark and smooth. Made with dark malts give it flavors of coffee and chocolate, there's your stout. A light body with a certain fizz tends not to go along with stout. However, there is the lager element.
I tried Brewdogs Zakur which is a black lager which had the aromas of stout as well as the tastes of stout. But it was light and with a lager feel, totally unnerving.
I am not sure this will be any different, but I will give it a go. It weighs in at 5.4% Vol, so just the one will do.
Boris Lie-PA
Due to be released in August this is a limited time beer, so will have to get in quick to give it a try. Obviously a little play on the resignation of Boris Johnson as the UK Prime Minister. Called a Resignation Hazy IPA it promises to smooth, hoppy and citrus.
Apparently brewed to celebrate the next chapter in UK politics, it weighs in at 5.5% Vol. With exotic fruit notes it is soft, fresh and well balanced. The gags just keep coming.
Hop Tiger
A double New England hazy IPA that is a fierce as a tiger, at 7.5% Vol it has a big bite. The hop bill is extensive with Ahtanum, Azacca, Citra, Sabro and Simcoe, so expect it to be hoppy and fruity.
I am sure it will be a fruity citrus extravaganza up front, but does promise a smooth rich malt base line for balance. Sounds a good combo, we shall see.
Final Thoughts
Whether you are a Brewdog fan or not, it is undeniable that the brewery is on their front foot when it comes to brewing beer. I do think though that there are too many IPA's being produced that are too similar.
I guess that is just the fun of playing about with different ingredients and flavors. The good thing is that the core range is a good one, and a lot of the others are just small batch runs and limited editions. So these are just a fleeting taste if you manage to get one while on sale.
Silk Road Hazy IPA is a good beer, but it doesn't set the world on fire. Punk and Hazy Jane are still the top Brewdog beers for me. Have you tried Silk Road IPA? Share your thoughts below if you have, as well as which Brewdog beer is your favorite.