We all love to entertain outdoors and there has been a trend in recent years for making our backyards into beautiful sanctuaries and great places to enjoy a drink and even cook and eat a meal.
Installing or building your own backyard bar is the ultimate accessory to have and enjoy outside, but when space is tight something a little simpler like portable outdoor bars are well worth considering and they pack away neatly after use.
I am going to look at 3 portable outdoor bars.
Portable Outdoor Pull Up bar
There are a variety of different types of portable bars for use outside and although you are not going to get the kind of quality or sturdiness of a larger fixed bar, they are a fraction of the cost and still very functional.
What is a portable outdoor pull up bar?
Essentially we are talking a small base unit with a lid that slides upwards and fixes in position to form a bar top, the base holds the beer or wine, which can be also be filled with ice to keep them bottles or tins cool. A simple effective idea and an easy economical way to enjoy outdoor drinks with your friends.
The Pacific Cool Bar
This dark Grey round pop up bar with a rattan looking finish appears to be just another table, and would serve this purpose well between a couple of sun loungers. But when time comes to liven things up and may be entertain with some friends, just a twist this simple looking table extends upwards into a bar top.
At 22 inches in height when in its table guise this extends to 33 inches high in its cocktail bar impersonation. This is not only a versatile table/bar, but also a cooler, the base has a 7.5 gallon capacity for ice to keep those bottles and cans cold. When the ice has all melted there is a drain plug for easy discharge, making it simple to empty and clean.
It claims to be able to keep drinks cold for up to 12 hours, although I am not sure that will work out, but who keeps their beer hanging around for 12 hours anyway.
There are a lot of customer reviews on this cool bar, somewhere in the region of 11000 and has a 4.7 star rating, so it seems to be well liked, although you will always find some negative reviews with anything you look at.
Made from a polypropylene resin it seems to me to be a decent sturdy product with a reasonable price tag, if it only lasted one season it has to be worth it, but if looked after there may be many seasons endured.
That is the Pacific Cool bar.
The Go Bar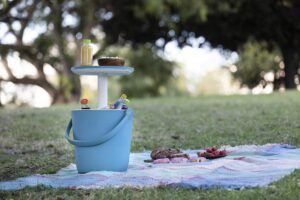 A nifty little bar that you can use on the go, at home in your garden, on a picnic or at the beach, it really is a go bar. Where ever you go, if you need to take refreshing drinks, then this little cooler bar is perfect. It has the same principle with the lid that extends up to form a bar top.
It is a lot smaller being around 14 inches in height when closed and 24 inches high when top is extended. Obviously it has less capacity too for ice and cans being only 4.2 gallon capacity which should hold around 15 cans with ice. It will hold bottles too, as long as they are not tall, I don't think a standard wine bottle is going to fit, so bear that in mind if your favorite tipple is wine.
The go bar is a cooler that has the added advantage of having a cool extendable bar top, it has a carry handle too, for easy portability. There is no drain plug, but as it is like a large bucket it is still easily emptied and cleaned, being made of the same durable polypropylene resin material. It weighs in at a decent 4.6 star rating.
The Go Bar is a neat cooler/bar that you can take anywhere.
The Breeze Bar
If you want something a little bigger for your outdoor entertaining then the Breeze Bar will fit the bill well. It is rectangle instead of round and has a larger capacity as well as a larger bar top that again extends upwards. Although it has a carry handle at each end, which makes it portable, I would not go as far as portable enough to take on a picnic or to the beach, lets just keep it in the backyard.
It is just over 20 inches in height when closed and extends to 29.5 inches high when serving as a bar top, the length comes in at just under 33 inches with a width just shy of 16 inches, so it is bigger but not too big.
It has an impressive capacity of 14.8 gallons to hold a lot of ice and drinks, and again has a drain plug for easy emptying, making it simple to clean. The same polypropylene resin is used again making it durable with a sturdy set of legs, but don't be tempted to sit on the closed lid, it is a table not a seat. It comes in at a top 4.7 star rating.
The Breeze Bar is the heavyweight of these 3 picks and my favorite too.
Outdoor Fun Bars
These great outdoor fun bars may be small, but they pack a punch when it comes to usability, they might not provide the same kind of bar experience as a larger fixed bar, which can hold a stocked refrigerator and glasses and other bar accessories, but they do the basics.
The main thing is that they can hold ice and drinks, while providing a cool pop up bar too, which can quite easily accommodate some bar stools to sit at the bar. They provide the basics you want in an outdoor bar, and at the same time can be neatly packed away after use, and on top of that are a fraction of the cost.
They do have an advantage over a fixed bar too, being portable you can move them around to suit your entertaining mood. You may want your bar by the barbecue, but then another time you want it the other side of the yard or even in the front yard, portable is versatile.
When the winter sets in they are easy to store away until next season, and I am sure that you can get covers for them too.
Portable outdoor bars are cool.