Life in our world at the moment is a little unsure, even scary, none of us really know when things will go back to normal, if they ever actually return to the normal we all once knew, and on top of that begs the question, will most businesses survive this pandemic?
There are many people that have lost their jobs and livelihoods, and there are many businesses gone down and lost everything. It's a sad state of affairs and the hospitality industry is one of the hardest hit, so will bars survive Covid 19, or is there going to be a lack of bars when things open up again.
Restaurants, Bars, Hotels, Theme Parks and Holiday Resorts have all been hit hard and us as consumers have missed them a lot, so how have we adapted in these strange times to satisfy our appetites?
The Home Menu Has Grown
Whilst we cannot go on holiday which is a big hit for many of us that love to travel and experience different cultures, we can't eat out either. The humble restaurant we miss, those delicious meals accompanied by beautiful wine and the great conversation with family and friends have all gone for now.
This may have forced us to rediscover our own kitchens and become more adventurous chefs in our own domain. Although not everyone will share the same enthusiasm, there are those that have dived into cooking new and exciting recipes for themselves and their families.
It is not just the kitchens in our homes that have charged into action, some of those that live in warm climates are installing outside kitchens for the ultimate al fresco dining experience, and why not. Those Barbecues are getting some use too, and demand has been on the up for these outside cooking machines.
We are all looking forward to the day that we can eat out in a restaurant again, but at least the worlds home cooking has improved.
Build A Home Bar
You may have been wondering why I have been talking about the Pandemic and restaurants, surely I should only be talking about home bars.
Well here I go…
The consumption of alcohol at home has obviously gone up since we were all locked down and the bars all shut their doors, it makes sense, people still like to enjoy their favorite drink, so if we cannot go out for a drink, then we will stay in and enjoy a drink instead.
This has prompted some people to make a space for them to enjoy a drink with their partners and families, and many are installing their own home bars to recreate the whole bar experience.
The demand for home bars and accessories are on the up, and although at the moment we can only enjoy our bars with a select few that live in our household, when things go back to normal, we will have created a great entertaining space for our wider family and friends.
I want the bars to bounce back, as I am sure you do too, but how many will survive, and what is it going to cost us as the consumer when those that do survive re open their doors? I will continue to support my local bars, and I urge others to do the same, but the home bar just gives us our own space to enjoy the bar experience.
We Have Changed Our Habits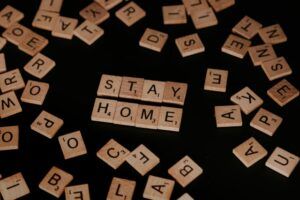 When it comes to eating out and meeting up at our local bars, things may well look different after restrictions are lifted. We will go back to eating out of course, I mean I can't wait to book a table at one of my local restaurants and enjoy an evening there with my wife. The same goes for meeting up with friends and enjoying a drink and a catch up at my local bar.
I Just think because we have adapted our cooking skills and created a space for a bar in our homes we may not visit the restaurants and bars as much as we did before the pandemic.
We are going to be more cautious about mixing in large crowds probably without intentionally doing so, it 's just human nature that we will be apprehensive at least at first anyway.
Getting together with our friends in our own home bar has a big appeal, and if any of our friends have built their own home bars too, then we have more than one bar to visit. If your friends have not installed their own bars yet, they soon will when they visit your home bar.
Vacation Plans
I have cancelled two vacations, and booked a new one for later in the year, I am hoping I do not have to cancel that one too. A vacation or a visit to a theme park or other tourist attraction cannot be recreated in the home, okay a theme park may be the exception to that rule, but only if you have plenty of land and money.
If we want a vacation, then we have got to travel, same goes for theme parks etc. When all restrictions are lifted these industries should go back close to what they were before, except those that did not survive. Like me you may have vacation plans awaiting, so demand will be high.
The Point Of This Post
We have all had to go through the same pandemic, people and businesses have suffered and not just on a financial level, but mentally too. I will not go into this subject here as the point of this post is to promote home bars and the kit that goes with them.
Like I have already said I want the bars and restaurants to recover well, but I also think there is a space for the home bar, it's a good investment, for you and for your house. Even if you have not thought about building a home bar, it's not to late. There are rumors that things may start going back to normal soon, that doesn't mean we have to put a stop to a home bar plan or not install one.
Things have changed and we have adapted, and our new outlook may see us going out less than we did before, we may eat at home more with our new-found cooking skills, and we may well be mixing our own cocktails too.
Lift a glass to life without restrictions, and if you have your own home bar get ready to invite your family and friends to your very own pub, enjoy.
Stay Safe.