Entertaining at home has always been popular, whether it be a small gathering of friends or a full-blown party and nothing is about to change any time soon.
When entertaining at home the ultimate experience for you and your guests is to have an area dedicated to the serving of drinks, which is where a home bar comes into play. This could be as simple as a portable trolley bar, or an elaborate fully kitted fixed bar.
What do we mean when we say Wet Bar vs. Dry Bar?
There is very little difference between the two, which should make your decision easier when choosing between them, like I have said in the title, it is all about the plumbing.
What Is A Wet Bar?
When setting up a wet bar you will need to consider how easy it would be to route a water supply to your bar, and also a drainage facility too, because a wet bar will need a fully working sink.
This is why some will say that a wet bar is better than a dry bar because you can wash glasses, cocktail shakers or blenders right there at the bar without having to leave your bar and your guests.
A lot more convenient, but also more expensive than a dry bar, which will also take more planning and possible disruption in your home because of routing the water supply and the drainage to and from the sink. This may also limit where your bar can go in your house.
What Is A Dry Bar?
I am pretty sure that you will have guessed that a dry bar is a bar without a sink, and you would be right. This makes it easier to set up, less expensive, and without disruption.
A dry bar also means that you can put your bar anywhere in your house because there will be no plumbing issues to think about.
All you have to do is decide which one is best for you.
Shall I choose A Wet Or Dry Bar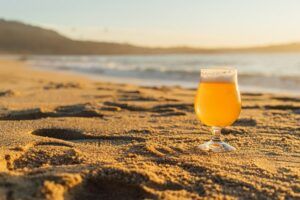 It is up to you, this is an individual choice, personally I prefer a wet bar for the simple reason that you do not have to leave the bar or your guests at any time.
You may prefer the simplicity of a dry bar, and who would blame you because there could end up being a lot of disruption installing a wet bar.
If you have the ideal spot for your bar that has a water supply and drainage facility close, then it is possibly a no brainer to include a sink unit in your bar.
If on the other hand the only place in your home where your bar can go is no where near a water supply or drainage, then a dry bar may be the only option.
The Wet Bar
A few points that really sell the wet bar.
A bar top needs wiping regularly, a sink makes it easy
Easy to wash glasses, hands, bar accessories and rinse cloths
A sink at your bar is even more important when your kitchen is the other end of the house
The glasses and bar accessories stay at the bar, you don't have to keep carrying them to the kitchen to wash
You don't have to disappear from your guests every time something needs washing or rinsing
A wet bar is definitely appealing.
The Dry Bar
A few points that help sell the dry bar.
No big disruption from running water and drain pipes
A cheaper option
Easier to plan and set up
Less room needed for bar
A dry bar is always a viable option.
Build Your Best Bar
While the decision seems an easy one on the surface, as we have learned when you dig deeper and realize that to include a sink and make your bar a wet one, there can be complications when thinking about running a water supply to your bar and drainage away from it.
You may only have the option of a cold water supply to your bar, which would not be as ideal as both hot and cold water to your sink, but if that is the only option, then you can easily fit a water heater unit to overcome this problem.
Having a sink included within your bar makes for a more complete bar, but it is not a necessity, a dry bar will still be a perfect area to entertain guests and the fun will still flow.
Which will you choose and why, share your wet bar vs. dry bar views below and any tips you may have that can help others, or if you have any questions we may help you with.