Having a home bar is a dream for any beer lover. However having beer on tap just puts the cherry on the cake. Pouring a beer from the tap is like bringing the pub home. So what about countertop draught beer? How easy is it to install a tap at the home bar?
Well it depends on how far we want to go and as always the budget available. But it can be as easy as pouring a beer to get that real draught feel at home.
What About Countertop Draught Beer?
Whether you have a home bar or not, it is still easy to get draught beer at home. Any countertop will do, all is needed is somewhere to stand the draught unit. A table or shelf are just a suitable as a bar top or kitchen countertop. Home bar beer dispensers are compact units that will fit in small spaces.
As long as we get the right beer dispenser, then we will have a good choice of mini kegs for our draught beer.
What Is A Kegerator?
Simply put a kegerator is a type of fridge that is designed to store and serve a keg. The kegerator unit itself is a fairly large unit around the size of a standard fridge. However there is more to the keg than meets the eye.
Other components that make up a kegerator are; C02 cylinder and tubing, a regulator, coupler and tower. The there is a tap and handle which all need to work together to produce the perfect draught beer.
It is possible to convert a standard fridge into a kegerator, but this does involve some work and know-how. A purpose built kegerator is a far easier route, but can be expensive. Although a kegerator is the ultimate setup for a draught home beer experience, we don't all have the room.
However there is another way to get draught beer that will sit on a countertop.
The Mini Keg Beer Dispenser
A full on kegerator with all the gubbins may not be suitable for everyone. But how about draught beer poured from a tap in a compact unit?
This sounds much more suitable for the small home bar, or even the kitchen work top. A mini keg beer dispenser is a well designed compact unit that holds a mini keg. The most popular size of keg is 5L and they come in a variety of beers. The unit also houses a mini C02 unit and pours via a tap.
It is the perfect way to get draught beer at home.
Krups Compact Draught Beer Tap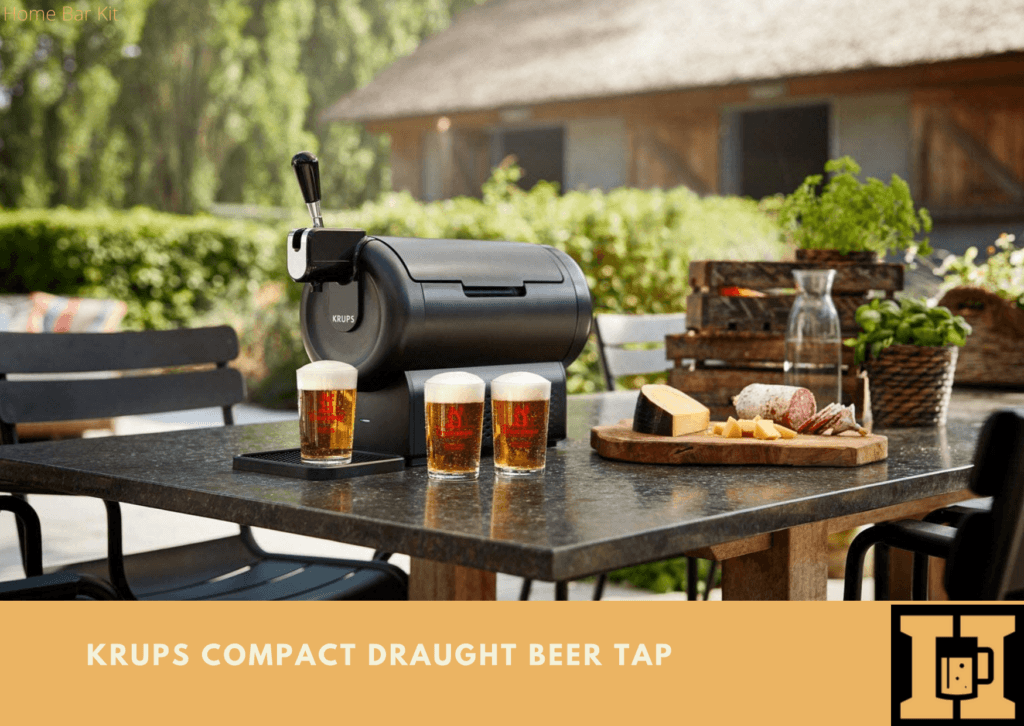 Check Latest Price
This little compact unit is ideal for small spaces with a length of just 18 inches (45cm), a width of 7 1/2 inches (19cm) and a height of 15 inches (28cm). It will fit on any countertop and will look great on a home bar top.
Unlike the popular 5L capacity kegs, this one takes 2L kegs known as Torps, which for me is a little small. It is convenient in respect of its footprint, however beer capacity is limited. You are literally getting around four pints of beer per Torp. Have a few friends around to you home bar and you will spend most of the time changing the Torps.
There is a variety of beers to choose from including, Heineken, Moretti, Tiger and Amstel, which is good. Although the unit is reasonably priced, I feel the beer works out a little expensive for home drinking.
A good beer dispenser, but the kegs are too small for me.
Salter Professional Beer Dispenser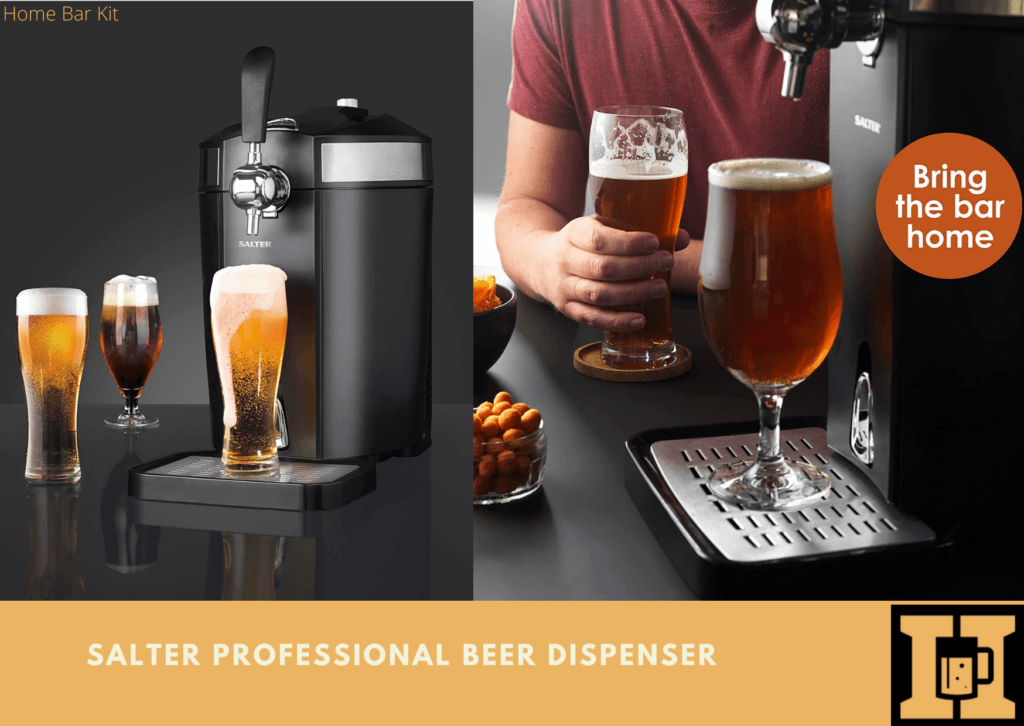 Check Latest Price
Something a little more practical is this Salter beer dispenser. It will take any 5l keg and cools the kegs to between 3 -6°C (37 – 42°F). Bear in mind that these units do take several hours to cool the kegs down. Unless of coarse the kegs are refrigerated beforehand.
The Salter has an adjustable gas control via tiny gas canisters, with three included. A sleek design with a flip lid to insert kegs, a stylish tap and drip tray to avoid drips and spills. Will look great on any countertop, and is sure to impress friends. The 5L capacity will deliver around ten pints, so no constant changing the keg.
It looks good and performs like a professional pump.
Bergendi Home Beer Tap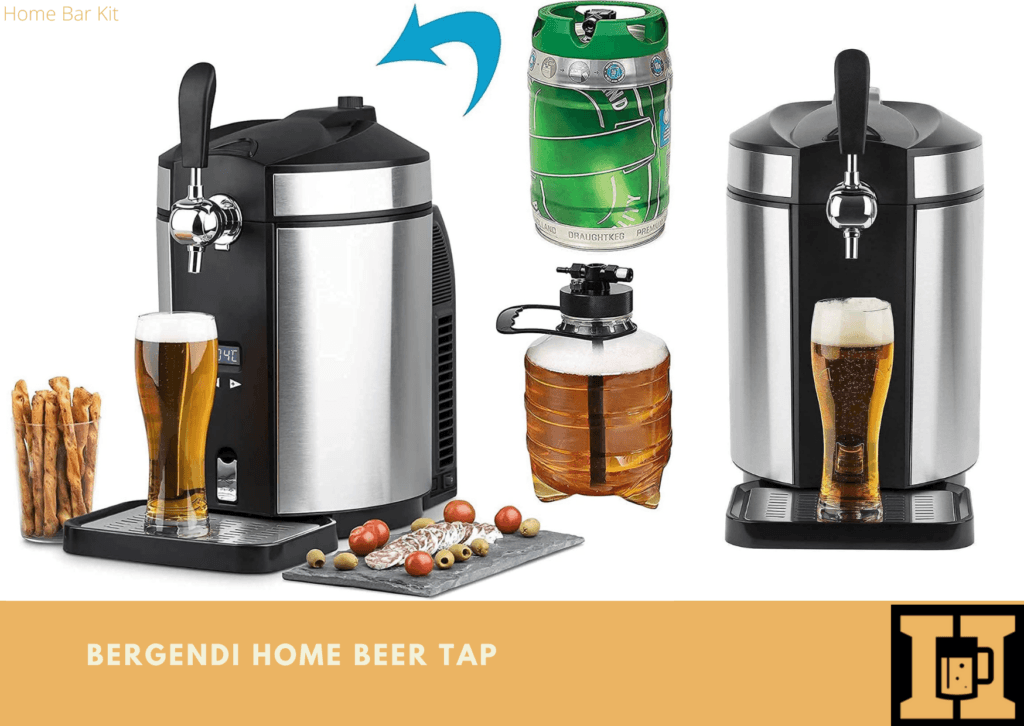 Check Latest Price
Another great beer dispenser for the home bar, but with a little difference. Just like the last one this is compatible with any 5L beer keg, which serves around ten pints. However it comes with a plastic growler keg included which is ideal for filling with homebrew.
Brew your own beer, fill the keg and serve it on draught, just so cool. A great idea to enjoy your own home brewed beer the best way, on draught. The chilling system can chill beer down to 4°C (39°F) and has an LED temperature display.
Finished in black and silver it has a flip lid for inserting the kegs and a convenient removable drip tray to keep thing clean.
Perfect Draft Beer Dispenser
Check Latest Price
The perfect draft beer dispenser from Phillips is a great machine and does use 6L kegs which is around 12 pints. However it only uses the Perfect Draft kegs, which is fine, especially as there are around forty to choose from.
This does give you a pretty good choice of beer, with the likes of Coroner, Tiny Rebel, Goose Island and Stella Artois. Like others it has a cooling system and can cool as low as 3°C (37°F). There is an LED temperature display too, which twins with the amount left in the keg. Although it looks similar to other models the kegs are loaded in the side rather than the top.
A drip tray finishes this stylish model off and the design will enhance any bar top.
Blade Professional Beer Pump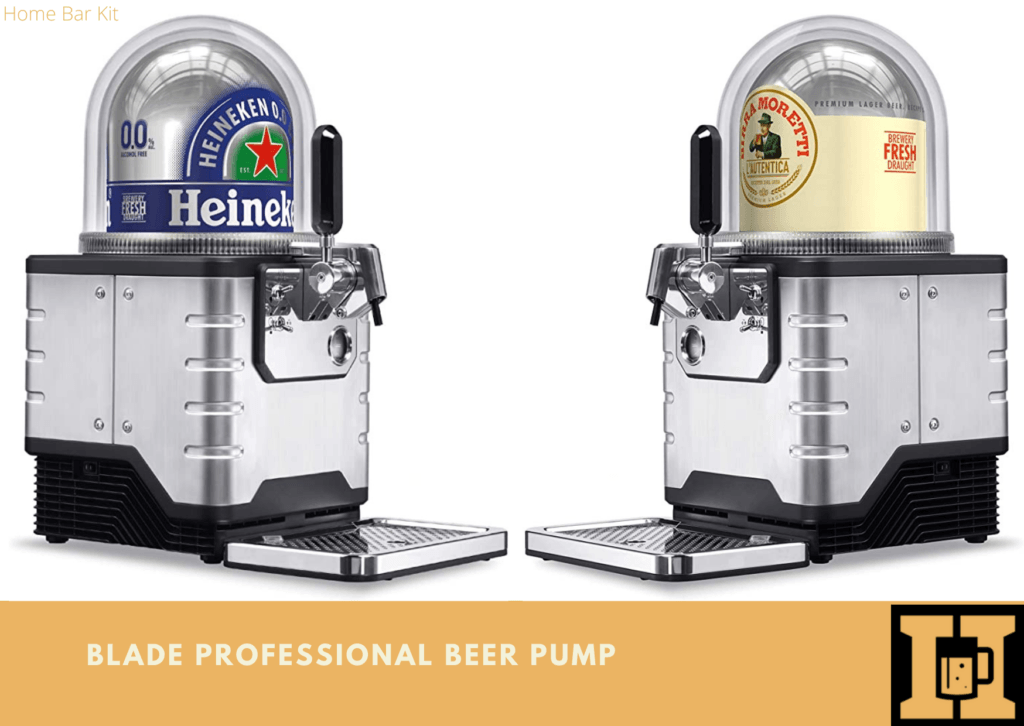 Check Latest Price
The Heineken Blade beer dispenser is an impressive looking beer dispenser and would look great at any home bar. However it is a little restricted and does not have the range of beers that some of the others do. Fine if your favorite beer is Heineken, or Moretti, Desperados, Affligem and Edelweiss, but that's it. At least at the present time, I am sure more will be added.
The plus side of this machine is the kegs are 8L which serves over sixteen pints. Great for a party in the home bar then. The kegs show through the glass cooling chamber, so you can see what beer is loaded, which does look cool. It can chill down to 2°C (35°F) and doesn't require any C02 cannisters.
It looks good, but is a little restricted in terms of beer available.
Final Thoughts
So there are a variety of mini keg beer dispensers to choose from. They would all be a big asset to a home bar, or any countertop at home. Some are less desirable in terms of capacity and beer choice, but all are functional.
The 2L Torps for me are just too small, whereas the Heineken blade although larger in capacity lack the choice. The Bergendi home beer tap for me is the most versatile being compatible with any 5L beer keg. Also the bonus is the Growler that comes with it, being able to use it for home brew is a great extra.
It's the middle of the road on price, but the most versatile by a long way.