We all know the table football game that is played and enjoyed world wide. Football figures hanging from rotating bars ready to strike the ball at the opponents goal. Played at a variety of venues including bars and game halls, or even at home. However, what about a table football game with a real ball that you actually kick. You can play football under this table while having a drink.
How is it possible to play football under a table with a real ball? It is hard to picture, let alone how it actually works. Yet it is a real thing, or should I say a real game. Also it is a real game that could find a place in your home bar, as long as room is not tight. So how does it work?
You Can Play Football Under This Table While Having A Drink
Concentrate now and picture this while I explain the table. This table football game is called Subsoccer, the table is rectangle and has a clear top. At each end of the table is a fixed seat with netting around the base, these are the goals. There is a mini football pitch on the floor, which can be seen by the players through the galls top. Finally, there is a ball, and the aim is to score in your opponents net.
Sounds like fun, but where did it come from?
Subsoccer Table Football
It sounds like a new concept, which is why you probably haven't heard of it before. But this game is 14 years old and comes from Finland. Jarno Saarinen is the guy behind this not so new invention, which came about whilst on vacation.
Although Jarno came up with the idea, it came about because of his daughter Emma. Going back to 2008, Jarno was sitting on the balcony of his apartment. He was watching the 2008 Euro's, but his daughter Emma was bored.
Thinking of something to entertain her, he set up two chairs opposite each other and they kicked a ball, both aiming to get the ball between the legs of the chairs (the goal). This worked fine, but the ball kept flying around the balcony.
To remedy this Jarno put some towels between the chairs and around them to contain the ball. Subsoccer was born, but it stayed a makeshift game played on vacation.
Sit, Kick And Get Hooked
The newly invented football game was shelved, Jarno didn't have time to develop and market a new product. However in 2015 his company was sold, freeing up time for something new, and the game resurfaced.
Today his company 4 Feet Under Ltd produces and markets the game, and it is sold in over 30 countries worldwide. Looks like it is catching on, it might appear in a bar near you soon.
The not so new football game for two players that you play while seated, its got to be Subsoccer.
Sit Kick And Have A Drink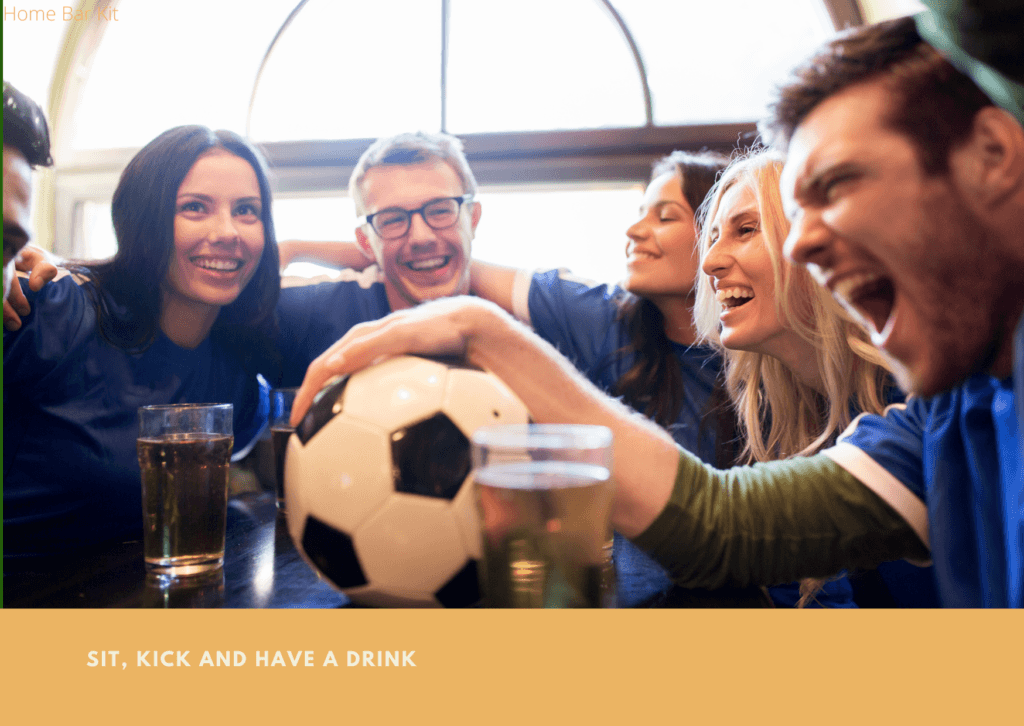 It sounds like the ideal bar game and something a group of friends can enjoy on a night out. Set up your own football tournament while enjoying a drink together.
But how does it work?
The game unit itself is made up of a table with a clear impact resistant top. The table has nets that run along the sides. A seat with netting around three sides sits at each end. The whole unit sits on a game mat, which is a mini football field. Obviously, the last piece of the puzzle is the match ball.
The original table is the Subsoccer 7 with a table length of 4.7 feet (144 cm) and 2.9 feet (89 cm) in width. With the chairs fitted the whole unit becomes 7.6 feet long with the width staying the same.
There is a lighter cheaper version which has a slightly smaller footprint called Subsoccer 3. This unit has an overall length of 6.4 feet (195 cm) and a width of 2.6 feet (81 cm). This would probably be the best option for a home bar, although at the time of writing is not yet released.
How Do You Play Subsoccer?
It's a simple game, there are no complex rules here, and no offside rule either, just a straightforward kicking game. The idea of the game is to protect your own goal, whilst skilfully planting the ball in your opponents goal.
The Rules
First, whoever wins the toss gets to start. The official way is to play rock, paper, scissors, but a simple toss of a coin would do.
Second, you kick off inside your own goal area.
Third, You must stay seated throughout the game.
Fourth, Your feet must stay your side of the center line.
Fifth, score 3 goals and you are the winner of the set.
Finally, To win a match you need to 2 sets.
A simple set of rules that are easy to follow. Although I am sure this will not be adhered to by everyone, the official Subsoccer games are played without shoes. This is to protect both players, or at least their shines. No one wants a kick in the shine with a shoe, or worse still the heel of a stiletto. It makes sense to kick off the shoes and play safely.
Is this a game that would work well in a home bar?
Sit, Kick And Have A drink At Your Home Bar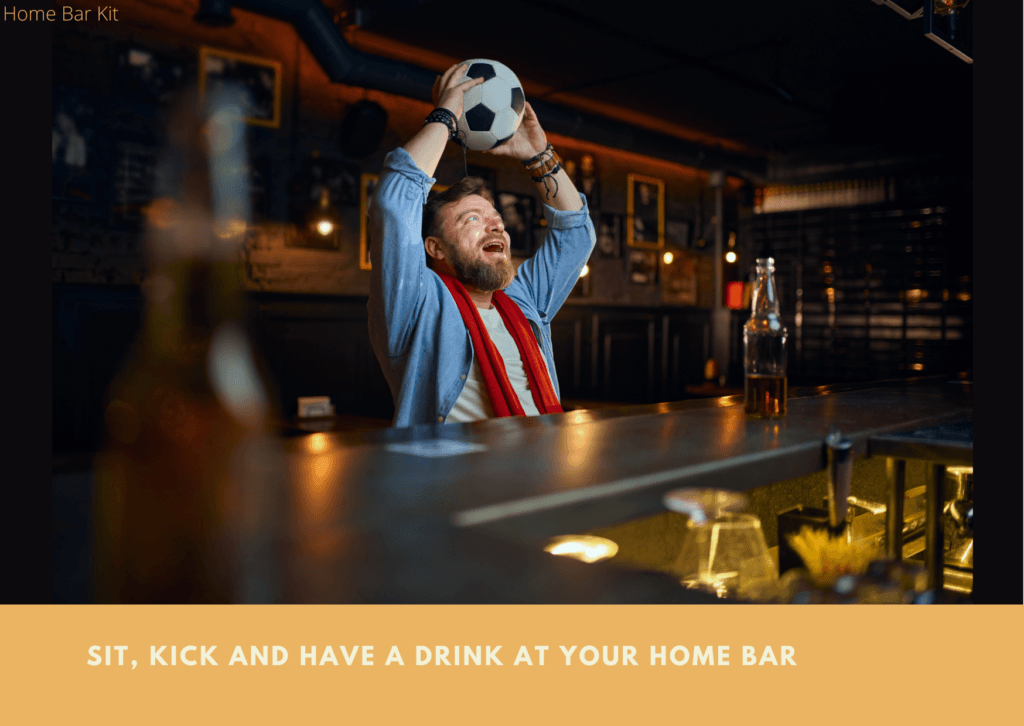 It is a definite contender for a great home bar game, but it will require some room. If your home bar is tight for space, then you may have to find a bar that has a Subsoccer table, because it doesn't fit into tight spots. Even the Subsoccer 3 will take up a floor space of 6,4 feet (195 cm) by 2.9 feet (89 cm), and that is without allowing room around the table.
On the other hand if space is not an issue, then it would be a great game addition to any home bar. When not in use it can be used as a normal table that you can sit at and enjoy a drink. A table that transfers into a competitive football game.
However, another thing that might be a factor in buying this game is the price. It is a game with a heavy price tag. Having said that, the smaller Subsoccer 3 does promise to be at a more reasonable price. You can find out more at the Subsoccer website.
Final Thoughts
Who would of thought that a new type of table football game would emerge on the market. Especially one that involves using a real ball that you actually kick. A truly simple concept born out of boredom, but one that is getting more popular by the day.
The biggest downside is the price, but there is a way to overcome this, build your own. It wouldn't take a lot to build your own version of this football game, just a thought. If you have seen or played the Subsoccer game, then share your thoughts and experiences below.