The taste of beer is delightful and we all have our favorites, but sometimes we just like to try something different. Even though we often stick with our favorites, now and again we fancy trying a new beer.
Variety is the spice of life, we have all heard that saying, well it's a good philosophy to bring this into your beer drinking. A new blonde ale, a dark IPA or stout, but which one should you try?
Why not try a selection, why not have a flight of beer and find out which new beer you like best, you may even find a new favorite. This is where beer tasting flight boards are handy, in fact they are made especially for the job, and we look at a top selection of right here, right now.
Beer Flight Tray
A flight of beer is a small selection of beers served in small glasses as samples for people to taste. It is a way for a brewery to get people to try their brews. A flight can consist of 4 to 8 beers and normally is arranged from light beer to dark beer.
A flight of beer can be tasters at a brewery, a restaurant, a bar or even at your own home. Why not organize a beer tasting night at your home bar with a group of friends. It's a great way of comparing notes and finding out about new beers.
As a flight of beer is more than one glass it will need something to be served on, like a tray. This is where the beer flight tray, also known as a beer flight board, or even a beer flight paddle come in. Basically these are specially designed trays for the purpose of sampling beer.
These special trays can be used for tasting spirits or wine too, just call it a wine flight tray or bourbon flight tray, you get the picture.
Now we know about a flight of beer and the specially designed trays they are served on, lets take a look at some great beer flight trays.
Beer Flight Sampler Serving Tray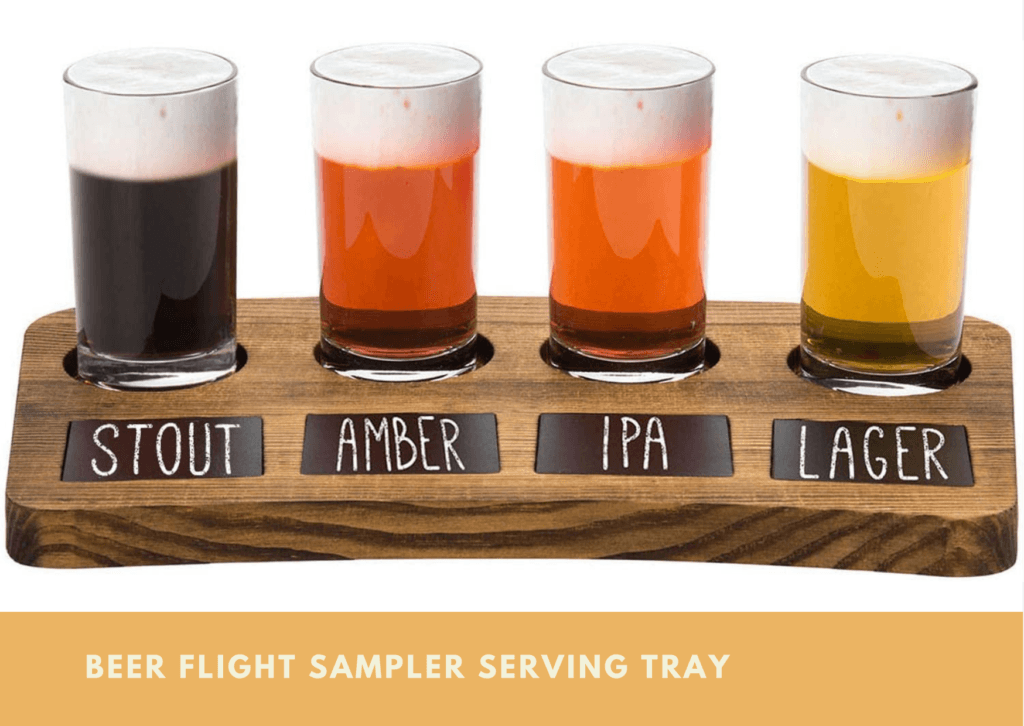 Kicking off we have this basic design dark brown wooden flight tray for serving those sample beers to your family and friends. This tray holds 4 glasses, which are supplied and hold up to 6 ounces of beer, wine or spirits each.
The glasses are 2.25 inches in diameter and 4 inches in height, so perfect for tasting a new beer. The tray itself is 13 inches in length, with a depth of 7.5 inches. The tray has 4 chalkboard labels so you can identify the drinks on the tray.
This is a great looking rustic wooden beer flight tray that would look good in any home bar.
Chestnut Brew Crafts Serving Tray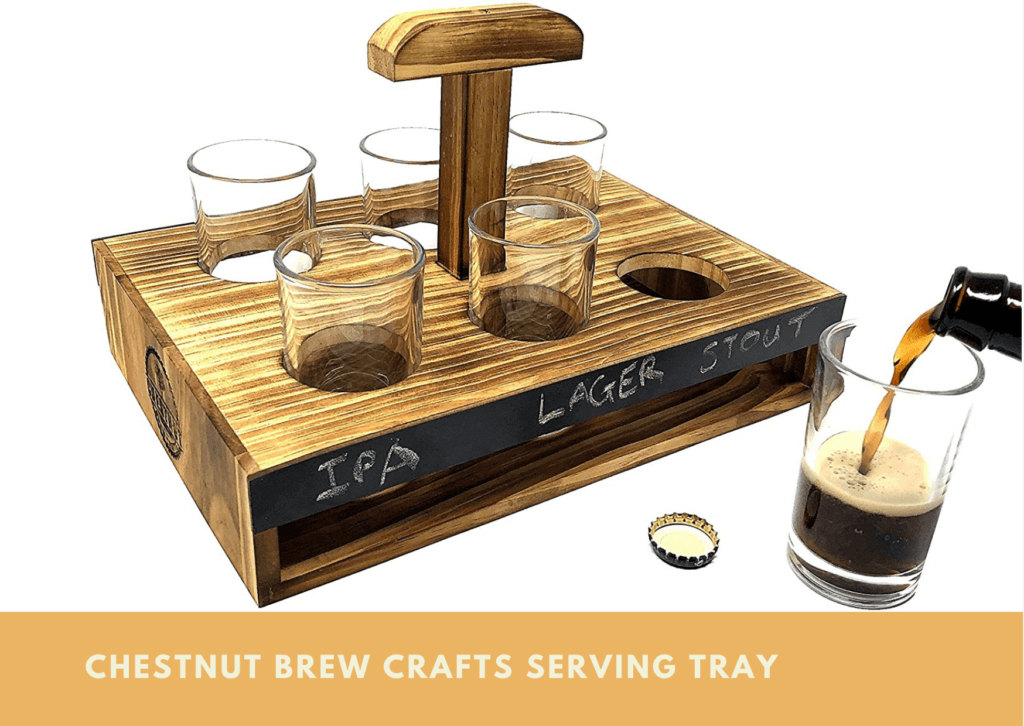 This beer flight tray from Chestnut Brew Crafts is a totally different design, but just as practical and comes with 6 glasses. The box like design favors a center handle and deep holes for the glasses, which stop the chance of them toppling over when being carried.
The 6 glasses which are included will hold 5 ounces of beer, or any other liquid. The tray measures 12 inches in length and 9 inches in width, the height including the handle is 7 inches. There is a chalkboard panel on each side of the box tray to mark the drinks being served.
The center handle means that you can hold the tray with one hand, giving you the option to buy a second tray and carry two at once.
A nice designed tray that is also practical, just remember the beer is not included.
Solid Oak Beer Flight Paddle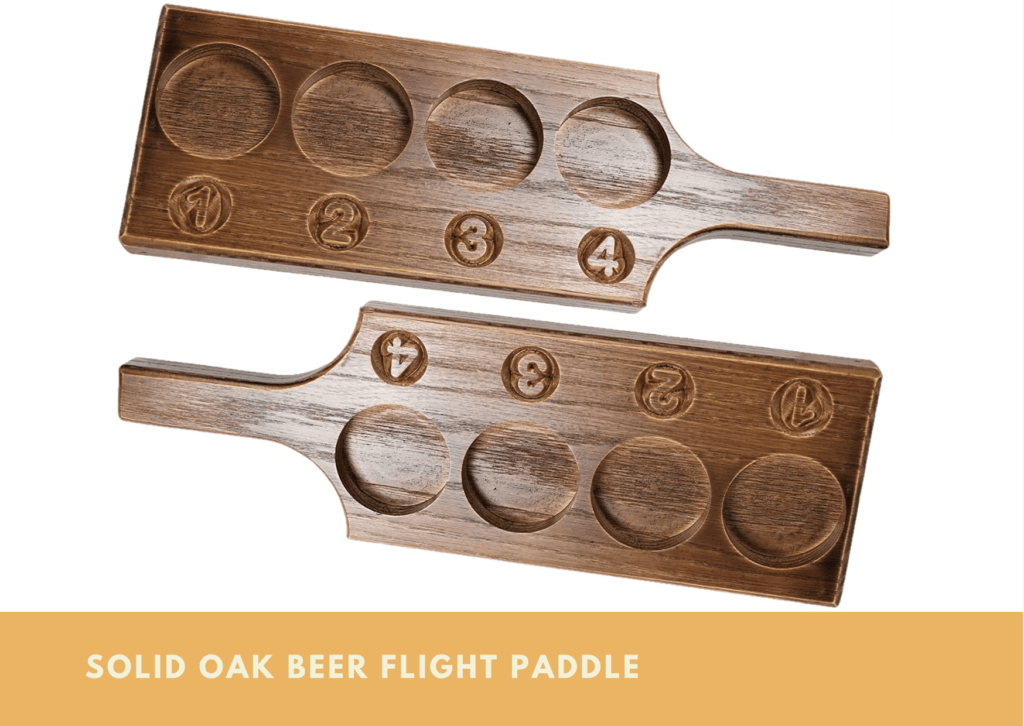 The paddle type beer flight trays are quite popular in the bar and restaurant sector. This type will also look and work equally well at your home bar. They have a more professional feel to them than other designs, that is not to say they perform any better though.
This solid oak version comes as a two pack with four glass capacity on each paddle, the glasses are not included though. Each inset is 2 1/2 inches in diameter, so will hold any glass with a base diameter the same or less.
There are no chalkboard labels on this one, instead there are some nicely carved numbers in front of each glass inset. The paddle is 16 inches in length including the handle and just over 5 inches in width, with an impressive 1 inch in thickness.
If you like the paddle design, then this is a good sturdy choice.
Beer Tasting Flight Set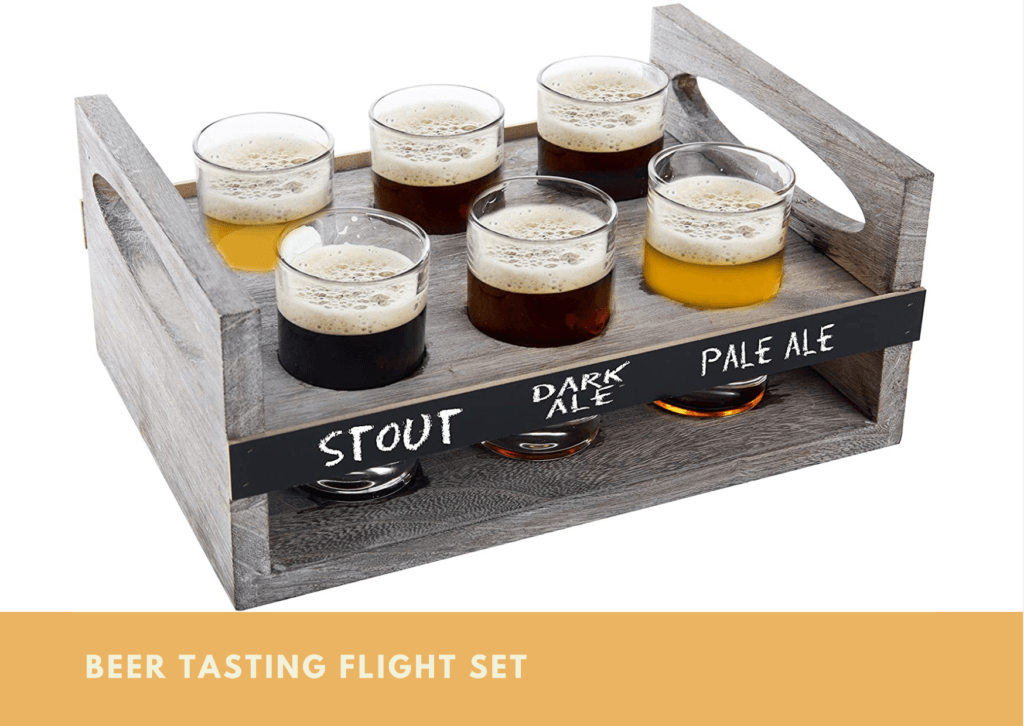 This is another box type design which will also hold 6 glasses. The box design does hold the glasses secure when carrying. Unlike the other similar design which had one handle in the middle, this one has cutout handles at each end.
The 6 glasses are included and the unit is just over 12 inches in length and 8.7 inches in width, the height is just over 5 inches including the cutout handles.
Each side of the unit is a chalkboard label which runs the whole length giving plenty of room for drink identification. A simple but effective design perfect for a home bar.
Baseball Bat Beer Flight Paddle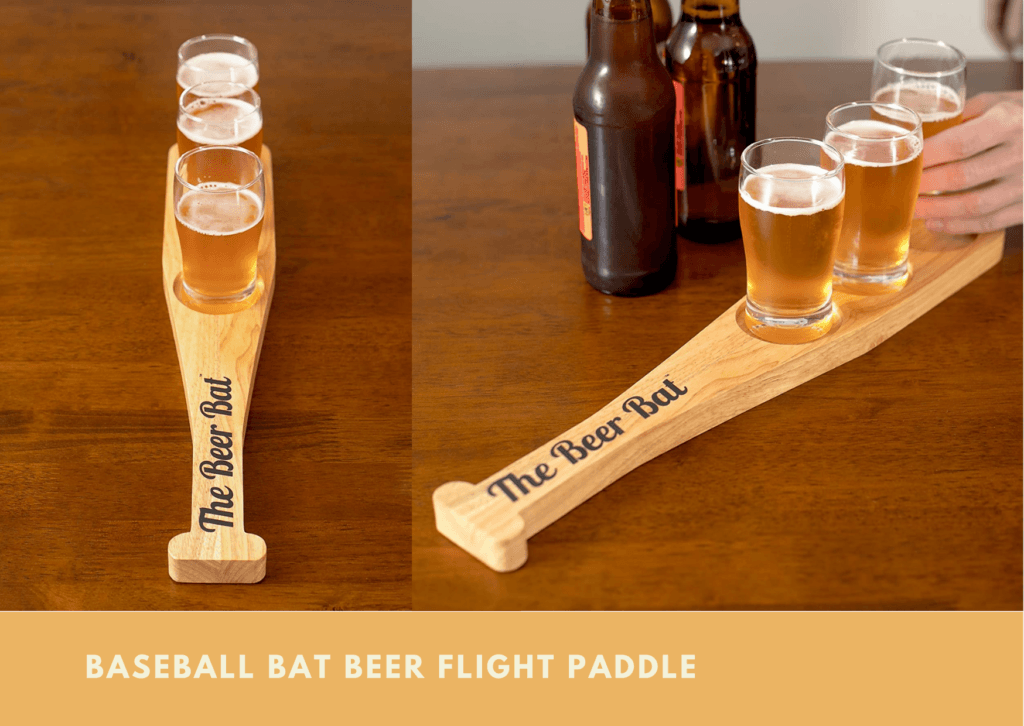 This novel baseball bat beer flight tray is of the paddle type design and although looks great only holds 3 glasses. The glasses are included and will hold 5 ounces of liquid.
Measuring in at around 17 inches in length, this beer flight paddle is made from hardwood and finished with a clear waterproof varnish.
The aptly named beer bat is a great novelty piece that is ideal for the beer loving baseball fan and will fit into a home bar nicely, especially if it is a sport's theme bar.
A Caddy With Sampler Boards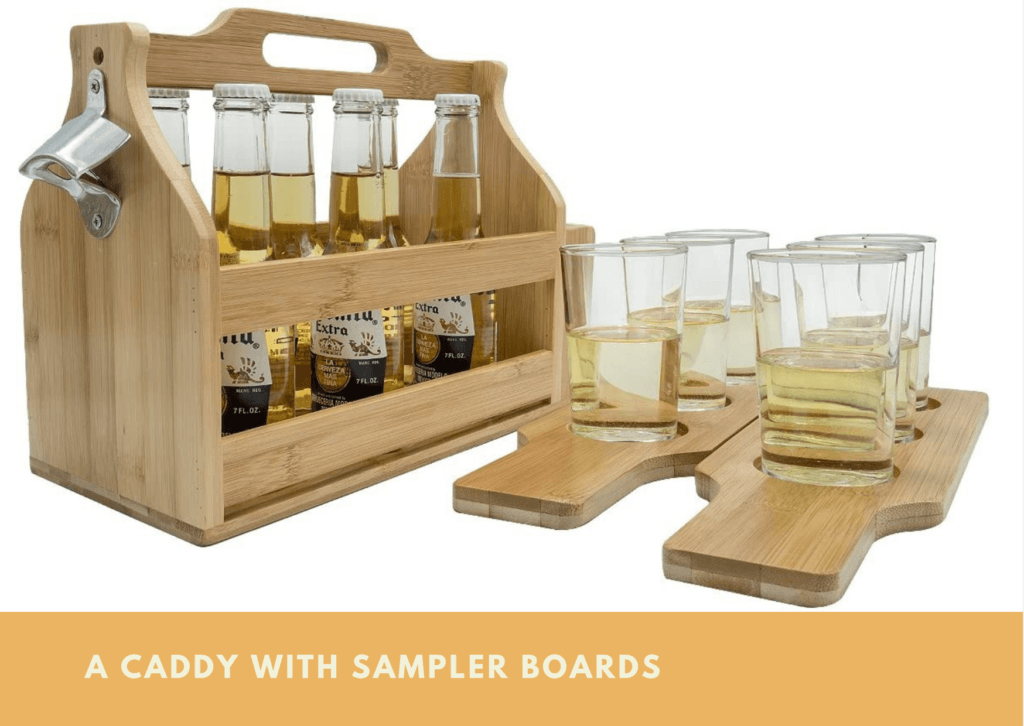 This little beauty is a drinks caddy with two beer flight paddles which each hold 3 glasses. The product which is made of bamboo is a versatile product. It would be great for transporting your beer and then serving it when you are traveling to share your brew.
The caddy will store up to 6 bottles of 7 – 11.2 ounces and measures almost 15 inches in length with a width of 4 inches. There are round cutouts in the base of the caddy for the bottles or glasses to sit neatly into. It also has a very handy bottle opener at one end of the caddy.
The two paddles are 13 inches in length and 4 inches in width, they also have the round cutouts for the glass bases.
This is a neat product to transport and share your beer with others.
Game Of Thrones Beer Flight Set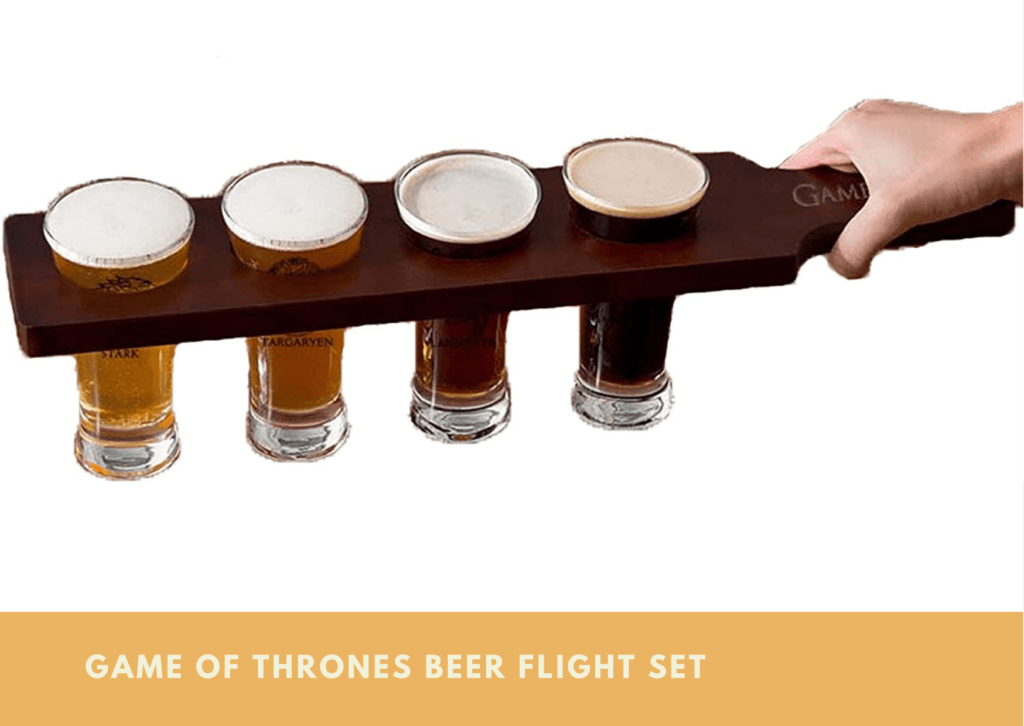 This beer flight set will be a hit with any beer loving Game Of Thrones fan, it is actually a really nicely designed set too.
The paddle is a pretty standard one except it has holes instead of round cutouts. This means that the glasses do not sit on top of the paddle, but slot into the holes and are held by the top of the glass. It also has Game Of Thrones on the handle of the paddle.
There are 4 glasses included which fit perfectly into the paddle holes. Each glass has a different name of a popular house of Westeros on it, including Lannister and Stark.
A fine collectible beer flight paddle for any GOT fan.
Whitewashed Beer Flight Trays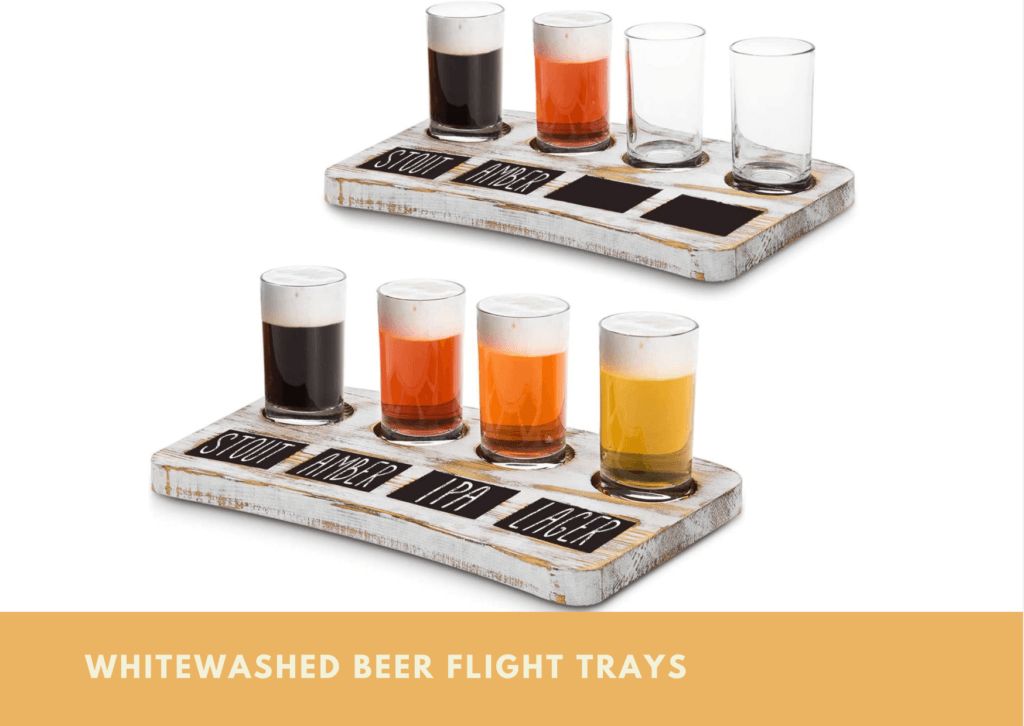 If rustic is what you are looking for, then this set of two beer flight trays could be a winner. The whitewash design makes them look very shabby chic and would suit a similar kind of themed home bar.
Each tray which are 13 inches in length and 7 1/2 inches in width have a worn look to them with 4 round cutouts for glass bases to sit into. In front of each glass cutout there is a chalkboard label for drink identity. The glasses can hold 6 ounces of liquid and stand 4 inches in height.
They are a pretty standard tray design with a curved feature to set off the rustic look.
4 Glass Flight Tasting Set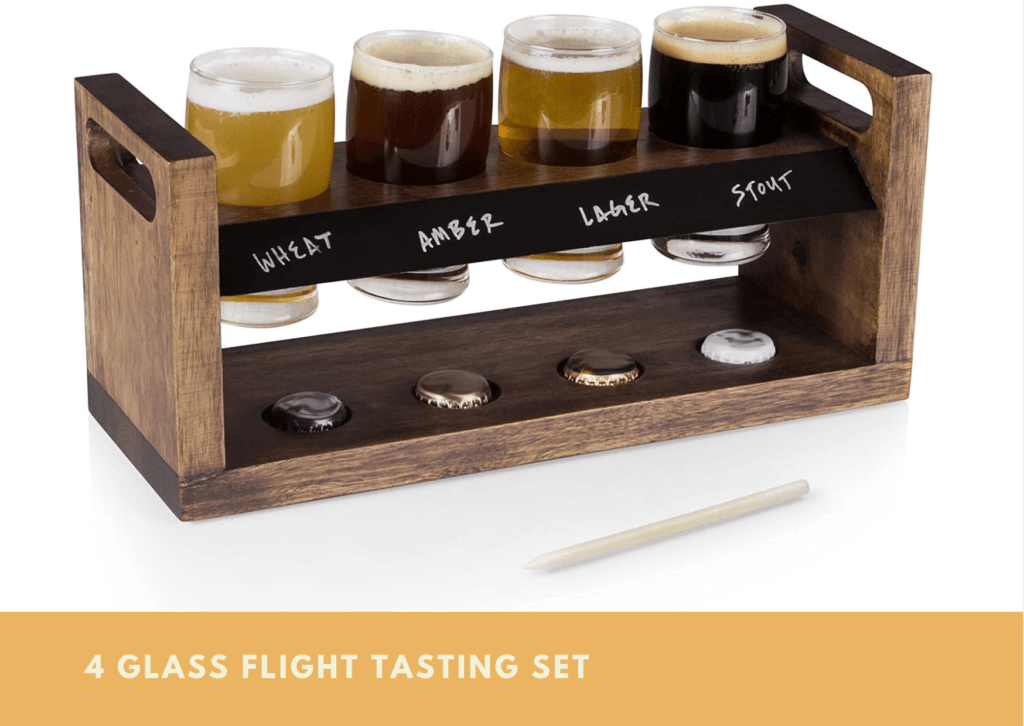 A nice neat little design, this beer flight tray is sturdy and holds the glasses perfectly. Each glass holds 4 ounces of liquid and sits perfectly into the holes provided on the tray. There is a chalkboard label running across the front for identifying each drink.
There are neat little cutouts in front of each glass that can hold the respective beer bottle tops. The tray is 12 inches long and just over 4 inches wide. The height is just over 5 inches and includes the cutout handles for easy carrying.
A sturdy little flight tray that will not take up too much room in your home bar.
Wine Tasting Flight Set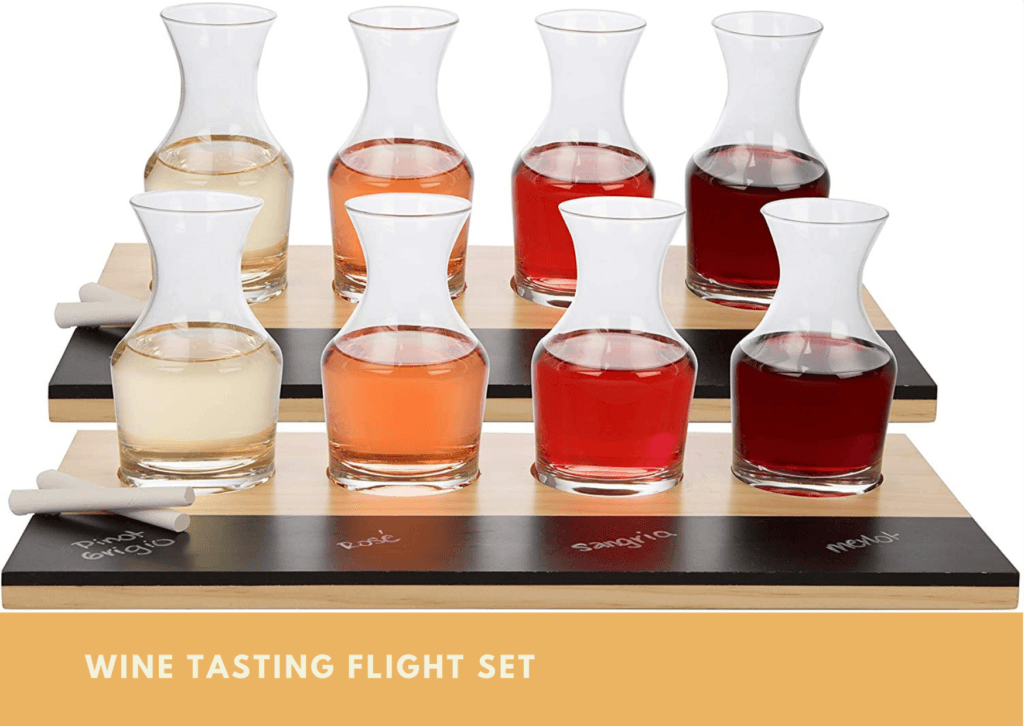 I know these are not beer flight trays, but I thought I would include a wine version just to show how similar they are, except of course for the glassware.
These simple wooden trays have round cutouts and a chalkboard strip across the front to mark each wine being sampled. The glassware is by way of very cute little carafes and because there are 2 trays and each tray holds 4, there are eight of these carafes.
Each carafe will hold 6 ounces of wine to the top, which doesn't sound a lot, but when you are sampling 8 wines it is advisable to not fill these carafes to the top.
This is a basic but great wine flight set, which will not only look good in any home bar, but will accompany the beer flight trays too.
Beer Flight Trays
I know the last one was a wine flight tray set, but that was just to mix it up a little. The beer flight trays are ideal for tasting your home brew and sharing it with your friends. Equally, they are great for trying out new beers too, buy 4 or 6 new beers and have an evening trying them with your partner or friends.
You can keep a comment sheet to make any notes about each beer, and then compare notes on each beer.
Share your favorite beer tasting flight boards below out of the ones above, or one you may have found yourself. I prefer the box designs because there is less chance of a glass toppling over as it sits in the hole instead of on it.