The iconic Gin drink has in recent years exploded and there are now small and large distilleries that are producing some pretty glamorous gins. It is not just the drink itself that has been glammed up, but how we serve this great drink has also taken on a new direction with an array of fruits being offered and plenty of ice.
The traditional high ball glass has taken a back seat when it comes to pouring and serving your favorite gin and tonic. In it's place comes the more flamboyant copa glass with it's big bowl and long stem with plenty of room for ice and fruit.
These special gin glasses really take the gin and tonic in a new direction, so it's out with high ball and in with the big bold copa glass.
The Copa De Balon Glass
Originating in northern Spain back in the 17th century the Copa De Balon glass has now become popular in America and the UK to serve the classic gin and tonic.
The balloon shape which is similar to that of a red wine glass allows a generous amount of ice to be added, and keeps the ice from melting quickly slowing down the dilution. Much like a wine glass or brandy glass it also allows you to enjoy the aromas of the drink and add plenty of fresh fruit.
It is still nice to enjoy a straight gin and tonic in a traditional high ball glass with ice and a slice, so keep your hand in with this style of serving your gin.
There is no shame in joining in with the new trend of serving this iconic drink in the Copa style glasses, in fact it is a lot of fun and the combinations of different gins and tonics available with the different fruits that can be added is almost endless.
On that note, lets take a look at the now popular copa style glass so we can add a set to our home bars.
Crystal Copa Glasses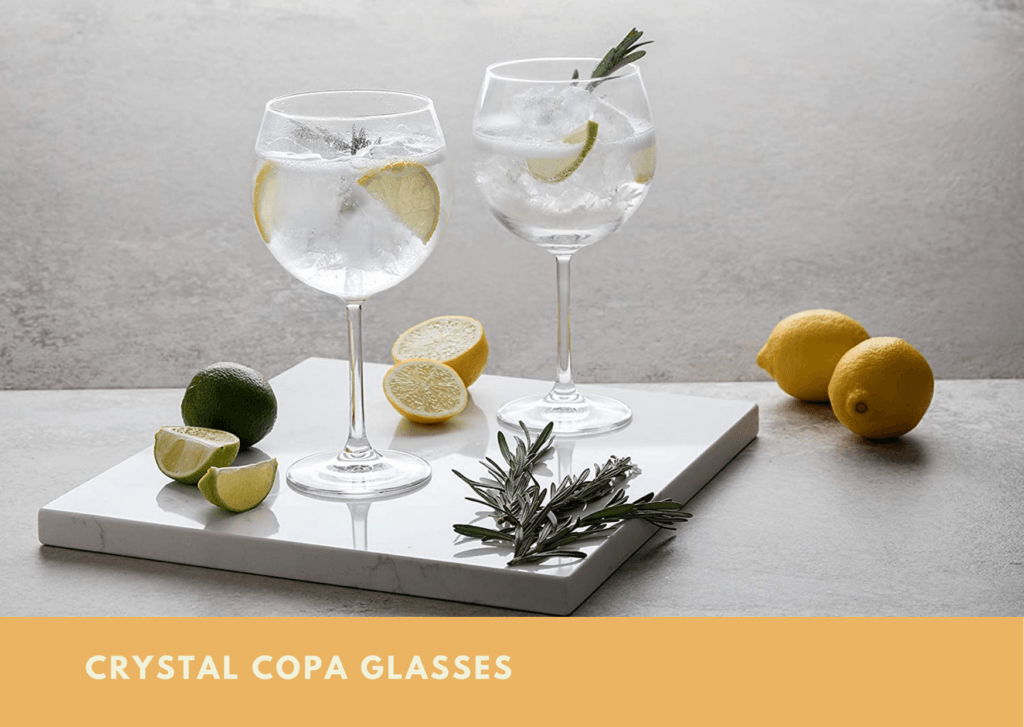 This set of two classic copa style glasses from Dartington Crystal are the perfect shape and size for your gin and tonic, or gin cocktail.
They hold a decent 650ml – 21 oz which gives plenty of room for ice and garnish and stand a proud 8 inches high with a long stem. They are lead-free crystal and dishwasher safe, so can be your go to gin or cocktail glasses.
Are these the best glasses to enjoy the delights of your gin, well these attractive traditional copa style glasses have the elegance and glamour to be just that, a great choice.
Gin Balloon Glasses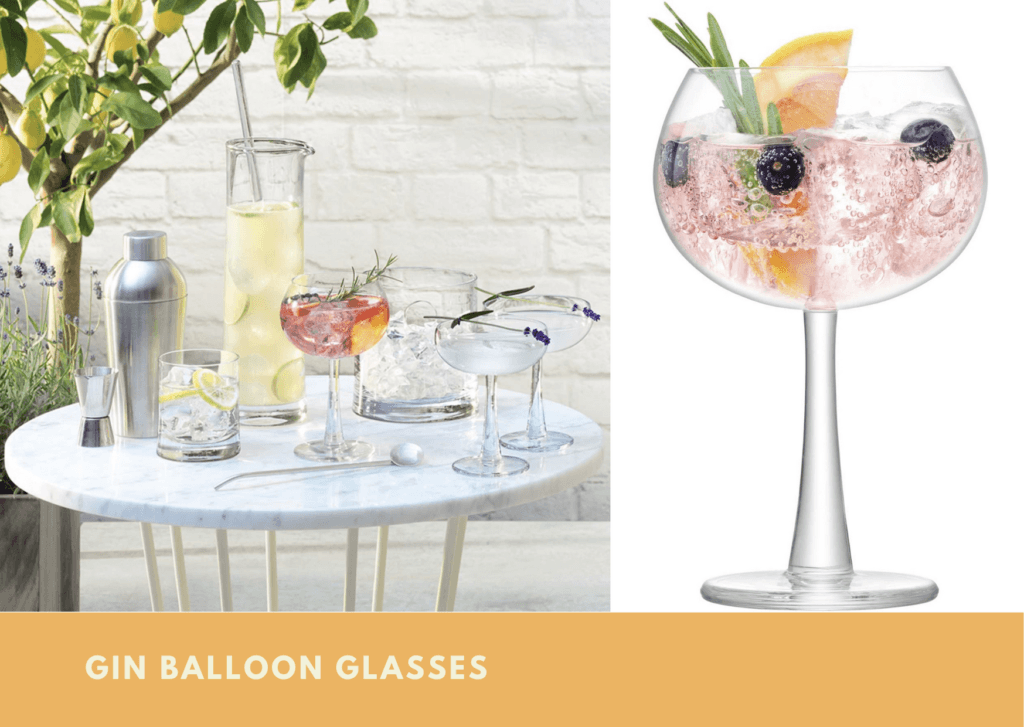 This set of 2 gin balloon glasses from LSA International are a little different with their shallower bowl and flared stem, they do come across as quite contemporary in their looks.
They are hand blown from lead-free soda lime glass which means each one will be unique but may have small imperfections, such as tiny bubbles of air trapped during the blowing process.
They are a little small for this type of glass with a height of just under 7 inches and a capacity of 420ml – 14.25 oz you may struggle to fit in all the fruit and ice you had planned, so bear that in mind.
An interesting design of the copa style glass, but one that looks and feels good, they are a smaller choice.
Sphere Gin Glasses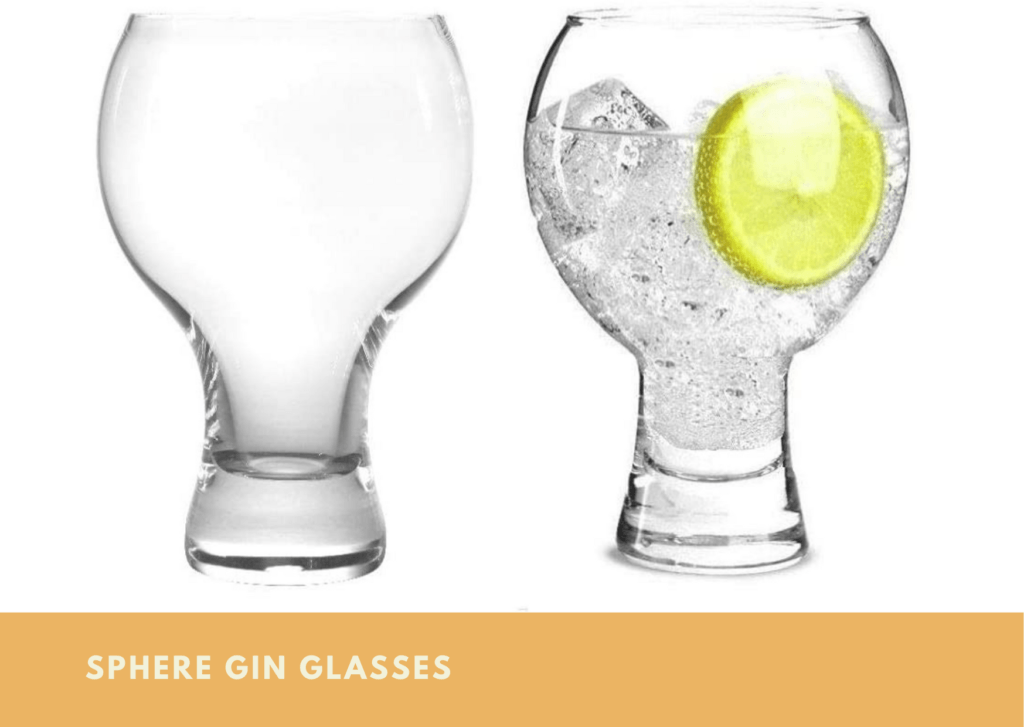 Here is something a little different from Wrenbury, these large balloon gin glasses look totally different and will be hard to beat on capacity.
Standing at just under 6 inches high they have the traditional copa style bowl, but with a pretty stubby stem, which gives them a fresh look and approach to the gin glass. This large bowl will hold up to 550ml – 19 oz, giving you the best option for ice and garnish and keeping your drink cool and flavorsome.
They do look great and hold a decent amount, but because the stubby stem, you may be melting your ice quicker from the heat in your hands, unless you can handle holding these glasses by the very short stem.
They are different, look great and hold plenty of gin and tonic.
Large Balloon Glasses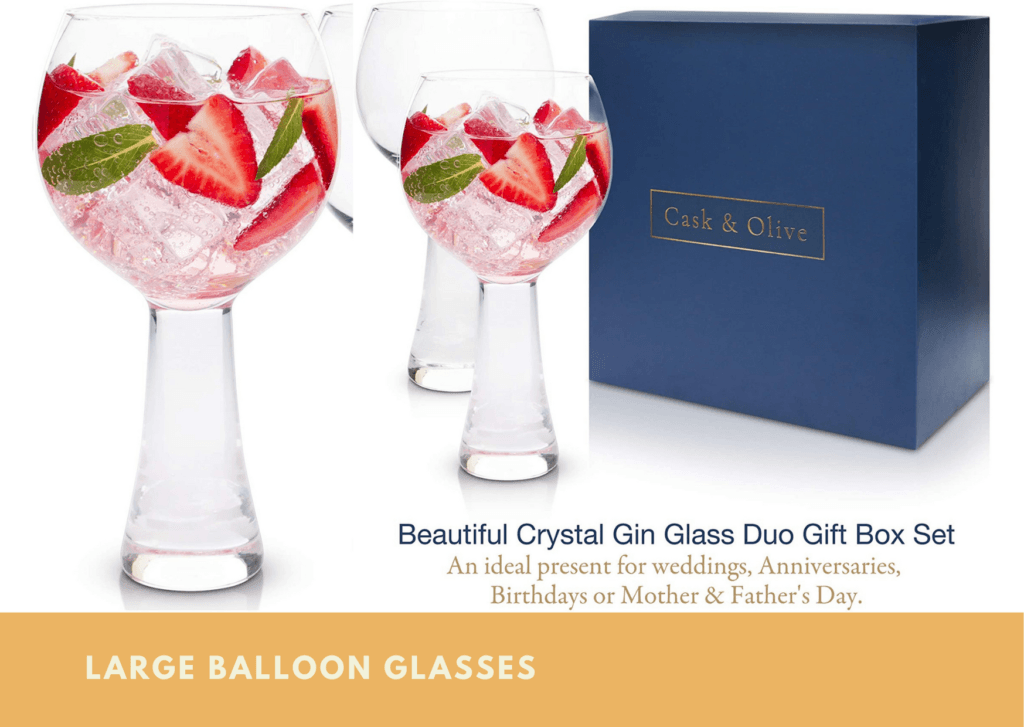 Sticking with the same type of style these large balloon glasses from Cask & Olive have the same design as the stubby ones from Wrenbury, but with a taller stem.
The stem is thick and weighted giving the glass balance and durability and the bowl is a decent size, holding up to 500ml – 17 oz with the overall height being just under 8 inches.
They are hand blown and made from premium lead-free crystal glass.
They certainly do look the part and will be a stand out glass at any party or BBQ.
Balloon Goblet Glasses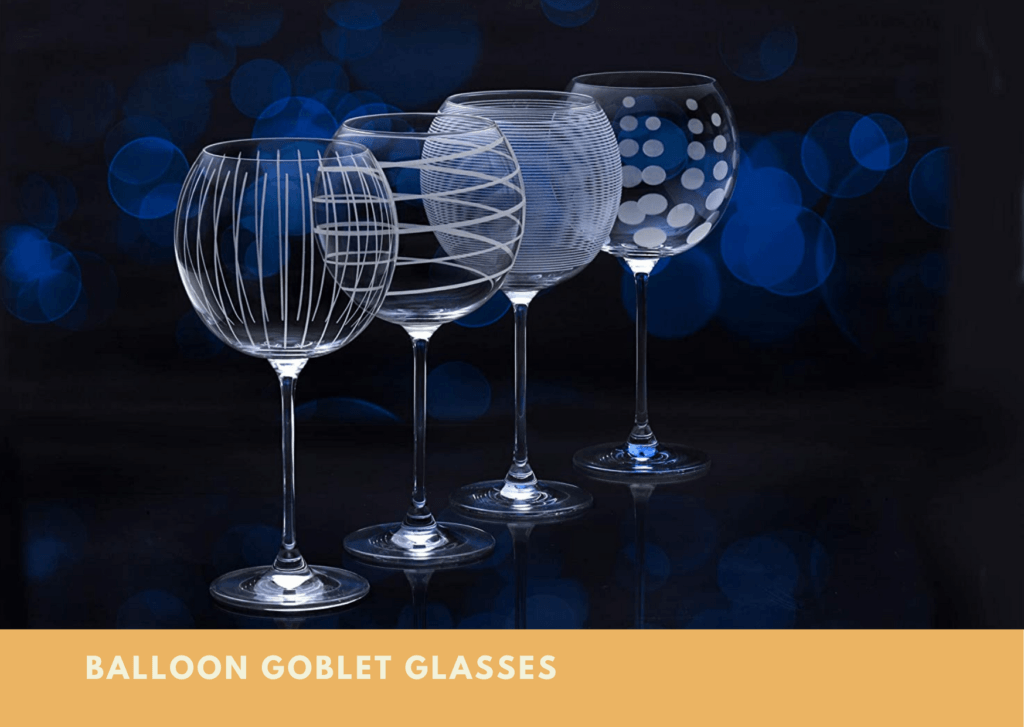 These balloon style goblet glasses from Mikasa could be argued as wine glasses and they may well be, but having the copa balloon style bowl, they will do as gin glasses too.
Their large bowl and slim stem give them the elegant look and with the etched patterns they are contemporary and fun too. They come in a set of 4 glasses, each with a different etched design, from circles, swirls, horizontal lines and pinstripes they just look good.
Dimensions will not disappoint either coming in at 9 inches in height, with an impressive 700ml – 24oz capacity you will get plenty of ice and garnish into these beauties.
They are big, beautiful and elegant, and would be a fine choice as a set of gin glasses for your home bar.
Special Gin Glasses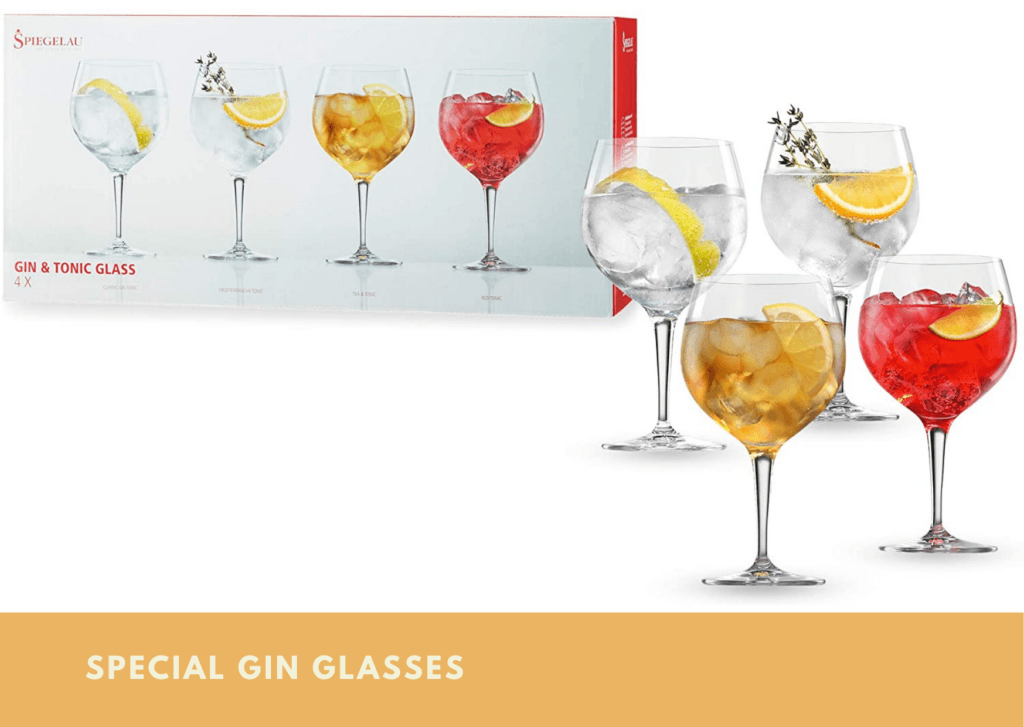 Another large glass, these set of 4 lead-free crystal glasses from Spiegelau have a slightly different shape bowl, albeit still pretty large with an elegant stem.
The bowl is slightly less round in shape, but still has a great bowl and mouth for maximum enjoyment of those gin aromas. Standing under 8 inches tall, these glasses still hold their own with a 620ml – 21 oz capacity.
These glasses are made in Germany and come from Spiegelau who have 500 years experience in glassware and work with top sommeliers and restaurants around the world.
They are a good-looking glass with a shorter slim stem and a high capacity bowl, and would make a great addition to any home bar.
Gin Goblet Glass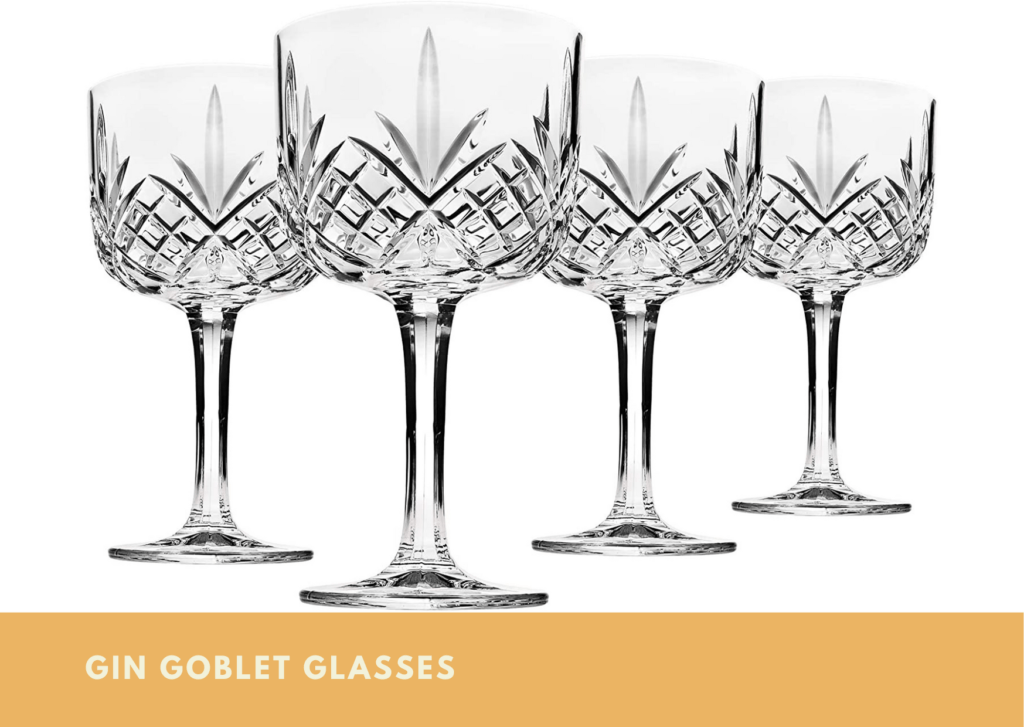 The goblet glass from Godinger's Dublin Range is not the traditional copa style bowl, but does look extremely beautiful with it's cut design, straight bowl and short stem.
They do look a little more formal than the deep copa style bowl and stand at only 6.5 inches with a capacity of around 370ml – 12.5 oz, they can still fit plenty of ice and garnish.
The set contains 4 glasses and would suit not just gin, but wine and cocktails too. A sturdy looking glass that will add a formal elegance to any home bar.
Gin Journeys Glass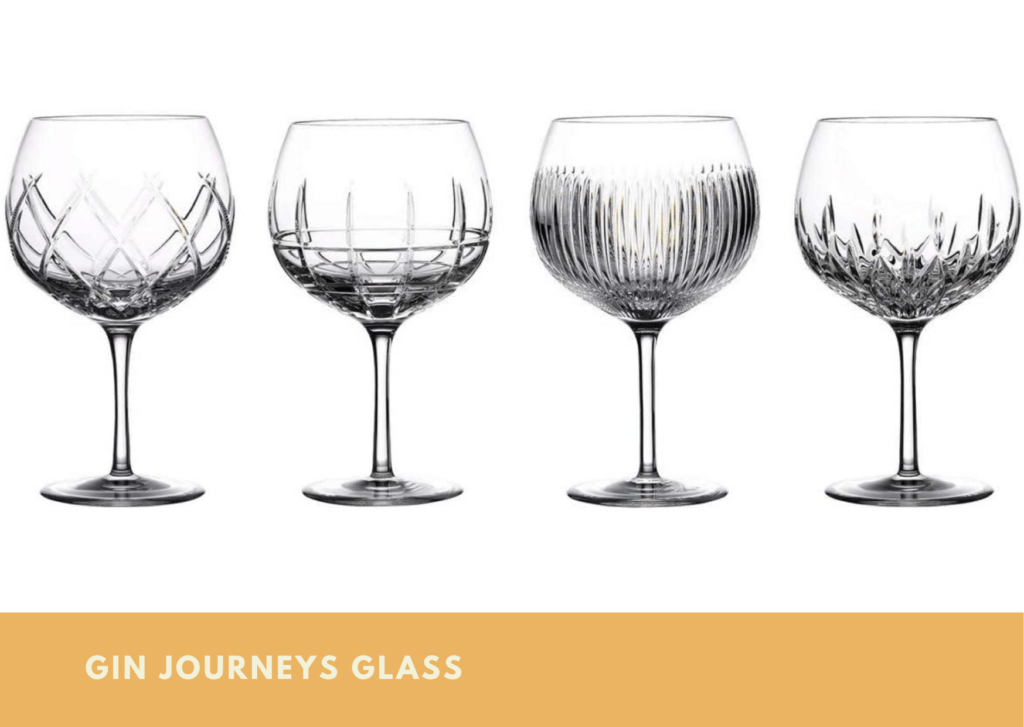 For something special take a look at these beautiful glasses from Waterfords Gin Journeys collection, oozing with the Irish heritage of the Waterford brand, they just stand out.
Designed along with tasting experts these glasses capture the aromas and enhance the flavors of the gin botanical's. The set of 4 glasses all have a different classic Waterford pattern including their best-selling pattern the Lismore.
These beautiful crystal glasses in the copa style have plenty of room for your ice and garnish with the impressive 650ml – 22 oz bowl.
Waterford have made a stunning looking gin glass which could also house wine or cocktails with the same style.
Angled Rim Gin Glass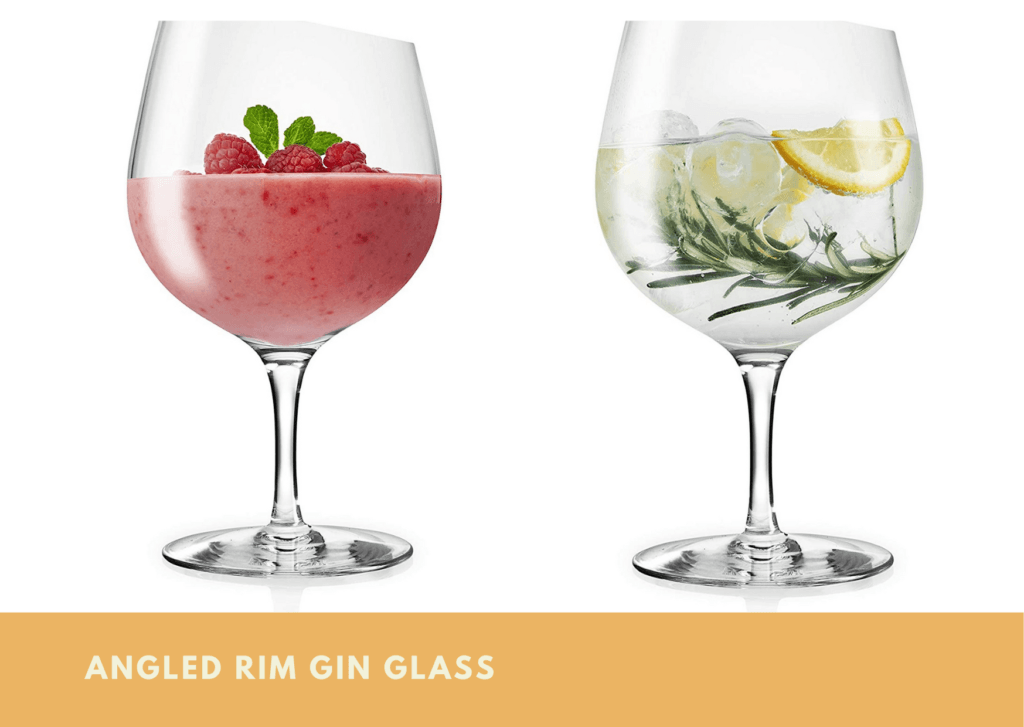 Designed with gin experts this angled rim gin glass from Eva Solo is ideal for the botanical aromas of gin and it is shaped perfectly to enjoy the smells and tastes of all your favorite gin.
The angled rim helps to direct the aromas to you as long as you have the angle pointing at you and not away from you. It has a shortish stem, but can hold it's own with a large capacity of around 620ml – 21 ounces.
It looks great, holds enough and has a unique angled rim, what's not to like?
Decorated Gin Glass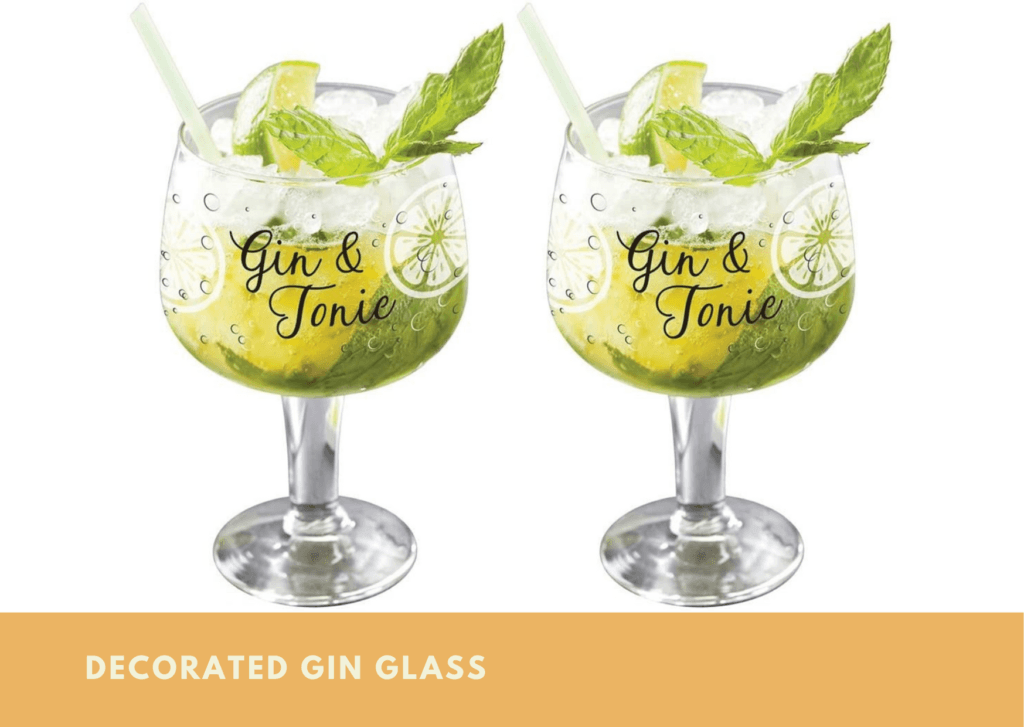 I had to include these decorated gin glasses on the list, they are a set of 2 and come from Tradestock. They are decorated with bubbles and lemons and limes, with the text 'Gin & Tonic' and well, they are just good fun.
If it's a large gin & tonic you want with plenty of ice and garnish then these copa style glasses from Tadestocks Raising spirits range will not disappoint with their 650ml – 22 oz capacity. The stem on these are short and thick and the whole glass stands at just 6.7 inches tall.
A gin and tonic from these is just going to put a smile on your face, they are fun and functional too.
The Perfect Gin Glass
Although Gin, whether it be with tonic or as part of a cocktail works in a variety of glasses, it has to be said that in the copa style glass the experience is divine and adds a certain glamour. The copa style glasses also work with the botanic's of the gin and allows the aromas space making for a better gin experience.
Because the large bowl design allows for more ice it means that the ice will not melt as quick, keeping the gin cooler for longer. Having a stem to hold instead of holding the glass itself also helps with keeping the gin cooler for longer as the heat from our hands is not directly transferred straight through the glass wall.
The large bowl also has room for not only a good amount of ice, but for your favorite garnish or combinations of garnish. The Copa De Balon style glass is perfect for gin and tonic or any gin cocktail, it is just a question of which design we go for.
I think my favorite from the ones included in this list has to be the Angled Rim gin glass, but yours may be different. They are all special gin glasses, but let us know below which one is your favorite.
Is it time for a Gin & Tonic?