A shot, or shooter as it is also known are a great way to enjoy a drink. It could be a simple one like vodka or tequila, both are popular. On the other hand it could be a more complicated one with several drinks mixed to get a certain taste. What is your favorite shot?
I like a tequila or sambuca, but have tried a few others made up of a mixture of drinks. Skittle bomb and Jagerbomb come to mind, which are fairly similar in make up. Just like cocktails the mixture of shots have become more complex. More and more recipes are being created to simulate certain tastes as well as look amazing too.
What Is Your Favorite Shot?
Whether you are on a big night out, celebrating a birthday or just with a group of friends having a drink. There is always someone that gets the shots in, and right at that moment things can get messy. Are you the type to hide and avoid the shot, or embrace and go with it? Maybe you are the instigator, the one that gets a tray of your favorite shots for all to try.
One thing to remember with shots is not to go crazy, these drinks can be strong. Be warned, just go easy on them because they are unforgiving.
What Is A Shot Or Shooter?
It is a small drink in a small glass and typically drunk in one gulp. The glass size can vary depending where you are in the world. Shot glasses can range from 0.7oz (20ml) to 3.4oz (100ml) in size. Just like the size, there are many variations in design too.
A basic shot is made from just one spirit, like vodka, which is also present in many multi ingredient shots too. Bartenders have become more creative over the years and these little drinks not only taste good, but look good too.
Some are like mini cocktails with several ingredients put together to simulate certain tastes. A banoffee pie shot, or bubble gum shot do just this. Visually some of these are topped with elaborate dressings which make them even more luxurious. Others are layered, a skilful bartender will pour the drinks keeping each ingredient separate, forming layers.
When the layers are different colors they do look impressive. Ingredients flowing together but not mixing is another technique and gives a great marble effect. It is surprising to know how many shot mixtures there are now. Literally hundreds of recipes and more being created all the time.
Fun Shots To Make At Home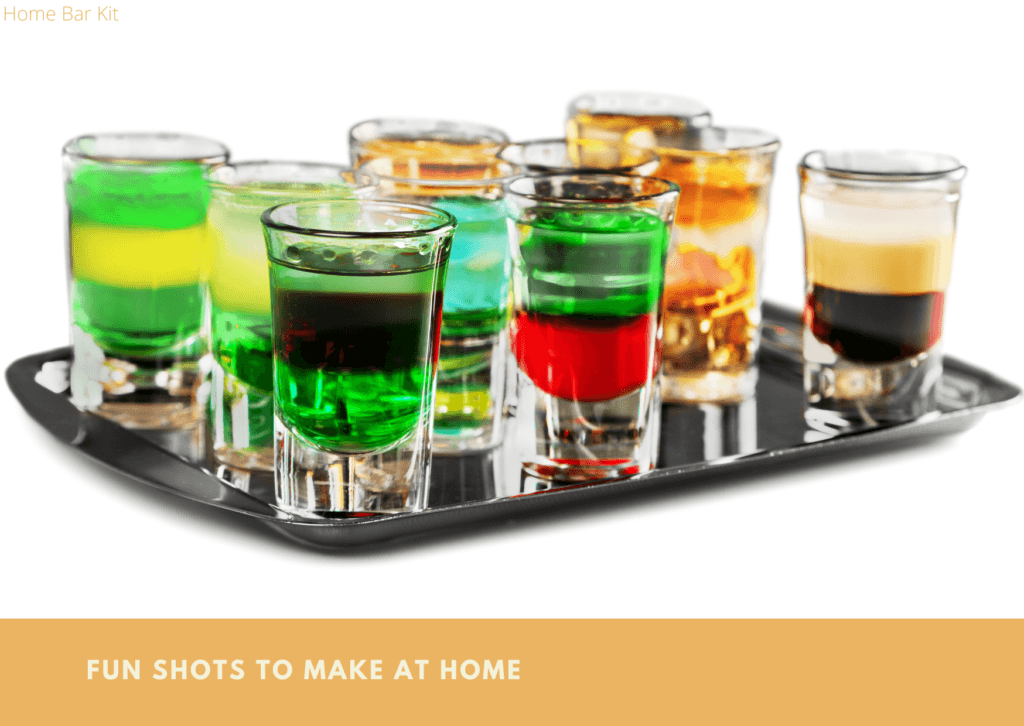 Any spirit can make up a single shot drink, vodka, whiskey, rum, gin, brandy and tequila. These are the easiest to serve and a great way to toast and drink. All you need at your home bar is the liquor and the shot glass, and you are good to go.
From here things move onto two ingredient shots, then three, or even four ingredients. This is where things get a little more complicated. Look at the Neapolitan Dynamite which has a dark brown base layer, a pink middle layer with a cream top layer.
This is done by layering a coffee liqueur, tequila rose and white chocolate liqueur. Traditionally these small drinks are knocked back in one gulp. However something like these mixtures can be sipped and enjoyed, savoring the different flavors.
All these little drinks can be made at your home bar, get your cocktail tools out and mix. Unless of course you are layering or marbling.
Shots And Shooter Recipes
Just like cocktails, there are hundreds of shot recipes, I won't add them all, but will add some interesting ones. The Typsy Bartender has over 300 shot recipes on Pinterest, a good resource.
Again similar to cocktails, a shot recipe can vary in ingredients from place to place and bartender to bartender. Here are some interesting recipes for these small drinks.
B-52 Shot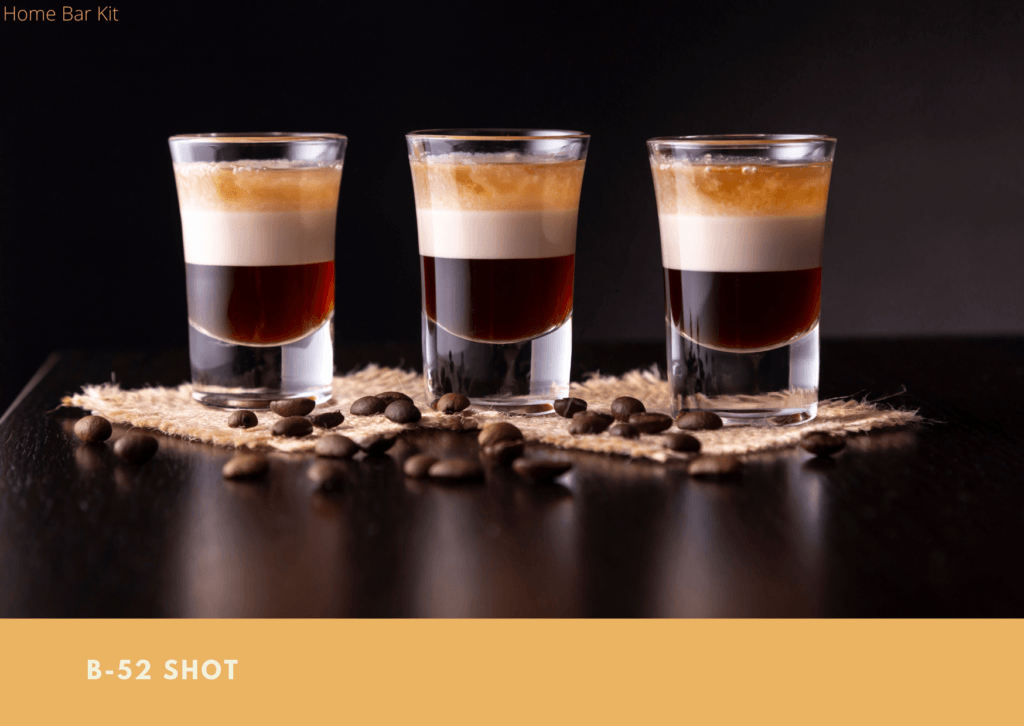 The B-52 is a great shot and there are several versions of it, a layered shot with some rich flavors.
1 part kahlua
1 part Baileys Irish Cream
1 part Grand Marnier
Pour the first layer of Kahlua, which is a coffee liqueur into the glass. Then with a little careful pouring and the back of a spoon, pour the next layer of Baileys. Finally again using the back of a spoon pour a layer of Grand Marnier.
You will get the orange from the Grand Marnier followed by the creamy Baileys and then a hit of coffee. It's a rich flavor that is well worth serving at the home bar.
Brain Hemorrhage Shot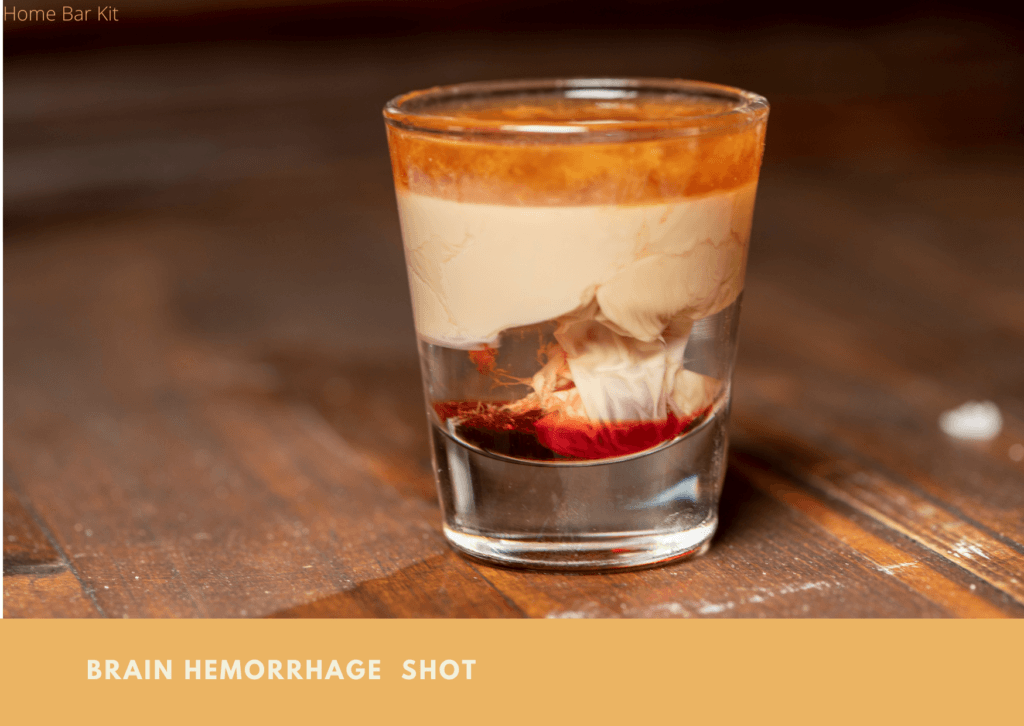 Not the most appealing name for a drink, but it looks cool and will certainly give your guests a kick. Made with peach Schnapps it can be varied by using a different flavor Schnapps.
1 part Peach Schnapps
1 part Baileys or other Irish cream liqueur
1 Part Grenadine syrup
This drink is created with more of a marble effect letting the ingredients slightly mingle, rather than layering. This is achieved by pouring in the Schnapps, then gently pouring the Irish Cream Liqueur over the top. Let the Irish cream form a cluster within the Schnapps, it is supposed to resemble a brain.
Finally pour a little of the Grenadine which is supposed to represent blood. It is hard to get the brain part right, but it looks good all the same.
4th Of July Shot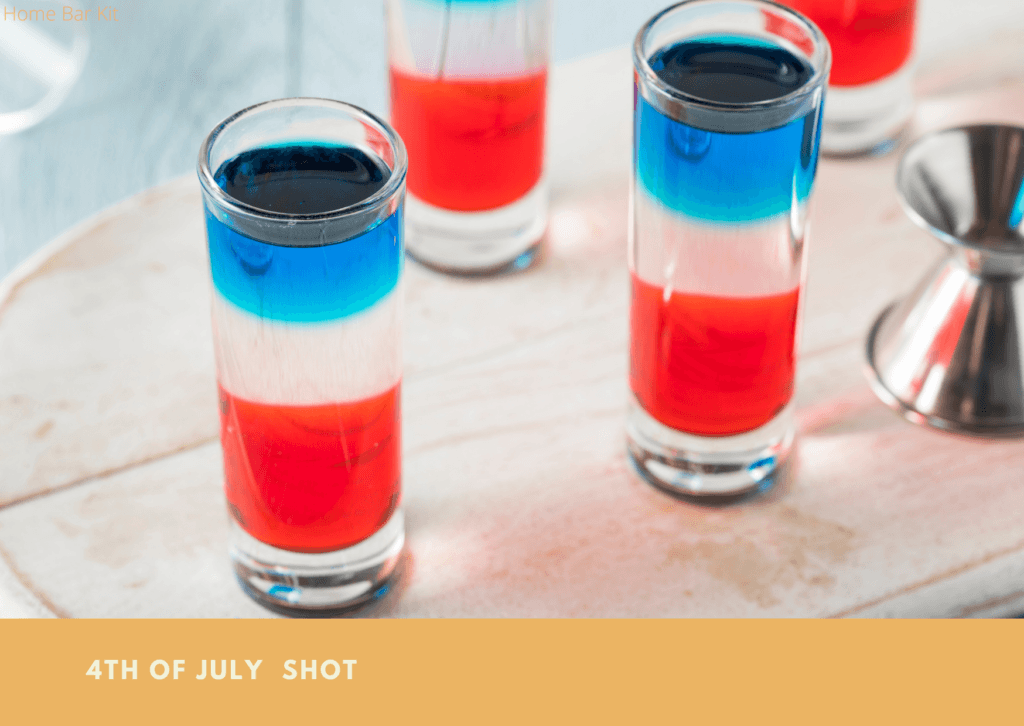 Another beauty, this one spotlights the American flag with its red, white and blue layers. There are numerous versions of this drink, with the white part using different clear or nearly clear liquids. The obvious clear liquid to use is Vodka, but peach Schnapps is also used.
1 Part Grenadine
1 Part Vodka
1 Part Blue Curacao
Pour the Grenadine into the glass, and using the back of a spoon carefully pour over the Vodka. Finally pour the Blue Curacao, again with the back of a spoon. It's a patriotic shot.
Polar Bear Shot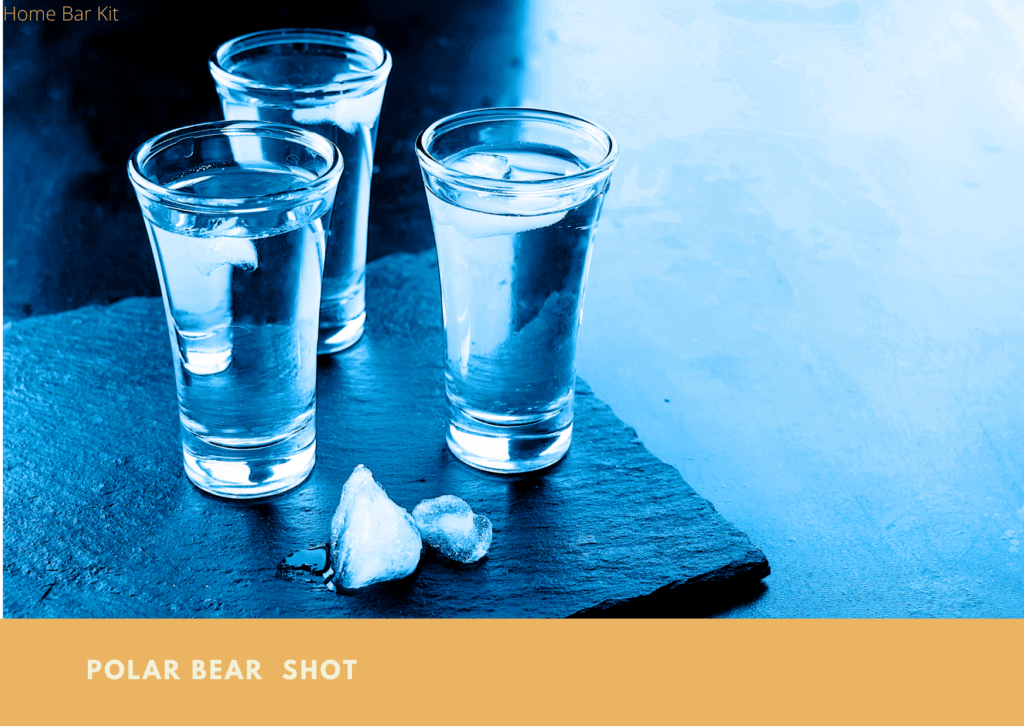 A great taster this one, that is if you like mint chocolate. With just two ingredients, some ice and a cocktail shaker, you are good to go. You can add a third ingredient to give it an extra kick, if a kick is what you want.
1 part white Creme de Cacao
1 part peppermint Schnapps
1 part Vodka (optional)
Put some ice in a shaker, add the ingredients, give it a good shake and strain into the glass. An easy shot to prepare at your home bar.
Soul Taker Shot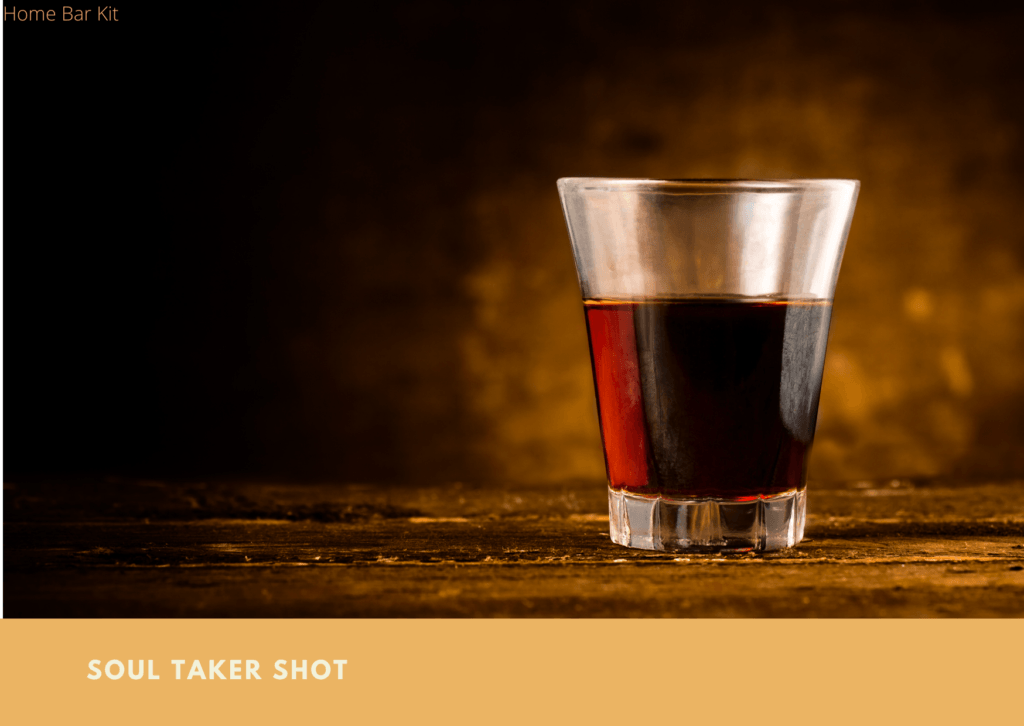 A mixture of three drinks that is not only simple to prepare, but simple in looks too. It does taste great though and can be sipped or knocked back, your choice.
1 part Tequila
1 part Vodka
1 part Amaretto Liqueur
Get it nice and cool by either chilling the bottles beforehand. Pour an equal amount into shot glasses and give them a stir. Or you could use a shaker with ice, pour the three ingredients into it and shake. Then strain into your glasses and enjoy.
Red Snapper Shot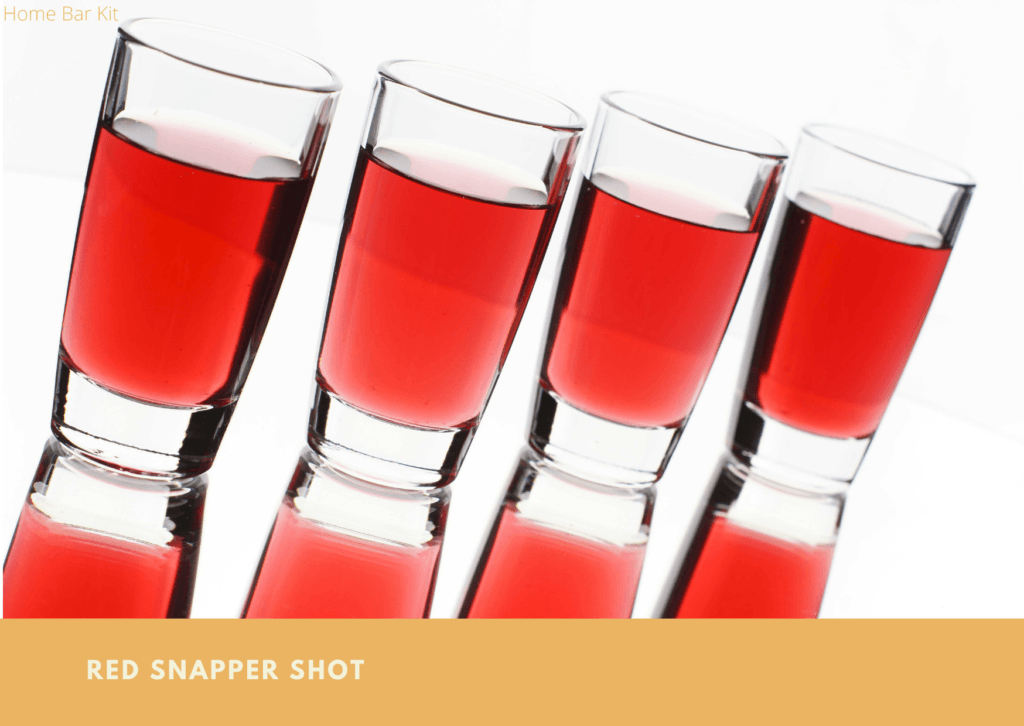 Another three drink mixture that again is easy to make and can be stirred or shaken. Just like most of the shot drinks you can be enjoyed them as a cocktails too.
1 part Whiskey
1 part Amaretto
2 parts Cranberry Juice
I may have just put whiskey, but traditionally this is made with Crown Royal Canadian whisky. The purist will not be pleased if I did not mention it. A great drink that is red and fruity.
Caramel Apple Shot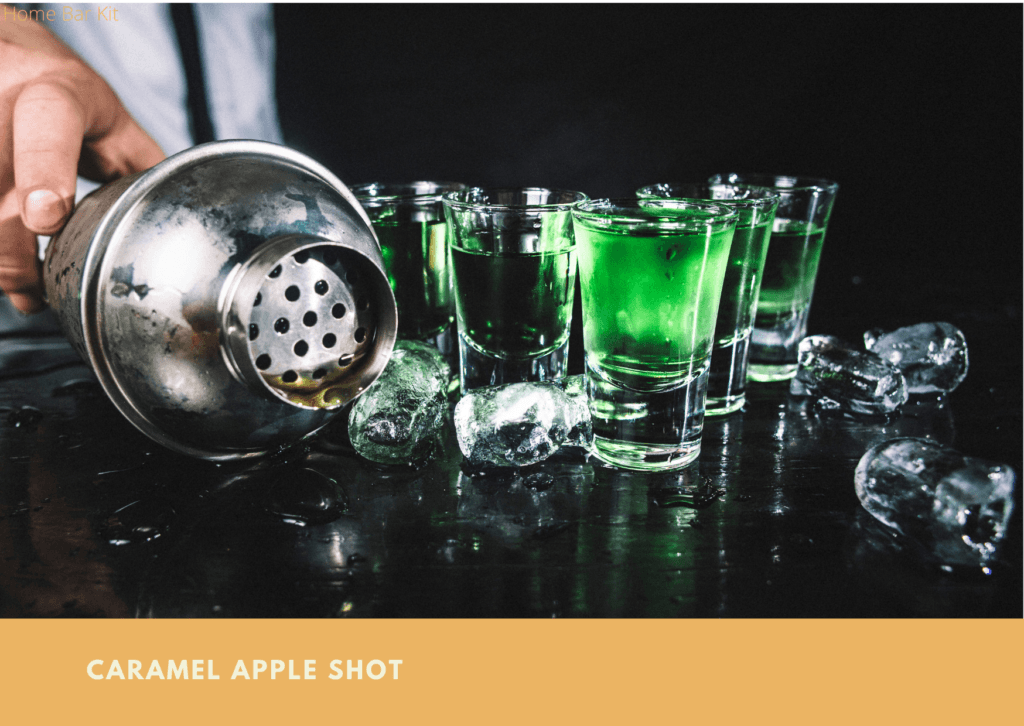 So simple, a two ingredient shot, that is a creamy sweetness delight and will always go down well. It has that smooth butterscotch flavor with a sharp apple cutting through it.
1 part Butterscotch Schnapps
1 part Apple schnapps
Cool the bottles for 15 minutes in the freezer, then simple pour and stir. Alternatively pour ingredients over ice in a shaker and give it a good shake. Strain into glasses and distribute to your guests.
Final Thoughts
I hope the shots that I have covered are ones that you haven't tried. Because now you can and hopefully you will enjoy them. Those shots that are layered may take a little practise with the spoon to perfect. It doesn't matter if the layers leak and merge, the drink will still taste great.
Over time the spoon trick will be perfected, so just enjoy the drink for now. Serve these shots for family and friends, they will make a great talking point at a gathering. What is your favorite shot? Share your thoughts below and any other shots you would like me to include.