Every bar you go into has some tables and chairs, or tables and stools. There needs to be something to put your drink on and something to put yourself on.
Your home bar is no exception, it needs to be planned from start to finish. If you have the room, then you will be able to enjoy a set of bar furniture separate from the bar itself. If space it tight you may just plump for stools to sit at your bar.
Then there are the specialist table bar sets where the table acts like a small bar, storing bottles, glasses and tools. It all depends on the space you have to what kind of home bar furniture you pick, but we will cover a good range.
Home Bar Furniture
It is important to choose your bar furniture wisely because you will have to live and of course drink with it for the foreseeable future. There is nothing worse than buying something and not really feeling comfortable with it, so don't rush into buying your bar furniture.
There are a few factors to consider before you get your bar furniture.
Space Invaders
Material & Style
Beautiful Color
Size Matters
Space Invaders
I don't mean an alien invasion on your space, I mean how furniture can invade your space if you don't properly plan.
Know what space you have available, they may sound crazy (of course you know what space you have available), but it is a common mistake to think you have more space than you actually have.
Take all aspects of your space into consideration. I am talking about doors with your space, whether they are access doors or just cupboard doors. All doors will need to work without restriction, so don't buy furniture that will block doors. That goes for windows too.
Mark out on the floor with some tape the free space you have without it impeding on doors and windows, or anything else in the room that you need access to.
You now have an area of available space that you can measure.
Material & Style
A lovely wooden table with matching chairs would be a great choice, but will it look the part in your home bar?
Picking furniture that compliments the feel and materials you are using in your bar is the obvious and probably the best choice. The trouble is that we often forget this and fall in love with the furniture and then when we set it up in the room, it looks out of place.
This can work for us though, if we do it right. A contemporary bar table set can work well in an old style bar. Although not necessarily the other way round, if your whole bar area oozes contemporary style and your table set is an old fashion wooden set, it may look a little odd.
It is just worth taking the time to think about what goes with what and how your additional furniture will fit in.
Beautiful Color
This is a similar thing to the material and style, as color can become the style. It is still worth thinking about though, color can make or break a room.
Color can be added with accessories, which can also be changed easily. Making a statement of color with your furniture then, might be a bad move, because you will have to live with it and it is not as easily replaceable as colorful accessories.
If your bar is already a colorful place with many bold colors floating around, then your furniture will work perfectly with color. It's just worth thinking about before you plump for that bright red table and chairs.
Size Matters
This goes hand in hand with space, they have to work together. A 10-foot-long table is going to struggle in a 12-foot room, in fact it will more than struggle, it just won't work.
If you have measured your space properly, taking into account the doors and other obstacles, then you know how big your furniture set can be.
This will make shopping for your set a lot easier, check the measurements first and if they don't work then move on. Knowing the size of your furniture set before you buy it will give you peace of mind and save you a lot of hassle.
Once you have considered all this, it is time for the fun part, shopping. Maybe then, we should take a look at what kind of bar furniture sets are available.
Industrial Bar Set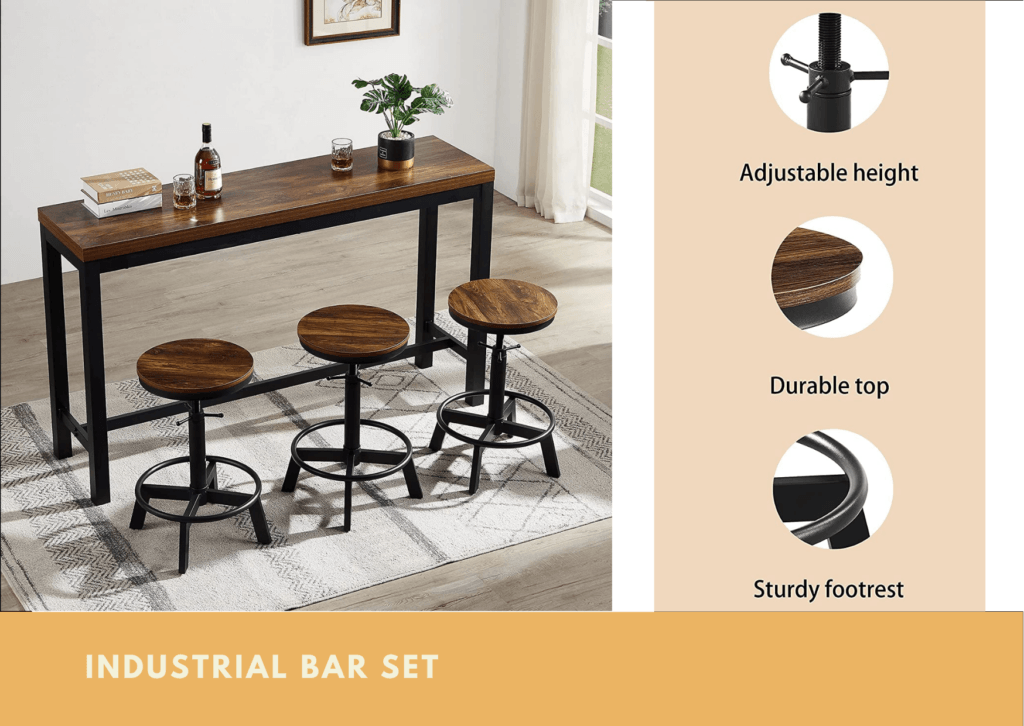 The Table:
Length 59.5 inches (151 cm).
Width 15.7 inches (38 cm).
Height 35.8 inches (91 cm).
The Stools:
Width 18.1 inches (46 cm), this is the diameter at the widest point.
Height 19.7 inches to 27.1 inches (50 cm to 68 cm), this is the adjustable height.
This set would suit a modern or industrial type bar theme, the table has a metal frame with a sturdy MDF top. The stools which have a great height adjustment range give it the real industrial look. They too are metal frame and come with a sturdy foot rest that extend the whole diameter of the stool.
The set consists of one tall table and three swivel stools. It will look good placed anywhere in your bar area, but because the stools fit next to each other on one side of the table, could fit against a wall to save space.
The base of the table and stools are black and the tops brown. The set would fit into an old style vintage setting or a more industrial contemporary type setting.
Faux Marble Tavern Set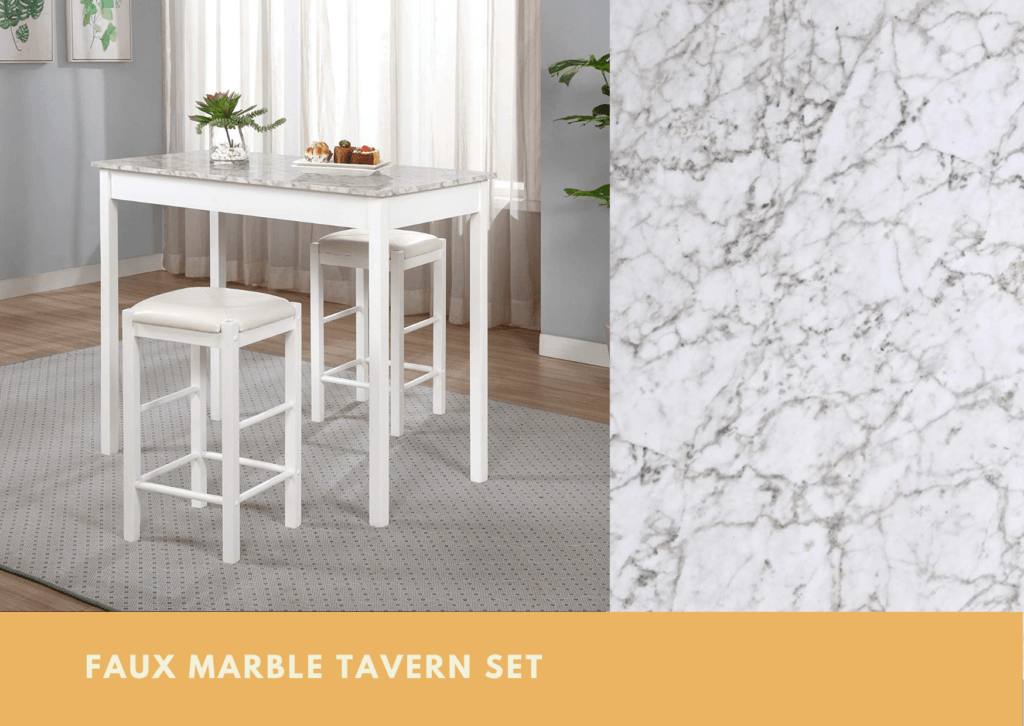 The Table:
Length 42.25 inches (107 cm).
Width 22.1 inches (56 cm).
Height 36.25 inches (92 cm).
The Stools:
Height 25 inches (63.5 cm).
Width 13.75 inches (35 cm), this is squared.
There is a contemporary feel to this white tavern set, with a traditional edge to it having a faux marble designed top. It looks stylish without the expense and weight of real marble.
It comes as a 3 piece set which consists of 1 table and 2 stools, but you can purchase a second set of 2 stools separately if you want to make this into a 4 seater set.
The stools have a padded top which are covered with faux leather and there are 2 foot rests, the lower one being on all four sides and the higher being on just two sides.
If you stick with the 2 stools, then this set can be space-saving with the table against a wall and the stools fitting neatly under the table.
The faux marble tavern set is stylish and elegant and would fit in well with a more contemporary bar theme.
Belham Black Bar Set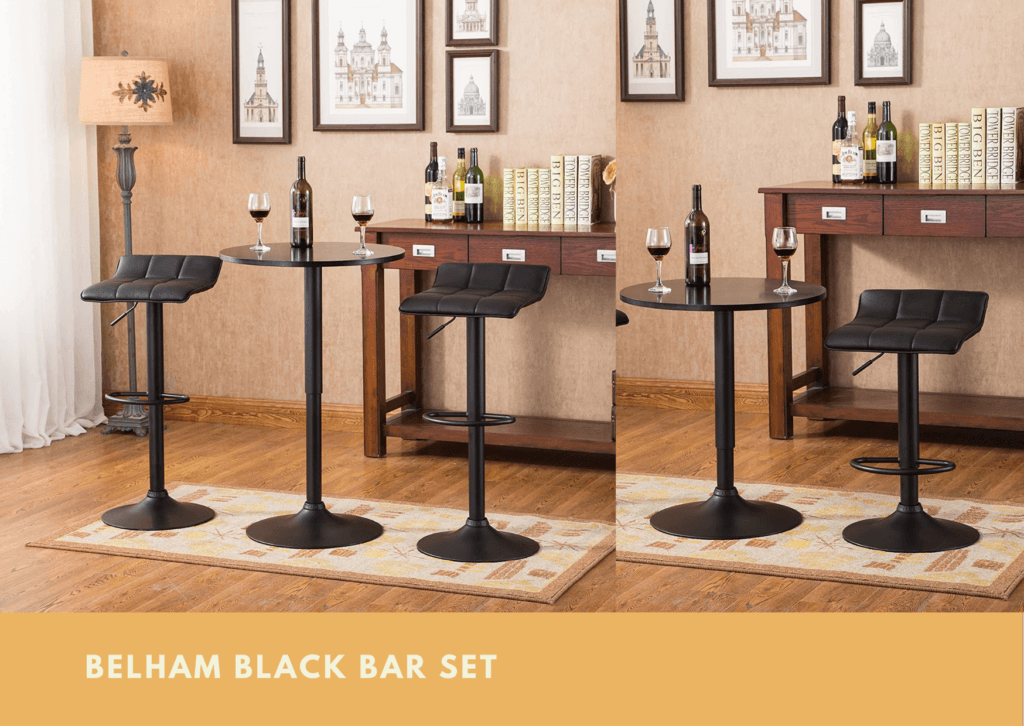 The Table:
Diameter 24 inches (61 cm) This is the table-top.
Height 26 inches to 36 inches (66 cm to 91 cm) Adjustable height.
Base 17.7 inches (45 cm), this is the diameter of the table base.
The Stools:
Height 25.5 inches to 34.25 inches (65 cm to 87 cm), this is the adjustable height of the stools.
Width 15 inches (38 cm), this is the width of the seat.
This black table and stools have an elegant cocktail feel about them and scream style. The table has a gas lift mechanism, which means you can adjust the height to suit your needs. Have it low for diner and high for cocktails.
The stools also have the same gas lift mechanism for adjusting the height and come with black quilted faux leather padding on the seat. There is a lever under the seat that will adjust the height of the stools. They also have a handy foot rest and they swivel 360 degrees.
It comes as a 3 piece set with one table and two stools. The table is round with a sturdy round base, and the stools although have a sturdy round base the same, have a square seat.
The fact that you can adjust the table height as well as the stool heights makes this bar set very versatile. It would look great as an intimate table for two, or a stylish cocktail table for two.
Portable Bar Set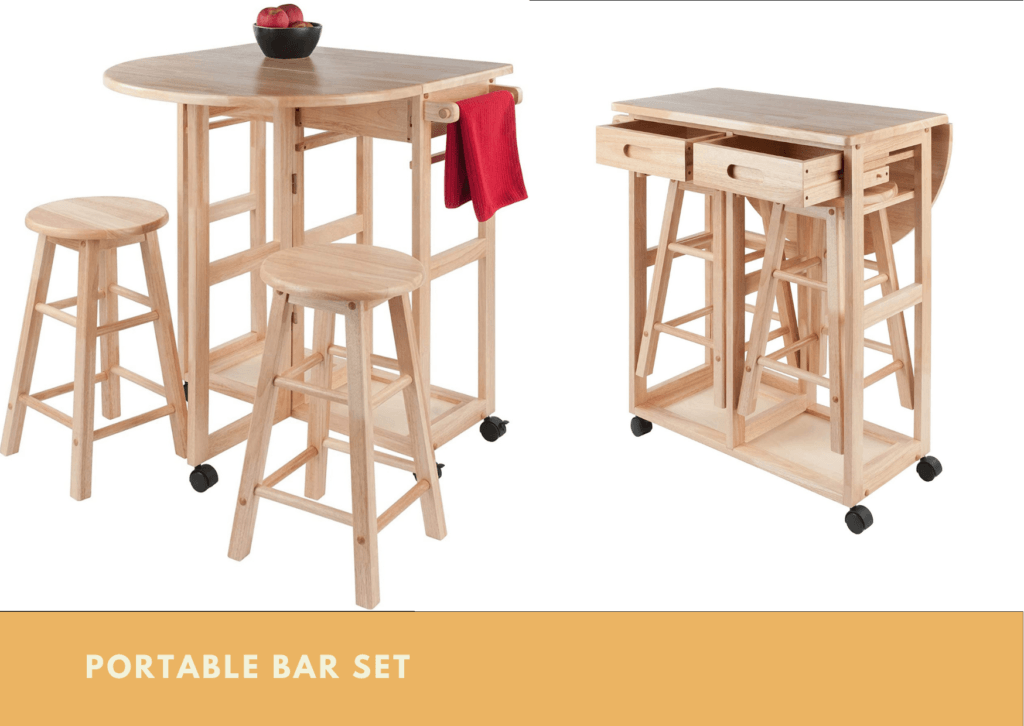 The Table:
Length 27.8 inches (20 cm).
Width 29.4 inches (75 cm), this is with the leaf up.
Width 14.6 inches (37 cm), this is with the leaf down.
Height 32.8 inches (83 cm).
The Stools:
Diameter 11.6 inches (29 cm)
Height 20.8 inches (53 cm)
A very versatile and handy bar set, made from solid/composite wood this hard wearing set will pack away to fit in tight spaces. The stools stow away under the table and the drop leaf keeps them securely in place. The whole unit can be moved around on the handy casters.
Move it outdoors easily on a nice day, and back indoors when the weather is not so inviting. There are 2 drawers in the table for storage of bar tools and a handle on one end for easy moving or hanging a towel over.
The 3 piece set is basic in looks, but will serve well and store in small spaces, making it a good choice for those without a lot of space to give their home bar.
Bistro Bar Set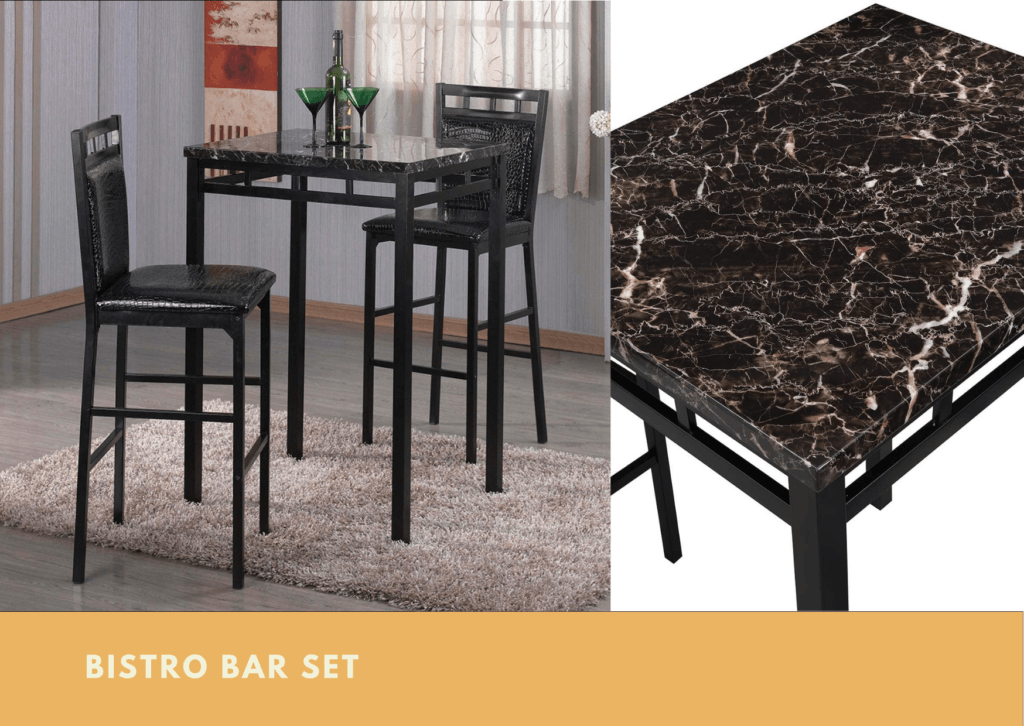 The Table:
Length 30 inches (76 cm).
Width 24 inches (61 cm).
Height 41 inches (104 cm).
The Chairs:
Width 18 inches (46 cm).
Depth 21 inches (53 cm).
Height 45 inches (114 cm), this is to the top of the back rest.
Another table with a faux marble top, but this time it is a black top with light veins running through it. The frame of the table as well as the chairs is of metal construction, giving a sturdy stance.
The chairs have a nice back rest to them and this along with the seats are padded with a faux leather padding and match the table well. There are 4 bars around the chair legs set at different heights and giving strength to the chairs. The front bar doubling for a handy foot rest.
A decent size without being to big, this set will fit the bill for most home bar set-ups.
Practical Bar Set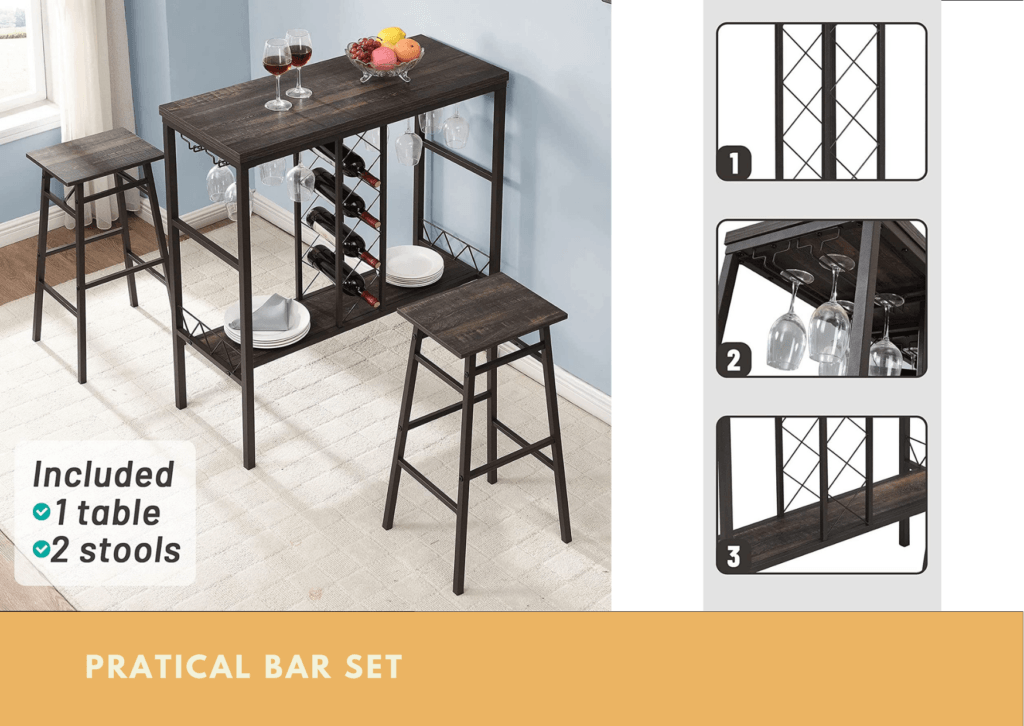 The Table:
Length 37.7 inches (96 cm).
Width 15.7 inches (40 cm).
Height 42.5 inches (108 cm).
The Stools:
Width 12.5 inches (32 cm) by 14.9 inches (38 cm), this is at the base, more of a rectangle than a square.
Seat 10.23 inches (26 cm) by 13.38 inches (34 cm), again this is a rectangle.
Height 29.1 inches (74 cm).
You have the whole bar set within the table and that is accompanied by 2 sturdy stools. The table has a handy glass holder which will accommodate up to 12 glasses, as well as a 4 bottle wine rack built in. There is a handy shelf lower down the table and the whole thing is constructed of a sturdy metal frame.
The stools which are made from a sturdy metal frame have foot rests on each side of the stool, set at two different heights. The table-top and the stool seats are made from an MDF material, the seat may not be the most comfortable.
A sturdy set that gives the bonus of storing bottles and glasses on board, making this a great set for those with little space, especially as it can sit against a wall.
Compact Bar Set
The Table:
Top 31.50 inches (80 cm), this is the table-top which is square, so all four sides measure the same.
Base 18.24 inches (46 cm), this is the measurement at the base and again is square.
Height 35.75 inches (91 cm).
The Stools:
Seat 9.75 inches (25 cm) by 17.50 inches (44 cm), this is the size of the rectangular seat.
Base 14.50 inches (37 cm) by 19.75 inches (50 cm), this is the rectangular measurement at the base of the stools.
Height 24.25 inches (61 cm).
A great looking bar set that is very compact and even has storage under the table-top. The table to is square and has a shelf underneath, then below that there is a handy storage cupboard where you can keep drinks or glasses.
The seats are rectangle and have a sturdy frame with a deep cushion covered in a Grey material. Both the seat frames and the table are brown. The seats have bars on each side of the frame for strength and double as a foot rest.
A stylish compact bar set that keeps its footprint to a minimum, ideal for tight spots.
Natural Wood Tavern Set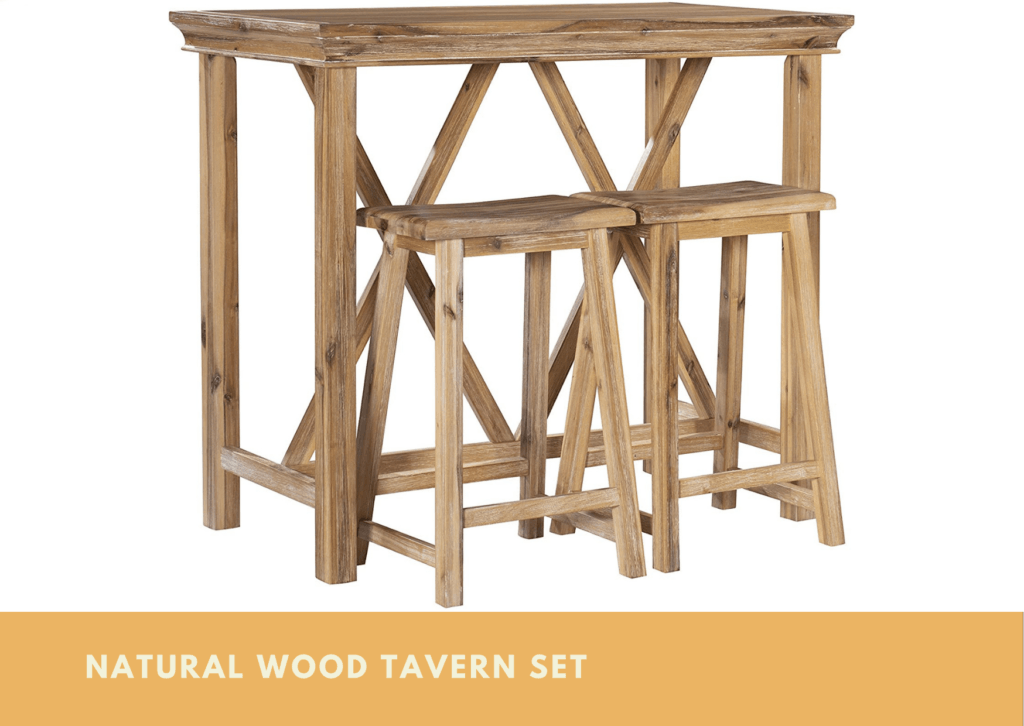 The Table:
Length 42 inches (107 cm).
Width 22 inches (56 cm).
Height 36.25 inches (92 cm).
The Stools:
Seat 13 inches (33 cm) by 16 inches (41 cm), again a rectangle.
Height 24 inches (61 cm).
This natural looking wooden table and chair set gives a Tikki vibe and would certainly look good inside or out. This set is made of solid Acacia wood and has a rustic finish to it. The table has cross bracing for strength and style, the stools have no cushion cover, so would be a little uncomfortable after a while.
The two stools do fit neatly under the counter top table, so when not in use will not take up too much room. If your bar is a Tikki bar, then whether it is inside your house or outside in the yard, these would look great as your bar set.
Just be aware that although these have been stained and have a protection, leaving them outside in all weathers may result in deterioration.
Best Bar Table Sets
There are so many bar table sets to choose from it is hard to know which one is the best, and I think we have to forget about the best here. This is because we all have our best in mind, my best will be different from yours, so it is down to personal choice.
Beyond personal choice comes the amount of space we may or may not have, a large space will give us more choice.
The tighter the fit, the fewer options we will have. Like I said before to make your bar set shopping easier, know the space you have from your measurements. Before you even read about the set look for the measurements and only proceed if ti fits your space.
I think my favorite of the hot picks above would be either the Bistro bar set, I love the black marble effect, or the Belham black bar set with the adjustable legs.
What is your favorite bar table sets, share your favorite below, and happy shopping.