Glassware is an important part of any home bar, and should be cared for properly. There are many types of glassware and your collection can become pretty vast.
Storage becomes harder the more glasses you accumulate, and how you store them is also important. When you take the time to clean your glasses properly, you don't want them to be dusty when you come to use them again.
How Do You Store Bar Glasses?
The best way to store your home bar glasses is by using proper storage solutions. There are some great racks and shelves to keep your glasses clean and safe. With the right racks you can save space too.
How To Store Bar Glasses
When we design and plan a home bar, we of course factor in some shelves for glasses. As time goes by and we invest in more types of glasses, those shelves can become full. This means we have run out of space for all our glasses, but there are great ways to accomodate all glassware.
The first thing to do is to separate stemware from solid bottom glasses. Those tumblers and whiskey glasses can sit on the shelf space you already have. The stemware can hang on specially designed racks, that fix to the underneath of your bar top, or on the wall.
All glasses should be stored upside down. The glasses on the shelves should be stored on their rims, preferably with a good quality matting for air circulation. Stem glasses hang from the base or feet from the rack so the rim is facing the floor.
If shelf space is scarce, then there are some great glass rack containers that are stackable. These will store glasses safely and save space. Equally, there are many types of shelf units that would be great for glasses, and again matting can be cut to the size of each shelf.
I have picked some great glass solutions to help you organize your bar glasses.
Home Bar Shelf Unit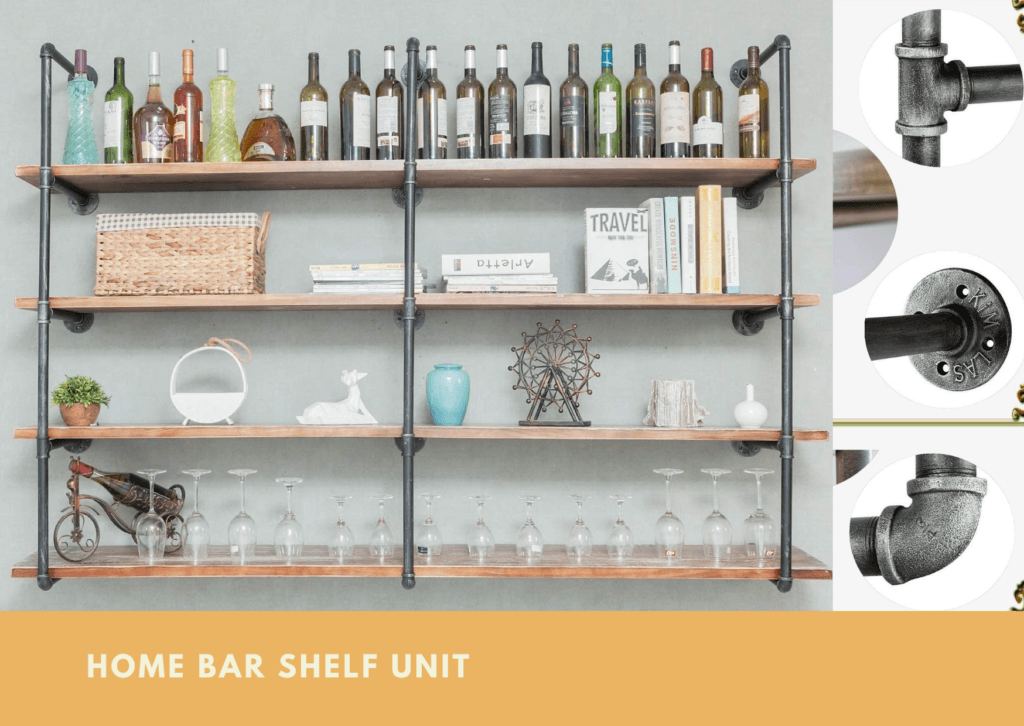 Check Latest Price
The home bar may have some shelves for glasses, but if space it tight, why not look at some simple shelves to store your tumblers. A little wall space will be needed, but you can fit a lot of glasses on just a four tier set of shelves.
There are many designs to choose from that will fit with your bar decor, but this one has that industrial feel to it. The thick iron pipes fix to the wall in several positions so it will be sturdy enough to hold the weight of a lot of glassware. The design gives an industrial warehouse feel, it is the type of pipe work you see in old factories.
Just add a plank design of your choice to make this shelf unit unique to your home bar. Strong, sturdy and a great looking shelf unit that will house plenty of glasses.
Home Bar Shelf Liner
Check Latest Price
Whether you have shelves under your bar, or a shelf unit on the wall for your glassware, a shelf liner is a good idea. Rather than the rims of your glasses sitting directly onto the shelf, it is best to have them sit on a liner. This not only protects the rim, but also lets air circulate in and around the glass.
You can get a roll of liner or get them in square mats, both can be cut to any size and shape. A liner will also protect the shelf surface too. This particular liner is non-adhesive, but strong and grips to stop movement. At 12 inches wide, the roll is 20 feet long giving plenty of liner for many shelves or even drawers.
Pick a color to match your shelves or a bright color to jazz your shelves up. A practical solution to keep your glasses safe and clean.
Interlocking Bar Mat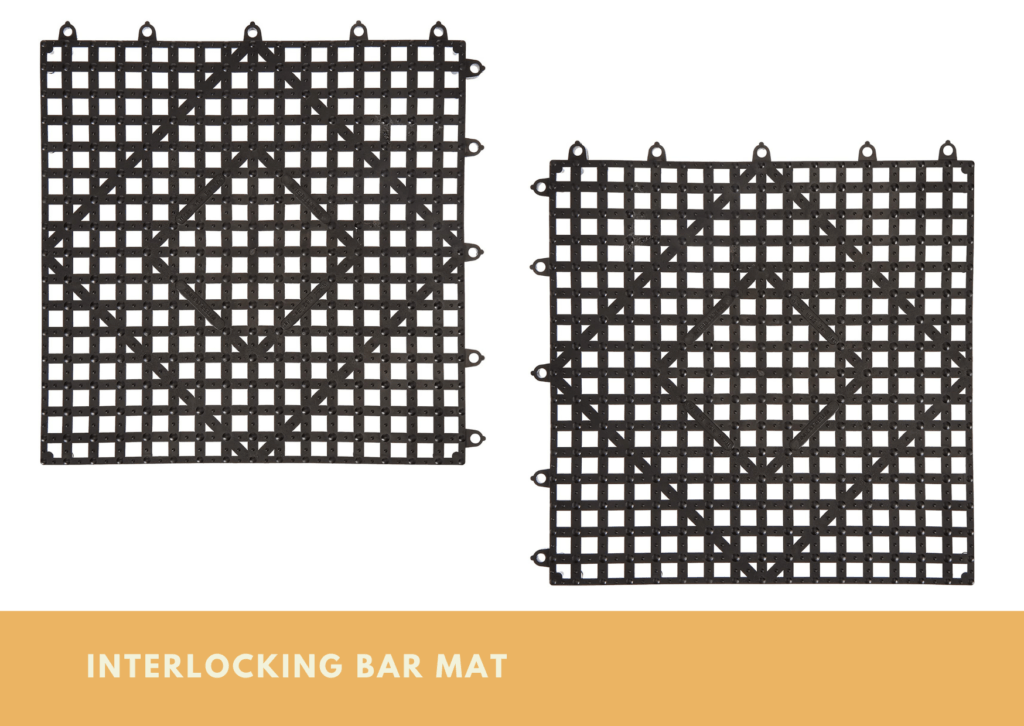 Check Latest Price
Serving the same use as the liner, these bar mats are 12 inches square and interlock. They can be easily trimmed to fit any shape and size. These are a more commercial type of mat for glassware and are used in restaurants and bars. They keep the glasses off of the surface they are sitting on which gives airflow and keeps glasses safe and clean.
The more professional type mats for your glassware.
Blue Glass Rack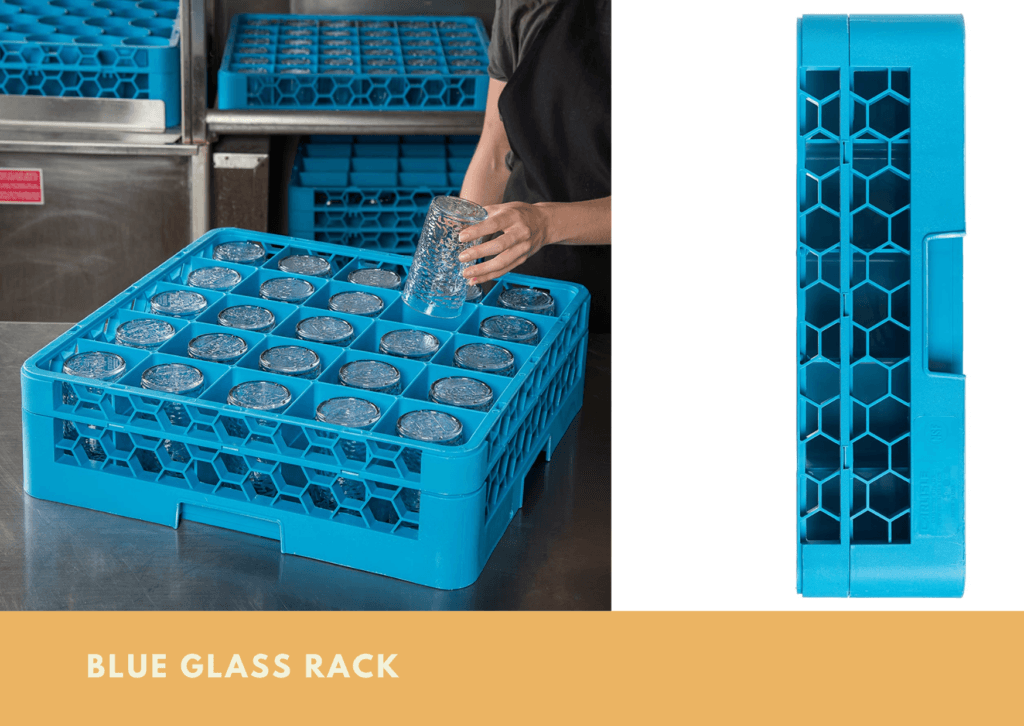 Check Latest Price
Store your glasses in a specially designed rack to keep them protected. Each glass has its own compartment so the glasses will not clink together and crack or smash. A rack can store 25 glasses and the racks are stackable, which helps to save space.
Made from durable polypropylene, each rack comes with an extender to protect the stems of wine and Champagne glasses. Each side of the rack has a handle on the bottom edge. They come in a pack of four, which will store one hundred glasses. Each rack is just over 20 inches square, so will take up a small amount of room with four racks stacked and store one hundred glasses.
A clean and tidy way to store a lot of glasses for your home bar.
Stemware Rack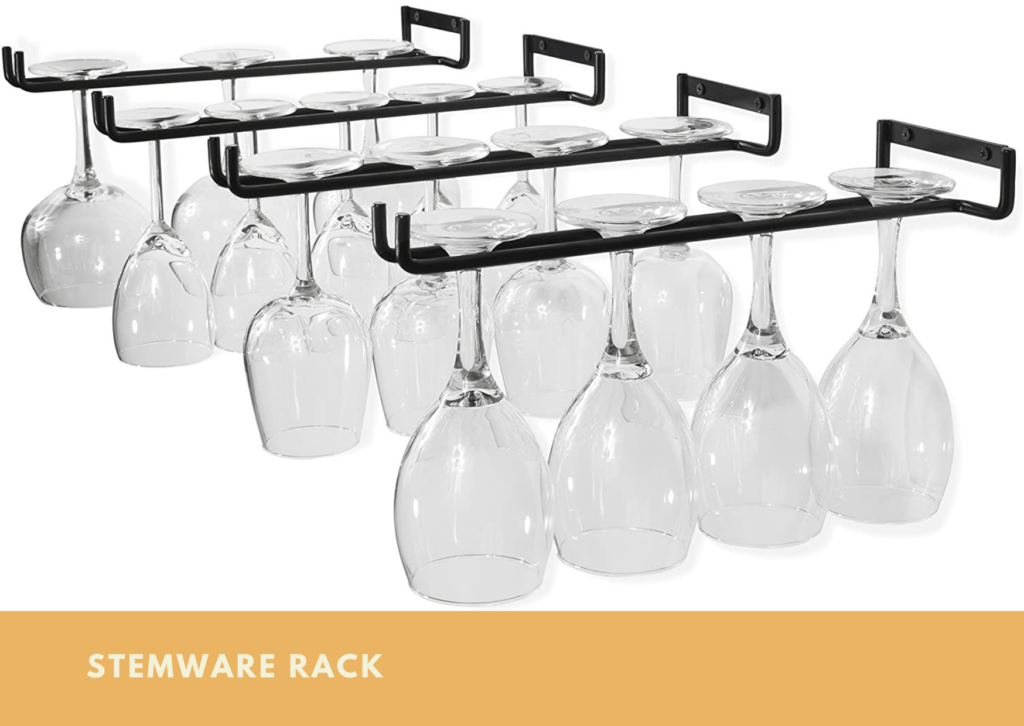 Check Latest Price
A stemware rack is the perfect solution to storing wine glasses, Champagne Glasses, or any glass with a stem. It keeps the glasses neat and tidy and safe too. They are designed to be fixed to a vertical surface, at any height. You see racks of these in bars above the bar top.
They make all your stemware easily accessible and it means they do not take up any shelf or bar top space. They come in many sizes as a full rack, or individual racks.
These racks come in a four pack and will hold three to four wine glasses. This will depend on the bowl size of the glasses you are storing. A full bowl will cut down the amount of glasses that will fit a rack, as opposed to a slimmer bowl. The part that fixes to the wall is 5 inches wide and is fixed by two screws. The length of each rack is 15 inches long and made from wrought iron.
A stemware rack will give your home bar that real bar look and at the same time save you space and keep your stemware safe.
Final Thoughts
You can't have a home bar without glassware, so it is important to store your glassware safely. A bar design with a good amount of shelving underneath is ideal for your glasses. Just add some shelf liner or mats and you have a good safe place for your glasses.
Optionally you can fix a good quality shelf unit to the wall behind or close to your home bar. When it comes to all your stemmed glasses, there is no better way to store them, than with a stemware rack. It keeps your more fragile glasses out of harms way, and will save a ton of space too.
These are the best solutions for glassware storage at any home bar. Share your thoughts on how you store your glassware and if any of these solutions have appealed to you.