When we think of vodka, an image of our Russian friends sharing a toast and knocking back a shot or ten pops in the head. Just as the popular vodka and tonic springs to mind too. Vodka is also used in many cocktails, so what glass do we use for this clear odorless drink?
What Is The Best Vodka Glass?
How you drink vodka will determine the choice of glass you will use. Drink it the Russian way, and you will need a shot glass. Go for the popular vodka and tonic and a lowball or highball glass is the perfect choice. Add it to a cocktail and there are many glasses you can choose.
Vodka
Although vodka is a drink enjoyed worldwide, a good deal of people may put its origin with Russia, and I am not about to challange that thought. The drink that looks like water can be dated back to the late 14th century in Russia, when it first came to Moscow and was presented as aqua vitae.
However, Poland is in on the mix too with reference to the drink in the early middle ages when there was a lot of local variations. The drink was originally used as a medicine and what not as strong as the modern day drink. It obviously evolved into the clear drink we know today, but the first mention of the actual word vodka was in Poland in 1405.
That is all I have to say about the origin of vodka, lets just say it's a great drink and we love it, thank you, Russia and Poland.
Vodka is made using wheat, rye, barley, grape, potatoes as well as anything else that can be fermented to create alcohol. Some countries filter, some don't, but in more recent years we have seen the adding of flavors to vodka, just like gin.
There are variations in how vodka is made, just as there are variations in how we drink it. Cue, the vodka glass.
Drink Vodka The Russian Way
Russia loves its vodka and they don't compromise on the way they drink it. More often than not they always toast before they drink, then its straight down the hatch. Those of us that are not Russian may think their toast is na zdarovje, and means cheers, but it translates as for your health or on health.
It may be a Russian toast, but they have many just like we do, they will toast, friendship, love, happiness, success and much more.
The vodka needs to be cold and can be stored in a freezer before it is consumed. It does not get mixed with any other drink, the Russians drink their vodka neat. A quick toast and down it goes, the ideal glass for this job is a shot glass.
Standard Shot Glass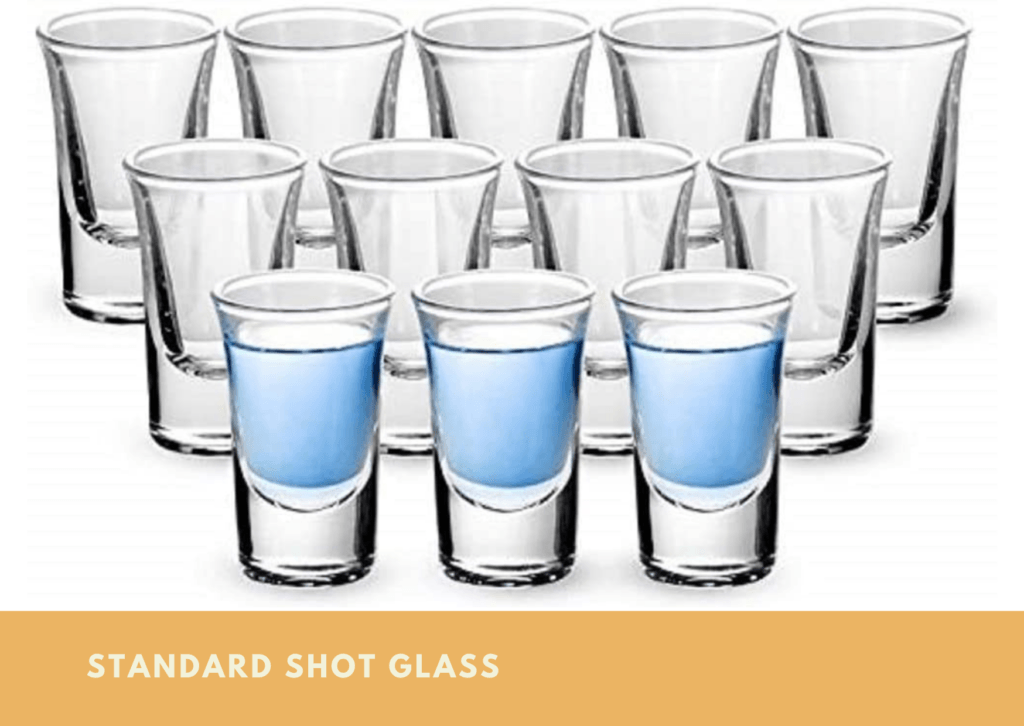 Check Latest Price
The standard shot glass is not a fancy affair, it is basic, practical and straight to the point. This is the type of glass that Russians will use to drink their vodka.
These classic cone design shot glasses are heavy-duty, stand 2.7 inches high and have a thick base. They have a capacity of 1oz and are ideal for drinking vodka the Russian way.
Double Shot Glass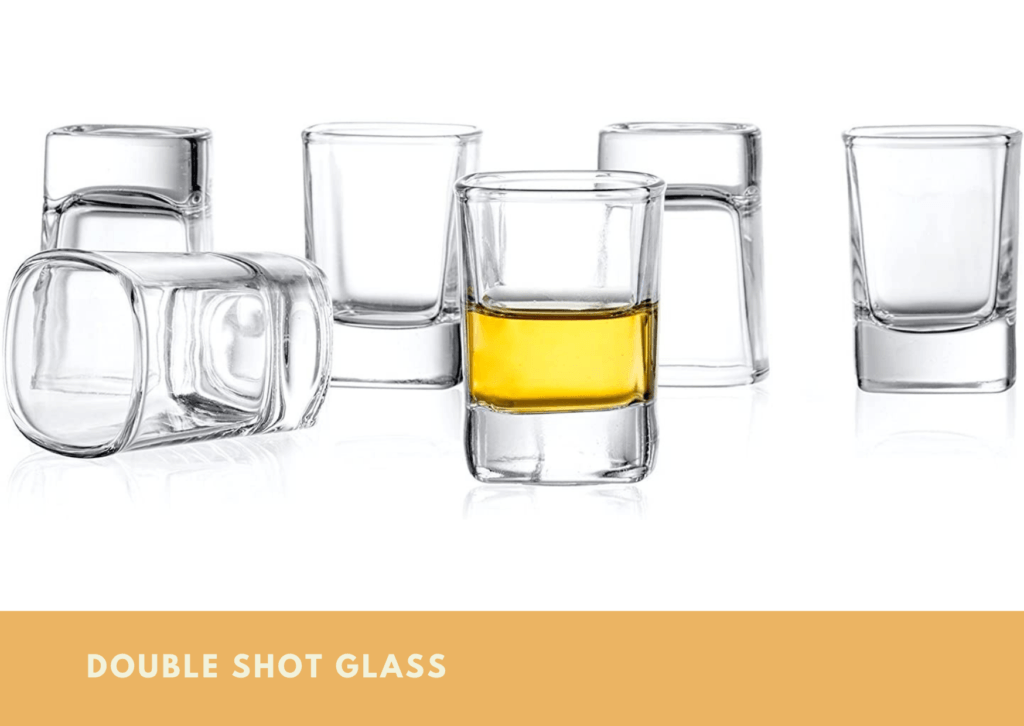 Check Latest Price
Presenting the City Shot Glass, a large 2oz shot glass that will pack a punch if filled with vodka, be warned. The thing is, you don't have to fill it to the brim, just go halfway and things will be tidy.
A great design the City Shot Glass is sturdy with a heavy set base and their rounded square design. They come in a set of six, which will look great in any home bar, and of course serve as great shot glasses.
Vodka Serving Set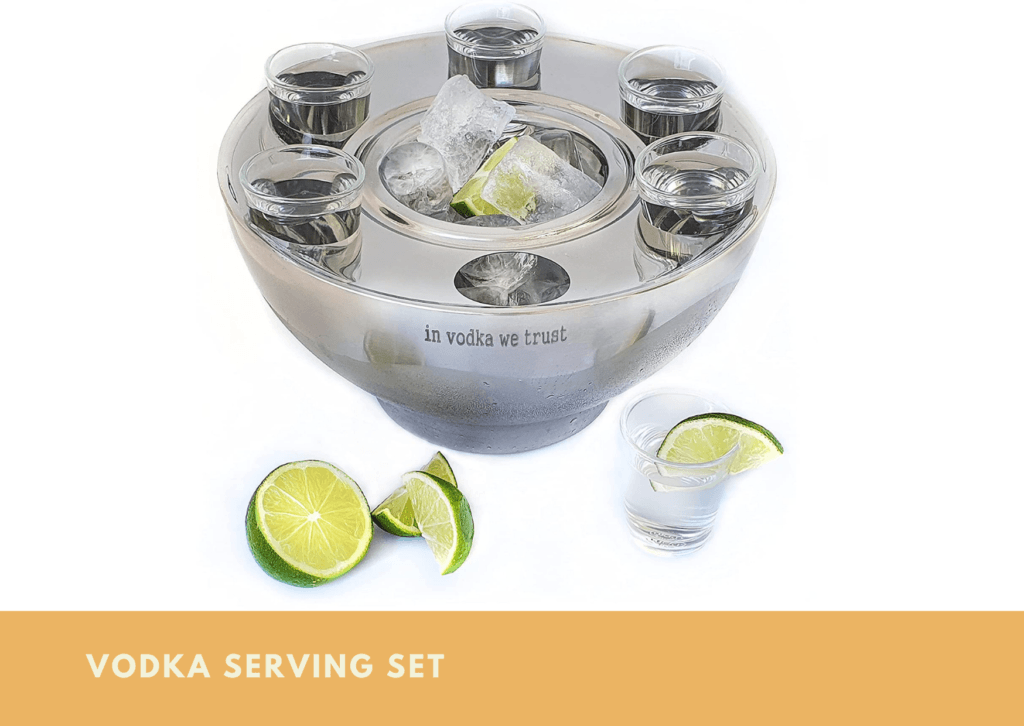 Check Latest Price
To finish up with the vodka shot glasses, it is worth thinking about a vodka serving set. This will add a touch of je ne sais quoi to any home bar. An attractive set that will also be practical too.
This stainless steel chiller bowl holds ice in the bottom, has six shot glass holders, and a middle bottle holder. It includes six shot glasses too. Inscribed with the slogan In Vodka We Trust, this set will be great sat on the home bar when it is vodka shot time.
The Standard Vodka And Tonic
The standard vodka and tonic is a firm favorite, just like the gin and tonic, it is a crowd pleaser. It is simply a measure of vodka, tonic poured to taste and a slice of lemon or lime. Simple, but beautiful.
The type of glass we use for this drink is normally a lowball, or highball depending on the amount of tonic we like in our vodka. A small amount of tonic would suffice a lowball glass. A lot of tonic will need a highball glass, as will lots of ice added.
Will you go lowball, or highball?
Classic Lowball Glass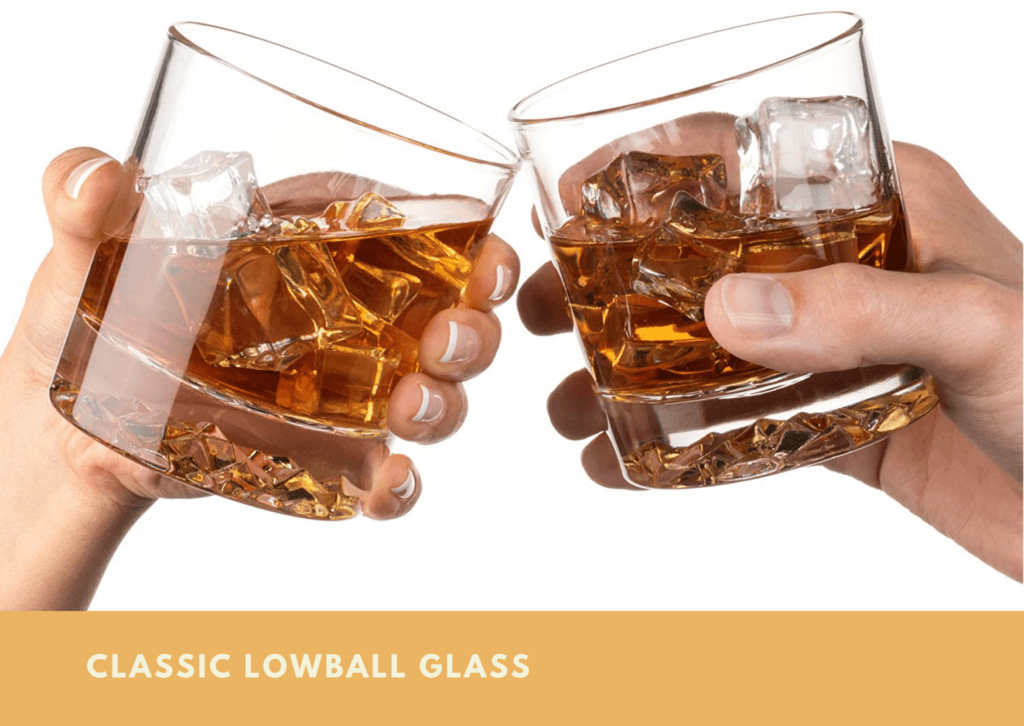 Check Latest Price
The classic lowball glass is used for a number of drinks, such as whiskey, gin and brandy. Vodka works well in a lowball tumbler, neat with a little ice, or with tonic and ice.
This set of four lowball glasses are of classic design with a sturdy build. Holding 11.5oz these feel good in the hand. As, appeal they have a great mountain imprint design at the bottom of the glass.
The Highball Glass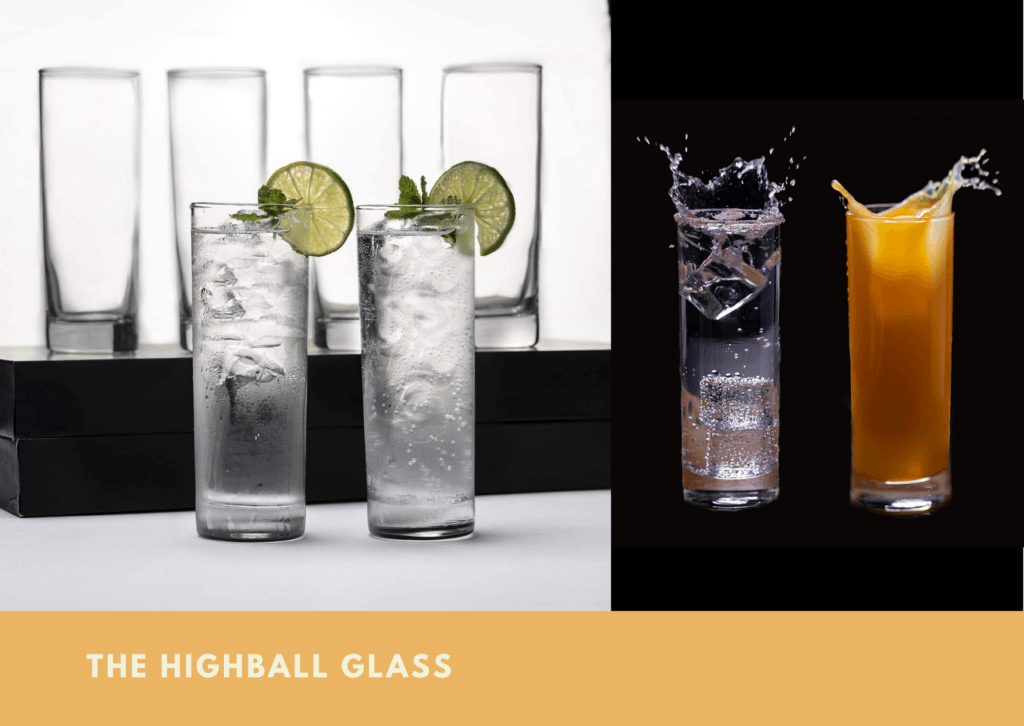 Check Latest Price
This glass has many jobs, I say that because it gets used for many drinks, and a tall vodka is one of them. When you like your vodka with plenty of ice, a full mixer and the garnish of your choice, then go highball. Also, used for many cocktails, the highball glass is a must have at any home bar.
The elegant Lemonsoda set are simple, but stylish, not to mention practical. Standing at 6.5 inches high (a decent highball), a narrow 2.25 inches in diameter, these beauties hold a good 12oz. A great set of six highball glasses that come in a deluxe gift box.
Vodka In Cocktails
Vodka is a prominent ingredient in many cocktails, in fact there are a lot of vodka based drinks. The type of glass you use for a vodka cocktail depends on how long the drink is and how many other drinks are included. From, the lowball to the highball glass, and many in between, there are lots.
Stemless Cocktail Glass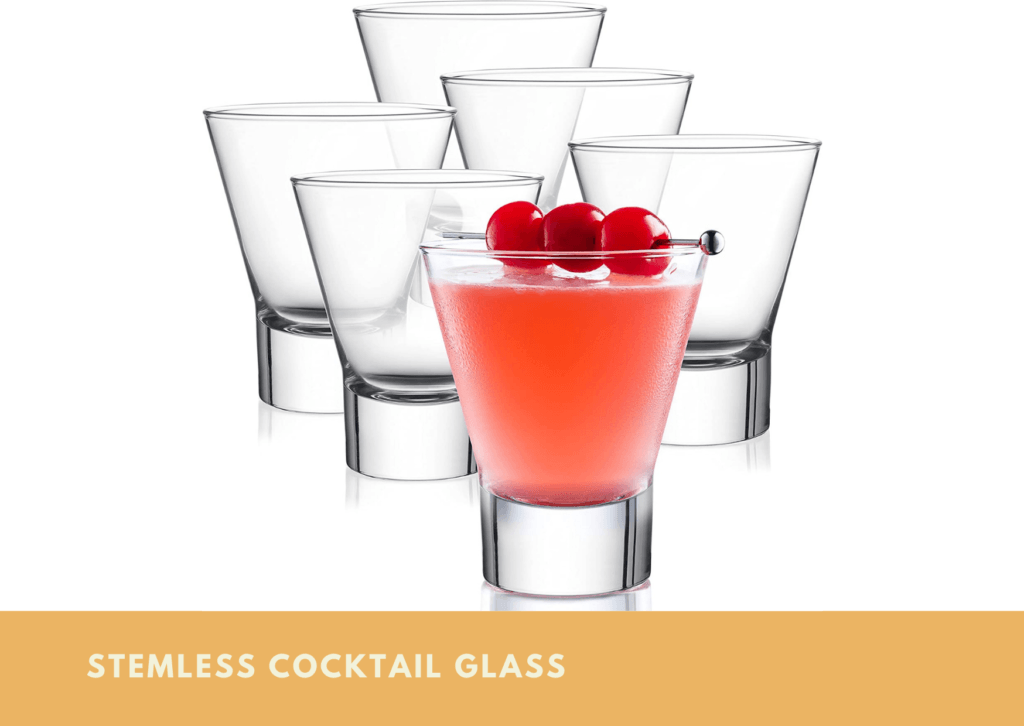 Check Latest Price
There are a lot of different glasses that have come to light over recent years, and the stemless design is one of them. The famous vodka martini needs a glass of style, and the classic martini glass always does it justice.
Step in with this elegant stemless design martini glass, and your home bar will shine above the rest. It follows the traditional martini glass shape, but with a modern twist, with its short stubby base. You don't have to only drink a vodka martini it them either. A vodka on the rocks in these little beauties will feel divine.
Standing just 4.5 inches high and a capacity of 8.5oz they really will be a big hit at any gathering, pure style.
Classic Cocktail Glass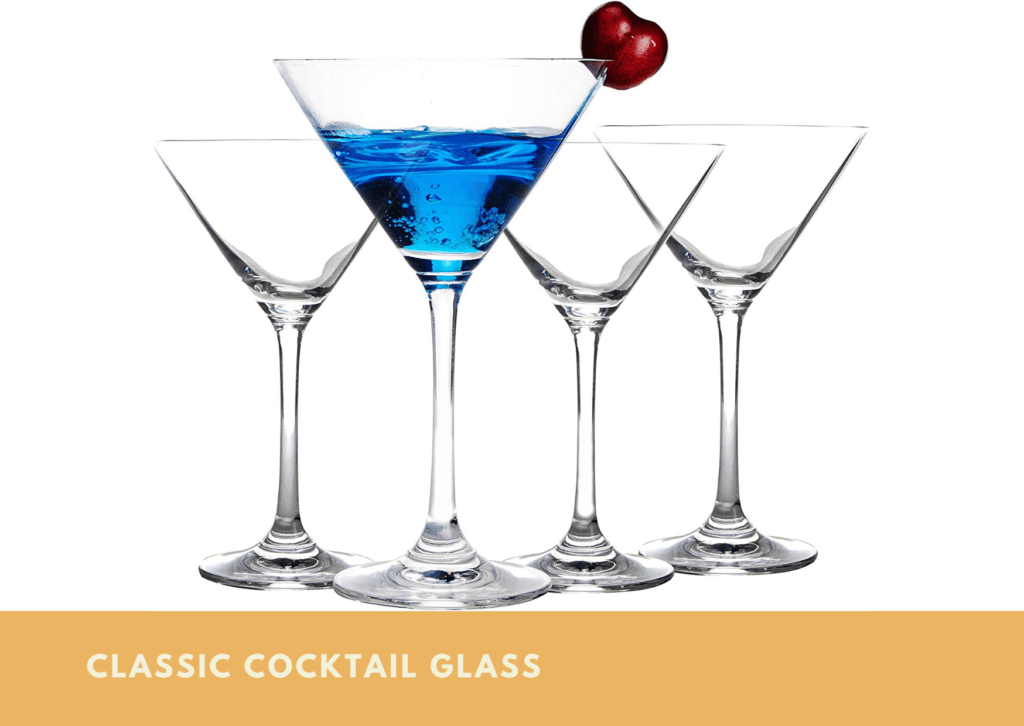 Check Latest Price
The classic vodka martini glass, we all love these glasses. I particularly like the cocktail Alexanda in this style of glass, but that is a different story. This style of glass is elegant, pleasing to the eye and makes any drink look inviting. Mr Bond loved his vodka martini in one of these glasses, shaken not stirred.
This set of four classic design martini glasses are strong, clear and simple. The simple design stands just under 7 inches in height and will hold an impressive 9oz of the beautiful vodka martini.
Although traditionally used for the vodka martini and other cocktails, if you want to add just a shot of vodka and ice, the go for it. This glass can look good with any drink in it, push the boat out and drop an olive in.
Final Vodka Thoughts
Vodka is a drink that is enjoyed the world over, and there are many brands. It is also consumed in many ways, just as there are many types of glass to drink it from too. It makes sense to use shot glasses for a small 1oz tipple of vodka. As does it makes sense to use a highball glass for a long vodka drink or vodka cocktail.
Just as the drink is a personal choice, so is the glass, so what is the best vodka glass? It is the one you choose to use, now the glasses I have included, I think you would agree are pretty special. That does not mean they are the best, just great. Share your thoughts below on how you drink your vodka and what glass you like to use.